Tips for Reducing Costs When Remodeling Your Home Guide, Property Tips, Online House Advice
Tips for Reducing Costs When Remodeling Your Home
5 Apr 2021
Have you ever thought that your home's model is a bit outdated?
What do you think is better to get rid of this feeling: moving to a new home or remodeling your current home?
Remodeling might sometimes be so expensive that many homeowners decide to buy a new one instead. If you're one of these families struggling between these two options, we have several useful tips to reduce your cost.
Of course, every home has its own conditions, but these 12 tips can reduce the remodeling cost so that you won't be forced to buy a new one.
Build a strategy and set aside a budget
As JTS Property Management says, a strong strategy is central to succeeding in every project. Try to write down everything you want in remodeling to avoid wasting time and money during the project.
Creating a spreadsheet would be a wise course of action if you want to organize everything well. You can ask relatives, friends, colleagues, and any other people who have recently experienced a home renovation. This way, you won't leave anything behind.
Then you have to estimate the cost of the project to be able to set aside the budget. Try to mention all the details from a dining out (because of renovating the kitchen) to buying an air conditioner.
When you know your budget and compare it with the prices in the market, you can decide what to choose. You can mention the upper and lower hand estimations to be more flexible in your choices.
Make a room for any unexpected expenses. This way you can prevent any problems with budgeting.
Focus on the effectiveness of spaces, not on the size
One of the biggest mistakes many families make is that they just want to increase the size of their homes. Of course, the more spacious, the better. But remember that there are many big spaces in today's home that are not useful at all. So try to make the most out of your spaces instead of adding to the gross area.
For example, you can add efficient and customized cabinets to your kitchen instead of increasing its size. This way, you'll save masses of money and time.
Increase daylighting without building bigger windows
Windows are one of the first items in every remodeling. Getting more sunlight, using more energy-efficient windows, and making them more beautiful are common reasons for remodeling windows.
These changes will put a heavy burden on your resources. So before making a big hole in your house's walls and changing the framing, you should think of less expensive means of remodeling.
If you just want to brighten up a windowless space, you can install a "light tube" to use sunshine and redirect it into space. That would be a lot easier and cheaper.
Consult with experts about the prices
Consulting with experts is always recommended whether you're building a new home or remodeling your existing house.
When it comes to remodeling, you might not need a full team of engineers, but it's good to consult with an architect. You can minimize the cost by a one-time design consultation with an architect who has experience with remodeling.
They will usually meet your house one time and devise a plan to solve your major problems. This is really cost-effective because it prevents any future problems. Remember that if you do the planning by yourself without consultation, you might find yourself having to deal with lots of issues after finishing the project.
Donate instead of throwing away
This option might seem trivial, but it affects your costs in addition to the fact that it helps a good cause.
Before starting your remodeling project, you'd better invite the local Habitat to remove everything you think extra for later resale.
They might take your cabinets, the tub, your sink, and many other fixtures you want to get rid of. This way, you can save a bit of the cost you have to pay for tax if you choose to throw away your things.
Also, you're contributing to saving the world by producing less trash and saving space in the landfill.
Don't change the location of the sink and the toilet
The plumbing cost is considerably high when it comes to remodeling an old house. The cost can skyrocket if you want to move your toilet and sink.
Of course, if your new layout leaves you no chance but to move the toilet or sink, you have to bear the extra cost. In this situation, you can take advantage of the opportunity to upgrade your pipes at the same time to save money in the long run.
Pay attention to energy consumption
Energy bills comprise a significant portion of families' living costs. According to Condoly, energy efficiency is one of the biggest concerns of buyers when choosing a condo.
What about remodeling? How should you consider it when redesigning your home?
A simple rule says that the higher energy efficiency, the higher the initial cost. So if you want to increase your building's energy efficiency, your remodeling cost will significantly increase.
But remember that it will save you tons of money in your energy bills in the future.
So it's up to you. If you have enough budget for a bit of insulation, A+ air conditioning, shades, and similar things, you will increase your building's thermal performance.
Final thought
Remodeling home and converting it into a modern building is sometimes a frustrating job. This can be even harder if you don't have a concrete plan for managing the costs. The mentioned tips can help you reduce remodeling costs without compromising on quality.
Comments on this guide to Tips for reducing costs when remodeling your home article are welcome.
Glasgow Building Designs
Glasgow Architecture Designs – architectural selection below:
New Glasgow Architectural Photos
Glasgow Architectural Photos
Holiday Inn Pacific Quay Hotel
Architects: Mosaic Architecture + Design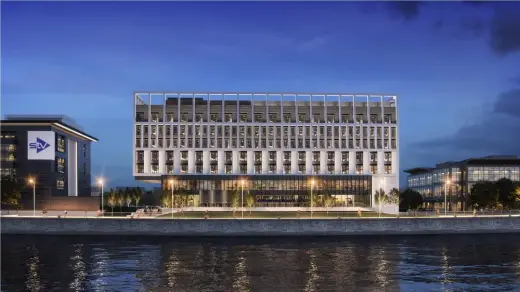 image courtesy of architects
Holiday Inn Pacific Quay Hotel
Merchant City boutique hotel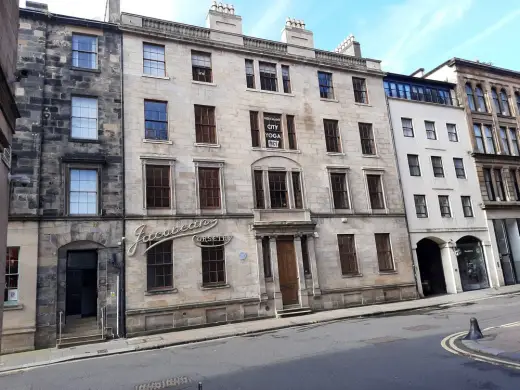 image courtesy of architecture practice
Merchant City Property
Comments on this guide to Tips for reducing costs when remodeling your home advice article are welcome