Sentinel Building, Images, Offices Scotland, Waterloo St Commercial Property, Project Photos
Sentinel, Glasgow : Waterloo Street Office Building
Contemporary Building Lighting, Glasgow, Strathclyde design by gm+ad architects
post updated 9 July 2023 ; 28 Feb 2005
New Sentinel Glasgow image 28th February 2005:
Location: corner of Waterloo Street and Douglas Street


photo : Andrew Lee
gm+ad building information 4 Oct 2006
Sentinel Glasgow
Sentinel Wins British Council for Offices Award 2006 : gm+ad architects
Sentinel, the recently completed office project in Glasgow's International Financial Services District by Gordon Murray and Alan Dunlop Architects, has won a BCO Award for the Best Commercial Workplace.
At an awards ceremony last night in London, Gordon Murray said " I'm very pleased about this major development award, particularly for our client John Kennedy and Kemnore, his company. Sentinel has already won a number of national and indeed, international architecture awards, including a RIBA Award.
It also reached the final shortlist for the Royal Incorporation of Architects in Scotland Andrew Doolan Award for the best building in Scotland, which was brilliant for a speculative commercial building. This BCO Award however, underlines the principle that we, as a practice always follow and that is making a building first rate architecture and also a real commercial success are not incompatible objectives".

Commenting recently, John Kennedy said ""With Sentinel, we went to 20 banks and we were turned down. We went to 20 joint venture partners and we were turned down. We believed in the project, we bought it without planning consent and got very good architects.
"Eventually we got support from Bank of Scotland. We developed it and proved all the Doubting Thomases wrong. There was a window of opportunity in the Glasgow office market and we got great tenants – Aon, Morgan Stanley and JP Morgan. It was one of the most successful projects we have ever done."
BCO Awards 2006
Click on this animated Image (gif):



photo : Andrew Lee
gm+ad building information 4 Jan 2006:
Sentinel: Collaborative Effort with China
Sentinel, the award winning new commercial development by Gordon Murray and Alan Dunlop Architects (gm+ad) in Glasgow's IFSD has greatly impressed the Architectural Society of China.
On 28th October last year, gm+ad took a visiting delegation of distinguished architects from China around Sentinel. The visit was organised by the British Council to enable the establishment of relationships between Scottish architects and the ASC.
Rapid economic development in China has stimulated a construction industry boom. This offers great opportunities for Chinese architects in professional practice, and potential for co-operation with architects from all over the world.
The architects, who were mainly involved in the design for public buildings, wanted to learn from the experiences of the UK and establish personal contacts. They are also writing up their experiences in Scotland for The Architectural Journal, available for their 90,000 members across China to read.
Sentinel in particular, so impressed the Chinese visitors that, on their return, the have begun to develop ways to directly collaborate with the designers.
"We could see that they were impressed", says Alan Dunlop," they took lots of photographs and asked many questions. It was a very fruitful visit. It's great when such distinguished international visitors want to visit Glasgow and look round our buildings, it makes it all the more worthwhile"
"The possibility of collaborating on a project in China is very exciting" adds Gordon Murray "it has started the year off in a very positive way and we look now are looking forward to the first discussions and making new contacts "
In 2005 the Sentinel building won an international award from the Royal Institute of British Architects and the Best Commercial Project category at the Scottish Design Awards. It was also shortlisted for the Andrew Doolan Award as the Best Building in Scotland 2005.
gm+ad building – information 4 Jan 2006
Sentinel Building – 28 May 2005:
Practice wins 26th award for architecture
Gordon Murray and Alan Dunlop Architects
gm+ad
Sentinel, the innovative new office development in Glasgow's Financial Services District, picked up the one of the top awards last night at the Scottish Design Awards.
At a gala dinner the Moat House Hotel, the building by Gordon Murray and Alan Dunlop Architects, was awarded Best Commercial Project.
It was the first of two awards the practice achieved on the night. Reiner Nowak, project architect for Sentinel, won Best Young Architect in Scotland.
'We are very honoured' says Alan Dunlop 'that Sentinel has been given this recognition. It's a great building, with a spectacular lighting system that makes it glow at night on an ever changing colour spectrum. It's really quite amazing and unique in the UK'.
'We are also delighted for Reiner' added Gordon Murray, 'although naturally disappointed that another two shortlisted young architects from our office Karen MacDonald and Chris Malcolm could'nt take something. I guess, in every competition someone has to win. Both Karen and Chris though are among the most talented architects we've worked with, so maybe next year'.
The partnership of Gordon Murray and Alan Dunlop has now won 26 national and international awards for architecture since it's formation in 1997.' It has been a pretty productive and often hectic eight years' adds Alan Dunlop, 'the practice has grown significantly and we've completed some great projects, which have achieved recognition internationally. We are confident this recognition will continue.
Sentinel has been shortlisted for the Royal Institute of British Architects Award.
Selected RIBA Award winners go forward for the Stirling Prize, one of most prestigious awards for architecture in the world, which will be held this year in Edinburgh in October.
All photos by Andrew Lee
New Sentinel Glasgow images mid-Feb 05





Sentinel Building Lighting: images by from gm+ad architects
New Sentinel Glasgow images Jan 2005
Sentinel Building: images by Andrew Lee from gm+ad architects
Handover was 18 Feb, big opening 3 Mar 2005
Sentinel Building – lighting – first showing Aug 2004:





sentinel glasgow: image © gm+ad architects
RIBA Award 2005
Sentinel Building – Aug 2004:
Sentinel, the new £11m office development in Glasgow by Gordon Murray and Alan Dunlop Architects is due for completion in Nov 2004. Last night though, the buildings unique lighting feature was tested for the first time and created a dramatic effect.
'We wanted to create something special in Glasgow' says Gordon Murray 'something that you would not expect on a commercial building' gm+ad designed with lighting specialists KJ Tait, a system using light sources at the base of selected windows on the building's frontage which glow at night and offer a continuous and changing spectrum of colour, from red to purple to blue to green.
"It has been tastefully done and beautifully detailed" says architect Reiner Nowak…"and for the first time last night we could see just how dramatic it will be"
Fellow architect Isabel Garriga adds 'Sentinel has a specially designed roof garden, which uses strong sculptural forms and new techniques and materials to form seats and planted areas, together with the lighting it will make for a very special building indeed'
The Sentinel Building featured in 'Big Ideas in a Small Place', the official Royal Incorporation of Architects in Scotland's exhibition for the Edinburgh Festival 2004.

Sentinel Building – information 6 Aug 2004
Gordon Murray and Alan Dunlop Architects, Glasgow 0141 331 2926
Sentinel Building – lighting – montage proposals late 2003
gm+ad architects
Sentinel Building is the new name for Wellesley House
Sentinel Building Architects : gm+ad

Sentinel developers : Kenmore
Sentinel Link: http://news.bbc.co.uk/1/hi/scotland/3544479.stm
Sentinel Building : Scottish Design Awards 2005 – Best Commercial Project
Sentinel Office Development : Best Building in Scotland shortlisted in 2005
Architecture in Strathclyde
Glasgow buildings by Gordon Murray and Alan Dunlop Architects
Sentinel Building Context : Spectrum Building by gm+ad
Location: Glasgow, Strathclyde, southwest Scotland, UK
Glasgow Building Designs
Contemporary Glasgow Property Designs – recent architectural selection below:
Buchanan Wharf Glasgow Office Development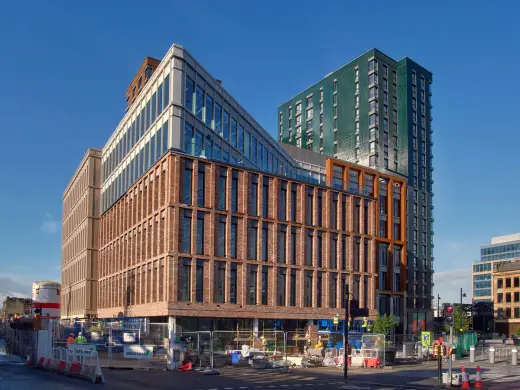 photo courtesy of Drum Property Group
Buchanan Wharf Glasgow Office Development
New Allander Leisure Centre
Design: Holmes Miller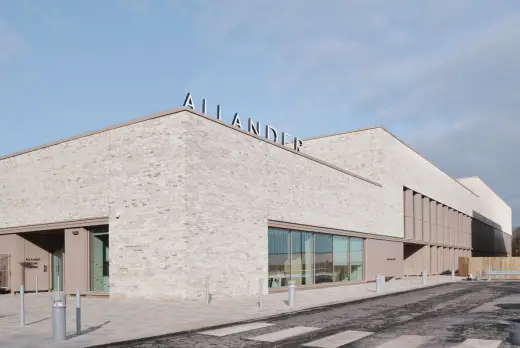 image courtesy of architects practice
Allander Leisure Centre Building in Bearsden
Comments / photos for the Sentinel Glasgow Offices Building design by gm+ad architects page welcome