Most unconventional Glasgow hotels guide, Quirkiest Accommodation buildings, Scottish visit
Step Inside Glasgow's Most Unconventional Hotels: A Guide to the City's Quirkiest Accommodations
post updated 30 August 2023
Glasgow is the vibrant and eclectic cultural hub of Scotland and is a city that offers travelers a unique blend of history, art, and modernity. It's a fascinating place to visit – a city of contrasts and surprises, where edgy dynamism and post-industrial style blend seamlessly with historical elegance.
One of the best features of this delightful city is its wealth of unconventional and quirky accommodations. Whether you're drawn to avant-garde design, historical charm, or themed hotels, Glasgow has a variety of options that will make your stay truly memorable.
So, if you've just snagged a last-minute cruise deal and find yourself headed to Glasgow, consider one of the options below to make your stay truly memorable.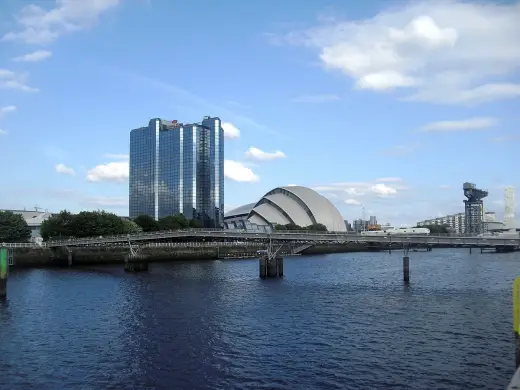 CitizenM Glasgow
CitizenM Glasgow offers a glimpse into a bright, tech-filled future. This hotel blends technology, design, and comfort, with minimalist yet stylish interiors that are complemented by smart features that allow you to control everything from lighting to room temperature with a touch of your tablet. With its central location, CitizenM is an ideal base for exploring Glasgow's cultural attractions and vibrant nightlife.
Malmaison Glasgow
Housed in a former Greek Orthodox church, Malmaison Glasgow is a masterpiece of architectural transformation and offers a truly unique hotel experience. This boutique hotel combines extraordinary aesthetics with luxurious comfort, creating a one-of-a-kind atmosphere that's both stylish and inviting. Enjoy the hotel's creative spaces, from the Chez Mal Bar with its elegant brasserie-style dining to the striking surroundings of your room, and be guaranteed a stay unlike any other.
Blythswood Square Hotel
For a touch of timeless elegance, the Blythswood Square Hotel is hard to beat. While not quirky as such, this glorious Georgian townhouse stands out for its luxury, impeccable service, spa facilities, and refined interior decor. It's a wonderful spot to treat yourself to a spa day or unwind in serene gardens after a day of exploration.
Dakota Glasgow
Dakota Glasgow is a superb combination of contemporary design and warm Scottish hospitality and is emblematic of the ambiance and atmosphere of the city itself. With its dark, moody color palette and sleek interiors, the hotel exudes a sense of understated luxury.
The Z Hotel Glasgow
While most of the accommodations on this list are at the luxury end of the scale, it is perfectly possible to find lodgings in Glasgow that are interesting, chic, AND affordable. The Z Hotel Glasgow fits the bill perfectly, an urban gem that boasts compact yet stylish rooms that are adept at making the most of a cozy space. The hotel's prime location allows you to easily explore the city's attractions, from shopping on Buchanan Street to enjoying cultural experiences at nearby museums, and best of all, a few nights here won't break the bank!
The Grand Central Hotel
Step back in time and indulge in Victorian-era opulence at The Grand Central Hotel. With its iconic architecture and timeless interiors, this historic hotel offers an elegant retreat right at the very heart of Glasgow. You can unwind in the sophisticated surroundings of the Champagne Central bar or treat yourself to a sumptuous dining experience at the Tempus Restaurant – either way, it is the last word in Glaswegian luxury.
In Glasgow, accommodation options go beyond the ordinary, allowing you to immerse yourself in the city's unique character and creative spirit. Whether you're drawn to futuristic design, historical charm, or a blend of both, Glasgow's quirky hotels offer a range of experiences that will add an extra layer of excitement to your trip. So if you are planning an extended stay in the city, consider stepping inside Glasgow's most unconventional hotels for an unforgettable and delightfully unconventional experience.
Glasgow Hotels
Contemporary Glasgow Hotels Property Articles – recent architectural selection below:
Glasgow Hotels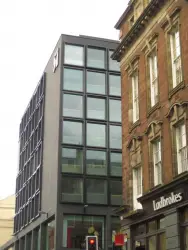 photo © Adrian Welch
Comments / photos for the citizen M Glasgow page welcome