Maximising the Space in Your Home tips, Online Property Advice
Maximising the Space in Your Home
26 Apr 2021
When it comes to solving the issue of using the space in your home, most homeowners will turn to large scale refurbishments such as loft conversions or extensions.
Although getting a team of builders in can be an effective and exciting way of expanding your property, it can be disruptive and expensive. So before opting for the substantial adjustments, take a look at the following affordable and straightforward techniques to maximise the space in your home.
Storage Locations
An ideal storage unit creates extra space and streamlines your organisation by storing related items together. This way, you will keep everything where it needs to be. Decorative storage containers are also a perfect way to add style to a room without ignoring practicality.
Adding Mirrors
Strategically adding mirrors to rooms can help to make them look not just brighter but also larger; the bigger the mirror is, the more space it creates.
If you are looking to bring more greenery and natural light into your home, placing a mirror opposite a window is the perfect way to make this happen.
Adding the Perfect Balance of Furniture
As opposed to what most homeowners think, furnished houses seem bigger than unfurnished ones. You should, therefore, not remove your furniture if you think that would help. Instead, keep the furniture for a roomier layout and feel.
Saying this, you should avoid adding a lot of furniture that makes it hard to move from one place to another. Ensure you have the right balance and avoid clutter.
Reuse the Wasted Areas
All the corridors and landings in your house are exceptional storage areas waiting to be fully utilised, but you might not have considered them. Creating custom cabinets into your wall cavities will boost your organisation and make your house look uncluttered and roomy.
Get Extra Space in the Garden
When it comes to best using the space in your house, you need to sometimes think outside of the box but also outside of your home. Take advantage of the garden space. Summerhouses, smart bike storage units or even shades will make your outdoor area seem much more spacious. In addition to this, a well maintained and landscaped garden can sometimes add up to 20% to the market value of your home.
Accommodate Guests in the Living Room
Instead of having an extra, dedicated space for your visitors, why not have something more practical and dual-purpose? Sofa-beds in the living room can save you space elsewhere in the house without limiting the opportunity to entertain guests down the line. There is a wide selection of items that don't sacrifice style over function, meaning you can have your comfortable sofa which can transform into a comfortable bed at the drop of a hat.
Play with Lighting
Clever lighting can make your house look significantly bigger than it is. You can add height and brighten your home by installing various types of light around it. For example, picking a dim effect and cleaning the windows regularly can let in clear sunlight. Moreover, adding high and low lighting systems will help to bring in light from all levels, intensities and angles.
Painting or Adding Wallpapers on the Wall
Your home can look spacious and taller by adding wallpapers or paint to the walls. You can either use one colour to paint the walls and ceiling or use a light colour on the walls and a dark colour on the ceiling to create a contrast that incorporates warmth. Remember that light colours add light to a room as opposed to dark ones.
Use Inventive Designs
You have to get inventive when it comes to maximising space in your home. Thinking all the way down to the doors can have an impact. If you are low on space, you can replace your standard doors with sliding doors to avoid losing floorspace.
Perform a Regular Home Audit
It is important to ask yourself if your house seems small because you just have a lot of things. Regularly carrying out an audit and general cleaning of your home can result in finding things that you do not necessarily require anymore. You may come across furniture that isn't serving a purpose, clothes you don't wear or even books you no longer want. Be direct in your decisions and commit to throwing things away and the space will free up in no time.
No matter the actual size of your house, it is reasonably easy to make the changes to maximise the space. Provided you feel organised, comfortable and relaxed in the home, you will ultimately feel fine in whatever tip you follow. There are countless ways to quickly improve your living situation, whether it is by adjusting your current environment using the tips above or by changing it entirely using a sell house fast service such as Spring, you are never too far away from living in a brighter and happier home.
Comments on this guide to Maximising the space in your home article are welcome.
Glasgow Building Designs
Glasgow Architecture Designs – architectural selection below:
New Glasgow Architectural Photos
Glasgow Architectural Photos
Holiday Inn Pacific Quay Hotel
Architects: Mosaic Architecture + Design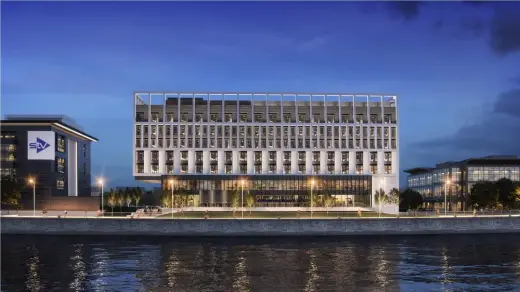 image courtesy of architects
Holiday Inn Pacific Quay Hotel
Merchant City boutique hotel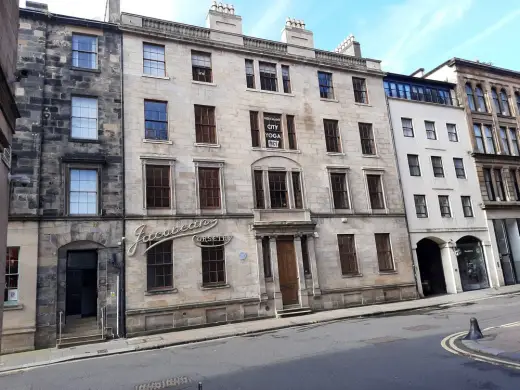 image courtesy of architecture practice
Merchant City Property
Comments on this guide to Maximising the space in your home advice article are welcome