How to spruce up your city apartment, English property advice, East London estate agents tips
How To Spruce Up Your City Apartment
8 Dec 2022
Buying an apartment can be an amazing feeling. While it's not necessarily the same as owning a house, an apartment will still give you a huge amount of freedom and is perfect for those that enjoy living in the city where all the action is.
Simply getting on the property ladder tends to be the main goal of buying an apartment, however, so it's not uncommon for people to buy an apartment that isn't in a state they're happy with. Many apartments will be outdated in terms of décor, so modernising your city apartment may be a key goal after getting settled. There are a few ways in which you can do this, and this guide aims to provide you with a few different methods to give you some inspiration.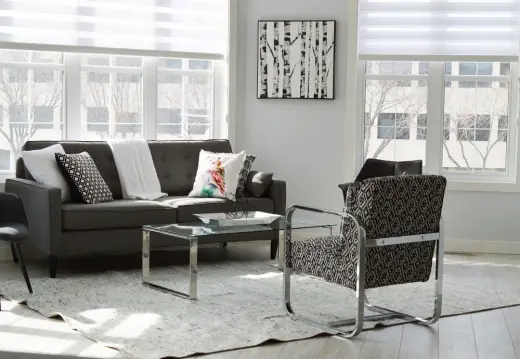 How To Spruce Up Your City Apartment Design
Improve Storage
Apartments generally have much less space for storage than a house will. Houses can store things away in attics and cellars, but people with apartments have to make do with storage space in their living areas. This is why it's important to find as many ways as possible to improve your storage options.
You can upgrade the storage in each room, adding obvious storage spaces and hidden ones. Living rooms and other spaces where you may entertain guests tend to benefit greatly from hidden storage as this will reduce clutter without it being obvious that things have been packed away. Storage in cabinets, under chairs and coffee tables, or even inside furniture are great storage solutions.
Keep Things Simple
If you've been trying to declutter your apartment with the help of storage solutions, the last thing you want to do is overcomplicate your décor, making the place feel closed in and hectic. Wild decoration decisions and an overabundance of furniture, ornaments, and other items, especially those that aren't thematically linked with one another, can make the place look unpleasant.
It's best to keep things as simple as possible to ensure that your apartment continues to look tidy and relaxing. Many other things will affect this, too, including the colours and fabrics you choose throughout the apartment, so be mindful of this. Check out apartments for rent in garland tx
Replace Blinds
Many of us will have lived in an apartment or rented accommodation in which the landlord has installed the most basic furnishings. One of these, in particular, is the white "GP surgery" blinds with the pulley system in which you will rarely pull the right cord to open the first try. Let's face it; these blinds lack character. Replacing these if they're in your apartment should be at the top of your list if you're trying to give your home some personality as well as modernise the place.
Switch them out for some pleasant and attractive curtains, and ensure that those curtains suit the window size, too. Many will install new curtains, only to realise that they're the wrong size for the window, and this can look unappealing. Your curtains should ideally be ten inches wider on each side and start ten inches above the top of your window. Of course, depending on preference, they can drape as low as you wish, but curtains still tend to look better if they don't go too far past the bottom of the windowsill either.
Start Painting
You'd be surprised at how painting your apartment can make it look like a completely different space. In fact, if you're on a tight budget, simply focusing on repainting the walls and some of your furniture could make enough of an impact that you won't have to worry about anything else for the time being. Repainting your walls, especially if you choose the right colours, has many benefits for you and your property.
It could increase the overall value of your home, improve the air quality of your living space, and even protect and prevent damage to your walls. It can even boost your mood significantly, depending on the colour you choose. Bright and comforting colours are the best choices, but be careful not to go overboard, such as paint your living room electric pink. Instead, choose warm reds, oranges, and yellows for a comforting yet energetic feeling for your room.
Replace Your Windows
This next suggestion comes with a slight disclaimer. You shouldn't attempt to do this unless you have permission from the building owner, as changing your windows may be against their regulations. However, if you do get permission, replacing your windows could drastically improve the appearance of your apartment.
Old windows not only look less impressive than some of the newer designs you can get, but they'll also be less effective for insulating your home. There are many different styles of double-glazing windows for you to choose from, so you should consider this if possible.
Change Textiles
Another great thing you can do to change the appearance and feel of your apartment is to change up your textiles where possible. Reupholstering your sofas and chairs is a great way to do this and can be much simpler than it sounds. Of course, if you have limited or no experience in textiles, the best option is to have someone professionally reupholster your furniture to ensure it's done properly and you're not wasting time and materials. Choose the materials you want for your furniture and seek out an expert that can reupholster everything for you. This change can have a similar effect to painting your walls, and it also saves you from having to change your furniture entirely, which can be costly, wasteful, and laborious to do.
Change Your Lights
Lighting is often disregarded when it comes to decorating, and you'd be surprised at just how much changing your lights can change up the entire appearance of your home. Natural lighting is obviously going to be the most impactful, but it's not very easy to add to an apartment as you can't feasibly add windows or Skylights.
You can, however, add more mirrors to your home, which will help redirect what natural light already enters your apartment. Primarily, however, you should think about your light fittings themselves. Smart lights are a great way of changing the lighting in your home and having greater control over it. You can dim smart lights, change their colour, and even control them remotely. You can also link these lights to other smart devices like sensors and smart speakers, which can also control them. Where you place these lights is the most important thing, and you should ensure that you consider everything from accent lighting to practical lighting, as well as your main lighting source for each room.
Add Some Plants
Finding ways to spruce up an apartment as simply and affordably as possible is a goal for many, and easily one of the best ways to do this is to add some greenery. Adding plants to your home has many benefits, but first and foremost, they can easily turn a drab and dull room into something lively and attractive. You could add many different types of plants to your home, varying in resilience, too.
There are plenty of hardy plants that are perfect for those that may not have the time to take care of them regularly or the understanding of how to stop plants from dying. When you do add plants, you should endeavour to make sure they don't end up wilting and dying. Learn about how much they need to be watered and whether they should be in the shade or direct sunlight. Yellow and droopy plants are actually going to ruin the aesthetic of your home, so be wary of this.
Comments on this How To Spruce Up Your City Apartment article are welcome.
Housing Designs
Contemporary Residential Property Designs – recent Strathclyde architectural selection below:
Candleriggs Square Apartments Merchant City
Candleriggs Square Apartments Merchant City
Ingram Street Property Development
65-97 Ingram Street Glasgow
Golfhill School Flats
Golfhill Public School Dennistoun Flats
Bridgeton Flats
Bridgeton Flats Muslin Street
Comments / photos for the How To Spruce Up Your City Apartment page welcome