How to hire right electrician for electrical needs guide, Home advice, Property help
How to Hire the Right Electrician for Your Electrical Needs?
7 July 2020
Whether it's covering live wires or replacing outdated electrical systems, you undoubtedly need the help of an electrician. Hiring the right electrician may not be a painless process, but it is certainly worth the effort.
This guide is for you if you need an electrician like Peal Development for new-building requirements or an existing home's electrical maintenance.
This article will equip you with everything you need to know before hiring an electrical professional.
Duties of an electrician
Before you hire an electrician, you should ensure that your needs fall within the responsibilities of one. These are the typical duties of an electrician:
 Install, enhance and maintain electrical components
 Inspect circuit breakers and transformers
 Replace worn out wire covers
 Cover live wires and corrects faulty wiring
 Troubleshoot electrical problems
 Replace substandard electrical systems with a new one
 Abide by the electrical code and construction regulations etc.
Types of electricians and their job descriptions
Knowing the types of electricians may help you identify the amount of help you need. The following are the three types of electricians and their job descriptions:
Apprentice
These are electricians who are still learning the skills from a more experienced electrician. Their tasks are primary and involve replacing outlets and installing fixtures.
Apprentices always work under the supervision of their seniors, a master electrician, or a journeyman.
Journeyman
Most electricians belong to this category. A journeyman doesn't need supervision. In most cases, they need an independent trading license to operate. A journeyman can perform all electrical tasks except design an electrical system when a master electrician is present.
Master electrician
These are the highest-ranking electricians. They supervise both the journeyman and apprentice. They design electrical systems in new buildings, and their rates are higher.
Nonetheless, it is not unusual for a customer to request a master electrician's services.
Questions to ask before hiring
Before you have an electrician come into your home or workplace to do repairs, interview them.
Asking the following questions will help you gauge the right electrician for electrical needs. These questions are identical to factors to consider before hiring an electrician.
What is the company's reputation?
If you intend to hire an electrician from a contracting company, you should know the company's reputation. You can find out by reading customer reviews.
An electrical contractor offering quality services will have an impressive reputation. Doing your research will help you choose the most qualified contractor for your needs.
Does the electrician have a license?
It is a vital requirement that electrical technicians be licensed before starting operations in the field.
What are the electrician's rates?
It would be best if you had a precise answer to this question before the technician arrives. Your electrical needs will also determine the piece range the electrician will quote.
Consider comparing service rates across various service providers before choosing one. You could call each and find out their package deal. This way, you are prudent in your search for the right technician.
Disagreements arising from service charges are relatively common. Always ask for a detailed quote upfront.
Do they have an insurance cover?
In this field of work, anything can happen. Accidents range from electrocutions to fires. Therefore, it is vital to hire an electrician who is fully insured.
To be sure, kindly ask to see document proof. This decision will save you from possible liabilities as a business or homeowner. Never hire an electrical technician who is not insured.
Is the electrician professional enough?
From the moment you contact an electrician, you will tell whether they are professional or not. It is vital to work with an electrician who will maintain proper levels of professionalism for your benefit. A great example of a company that shows great professionalism would be Amped Electrical.
A good electrician will have an impressive impact on you even before meeting in person. Though that is not always assured, an electrician's attitude, integrity, and courteousness will contribute significantly to your advantage.
How experienced is the electrician?
Hiring an experienced professional will benefit you in many ways. For example, the electrician will offer quality service and within a short time.
For complex electrical needs, you should hire an electrician with at least three years' experience.
Who will be doing the actual work?
It is common practice for a master electrician to claim projects but have a junior do the task. This is not an unlawful practice. The senior's license is usually on the line with each work he oversees.
Knowing who will do the work is vital information should any issues arise.
Does the company have safety and precaution policies?
It is crucial to check a company's safety plan before hiring their contractor. If they do, find out how safe or excellent the programs are. A reputable electrical company would never let their staff work without proper safety gear.
What are the electrician's qualifications?
The right electrician for electrical needs should have the required certifications and qualifications. Both should have been obtained from relevant authorities. Hiring an underqualified electrician will cost you more and may cause more harm to an already faulty situation.
If you want high standard services, you should be comfortable asking for certifications. Doing so will enable you to rest easy, knowing you're getting value for your money.
Does the electrician issue a warranty?
Most contractors issue warranties after providing services.
Tips after arrival
 Prepare a list. Don't mention other faults as the electrician does one job.
 Explain your needs in details to the professional. The more they understand, the better and quicker they will help you.
 Move fragile items out of the areas where the electrician will be working. They may not take responsibility for resulting damages.
 Since power is usually off during electrical repairs, be prepared to pause all activities dependent on the power availability.
 Lastly, enquire about potential problems after work is done.
Conclusion
Getting the right electrician for electrical needs isn't always a breeze. You must ensure your demand falls within an electrician's responsibility. Your electrical wants will dictate the type of electrician you need. Then, you will consider several factors before choosing the right professional. The process should be simple once you follow this guide.
Comments on this guide to how to hire the right electrician? article are welcome.
Glasgow Architecture
Major Strathclyde Building Designs – selection:
Radisson Hotel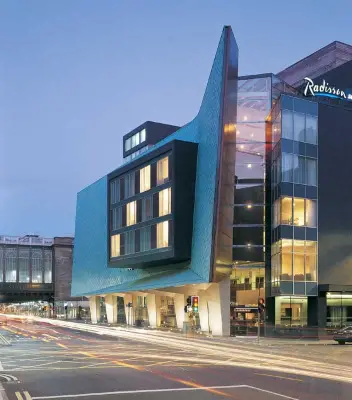 photo : Andrew Lee
Radisson Hotel Glasgow
Planning Application by North Planning & Development Ltd, reaction from architect Alan Dunlop.
New Glasgow Architectural Photos
Glasgow Architectural Photos
Comments on the guide to electrician hire post are welcome.