Glasgow Events, Scottish Architecture CPD, Conferences, Strathclyde Lectures
Glasgow Events + Talks
Strathclyde Architecture Talks & Architectural Exhibitions, west of Scotland
Scottish + Glasgow Events
Architecture Exhibition Glasgow
A+DS at The Lighthouse



image : David Churchill
All exhibitions are free and will be in The Lighthouse, 11 Mitchell Lane, Glasgow
Opening times: Mon, Wed – Sat: 10.30am – 5pm; Tues: 11am – 5pm; Closed Sun
Lighthouse Glasgow
Do you have an architecture-related Glasgow Event you wish to see here? Please send details to info(at)glasgowarchitecture.co.uk
Scottish Architectural Awards
The Edinburgh Architectural Association Awards are designed to create a showcase for the Architectural profession to demonstrate its skills and its contribution to the environment and the economy. The Awards highlight the excellent work undertaken within the EAA Chapter Area and by Architects in general.
Submissions are now being taken for these prestigious Awards. Short-listed entries will be displayed and the winners will be announced and presented with their awards at a special presentation event in April 2015. An exhibition of all short-listed entries will also be held in the RIAS Joyce Deans Room at 15 Rutland Square.
Entries for the following award categories are invited:
• Building of the Year
• Regeneration/ Conservation
• Small Projects
• EAA Ambassador
• Wood Award
For full terms and conditions and to download an entry form please see Entry Requirements.
Alternatively please visit the EAA website.
Closing date for entries is Thursday 22nd January 2015 at 4pm
Scottish + Glasgow Events – 2015
The David Hume Institute – Winter Seminar Series
21 Jan – 5 Feb 2015
Venue: The Royal Society of Edinburgh, 22-26 George Street, Edinburgh
Date: Between 21st January and 5th February 2015. All commencing at 6.00pm
Cost: DHI members free, non-members £25, students £5
With the referendum and the Smith Commission process on further powers behind us, but the UK General Election and the 2016 Scottish Parliament elections still ahead, the Politicians & Professionals series of seminars provides a timely opportunity to listen to the five political party leaders and discuss with them the question: 'what sort of Scotland do we wish to create?
AHSS Winter Lecture Series 2014-2015
8 Dec 2014 – 13 Apr 2015
Venue: St Andrew's and St George's West Church, 13 George Street, Edinburgh
Dates: various (see below)
Cost: £5 (£2.50 for students)
The Forth & Borders group are pleased to present a varied series of evening lectures for 2014-2015 covering a range of topics on Architectural History and Conservation and Garden History.
Monday 2nd February 2015 – Craigievar: Fifty Years in NTS Care. Ian Gow, Curator at the National Trust for Scotland since 1998, will tell us about this fine example of Scottish baronial architecture.
Monday 2nd March 2015 – Mackintosh Architecture: Context, Making and Meaning. Prof. Pamela Robertson, Professor of Mackintosh Studies and Senior Curator in the University of Glasgow's Hunterian Art Gallery is currently principal investigator on a major research project and will address us on recent research.
Monday 13th April 2015 – Who's looking out for our historic buildings? A round table debate on the challenges to be faced under new planning legislation. We will hear from representatives of different disciplines with opportunities for contributions and questions.
Tickets on the door.
Non members are warmly welcomed.
Building and Repairing Dry Stone Walls
26 + 27 Feb 2015
Venue: The Scottish Traditional Skills Training Centre at The National Trust for Scotland's Fyvie Castle, Aberdeenshire
Date: Thursday 26th & Friday 27th February 2015
Cost: £175
This 2-day Course will provide hands-on instruction and training in the skills and techniques involved in constructing and repairing Dry Stone Walls – and is aimed at Private Individuals, Estate and Farm Staff, Construction Industry Professionals, as well as those involved in landscape conservation and enhancement projects.
The course is being led by Euan Thompson, a highly skilled and experienced Dry Stone Waller and Instructor who, in addition to his work with the Scottish traditional Skills Training Centre, has carried out numerous highly successful walling projects for a wide range of private and public sector clients, including contract work for the National Trust for Scotland.
See Edinburgh Events
Recent Scottish Architecture Events
Recent Scottish Architectural Events
Exhibition: Postcode 3000
1 Nov – 28 Jan
Venue: Level 2, The Lighthouse, 11 Mitchell Lane, Glasgow
Date: Saturday 1st November – Wednesday 28th January; 10.30am – 5.00pm
Cost: Free
Postcode 3000 explores the development of Melbourne, and particularly, the re-urbanisation of the city centre. Originally created by the City of Melbourne to explain city-making principles to citizens, the exhibition highlights how recent regeneration focused on making better streets and increasing activities for people at street level has transformed the perception of the city centre from 'an empty useless space'.
SBCC Conference 2014
27 Nov
Venue: The Jeffrey Room, The Mitchell Library, North Street, Glasgow
Date: Thursday 27th November; 9.30am – 5.00pm
Cost: Full delegate fee – £180 / Student/retired – £48
This event will provide a definitive guide to the latest developments in building contracts and construction law in Scotland. It is suited to Architects, Engineers, Solicitors, Chartered Surveyors and Contractors.
This year we will discuss the future of the construction sector and consider the procurement review from the perspective of the Deputy Chair of the Review, architect, contractor and surveyor. The programme also includes an update on SBCC contractsand a legal update, sessions on arbitration, CDM and lessons learned from past economic recoveries. The outstanding speakers include Shona Frame (MacRoberts), Ken Lewandowski (Deputy Chair of the Procurement Review), Willie Watt (Nicoll Russell Studios) Susan Hanley (RICS Regional Training Advisor Scotland), Brandon Malone (Chairman, Scottish Arbitration Centre), James Ritchie, (Association for Project Safety), Charles McGregor (Simpson and Marwick) and Peter Hibberd (Chair, JCT).
The distinguished speakers and targeted programme will ensure delegates leave roundly informed of critical changes affecting their industry now and in the future.
The SBCC is grateful for the support of BAM, Gartcarron Fire Engineering, Sika Sarnafil, Rockpanel and Hardies for their generous support of this Conference. Please support these sponsors if you have any relevant tenders.
EAA Event Evening
26 Nov
Three CPD Sessions – One Evening
In what promises to be an interesting and informative event we have three very different presentations lined up, covering a range of local and current topics. Our speakers will share with us their knowledge, perspectives and issues encountered within their individual field.
Date: 26 November 2014
Time: 4.00pm – 7.30pm
An Industrial Tour of Leith and Granton
Dr Mike Cressey BA MSc PhD FSA Scot MIfA
Mike is a Project Manager at CFA Archaeology. He oversees historic building surveys and industrial archaeology. His interest in the latter came about after studying the environmental impact of historical lead mining on Islay. Mike is also a wood and charcoal specialist and is currently working on a large Iron Age assemblage for the National Museums of Scotland.
——-
Energy Efficiency and the 2015 Technical Regulations
Richard Atkins FRIAS RIBA
Richard is Managing Director of Home Energy and Data Services Limited who provide the IT and technical support for RIAS – Energy Design Certification Scheme. As well as being a member of a number of groups and committees Richard was Scotland's first Approved Certifier of Design (Section 6 – Energy) Domestic. His talk will cover the proposed changes to Section 6 – Energy in the 2015 standards and methods for achieving compliance.
——-
Infrastructure in Edinburgh – Queensferry Crossing
Alistair Chisholm, ARUP
One of the world's leading long-span bridge designers, Arup was selected as part of a joint venture with Jacobs Engineering UK Ltd to design, develop and project-manage a new cable-stayed bridge crossing the river Forth. This talk will describe the issues that were considered in developing the distinctive new bridge design. Alistair is a chartered civil engineer and has worked on this project since its inception, with particular responsibility for the challenging marine foundation works. He will describe how these complex construction activities were achieved in the exposed maritime environment, together with a description of the progress with works to date.
Venue: Scottish Storytelling Centre,
43-45 High Street, Edinburgh, EH1 1SR
Cost: £20 Members, £10 Students, £30 Non Members
*Price includes Tea/Coffee and fresh Scones, breaks will be scheduled between sessions, with sessions approximately 45 minutes long*
Early booking is advised. Places must be booked and paid for before the event, please register by email, stating name and type of ticket, followed with a cheque made payable to EAA, sent to EAA, 15 Rutland Square Edinburgh, EH1 2BE.
Cancellations notified to the EAA before the event can opt either to name a substitute attendee or to be credited the entry fee against a future event. There will be no refunds for non-attendance. If an event is cancelled paid bookings will be offered the option of a full refund or free place at a future event.
The Lost Tomb of Robert the Bruce
10 Nov
Venue: University of Glasgow Concert Hall, Gilbert Scott Building, Glasgow
Date: Monday 10th November
Cost: £30 / Students £20
The colloquium will interrogate the new research that has informed the process of archaeological reconstruction and use of 3D digital modelling that has created a detailed visualisation of the long lost tomb of Robert the Bruce (1274-1329) in its original setting.
Organised in association with the 700th anniversary of the Battle of Bannockburn, the associated Hunterian exhibition reunites surviving fragments from the lost tomb for the first time since their discovery almost 200 years ago.
2014 GIA Design Awards
GIA Annual Members Dinner: 14 Nov
Entries to the GIA Design Awards sponsored by Lightworks Scotland are now being invited. The annual GIA Awards are recognised at local and national level and are one of the main highlights of the annual GIA programme.
All entries will be featured on the GIA website and selected entries will feature in the GIA Annual Awards Publication. The Supreme Award winner, Awards winners and Commendations will be announced at the GIA Annual Members Dinner on 14 November 2014.
This year's categories include:
* Conservation
* Education
* Healthcare
* Leisure/Arts
* Office/Commercial/Industrial/Retail
* Residential
* Small Works (under £250,000)
The Stained Glass of Mount Stuart, Abbotsford and Rosslyn Chapel
20 Nov
Talk by Mark Banborough
Venue: Adelaides, 209 Bath Street, Glasgow
Date: Thursday 20th November; 7.00pm
Cost: £4 (students free)
Mark Banborough (conservator), will reveal personal insights into the stained glass of these important buildings.
For more information contact the National Office on 0131 557 0019.
15 Rutland Square, Edinburgh, EH1 2BE
T 0131 229 7545
E [email protected]
Drawing Counterpoints
16 Sep – 27 Oct 2014
House for an Art Lover, Café Gallery
Alan Dunlop & Peter Murray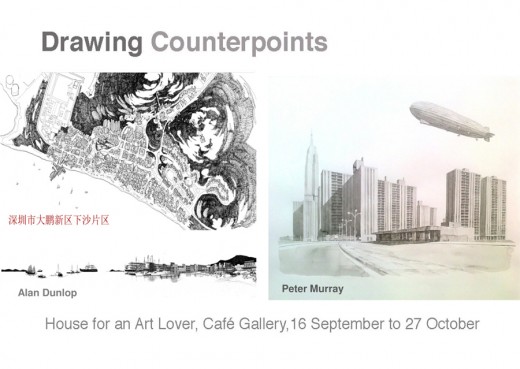 This joint by exhibition of work by the architect, Alan Dunlop and artist, Peter Murray at House for an Art Lover features new drawings and paintings that explore their individual approaches to the urban landscape.
Glasgow Doors Open Day
15 – 21 Sep 2014
As part of European Heritage Days, Glasgow Doors Open Day is an annual, city-wide, Built Heritage Festival which takes place in the third weekend of September. The event consists of around 100 buildings opening their doors and allowing the public to access, discover and learn about them with no entrance costs.
The event also includes tours in local areas, lead by voluntary tour guides with knowledge in the specific subject/area. These tours take the form of walks, bus and subway rides. Additionally, talks (including Neil Baxter's now traditional lecture) and special events are organised.
More information to follow on this year's Doors Open Day. If you would like to get involved, please contact Ruth Morris [email protected]
A Toast To Andy
21 Sep 2014
Strictly by invitation only
21.09.14, 2pm – 5pm
Old Fruitmarkett, Candleriggs, Glasgow, G1 1NQ.
A celebration of Andy's life is planned for Sunday 21st September.
A collection will be taken at the event to support the St Brides Tower Restoration Fund.
PechaKucha Night 21: Pretty Vacant
Date + time: 11 Sep 2014 18:00 – 20:30
Location: The Whisky Bond, 2 Dawson Rd, Glasgow, Glasgow City G4 9SL
Architecture and Design Scotland has been invited to curate Pretty Vacant at The Whisky Bond, Glasgow, where a range of speakers will give their own take on transforming vacant space, animating public space and urban food growing.
PechaKucha is a simple idea: 20 images for 20 seconds each making talks that last just under 7 minutes. It's a format that keeps things concise and moving at a rapid pace. If you would like a ticket book here: Glasgow Architecture Event
Scottish Design Awards 2014
Scottish Design Awards



5 Jun
Venue: Radisson Blu Hotel, Argyle St, Glasgow
Time: 7pm-7:30pm to1am
The Scottish Design Awards are open to all Architecture & Design companies in Scotland, or those doing work for a Scottish Client. The Awards aim to highlight the best and the brightest stars in the Scottish design industry.
RIAS Annual General Meeting
16 May
The AGM of the Royal Incorporation of Architects in Scotland will be held at 09.00 on Friday 16th May 2014 at The Mitchell Library & Theatre, North Street, Glasgow G3 7DN
My Place Awards and My Place Photography Exhibition
27 Mar – 4 May
THE SCOTTISH CIVIC TRUST
An exhibition about the two projects will run 27 March – 4 May
including an introduction to My Place Photography Learning Project.
Gallery 5, Level 5, The Lighthouse, 11 Mitchell Lane, Glasgow G1 3NU
My Place Awards Exhibition:
The Scottish Civic Trust My Place Awards, supported by the Scottish Government, celebrate buildings, landscape, public realm and civic projects that have had a positive impact in local neighbourhoods and delivered tangible benefits to their communities.
My Place Photography Competition Exhibition:
Two young photographers won the top prizes in the My Place Photography Competition run by the Scottish Civic Trust last year, in 2013. Octavia Gaston, age 12, from West Kilbride Primary School won 1st prize in the Primary School category for her atmospheric photograph 'Glenelg at Night'. Samuel Davies, age 17, of Braidhurst High School, North Lanarkshire, won in the Secondary School category with his stunning picture of an illuminated Glasgow University.
Royal Scottish Academy Annual Exhibition
29 Mar – 4 May 2014
RSA Building, The Mound, Edinburgh, EH2 2EL | Admission by donation
188th RSA ANNUAL EXHIBITION
"Focus on Film"
The RSA Annual Exhibition is a focal point of the RSA programme and showcases work from RSA Academicians the length and breadth of Scotland. Now in its 188th year, it continues to provide a platform for contemporary paintings, sculpture, film, printmaking, photography and installation alongside work by some of the country's leading architects.
Showcasing the best in Scottish Contemporary Art and Architecture
The Royal Scottish Academy, The Mound, Edinburgh, EH2 2EL
Open Monday to Saturday 10am – 5pm, Sunday 12 – 5pm. Closed December 25th & 26th. Open New Year's Day 12-5pm.
Admission free.
Royal Scottish Academy
The RSA Open is an exhibition of small-scale works by contemporary artists and architects from Scotland and further afield. The exhibition provides a wonderful opportunity to buy unique artworks and in doing so, support artists living and working in Scotland.
Ice Lab : New Architecture and Science in Antarctica
Lighthouse Exhibition
Alan Dunlop Exhibition



drawing : Alan Dunlop
Architect Alan Dunlop exhibited projects and drawings in the House for an Art Lover. Alan is the first architect invited to show their work at House for an Art Lover.
ZEMCH 2012 Conference
The ZEMCH 2012 International Conference will be held at the Mackintosh School of Architecture, Glasgow School of Art.
Maggie's Architecture of Hope Exhibition, The Lighthouse
The renowned architectural critic, Charles Jencks joined some of the country's leading architects, who have designed Maggie's Centres, for the launch of The Architecture of Hope Exhibition at The Lighthouse. Beautifully crafted models of the renowned centres, including Rem Koolhaas'Glasgow Gartnavel Building, which opens in October, will go on display to mark Maggie's 15th anniversary year.
Maggies Nottingham:



photo from Maggie's Centres
Beautifully crafted models of Maggie's Centres from some of the world's leading architectural practises on display.
Maggies Lanarkshire:



photo from Maggie's Centres
Riverside Museum Exhibition



photograph © Adrian Welch
Exhibition by Patricia Cain at Kelvingrove Museum dedicated to construction of Glasgow Transport Museum by Zaha Hadid Architects
Glasgow Drawing Competition Exhibition



image from organiser
Glasgow Drawing Competition
Nexus Exhibition by Neale Smith
Glasgow Events from 2009 / 2010 – Selection
Modernista: Gaudí and his Contemporaries in Modern Day Barcelona
Photographic essay of Barcelona's Modernista buildings by Spain's best-known architectural figure, Antoni Gaudi, and his contemporaries, Josep Puig i Cadafalch and Lluís Domènech i Montaner at The Lighthouse.
Space and Light 1972 & Space and Light Revisited 2009 – World Premiere
Glasgow Event Archive
Details of Glasgow Architecture Talks, Architecture Exhibitions, Scottish Exhibitions, Architects` Seminars, Architecture Conferences, CPD or Lectures welcome at info(at)glasgowarchitecture.co.uk
Comments / photos for the Glasgow Architecture Events page welcome