House for an Art Lover Glasgow building architect, Mackintosh architecture photo, 20th Century Scottish Art
House for an Art Lover Glasgow
Charles Rennie Mackintosh Building in Bellahouston Park, Strathclyde, Scotland
27 Aug 2014
Drawing Counterpoints
House for an Art Lover, Café Gallery, 16 September to 27 October
Alan Dunlop & Peter Murray
16 Sep – 27 Oct 2014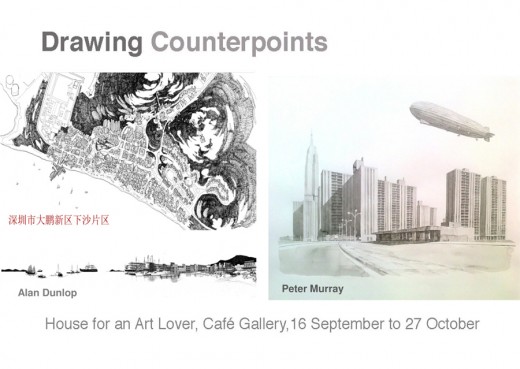 House for an Art Lover Exhibition
This joint exhibition of work by the architect, Alan Dunlop and artist, Peter Murray features new drawings and paintings that explore their individual approaches to the urban landscape.
Alan Dunlop
Xiasha Harbour, drawing by Alan Dunlop: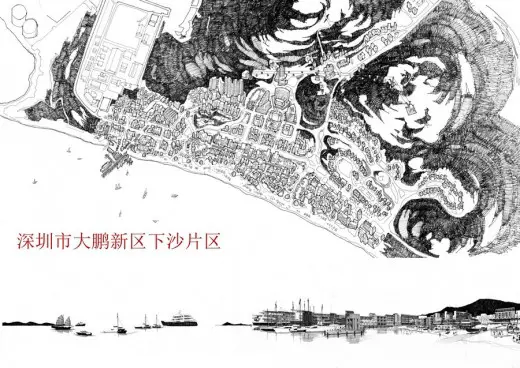 Alan Dunlop is a leading architect and a respected educator. He has an international profile and has completed a successful term as the Distinguished Victor L. Regnier Visiting Chair in Architecture at Kansas State University and as the Mahlum Endowed Lecturer at the University of Washington.
He is currently Visiting Professor at Robert Gordon University, Scott Sutherland School of Architecture and External Examiner at XJTLU School of Architecture, Suzhou, China. He has taught at schools of architecture in USA, UK, China and in Germany and also lectured internationally.
Peter Murray
Work by Peter Murray: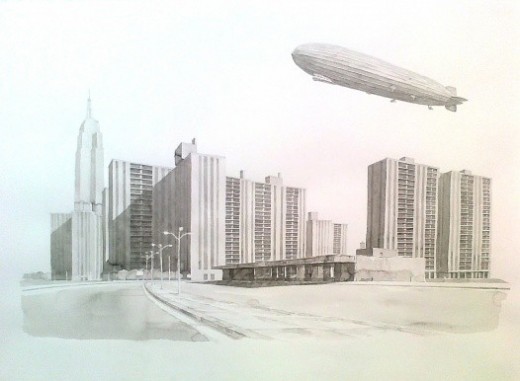 Peter Murray is a full-time artist, based at Trongate 103, in the heart of Glasgow's cultural quarter. He exhibits work regularly at the annual RGI, RSA, SSA, Singer & Friedlander exhibitions and has shown at the Jerwood and Noble Grossard exhibitions.
His work explores the Brutalist/Modernist architectural movement from the 1950s to the mid 1970s, and its association with a social utopian ideology. Working monochrome in black-ink/ watercolour, he creates dystopian images of metropolis cityscapes, urban agglomeration and their eery isolation using the aesthetic tactic of minimalism to reduce his subject to its necessary elements.
Drawing Counterpoints thus seeks to compare and contrast two entirely different, yet in some ways analogous perspectives on contemporary cityscapes and our urban environment.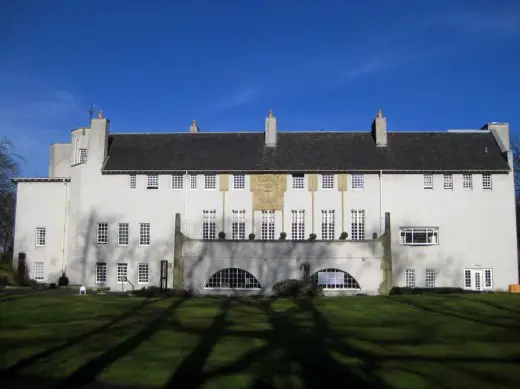 photo © Adrian Welch
10 DUMBRECK ROAD, BELLAHOUSTON PARK, GLASGOW G41 5BW
0141 353 4770 www.houseforanartlover.co.uk
House for an Art Lover
Address: 10 Dumbreck Road, Glasgow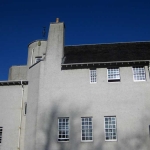 Phone: 0141 353 4770
Photos from 11 Feb 2011
Location: Bellahouston Park, Glasgow, Scotland, UK
Charles Rennie Mackintosh building constructed to his original plans in Bellahouston Park, Glasgow. Designed in 1901.
The House for an Art Lover resulted from an architecture competition design by Charles Rennie Mackintosh.
House for an Art Lover was built on the former site of Ibrox Hill House in 1989-96 with the assistance of Glasgow City Council. Graham Roxburgh and architect Professor Andy Macmillan were instrumental in creating Charles Rennie Mackintosh's House.
German magazine Zeitschrift fur Innendekoration held an international architecture competition for a Haus eines Kunstfreundes – `House for an Art Lover`. The brief demanded the house be of a 'thoroughly modern style`.
Charles Rennie Mackintosh's wife, Margaret Macdonald, assisted him on the house design.
Mackintosh's entry (submitted under the pseudonym Der Vögel (`The bird`) was disqualified due to being incomplete on the deadline. On resubmission Charles Rennie Mackintosh received an honorary award due to his house's originality.
The Art Nouveau house designs were published in 1902 and exhibited at the International Exposition in Turin, Lombardy, Italy.
House for an Art Lover architect : Charles Rennie Mackintosh
House for an Art Lover is built on the foundations of Ibrox Hill House (demolished 1913) Situated in Bellahouston Park and adjacent to Victorian Walled Gardens, the House for an Art Lover is one of Glasgow's most popular attractions.
The front door leads into the grand double-height Main Hall. The key rooms are accessed off this space:- the Oval Room, panelled Dining Room and the Music Room, originally designed as the Ladies Room.
A few rooms of this outstanding building were constructed to the original designs but there was no attempt to construct the first-floor bedrooms or what must have been an enormous attic playroom.
The rooms described below are open to the public while the upper two storeys are used by the Glasgow School of Art. There's also an Art Lovers' Café.
Mackintosh's drawings submitted for the competition are on display.

The House for an Art Lover is large and basically rectangular in plan. External walls are harled, painted white and the two main facades decorated with a few Art Nouveau relief sculptures of female figures (a la caryatids) sculpted in sandstone. Other symbols include the tree of life.
Keith Hunter Photography – contact details at Design Services
Key Charles Rennie Mackintosh works in Scotland
Gareth Hoskins Architects – Architecture Competition
Sep 2005
House for an Art Lover: Speculative Architecture Competition winners were announced earlier this week. The brief called for imaginative but realistic concepts for structures or installations to be set within the landscape at Bellahouston Park, Glasgow. This project is a major part of a broader initiative to establish the park as ART PARK Glasgow.
14 entries were received for sites around House for an Art Lover from which three proposals were chosen to develop with the intent of building one a year from 2006 – 2008, each for a budget of £100,000. The three winning entries were by Gareth Hoskins Architects, JM Architects and Gross Max.

Gareth Hoskins Architects scheme "Grass Roots" looks at the current routes through the park whilst reflecting on the city's industrial trade growth of bygone centuries. The installation takes the form of a line through the park, passing through the remains of Bellahouston House, which also acts as a fulcrum for the design. The line running north of the house manifests itself in randomly placed "Trade Stones" representing Glasgow's urban development.
The remains of the basement of the house will be landscaped with contours with miniature city blocks submerged and will provide a point for discussion, celebration and interaction. Lastly, the line running south of the house to the park edge harks back to a feudal past and is embodied in a broad strip of wild meadow grass, providing a place for reflection.
Gareth Hoskins Architects – House for an Art Lover Architecture Competition information received 150905
House for an Art Lover – Art Park Glasgow : Scottish Design Awards 2007 – Proposed Place Making Shortlist: ZM Architecture
Glasgow Architecture
Contemporary Architecture in Glasgow – architectural selection below:
Burrell Collection – located just south of House for an Art Lover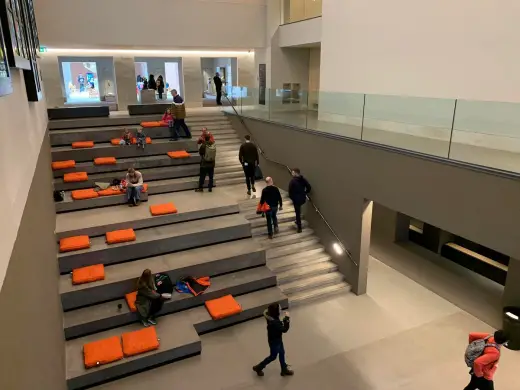 photograph © Adrian Welch
The Burrell Museum
Riverside Museum
Design: Zaha Hadid Architects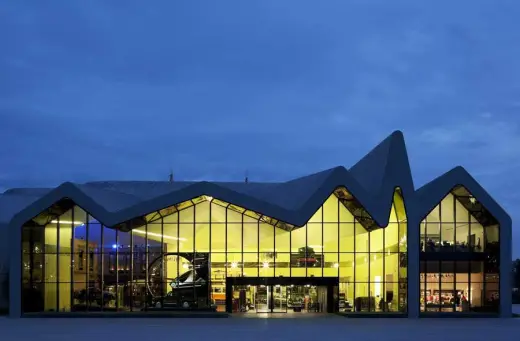 photo © Keith Hunter
Riverside Museum Glasgow
Artwork by renowned artist and writer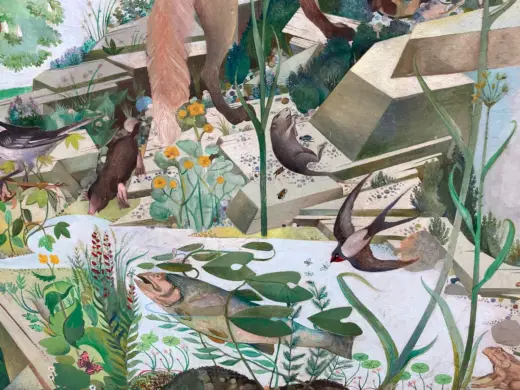 image courtesy of Historic Environment Scotland
Alasdair Gray mural at Palacerigg Cumbernauld
Historic Glasgow : best buildings of the past
Comments / photos for the House for an Art Lover Glasgow building design by famous Scottish architect Charles Rennie Mackintosh page welcome.