Bell Street College Heights, Merchant City Apartments Photos, Property Info
Bell St Glasgow Merchant City Apartments
Alba Town Project, Glasgow flats design by Gholami Baines Architects
post updated 6 Mar 2021
Marketing suite at Bell St, Merchant City




images upon completion from 'Ali', 13.11.05
Bell Street Glasgow Flats
Bell Street
College Heights – Apartment Building: Jan 2005
REGENERATION OF GLASGOW'S HIGH STREET REACHES NEW HEIGHTS



Bell St: image from Alba Town Glasgow
College Heights
The latest artist impression of the 108 luxury apartments on Glasgow's Bell Street has been unveiled and shows the widely anticipated £17m College Heights residential development which is set to help reinvigorate and rekindle the spirit of the High Street.
Developer Alba Town Ltd released the latest illustration of apartments situated near the historic High Street which will be a hub for city living and will soon be ready for public sale from an office in the Merchant City. Andrew Borthwick, director, Alba Town, said; "The new image will give people the chance to get a feel for the development and the opportunity to see the potential of living near the changing Glasgow Cross area."
The Bell Street development will be phased over three stages with phase one comprising of 52 apartments. The apartments will be a mix of one and two bedrooms, many with superb views over the city.
Andrew continued, "College Heights will provide stylish, modern accommodation. It is ideal for first time buyers and those seeking to stay near a lively urban, cosmopolitan centre like the Merchant City. College Heights will give buyers the chance to live, work and socialise in the city, providing a unique metropolitan lifestyle.
"The High Street was once the centre of Glasgow, the name of the development is based on the fact that the land it is built on was once the gardens of Glasgow University and was known as the 'Old College'. People like James Watt, inventor of the steam engine, Adam Smith the father of modern economics, and Joseph Black who discovered carbon dioxide would all have been bumping in to each other up and down the High Street.
"With new residential developments appearing in the area including a 700 student accommodation campus going up in High Street and, of course, the planned Inner City Science Park, soon there could be new generations of academics and entrepreneurs proliferating in the near future'.
Building College Heights is Ogilvie Construction with Slater Hogg and Howison as the selling agents. Alba Town Ltd is driving forward the urban regeneration of Glasgow Cross, with the £40m residential and commercial development of the Merchant Building on the corner of Bell Street and Trongate.
College Heights – information 21 Jan 2005
College Heights Glasgow – information Sep 2004:
Bell Street Beacon
Glasgow City Council has given the green light to Alba Towns' proposals to build an eleven story residential development on the site of a former scrap yard on Bell Street. The derelict site will host a small tower containing twenty-five apartments all with parking.



building images issued 2004 by Alba Town Ltd
This development will form part of an on going process of redevelopment at Bell Street where Alba Town have already started work on an adjacent site which will yield sixty flats.
Andrew Borthwick, Director of Alba Town said "we are delighted to have been given planning permission for what will likely become a land mark building overlooking as it does the whole High Street Area". "We are investing over £50 million in our Glasgow Cross and Bell Street projects, and already we feel we are part of a "C-change" that is coming about around the High Street.
Slater Hogg and Howison will be selling agents for the project with Ogilvie Construction, the builders. Work should commence early next year with the flats priced at around £200,000 being released for sale shortly thereafter.
Bell St, Glasgow – building information Sep 2004
Bell Street
Glasgow City Centre living is set to spread eastwards following the go-ahead for phase one of a modern residential development, proposed by Alba Town Ltd.


image issued 2003 by Alba Town Ltd
Bell Street – 2003
CITY CENTRE LIVING SPREADS EAST WITH £14M DEVELOPMENT
Glasgow City Council approved the plans for a luxury seven-storey building comprising 52 two-bedroom apartments and an office unit situated to the east of the historic High Street. The project will eventually consist of 112 flats and several offices on Bell Street and become a hub for city living and working.
Tom Laurie, Laurie Consultancy Group, said: "This development is extremely exciting as it assists in revitalising the Calton and Barras area of Glasgow. There is real potential to create a cosmopolitan atmosphere by accentuating the old traditions and historic hotspots of the City with a mix of new economic growth and modern facilities."
Alba Town Ltd is committed to driving forward the urban regeneration of Glasgow Cross extending it eastwards to Bell Street. A separate residential and commercial development has been proposed for Glasgow Cross.
Andrew Borthwick, Director, Alba Town Ltd, said: "City Centre living is increasing in popularity in all of Britain's major cities, including Glasgow. This development will allow us to deliver first class residential facilities, at competitive prices, in an exciting urban environment. The office units will encourage new business growth and create a vibrant daytime atmosphere".
Ogilvie Construction has been appointed to develop phase one. Start on site is scheduled for spring 2004, ready for occupancy in early 2005.
Bell Street – Building: 8 Dec 2003
Alba Town: Glasgow Cross Apr 2004
Alba Town Development
Latest Alba Town development, again by Gholami Baines, for 62 flats in 5 & 10-storey blocks at Bell St. Jul 2007
Bell Street architects : Gholami Baines' other Glasgow flats building
Glasgow Building Designs
Contemporary Glasgow Property Designs – recent architectural selection below:
Custom House Building Renewal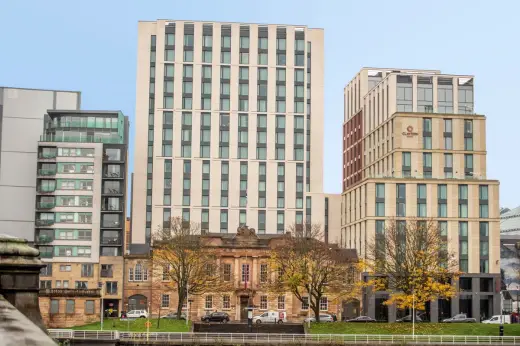 image courtesy of Artisan Real Estate
Glasgow Custom House Development
Paisley Museum Transformation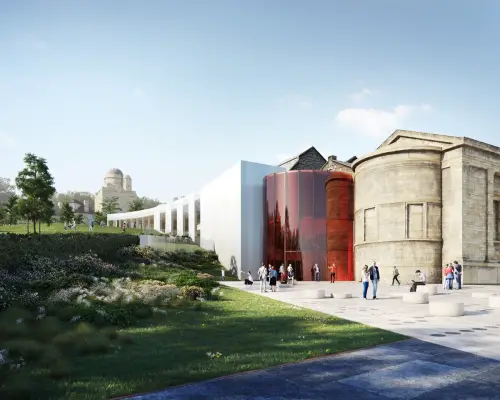 image courtesy of Renfrewshire Council
Paisley Museum Building
Solasta Riverside Building Buchanan Wharf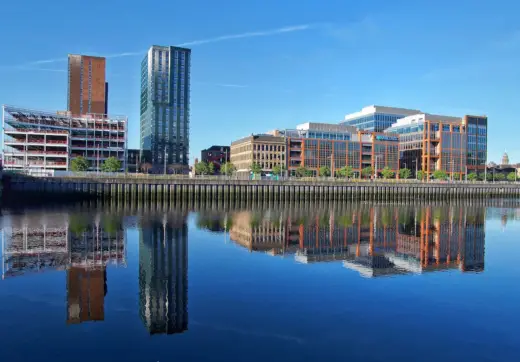 image courtesy of Drum Property Group
Solasta Riverside Building Buchanan Wharf
Comments / photos for the College Heights Glasgow architecture design by Gholami Baines Architects page welcome
Bell Street / College Heights – Website: www.collegeheights.co.uk