Bunk Bed Space, Bedroom Design Interior Tips, Home Style Project, Domestic Renewal Help Guide
Bedroom Design : Bunk Beds
Bedrooms Interior – Home decor advice article
23 May 2012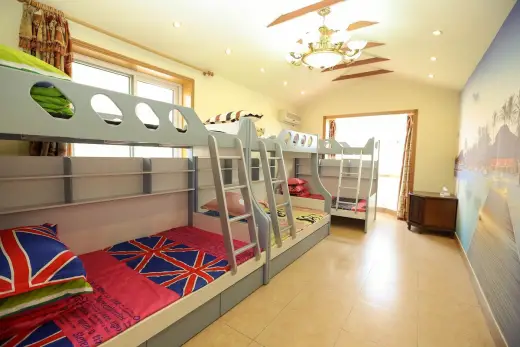 Bunk beds that save space
It's often great to design a building with unlimited room for the different rooms, such as the bedroom, but this is often not the case for architects and they must design the rooms around how much space they have. There are options for those rooms that lack a lot of space, for example bunk beds significantly increase the amount of spare room you have in a bedroom. Although bunk beds are considered an option only for people with children, who lack the necessary space for children's activities, this is not entirely true. There are many uses for them besides children bedrooms.
Hotels
There are many hotel owners which offer rooms with bunk beds, especially in the case of apartments. This way they save space for the customers' daily activities without being too crowded. Moreover, it is beneficial for the customer because the accommodation cost of the apartment will be significantly cheaper.
When someone goes on a holiday with their entire family, they will spend little time in the hotel room, mostly for sleeping. Paying less for accommodation seems a practical idea. This is why many hotels that offer bunk beds and cheaper prices have more clients than the other ones. Find quality fitted wardrobes in London for your bedroom renewal.
Military
The military also uses this type of beds on its ships and barracks. Here, every meter of floor counts so this type of beds is the ideal solution for them. You can also save more space by using the one underneath the bed by adding drawers for storage purposes.
Guest room
You can buy this type of beds for your guest room. Usually, the guest room is the smallest room in the house and accommodating guests can sometimes prove very difficult. The best solution is to have bunk beds installed for guests or family members.
You can even add a bunk bed with double beds at the bottom and a small one on top. This way, you can accommodate an entire family if you need to. No more uncomfortable sleeping arrangements will be made.
In conclusion, having bunk beds installed in another room besides the children's bedroom might not prove to be such a bad idea after all. Besides, if the army and hotels do it, why shouldn't you?
You can find out more information about bunk beds as a space saving technique at bedstar.co.uk.
Strathclyde Property
Famous property near Glasgow:
Hill House



photo © Isabelle Lomholt
Hill House
Recent Glasgow properties:
Fore Street Housing



photo : Tom Manley Photography
Fore Street Housing by Hypostyle
Glasgow Buildings
Glasgow School of Art Extension



picture : Steven Holl Architects
SECC Arena Glasgow – on site at SECC
Comments / photos for the Bedroom Bunk Beds Design article page welcome