3 Amazing Architectural Sights in Glasgow, Best Scottish building designs, Famous Scotland property photos
3 Amazing Architectural Sights to See in Glasgow, Scotland
19 Nov 2020
Glasgow, Scotland is home to some of the most era-defining Victorian-style architecture while surrounded by beautiful, scenic landscapes. It has beautiful buildings from many periods, including a handful of medieval architecture that's still standing, but many of the must-see buildings are from the 19th century.
Architecture is a notable part of any culture or society, and it is something to keep in mind when traveling to a new place. Whether you enjoy architecture because of its historical significance, aesthetic beauty, or because you have to prep for Oregon contracting exams, Glasgow is the place to be.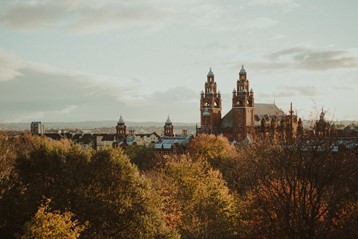 3 Amazing Architectural Sights You Should See in Glasgow List
Kelvingrove Art Gallery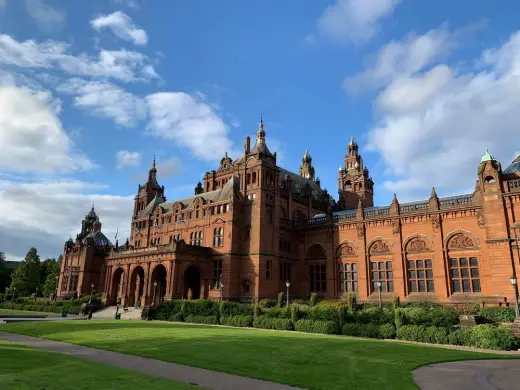 photo © Adrian Welch
This stunning building could not serve a more apt purpose, because the Kelvingrove Art Gallery is one of the most notable pieces of Victorian-era Glasgow architecture designed by none other than the most significant architect of the time, Charles Rennie Mackintosh. Mackintosh is responsible for many buildings in Glasgow, as well as a major inspiration for the Art Nouveau movement.
The first thing you may notice about the Kelvingrove Art Gallery is its size. It is a grandiose building, embellished with intricate red sandstone designs, and it contains 22 galleries. It was influenced by the Spanish Baroque style with ornate reliefs and eye-catching spires.
However, as beautiful as it may look on the outside, the inside is just as splendid, if not more so. With high, vaulted ceilings and finely crafted stonework, this art gallery feels almost cathedral-like—and that is only emphasized by the immense pipe organ that can be seen upon entering.
Scotland Street School Museum
Another work of Mackintosh is the Scotland Street School Museum. This museum is an historic architectural attraction constructed at the very beginning of the 20th century, and although it may not look like it, this museum was a school upon construction. Mackintosh designed it with the inspiration of Falkland Palace and Rowallan Castle, but its vast array of windows make some think more of a train station or a factory.
The school itself ran until 1979 and has since been transformed into a museum for the public. The Scotland Street School Museum has lured people from all over due to its unique and then-innovative design, making it a true staple of Glasgow history and architecture.
Glasgow Cathedral
One of the few still-standing works of medieval Glasgow architecture, the Glasgow Cathedral (also known as St. Kentigern's or St. Mungo's Cathedral) is the oldest cathedral in Scotland and a must-see site of the city. Built in the 12th century, the Glasgow Cathedral is an idyllic monument of gothic architecture, complete with an arched entrance, picturesque stained glass windows, a spectacular central rose window, and elegant stone design that is open to the public during appropriate viewing hours.
This cathedral also served as the center of the city upon its completion, meaning it will be convenient to travel anywhere else in Glasgow after your visit.
Last Thoughts
Glasgow is a city like none other. It is surrounded by stunning, Scottish scenery and full of historic buildings and sites that span across centuries. Not only that, but the architecture of Glasgow went on to inspire some of the most impactful art movements of the last century, making awe-inspiring architecture even more culturally relevant.
Regardless of your reason for coming to Glasgow, and the countless restaurants at which you will be eating and tours you will be taking, the architecture is some of the finest in the world and deserves to be appreciated. Consider seeing some of these monumental Scottish touchstones while you are in Glasgow, Scotland.
Comments on this guide to 3 amazing architectural sights to see in Glasgow article are welcome.
Glasgow Building Designs
Glasgow Architecture Designs – architectural selection below:
New Glasgow Architectural Photos
Glasgow Architectural Photos
Custom House Building Renewal
Glasgow Custom House Development
University of Glasgow ARC
University of Glasgow ARC: Advanced Research Centre
Comments / photos for the 3 amazing architectural sights to see in Glasgow guide page welcome