World's 11 most beautiful buildings guide, Lotus Temple New Delhi, Las Lajas Sanctuary Nariño
World's 11 most beautiful buildings
12 Mar 2023
Architecture has always been an art form perfected by few but enjoyed by many. Building and designing structures requires not only imagination but also ingenuity and skill.
World's 11 most beautiful buildings list
Lotus Temple, New Delhi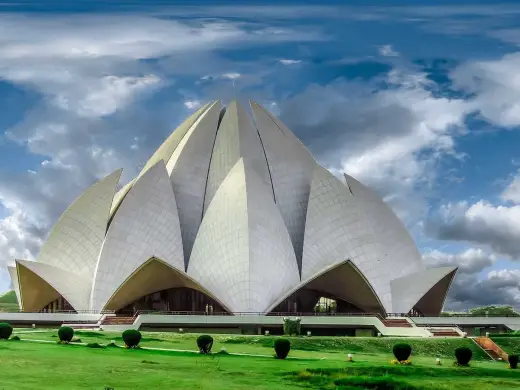 The Lotus Temple is a Bahá'í place of worship in New Delhi. It contains 27 lotus flower structures opening into a central hall. Its top is made of the same white marble from Greece's Mount Pentelicus that was used to build the Parthenon.
Barcelona's La Pedrera
Barcelona's streets are home to several stunning and eccentric structures designed by world-renowned architect Antoni Gaudi. His distinctive approach led to the creation of some of the most imaginative structures in the world, such as La Pedrera.
This house is more of a sculpture than a structure. The façade, which features a mass of wavy stone and iron balconies, investigates the flaws of nature and was designated a World Heritage Site by UNESCO in 1984.
Las Lajas Sanctuary, Nariño
Built inside a gorge, this ominously Gothic-looking church impressively bridges its two sides. It is situated in Southern Colombia, where a lady and her daughter are said to have witnessed an appearance of the Virgin Mary in 1754, which allowed the girl who had been deaf and mute to talk.
Many shrines have been constructed since then. This structure was built between 1916 and 1949.
Dome of The Rock, Jerusalem
A masterpiece of Islamic architecture, The Dome of the Rock was constructed in the seventh century. Byzantine architecture is evident in the wooden rotunda dome and octagonal layout. In 1561, the exterior's Persian tiles were added.
The oldest Islamic structure still standing, it has been used as a model for construction and other endeavours for more than a thousand years.
Moscow's St. Basil's Cathedral
The most popular tourist destination in Moscow is this flamboyant, candy-coloured cathedral. The well-known structure, which designates the geometric centre of the city, is shaped to mimic the flame of a bonfire ascending into the sky.
Casino de Monte-Carlo, Monaco
The city-state of Monaco on the French Riviera is known as a hub for billionaires. The famous French architect Charles Garnier built the Casino de Monte-Carlo in the Beaux-Arts style in the middle of the 1800s with many decorations and jaw-dropping details. Even though it has had many changes and additions over its long history, its original style has been kept. Nowadays, it's a great place for all casino enthusiasts, whether you're a seasoned gambler or just learning casino terms at a glance, to indulge in the luxurious thrill of high-stakes games while admiring the sleek lines of exotic sports cars.
Heydar Aliyev Centre, Baku
British-Iraqi architect Zaha Hadid was responsible for the design of the Heydar Aliyev Center. The newest design on the list is situated in Azerbaijan and was finished in 2012. The pattern is characterised by its flowing lines and absence of angles.
London's Buckingham Palace
The mansion was merely a red brick home when George III purchased the land in 1735. Since then, the building has undergone significant architectural transformations to become what it is now.
Nine bombs were dropped on the palace during World War II, requiring major repairs. It is, nonetheless, one of the few active royal residences left in the world today and is still very much in use.
Cathedral of Brasilia
This curved beauty in Brazil's Brasilia is just as striking inside as outside with its stunning stained glass and crown-like structure. From 1958 to 1970, it was created by Oscar Niemeyer and Lucio Costa, two known communists, which is interesting given the religious context.
Fallingwater, Pennsylvania
Designed in 1934 by Frank Lloyd Wright, Fallingwater is one of the most famous private residences in the world. But why? The unique design makes it look like the house stretches out over a 30ft waterfall, with no solid ground underneath.
This of course isn't the case, but the innovative design captured everyone's attention in 1939 when it was finalised. It is now a historic landmark, and you can even get a Lego version.
Pantheon, Rome
Rome is home to many awe-inspiring buildings, including the Pantheon. Like the city itself, it was not built in a day – it was destroyed twice and rebuilt each time. The building started as a rectangular structure, but over time evolved into the gorgeous dome building seen today.
There is much debate between historians over which emperor and architects were responsible for the design. All we know is that this "Temple of the Gods" was built around 126 AD.
Comments on this guide to the World's 11 most beautiful buildings article are welcome.
Buildings
Key Buildings in Scotland Articles – architectural selection below:
Merchant City boutique hotel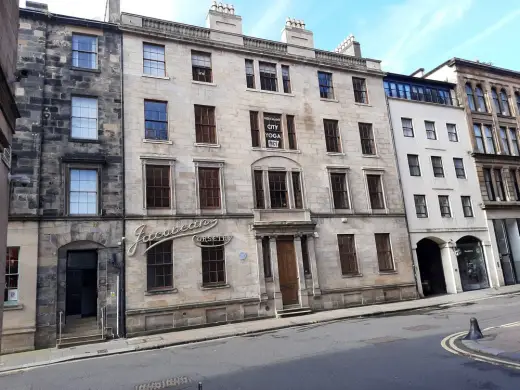 image courtesy of architects practice
Merchant City
Historic Glasgow : best Glasgow architecture of the past
Comments / photos for the World's 11 most beautiful buildings advice page welcome