6 new glass architecture design trends for 2022 guide, Building facade glazing tips
6 New Glass Architecture Design Trends For 2022 Guide
12 April 2022
The previous year has dropped some of the freshest and most modern architectural designs, making spending time at home seem more relaxing and calmer. This year, some of those trends from the past year will continue to linger as many families continue to spend time at home. If you're thinking of incorporating glass architectural designs in your haven this year, it's practical to gather some intriguing design trends.

Glass comes with many designs, patterns, hues, and uses. It's added into the structure for many purposes like sun shade, inviting more natural light, or aesthetical reasons. Whatever your goal, adding some glass to your home will improve its overall design outside. This year as you continue to work remotely or spend more time with your loved ones at home, say hello to a brighter and well-lit space when glass structures are added to your design.
Check out the following glass architectural design trends to look out for this year:
6 New Glass Architecture Design Trends For 2022 List
Skylights
There's nothing more brilliant than deciding to add more glass to your structure. You can try having a huge skylight right in the middle of your house or above your main staircase for natural illumination during the day.
Of course, you should have it installed by reputable fitters like GlasSpace, to ensure safety and quality. You'll want nothing less than experts for your glass structures.
Outdoor Living Area
Another glass structure trend pertains to outdoor living areas. People crave the outdoors as restrictions and limitations continue due to the pandemic. You and your family don't have to go far to breathe in some fresh air or witness the beautiful skies. You can designate an outdoor space in your yard and add some glass walls to your home's entryway. This lets you have a clear view from the inside, so even when you don't open the windows or glass door, you can still see the outdoors and feel satisfied. That's a point for energy efficiency as well.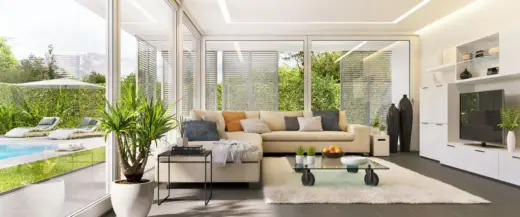 Oversized glass eliminates the limitations of window edges, so you can take in all the light seeping in from that vast glass space. You can take in the outdoor view and your yard's greeneries if you have a small garden at home.
Home Office
Even though most people return to work or adopt hybrid approaches, many professionals still work from home. Therefore, the trend of having a home office continues. One great way to design a home office is to use glass designs. To focus and concentrate better on your tasks, you'd want some natural light from the windows beside or in front of your work desk.
Make sure the area is well-lit and has easy access to fresh air as this will surely improve mood and productivity. You can exclude your home office from the common or shared spaces at home to enhance your focus more when working. Many home office designs use glass walls, which are modern-looking and beautiful as they invite natural light from the outside. While working, you won't have to turn on your lights and save more on your electricity bills.
Sustainable Home
As global warming awareness spreads widely year after year, making decisions in your life requires you to consider the environment in every aspect. Sustainability will continue to be trending this year. Eco-friendly materials are becoming more popular as people work on their interior design projects. If you want to jump on this bandwagon, you can utilize glass structures to make your home more sustainable.
You can design your structure to control temperature by incorporating more windows and inviting fresh air for ventilation instead of relying on your LED lights and HVAC systems. An example would be to use solar control glass on your sliding doors. This will help keep out the sun's harmful rays.
Wider Space Illusion
Even if your home is narrow and has limited space, you can still find ways to have a more expansive-looking space. Glass makes spaces appear larger, which is another reason it is trending this year. Many tiny houses rely on glass structures to make them appear more spacious.
By its very nature, glass creates an impression of flow in a design. The transparent material doesn't create a sense of division or obstruction within your room, nor does it block your view of the overall design. It will make your limited space seem broader and more spacious. For instance, ditch the concrete walls on a side or two of your structure in favor of glass. Won't it seem larger now without the opaque walls?
Incorporating Curvy Edges
Minimalist and modern houses will continue to use sleek lines and sharp edges. However, one new trend is the appearance of curvy edges in many residential homes. Instead of installing glass structures in a rigid and cornered manner, you can play out and use curvy edges instead. Glass walls don't always have to appear in a square or rectangular form. You can create a curved area to give your exterior a new look.
Conclusion
New trends emerge every day, but using glass structures at home will continue. This year, continue adapting some trends listed above and get ready to elevate the design of your home. Whatever purpose you're trying to achieve, using architectural glass design will help you achieve your interior design goals.
Comments on this guide to 6 new glass architecture design trends for 2022 article are welcome
Property Designs
Glasgow Architecture Designs – architectural selection below:
50 Bothwell Street Office News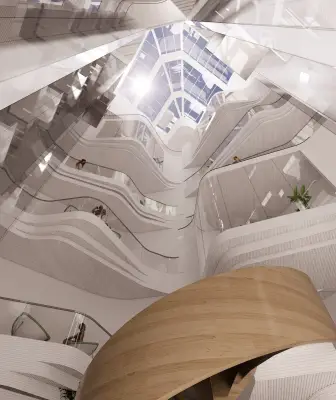 image courtesy of architects practice
50 Bothwell Street Office Redevelopment
Comments / photos for the 6 new glass architecture design trends for 2022 advice page welcome