Why should we prefer prefabricated buildings, Modular construction, Modern building methods, MMC
Why Should We Prefer Prefabricated Buildings?
27 February 2023
Prefabricated buildings have been around for many years. Still, their use is rapidly gaining popularity as more individuals, schools, and organisations become aware of their many benefits compared to traditional constructions. Modular buildings are made to current international building codes and quality-assured using high-performance technology and energy-saving materials. They are incredibly durable, cost-effective, and far quicker to design, manufacture and supply, which makes them ideal for most purposes.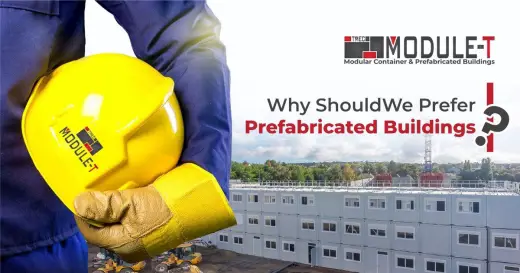 Here's a look at how prefabricated structures can be used, the main advantages of prefabricated buildings and why so many companies are now using them rather than conventional stick-built constructions.
Prefabricated Buildings to Suit Every Purpose
Prefabricated buildings have numerous applications. If you want to expand your existing company, these versatile structures can provide additional office space, storage, laboratories, factory workshops or rooms for your commercial teams. Modular buildings also offer a fast and cost-saving solution for creating entire schools, factories, temporary construction and mining facilities, labour camps, or emergency accommodations. In addition, these flexible structures can also be erected quickly, dismantled, and relocated.
Module-T manufactures various standard modular buildings that can all be altered to suit your needs. They can be used on temporary or permanent sites and shipped to locations worldwide. A few of our most popular modular buildings include:
Prefabricated office buildings
Modular workshops and storage facilities
Prefab sports and construction site locker rooms
Prefabricated classrooms and school buildings
Fully functional modular canteens and restaurants
Modular accommodation blocks and dormitories
Prefabricated WC and sanitary containers
Prefab shower blocks
Flat-pack showroom containers
Prefab point-of-sale kiosks
Prefabricated security booths and guard houses
Container shops and forecourt outlets
Rapid Assembly of Modular Prefabricated Constructions
One of the main benefits of a prefabricated building is the speed at which it can be assembled once it reaches the site. Modular constructions are optimised for durability and performance. They are built to withstand the rigours of rough transportation over land and by sea. They arrive flat-packed in kit form and can easily be erected using the lifting hooks attached and simple tools. Most of our structures can be assembled in just a few hours, and they come with pre-cut electric and utility sockets for easy connection.
What Are The Advantages of Prefabricated Buildings?
Modular constructions are a popular choice for many reasons. Discover the main benefits of prefabricated buildings below:
1. Cost
Prefabricated construction offers a high-quality and affordable way to create space suited to your purpose. The speed of construction, lack of bad weather delays, and savings in labour and wastage all result in significant savings that are passed down to the client.
2. Speed
The off-site factory-controlled manufacturing of prefabricated buildings ensures significant savings in time. This means you receive the structure you ordered on a far shorter timescale than constructing a traditional building from scratch.
3. Quality
Modular buildings are made using state-of-the-art technology in a tightly controlled factory environment. This ensures all construction elements (modules) adhere to current building codes and are built to an extremely high quality and standard.
4. Sustainability
Prefabricated buildings are far more eco-friendly than most conventional constructions. Due to the technology used in production, there is far less waste or carbon emissions, the walls are fully insulated, and the windows are double-glazed to offer optimum thermal performance. The buildings also only require light foundations, which keeps the impact on the landscape to a minimum.
5. Safety
Conventional building methods require heavy machinery to be used on-site, and the entire process causes a lot of onsite disruption. This is an obvious health and safety concern. In contrast, modular constructions are built remotely, reducing the risk and dangers for your workers and crew.
6. Versatility
Prefab buildings are highly flexible and can be customised or adapted to suit almost any purpose. They can be joined, stacked or stand-alone, and they are easy to assemble and dismantle so that you can move the structure on in the future. You can opt for a standard model or order a bespoke construction. You can also optimise the building and include a wide variety of additional features during the design stage, making them far more flexible than most traditional constructions.
Module-T, A Leading Turkish Prefabricated Building Manufacturer
Module-T is a leading Turkish supplier of prefabricated buildings. For the last 15 years, we have produced many types of modular constructions for use worldwide. As the production arm of Group TMEC in Istanbul, we offer the knowledge and experience to design, manufacture and ship the best prefabricated buildings to your site. Our modular constructions can be used in any location. Our logistics team is on hand to ensure your modular building arrives in top condition, even in the most challenging and remote areas. If you want to know more about prefabricated buildings or want to talk to one of our sales consultants, please contact us.
Comments on this guide to Why should we prefer prefabricated buildings article are welcome.
Glasgow Building Designs
Glasgow Architecture Designs – architectural selection below:
New Glasgow Architectural Photos
Glasgow Architectural Photos
Holiday Inn Pacific Quay Hotel
Architects: Mosaic Architecture + Design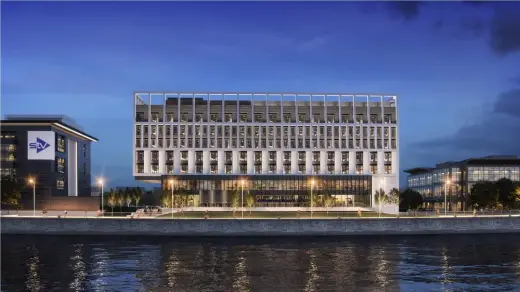 image courtesy of architects
Holiday Inn Pacific Quay Hotel
Merchant City boutique hotel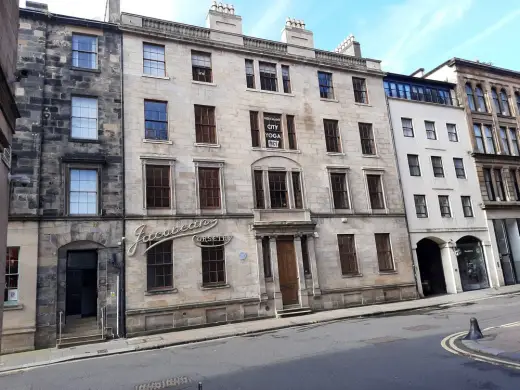 image courtesy of architecture practice
Merchant City Property
Comments on this guide to Why should we prefer prefabricated buildings advice article are welcome