Guide to Investing in Glasgow Property Market, Strathclyde House Buying Advice, Sales Help
Why Invest in Glasgow Property Market?
7 Jan 2021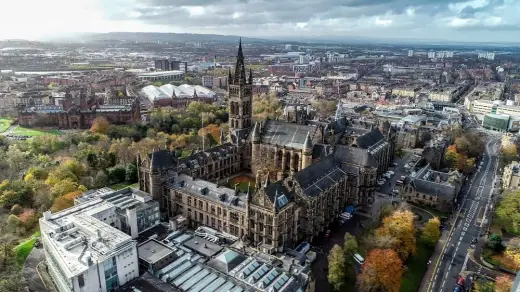 Glasgow has one of the fastest-growing property markets in the UK. With decent house prices and increased rents, this city is becoming more and more popular with property investors. According to the National Records of Scotland, Glasgow City is projected to have the highest population out of Scotland's 32 council areas in 2028. This means the demand for property is at an all-time high and is why many people are moving their capital outside of London and towards the north.
Glasgow and Edinburgh are two of the best cities for investing in property, especially residential property. But with a larger population than Scotland's capital city, Glasgow is the favoured hotspot for buying, renting and selling. Some of the reasons this Scottish city has become so sought-after by investors are the ever-increasing student population and the many job opportunities it has to offer in the finance and tech sectors.
For those who understand the city and the opportunities on offer, it can be extremely profitable for property buyers. Let's take a closer look at why people should invest in Glasgow property market.
Why Invest in Glasgow Property Market Advice
A Growing Population
Not only is Glasgow seen to be a profitable property investment, but it could also be an exciting one too. The city has so much to give from beautiful architecture that can be converted into office and accommodation spaces, history and culture, and the bustling streets of Glasgow's fashionable Merchant City. This chic part of the city is filled with designer shops, trendy restaurants, upmarket cafes, and galleries, perfect for locals or people visiting Glasgow.
Not only does Glasgow have a growing residential population but a flourishing student one too. With three major universities, two of them in the top 300 of the QS World University Rankings for 2020, and the University of Glasgow ranking 67th, it's no wonder students are flocking here to further their education.
In recent Glasgow building news, amidst the global pandemic, the property market has not taken as much of a hit as it did in 2008 with the financial crisis. Quite the opposite, in fact, as house prices have continued to soar throughout Scotland and other parts of the UK, making it a great place to put your money. Eric Curran, managing partner of DM Hall Chartered Surveyors, predicts that demand will remain strong, with no significant fall in house prices. Depending on when the lockdown restrictions are lifted, it will help determine this.
Strong Market Growth
According to North West-based property experts RWinvest, strong growth has been predicted for the UK in the coming years leading up to 2024 with the North West region reaching 27.3%. Scotland follows closely behind with a sizeable 25.4% increase in previous property prices. With such promising returns on property investment in the future, now might be the perfect time to invest for experienced and first-time buyers.
It's no secret that Glasgow is a thriving city attracting thousands of students and working professionals with its creative scene and stellar campuses, coupling this with the city's affordable house prices, and it makes for a very popular place for residents and investors.
With the house prices in the south being significantly higher at around £666k according to Zoopla, the north is becoming increasingly popular for future property investments, and Glasgow in particular with its £179k price point.
For buy-to-let investors looking to make a profit through rental income, they can expect high yields of up to 10%, with the average sitting at 7.8% – that's 3.8% higher than the UK average.
Rents will continue to rise in the city as unemployment rates increase following another national lockdown. More people are looking to become tenants than homeowners, keeping the demand for rental properties healthy.
It's not just the vibrancy and history of the city that attracts people to reside and invest in Scotland, but Glasgow has an impressive regeneration plan for four of the city centre districts. Glasgow City Council encourages the public to consult on the District Regeneration Framework (DRF) to help with the future planning and development of Cowcaddens, Learning Quarters, Merchant City, and Townhead.
The DRF is part of a ten-year plan to improve these four districts, bringing even more people into the city.
Comments / photos for the Why invest in Glasgow property market tips – page welcome
According to popular cash property buyer, The Property Buying Company, there has also been a large recent increase in landlords looking to purchase property, particularly HMOs in the Glasgow area.
Glasgow Building Designs
Glasgow Architecture Designs – architectural selection below:
Comments for this Why invest in Glasgow property market guide post are welcome