Commercial Property Market West Central Scotland, Strathclyde building development, Scottish properties in Covid year
West Central Scotland Commercial Property Market Guide
12 Dec 2020
Commercial property winners and losers over the Covid year. Retail is transforming, Leisure is hurting, Industrial is thriving and Offices will bounce back
By Jonathan McManus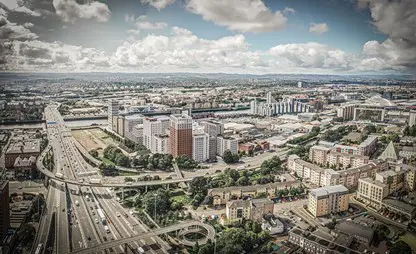 image courtesy of architects practice
Commercial Property Market in West Central Scotland in 2020
While it was a perfectly reasonable reaction to look slightly aghast at the commercial property market in West Central Scotland earlier this year, the huge and debilitating unknowns of the Covid era are beginning to dissipate and a few glimmers of optimism are not now inappropriate.
Looking back to the first days of lockdown, there was a general expectation that it would be a three or four-week blip. By May, the realisation dawned that it was something far more serious and there were some dark days indeed as the summer faded.
But the commercial property market relies on sentiment and optimism and the recent flurry of good vaccine news has acted as a positive fillip – as it has in the stock market, where the FTSE 100 enjoyed its best month for 30 years in November.
In the last few weeks, the balance has tilted markedly between those investors who are still sitting on their hands and accepting no risk and those who are once again perking up and saying that they will be looking for opportunities in Q1 next year.
This attitudinal change is in line with group psychology. A relentless diet of negative news leads to investment atrophy. Word of a realistic way out of the ongoing economic malaise is bound to have quite the opposite effect.
Certainly, the drumbeats that we are hearing from all DM Hall's 26 offices across the country – not just the establishments in the three major cities – confirm that interested parties are starting to lift their heads and sniff the air.
Register of Scotland and property transaction
One of the most heartening themes of the past year has been the way people across the board have raised their game to react to an unprecedented situation. For instance, it was initially impossible to conclude a transaction because of the inability to register titles with the Register of Scotland.
Then the Register let it be understood that it would effectively underwrite the process, the box could be ticked and business could commence. The same can-do attitude has been evident among developers, funders, lawyers and accountants.
The most high-profile sectoral victim of the past year has been High Street retail, and certainly the headlines surrounding Debenhams, the Arcadia Group and others are shocking, especially with the human cost of tens of thousands of job losses.
But the harsh reality is that the pandemic really only administered the coup de grace to many bricks and mortar businesses which had been on life support for years. Their demise has to be contrasted with the resounding success of the online model.
It is obvious that if 500 stores across Scotland go down with the SS Arcadia, there will not be 500 Class one retailers queuing up to take on the leases. But city and town centres have proved to be surprisingly adaptable too.
A case in point is Sauchiehall Street in Glasgow, where Glasgow City Council is transforming it from a retail-led throughfare to a leisure destination with attractive streetscapes, traffic calming and the encouragement of clubs, pubs and restaurants.
This may seem counter-intuitive as the Death of the Pub has been so consistently flagged up, but innovative, alternative uses for space will be vital if we seriously want city centres to remain vibrant and relevant.
Leisure, it has to be said, is seriously if not mortally wounded. A brief, and by no means comprehensive, list of well-known venues in Glasgow which have shut their doors for the last time include the Grill on the Corner and Gusto on Bothwell Street,
and Iberica and Bread Meets Bread on St Vincent Street.
Rumours abound about All Bar One, a keystone landmark in the city for some 20 years now, and underneath these high-profile cases who knows what damage is being inflicted. I predict a gap of 18 months to two years before leisure starts to seriously recover.
Strathclyde industrial market property review
Conversely, interest in the industrial market is as keen as it has ever been, driven as it has been in recent years by lack of supply. Speculative build is once again a feature and decent older stock is being refurbished and re-used.
And it should be noted that while much retail is disappearing from the High Streets, it is emerging, Phoenix-like, in an online guise operated out of storage units on industrial estates where stock is kept. The distribution sector has been another big, obvious winner as this trend gathers pace.
At the smaller end of the industrial market – below 3000 sq ft and where the freeholds are available for sale – people with unproductive money to invest are springing some surprises. One recent sale attracted 10 offers, all 40% to 50% above the asking price. The much larger units are, equally, performing well.
There has also been enormous demand for Class 3 takeaway units, fuelled by the collective desire not to have to cook for ourselves all the time. This is especially the case in secondary towns where anything sensibly prices will be snapped up like a hot fish supper.
Offices are the big dilemma. Many excellent properties in the city centres have languished as people work from home. But there is activity here too, because of the mathematical logic that businesses may need the same space for far fewer people.
Also, there is increasing chatter suggesting that major employers are detecting clear benefits to productivity levels of people working together in a fixed location and I suspect that we will see a gradual re-occupation of offices starting in the summer of 2021.
If there is one lesson that this year has taught us, it is that people are infinitely adaptable, and that human ingenuity can, in the end, solve most problems. That in itself is cause for optimism.
Jonathan McManus is a Partner of Commercial Agency at DM Hall Chartered Surveyors.
For further information, contact DM Hall Chartered Surveyors, 220 St Vincent Street, Glasgow G25SG. T: 0141 352 6423.
[email protected]
https://www.dmhall.co.uk/commercial-property/
Webste: www.dmhall.co.uk
Comments / photos for the Commercial Property Market in West Central Scotland in 2020 – page welcome
Strathclyde Housing Designs
Contemporary Glasgow Residential Property Designs – recent Strathclyde architectural selection below:
Ingram Street Property Development
65-97 Ingram Street Glasgow
Candleriggs Square Apartments Merchant City
Candleriggs Square Apartments Merchant City
Glasgow Building Designs
Glasgow Architecture Designs – architectural selection below:
Comments for this West Central Scotland commercial property market guide post are welcome.