Uncovering the beauty of straight baths, Architecture design trends, Home bathroom interior style advice, Property bath type guide
Uncovering the Beauty of Straight Baths
20 Mar 2023
Straight baths come in a variety of styles, sizes, and designs, giving you plenty of options to choose from when considering which is right for your space. Whether you're looking for a classic clawfoot tub or a modern freestanding model, a straight bath is sure to make a statement in any bathroom.
In this blog post, we'll dive into the different types of straight baths, their benefits and drawbacks, and just how stunning they can be in a bathroom. Let's get started!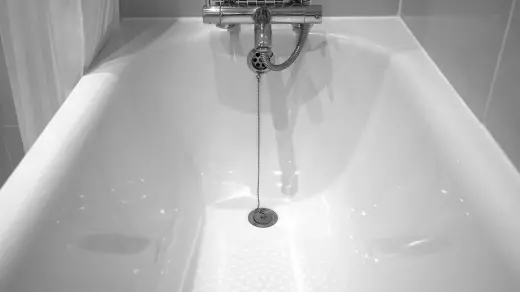 Uncovering the Beauty of Straight Baths for your Home
Introduction
Straight baths are designed for a more traditional look in the bathroom and have been around for centuries. They can be made from a variety of materials, including cast iron, acrylic, stainless steel, copper, or even stone. These materials provide a range of options when it comes to durability and aesthetics.
What is a Straight Bath?
A straight bath, also known as a one-piece tub and shower combination, is a type of bathtub that features a single piece construction. This type of design is usually seen in traditional bathrooms and works well to keep the space looking neat and organized.
Benefits 
Straight baths are great for smaller bathrooms because they don't take up a lot of space. They are also typically more affordable than other types of bathtubs and can be easier to install due to the one-piece design.
Additionally, straight baths provide ample soaking depth and can come with or without built-in shower heads. This allows you to customize your bathing experience by adding a shower head if desired.
Drawbacks 
One of the drawbacks of straight baths is that they may not be as comfortable as other types of tubs. Due to their single piece design, there are fewer places for you to rest your arms or legs while taking a bath. Additionally, straight baths can be more difficult to clean due to the lack of access around the sides.
Types of Straight Bathers
Straight baths come in a variety of styles and sizes, so there's sure to be one that fits your space. Here are some of the most common types of straight baths:
Freestanding
These tubs stand alone and come in a variety of shapes and sizes, making them ideal for modern bathrooms. They usually measure between five and six feet in length.
Corner
Corner baths have one side that is slimmer, making them perfect for bathrooms with limited space. These tubs are usually made of acrylic and come in a variety of colors.
Clawfoot
Clawfoot tubs feature an antique look and can add a touch of vintage charm to any bathroom. They are typically made from cast iron and come in a variety of sizes.
Drop-In
These tubs are designed to be installed into a pre-existing alcove or platform. They usually measure between five and six feet in length and are often used for a luxurious spa-like experience.
III. Accessories to Enhance the Look and Feel of Your Straight Bath
Towels, Mats and Soaps
Towels, mats and soaps can add a touch of luxury to your straight bath. Choose high-quality towels in neutral colors that match the overall look of your bathroom. You could also opt for a cotton or bamboo mat to provide extra comfort when stepping out of the tub.
Seating Options
Add a bit of comfort and style to your straight bath with the addition of seating. An ottoman or wicker stool is perfect for those who want to relax while bathing. Or, if you prefer something more modern, there are plenty of sleek options available that will fit into any bathroom design.
Shower Heads and Faucet Designs
Shower heads and faucet designs can really elevate the look of your straight bath. Choose a chrome finish for a modern touch or opt for an antique brass style to add a hint of sophistication.
Maintenance of Your Straight Bath
Straight baths require regular cleaning and maintenance to ensure that they stay in optimal condition. Here are some tips for keeping your tub looking its best:
Clean Regularly
Regularly clean the bathtub with a non-abrasive cleaner and warm water. Make sure to rinse the tub thoroughly after cleaning to avoid leaving any soapy residue behind.
Avoid Scratching
Take care not to scratch the surface of the bathtub when using any cleaning products or scrubbing tools. If you need to use a brush, make sure it is soft and non-abrasive.
Inspect for Leaks
Check regularly around the edges of your bathtub to make sure there are no visible signs of leaking or damage. If you notice any issues, contact a professional plumber right away.
Conclusion
Straight baths provide an attractive and affordable option for those looking to upgrade their bathing experience. With the variety of styles available, there's sure to be one that fits your needs. Just make sure to take care of your tub and clean it regularly to keep it looking good as new.
Comments on this Uncovering the Beauty of Straight Baths article are welcome.
Buildings
Key Buildings in Scotland Articles – architectural selection below:
Merchant City boutique hotel
Merchant City
Historic Glasgow : best Glasgow architecture of the past
Comments / photos for the Uncovering the Beauty of Straight Baths page welcome