Unalome by Graeme Cheevers Restaurant Glasgow, Michelin Star Finnieston dining review, West End eating out recommendation
Unalome by Graeme Cheevers Glasgow Restaurant
16 February 2022
Unalome by Graeme Cheevers Awarded One Michelin Star!
Unalome by Graeme Cheevers Glasgow Restaurant in Finnieston entry: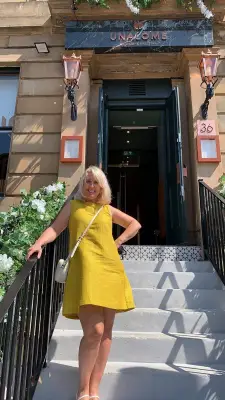 photo © Adrian Welch
Michelin Star for Unalome Restaurant in Finnieston
UNALOME by Graeme Cheevers may only be 8 months old, but we are beyond delighted to announce that we are the proud recipient of ONE MICHELIN STAR in the Michelin Guide 2022 – Great Britain & Ireland, announced this morning in the Michelin Guide digital star revelation ceremony.
An award that many believe to be one of the highest accolades in the profession of tantalising taste buds for discerning diners. A Michelin Star acquisition shows a restaurant to be of the highest quality, one star in this well-respected guide showcases a restaurant for 'outstanding cooking', considering 'the quality of the ingredients, the harmony of the flavours, the mastery of techniques, the personality of the chef as expressed in their cuisine and, just importantly, consistency both over time and across the entire menu'.
Speaking about this newest accolade, Chef Patron Graeme Cheevers:
"Receiving this award means the world to me because this isn't just my career, it is ultimately my passion. Opening UNALOME by Graeme Cheevers last year was a dream come true so to receive such recognition from the Michelin Guide for my craft, within my first solo venture, is still pretty hard to believe."
"The team and I have worked relentlessly to provide our guests with an experience that excites and fulfils them each visit and, from our guest feedback, I feel confident that what I am trying to create is working. This award emphasises the valued guest feedback and gives myself and the team the drive to keep progressing. I am so grateful to everyone involved; we will certainly be raising a glass to you all when celebrating."
We would like to say a heartfelt thank you to Michelin Guide, our valued guests and our entire team and also offer our huge congratulations to all 2022 Michelin Star recipients.
Previously on Glasgow Architecture:
3 June 2021
Unalome Restaurant in Finnieston
Address: 36 Kelvingrove St, Finnieston, Glasgow G3 7RZ
Menu: unalomebygc.com
Phone: 0141 501 0553
Unalome by Graeme Cheevers Dining Experience Review
Isabelle and I were lucky to get a table on the opening day of this new restaurant in Finnieston. As this is an architecture website our brief review only gives a quick summary of the dining aspect.
Unalome by Graeme Cheevers interior – circular table for five facing south: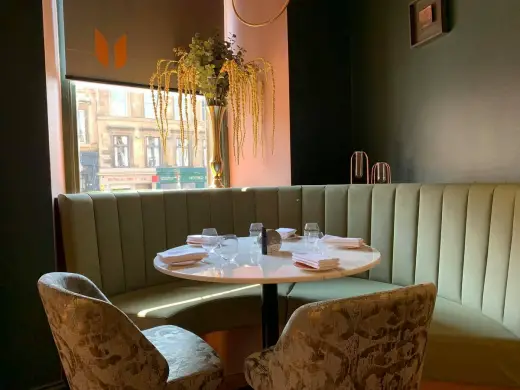 photo © Adrian Welch
The restaurant is located at the top of a straight flight of stairs, under a branded entablature. The feel inside – synergising decor and waiters – is one of calmness and subtle warmth.
The overall palette could be summarised as dark green with woody undertomes and gold highlights. In contrast the unalome logo is discreetly placed in a colour close to terracotta.
The unalome is a Buddhist symbol that represents each individual's transcendence. It embodies our existence on this earthly plane, and also cultivates our awareness of the role we play in this life. The unalome is about analyzing your actions and learning from them, and can help you reach the true meaning of benevolence. It represents each person's path in life. It is a strong concept, and one assumes it espouses the culinary drive of chef Graeme Cheevers.
Decoration is restrained with a few elegant wooden frames on the walls with artwork picking up the gold palette. We sat opposite a large plant with cascading ochre fronds, which added focus to the space. There is a lovely table in the circular bay window at the pivot of the L-shaped space, possibly the best in the house, especially if you are extroverts.
We noticed the plates varied in style which for us was a minus. The globular candle on the table and cool black bottle of hand sanitiser were nice touches. The cutlery was simple, and of good weight but didn't rest on the plates like some do.
To really test the lunch menu Isabelle and I had different dishes for each course. But to kick things off first we had three canapés each, presented in creative and fun ways.
Canapés: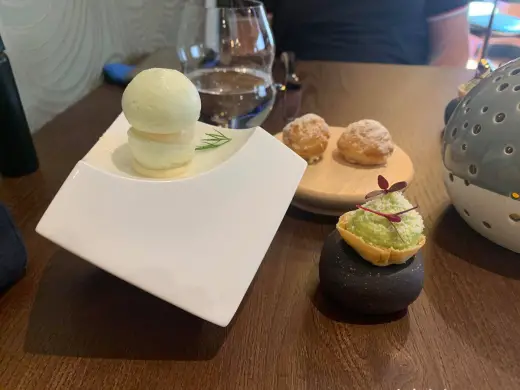 photograph © Adrian Welch
These were interesting, with the green bean one being our preferred. These were followed by slices of sourdough bread with a tasty soft butter. We felt there could have been more options, a pick of say seeded organic wholemeal and cuts of lightly-toasted ciabatta.
Isabelle had Chicken Liver Mousse with bitter leaves & toasted brioche for her starter. I had Roasted North Sea Squid with roasted cauliflower & seaweed butter sauce. Both were lovely and memorable, the only small negative for me were the slim cuts of raw cauliflower, I felt they should have been flash fried to soften them just a touch, however they added a good bite contrast to the softer elements.
Main course – Spiced Goosnargh Duck with beetroot, raspberry and red endive: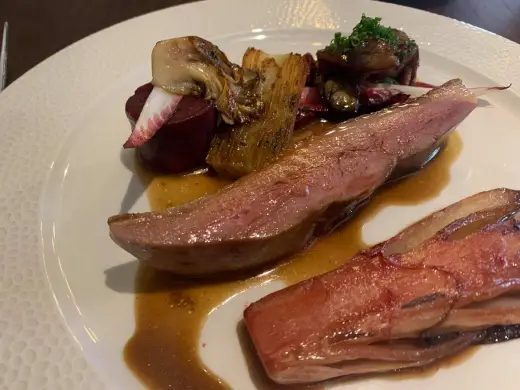 picture © Adrian Welch
For mains Isabelle had Spiced Goosnargh Duck with beetroot, raspberry & red endive. This was her favourite dish at our lunch, with a lovely long slice down the breast of the duck, and rich oriental flavours. I had Fillet of North Sea Hake with peas, samphire & Jersey Royal potatoes. The samphire was rich and tasty, however the potatoes were just a little underdone for my taste, and I like potatoes to not be overcooked.
For pudding Isabelle opted for the rich Michel Cluizel "Kayambe" 72% Warm Chocolate Mousse with ras el hanout & tulameen raspberry. I selected the Citrus Fruit Cream & Knochraich Farm Yoghurt with sable biscuit, lime, coriander & galangal. This was my favourite of the three dishes, really exquisite – delicate and tasty.
Review by architect Adrian Welch, Finnieston, founder of global architecture website e-architect
Location: 36 Kelvingrove St, Finnieston, Glasgow G3 7RZ – in the heart of the West End
Telephone: 0141 501 0553
Website – menus: unalomebygc.com
Unalome Finnieston Restaurant
Architects: Davidson Baxter Partnership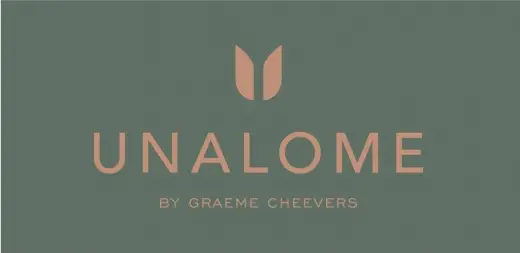 photograph : Alan Donaldson
Multi-award winning chef Graeme Cheevers is on course for Michelin success with the launch of his first solo adventure; UNALOME by Graeme Cheevers, on June 2nd.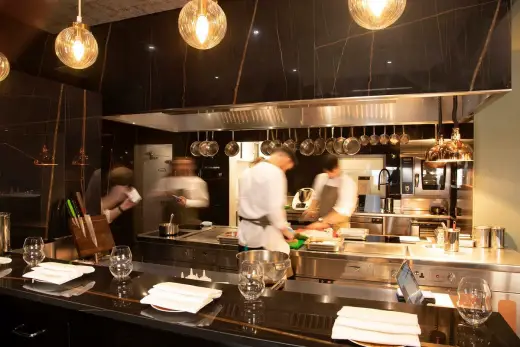 photograph : Alan Donaldson
Choosing his home town of Glasgow, he aims to achieve Michelin status within a year, something he's no stranger to having previously won the industry's top accolade, a Michelin star, at both Martin Wishart Cameron House, Loch Lomond and The Isle of Eriska Hotel.
Award-winning chef Graeme Cheevers: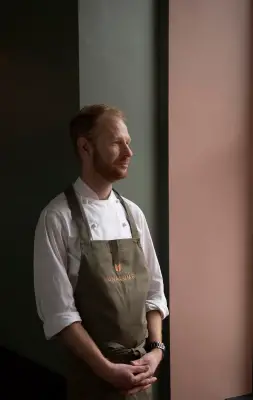 photo : Alan Donaldson
"Unalome will be a culinary experience like no other you'll find in the city. My intense passion for my craft and the industry has given me the fire in my belly required to elevate my career to a level that will continuously delight and entice the senses, whilst continuously striving for ascension for our valued guests."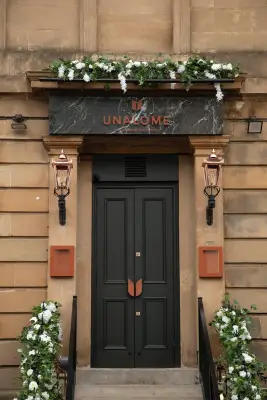 photo : Alan Donaldson
Chef Cheevers added, "I don't want it to be an occasion restaurant. I want people to return time and time again to experience the ever-changing seasonal menu, putting Glasgow back on the map for outstanding food and drink. I'm confident we've got all of the elements required for success to the highest level."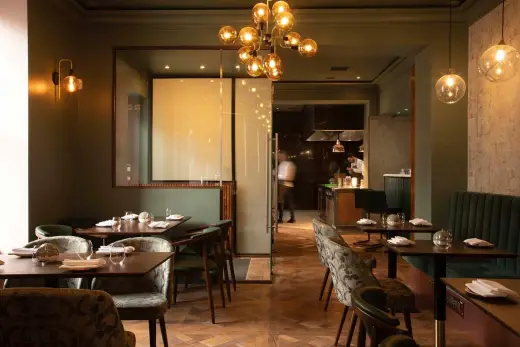 photo : Alan Donaldson
Reservations can be made online at www.unalomebygc.com or by calling 0141 501 0553.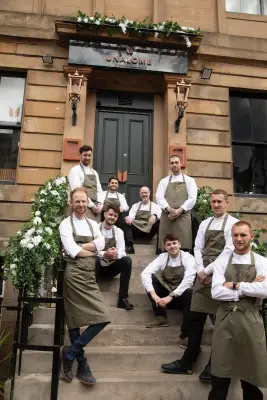 photo : Alan Donaldson
The architects were the Davidson Baxter Partnership.
Location: 36 Kelvingrove Street, Finnieston, Glasgow, G3 7RZ, Strathclyde, southwest Scotland, UK
Glasgow Restaurants
e-architect are seeking interesting reviews of contemporary Glasgow restaurants, with a focus on the interior design but comments re food and service also welcome.
Glasgow Hotel Restaurants : Hotels in Glasgow
One Devonshire Gardens, 1 Devonshire Gardens, G12 0UX
One Devonshire Gardens : Hotel du Vin
Rogano, 11 Exchange Place
Rogano Restaurant
Slumdog Bar + Kitchen
Slumdog Bar + Kitchen
Brasserie at Malmaison Hotel Glasgow, 278 West George Street
Malmaison Hotel
Saint Jude's, Bath Street
Saint Jude's Hotel
Las Brisas & Oshi: Langs Hotel, 2 Port Dundas Place
Langs Hotel
Radisson Hotel, Argyle Street, Glasgow
Collage Bar
Room
Former One Devonshire Gardens restaurant
Room Restaurant Glasgow at No.1 Devonshire Gardens
Finnieston Architecture Designs
Buildings adjacent to G3 Square Finnieston residential property include:
G3 Square Finnieston residential property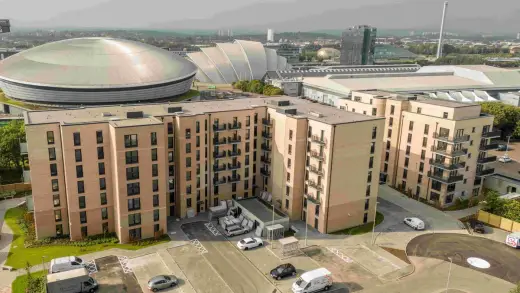 photo courtesy of the Drum Property Group
G3 Square Finnieston residential property
Finnieston Crane restaurant and museum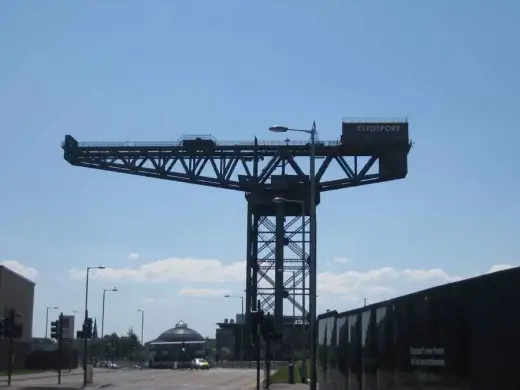 photo © Isabelle Lomholt
Finnieston Crane
Hotels at SSE Hydro Glasgow – Courtyard by Marriott & Moxy Hotel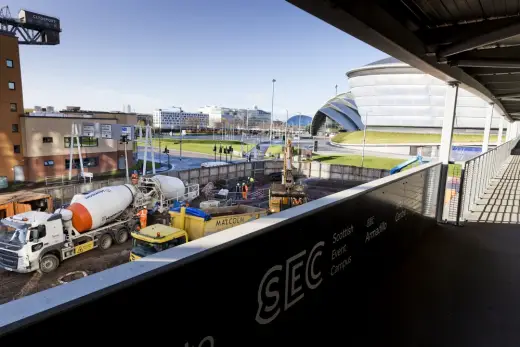 image courtesy of architects practice
Hotels at SSE Hydro Glasgow: Finnieston accommodation
Comments / photos for the Unalome by Graeme Cheevers Finnieston Restaurant, Glasgow West End reviewed by Isabelle and Adrian page welcome