Top 4 bathroom architecture and design trends in 2022, Home interior style advice, Property bath space guide
Top 4 Bathroom Architecture And Design Trends In 2022 Guide
16 June 2022
According to a study done by a well-known tradesperson marketplace, demand for skilled hands in home improvement went up by almost a third last year. It was an increase that was two years in the making, given COVID halting most home improvement plans. But with the crisis winding down, most of those projects may restart this year. (1)
The study also cited new bathroom projects as the fourth most in-demand home improvement job last year. While not as popular as repainting or landscaping, bathroom improvements are held in higher regard than kitchens, home offices or multifunctional rooms. Reasons vary, but everyone can agree with needing a nicer place to go about their business. (1)
With households getting busy with bathroom improvements, it pays to take another look at the blueprints. Consider incorporating the following bathroom renovation ideas for 2022 into them.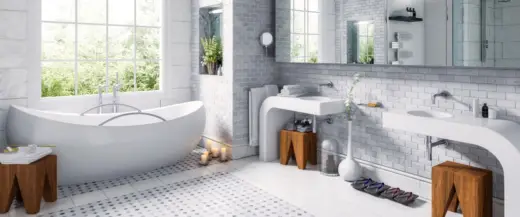 Top 4 Bathroom Architecture And Design Trends In 2022 List
Greenery in the bathroom
Pinterest has predicted "biophilic design" among trending searches for this year, with relevant search terms expected to increase triple-fold. Although none of the most popular search terms includes a "biophilic bathroom," experts have cited an increase in homeowners incorporating growing plants into modern bathroom design. (2)
However, being "biophilic" isn't just about loading a bathroom with as many plants as possible. As these plants will spend their lives indoors, the design has to incorporate elements to enable daylight and ventilation to enter the bathroom with ease. The good news is that coming up with such a design isn't hard, as the human psyche tends to lean towards natural settings. (3)
To achieve this, experts recommend using natural materials and design elements. For materials, it's not just using wood but also using wood coming from sustainable sources (e.g., tree farms, recycled timber stocks). For design elements, nature-inspired wallpapers and finishes are ideal. Even hanging nature-themed prints on the wall is a step in the biophilic direction. (3)
Wet rooms
The average floor size for U.K. homes in 1875 was 102.4 m2. After going up and down for the next 145 years, the figure had shrunk to just 67 m2 in 2020. Market analysts estimate that any property as small as 50 m2 may sell for almost twice as much in 20 years if current trends stand. People on tight budgets have to make do with limited space. (4)(5)
But the beauty of renovations is that they can make any space – bathrooms included – appear more spacious. Japanese bathroom designs had the right idea of having uninterrupted space between the tub and shower. This trend inspired the birth of the wet room, a deluxe design idea even for the smallest bathrooms.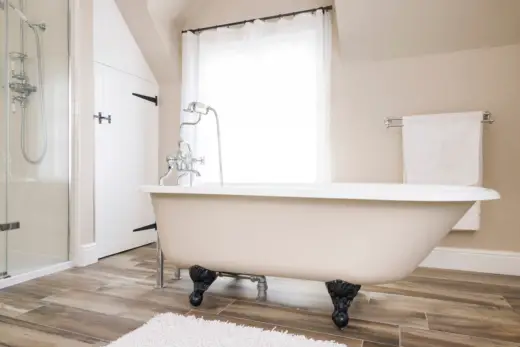 There are some caveats to pushing through with a freestanding bath design. Because it requires more waterproofing than conventional designs, not to mention premium materials, remodelling into wet rooms can be 20% and 30% more expensive. Then again, the recoup cost can reach up to 70%, depending on the materials.
Standout plumbing
As one mantra goes: "The more things change, the more they stay the same." The early days saw homes and factories with plumbing visible enough for everyone to see. Then, at some point, they decided to hide it beneath walls for a cleaner look. Fast forward to today: Designs brought back visible pipework, showing them in all its retro glory.
Not all pipes have to be fully exposed though. Modern bathroom designs allow some exposure, particularly the pipework leading to the tap, valve or showerhead. Designers often elect to have exposed plumbing to add character to any bathroom. Pairing it with equally-retro fixtures can enhance the overall old-timey feel.
Walls as a canvas
As mentioned earlier, hanging art prints on the bathroom walls make for good additions. But take note that the bathroom is the most moisture-rich part of the house, and moisture isn't good for art prints, even if encased in glass. There are several ways to mitigate staining and moisture damage, such as hanging prints without the glass or keeping doors and windows open.
If you want to enjoy art while in the bath, one option is to turn the walls into your house's largest canvas. Making the art part of the wall gives artworks the benefit of resisting the things that can damage prints. It also gives users something to look at other than a blank wall. The only limiting factor in the kind of art possible on the bathroom wall is one's imagination.
Conclusion
Never has there been a better time to give the bathroom a complete makeover than 2022. It's a time for home improvement plans put off to make up for all the lost time, with some updating to incorporate current design trends. With the suitable materials, budget and mindset, the bathroom of today will be more relaxing.
References:
Comments on this guide to Top 4 bathroom architecture and design trends in 2022 article are welcome.
Buildings
Key Buildings in Scotland Articles – architectural selection below:
Merchant City boutique hotel
Merchant City
Historic Glasgow : best Glasgow architecture of the past
Comments / photos for the Top 4 bathroom architecture and design trends in 2022 advice page welcome