Why you don't feel comfortable with your bathroom guide, Home style advice, Property bath space decor
Why You Don't Feel Comfortable with your Bathroom at Home
22 April 2022
Your bathroom must offer comfort, as it's the only place where you can be alone and no one can disturb you. Sometimes, even after a long day at work, you still have to care for your family. You can never be alone until you head inside the bathroom and bathe. Therefore, it must be the perfect place to give you that satisfying feeling. If your bathroom doesn't provide that calming feeling, something needs to change.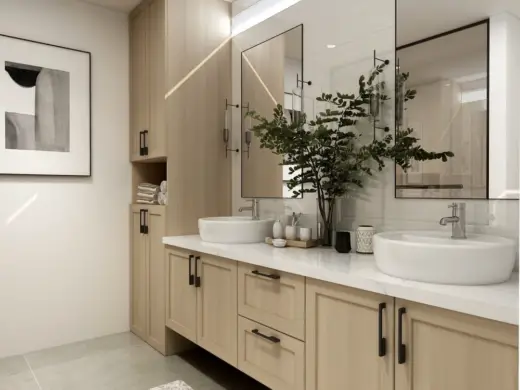 Why You Don't Feel Comfortable with Your Bathroom List
Your bathroom is small and crowded
There's nothing you can do if you only have a small bathroom space. However, you can make it look bigger than it is by removing unnecessary items. Use accessories and furniture that match your needs and let go of the rest. If there's a space for a freestanding bath, invest in one. You don't need too many things to make your bathroom perfect.
If you still feel that the space isn't good enough, it might be time to remodel. You can contact your contractor to expand your bathroom. You feel good about having a limited bathroom space for a while, but it can't stay that way forever. You will spend money on remodelling, but it will be worth the price.
It's too messy
You must be responsible for keeping your bathroom in order. Empty the bin and remove products you no longer use. Use fragrances to maintain a good scent. You should also ask your family members to be responsible. You won't feel good about entering the bathroom if it's an eyesore. You also don't need to wait until the weekends to start cleaning up. After you bathe, try tidying up the area. Again, it's also a family effort. You can't be the only person caring for the bathroom's cleanliness.
You don't have a heated floor
Another reason why you don't feel comfortable is how damp the bathroom is. It's natural for the area to be wet because it's where you bathe. However, if you have a heated floor, it will only take a few minutes to keep the floor dry. This will also prevent injuries from occurring and moulds and bacteria from developing.
You don't invest in bathroom improvement
When was the last time you decided to change something in your bathroom? If it has been a while, it might be time for something new. Consider bathroom improvements or invest in new accessories and furniture. You should also start repairing the damages that come up time and again before it's too late. The reason why you don't feel comfortable in your space is that you don't invest in it. Once you consider a few changes, you will be excited to use your bathroom again.
Conclusion
Your bathroom is your safe space, so you should always find ways to improve it. You can't just focus on your bedroom or living room since the bathroom also plays a crucial role in hygiene, as well as setting the tone for the rest of your home.
Comments on this guide to Why you don't feel comfortable with your bathroom article are welcome
Property Designs
Glasgow Architecture Designs – architectural selection below:
The Foundry Cathcart housing development
The Foundry Cathcart housing development
Golfhill School Flats
Golfhill Public School Dennistoun Flats
Comments / photos for the Why you don't feel comfortable with your bathroom advice page welcome