The most amazing casino architectures around the world advice, Macau gambling building
The Most Amazing Casino Architectures Around the World
1 December 2019
When we travel, we tend to take notice of our surroundings and enjoy everything a place has to offer. Even if you are not going on a trip for sight-seeing, you will almost always find the time to enjoy stunning landscapes or impressive skylines.
Paying a visit to any casino often involves spending a lot of time indoors, spinning slots and placing bets. Even still, everyone who walks through the casino doors notices the beautifully designed space.
Casinos always seem to be ornately decorated, with vibrant color palettes, bright lights, and attractive furnishings. But if you've ever taken the time to admire the building itself, you'll notice just how amazing the structures can be.
Whether you are a gambler, an architecture lover or just someone looking for a new place to visit, any of these amazing casino architectures around the world are sure to take your breath away.
Most Amazing Casino Architecture in the World Guide
Venetian Macau
If you are looking for a big hotel and casino resort to spend some time in, The Venetian Macau is probably the place to go. With 3,000 rooms for guests and around 550,000 square feet of gaming space, you'll never run out of new things to look at.
According to Gamblers Daily Digest, Macau is the gambling capital of the world because of how large the gambling industry is there, so it only makes sense that it is home to the world's largest casino as well. It is also the largest hotel building in Asia and the seventh-largest building in the world.
The Venetian Macau is modeled after the popular casino by the same name in Las Vegas, Nevada with just a few hundred thousand more square feet of gaming space. That's a lot more slot machines!
Just like its sibling casino in Vegas, The Venetian Macau is designed using traditional Italian style. It boasts a few Venetian landmarks along with designer shops.
This huge resort-like property contains Cotai Arena that hosts live shows of all types. Concerts, sporting events, and musicals are some popular events that take place frequently in the four-story arena.
Nothing about The Venetian Macau is average or uninteresting. With views of canals from the windows and four outdoor pools to relax beside, this beautiful casino boasts some of the most beautifully designed features in the world.
The building itself looks almost like a palace. It stands 495 feet tall and spans millions of square feet wide to offer the maximum amount of enjoyment space.
To capture the true Venetian feel, the designers opted for classic archways and ornate detailing to truly complete the look. Sweeping stairways will take your breath away and skillful sculptures will force you to take photographs.
The Venetian Macau is definitely on the list of most stunning casinos around the world.
Alea Glasgow
The Alea Glasgow casino is one of the hottest spots in Glasgow for gambling, dining, and live entertainment. It sits right on the River Clyde with views of the skyline in the distance, making it the perfect waterfront spot for any occasion.
Lucian Marinescu, an expert on casino architecture at Online Casino Gems, shared his experience at the Alea Glasgow by saying that – " The two-story building exceeds expectations with its stunningly modern design. The eye-catching detail throughout the whole structure and its place on the river were smart choices to draw in crowds."
There are so many table games to choose from on the Alea's casino floor. Newbies and professionals alike can play poker, roulette, blackjack and so many other table games for players of all levels.
They also offer slots and electronic games for the players who might not love the risk of high rolling at the tables.
There is so much to eat and drink at Alea Glasgow, you'll never be searching for something to enjoy. Endless cocktails and delicious bites from the kitchen make this exquisite location worth the visit.
If you get tired of playing, this casino spot offers fun classes on cocktail making! Whip up your favorite drink at the spectacular bars for an experience you'll never forget.
The Alea Glasgow is open 24 hours a day, seven days a week. Never hesitate to approach their door because it will always be open!
They'll host your event and have a VIP lounge if you need a special space to enjoy. Drink deals and food discounts are always offered so you will never want to go home.
The spectacular design and ornate decorations make the Alea Glasgow a place worth playing. You'll never get sick of the beautiful architecture and attention to tiny details inside and outside the casino walls.
Paris Las Vegas
If you are looking to travel to the United States and are a huge lover of casinos, Las Vegas is absolutely the spot to hit. While there are many show-stopping casinos in Vegas, according to Weekly Slots News' list of best casino hotels in Vegas, Paris Las Vegas is a building that architects can't get over.
Get all the romance and French vibes you can in Paris but in Nevada instead! The resort features the familiar shape of the Eiffel Tower out in front of the massive hotel and casino.
Stay in rooms fit for a king, designed with Versailles-inspired fixtures and a chic European look. When you leave the room, you can visit the huge pool, hot tubs, fitness center, or spa.
If you get hungry while in your room, don't worry about leaving the beautiful property! You can visit one of the 14 restaurants in the resort that offer everything from French cuisine to Chinese flavors.
The casino offers the best of Vegas-style games. Blackjack, roulette, baccarat, and craps can all be found across the casino floor. There are also nearly 2,000 slot machines to choose from and sports betting in its own bar area.
All types of gamblers can have a little fun in Paris Las Vegas. The Parisian flair will make you feel like you are in Paris until you leave the resort to visit the neighboring casinos.
Average casinos with boring designs are nowhere near as beautiful as these gambling options around the world. Enjoy everything the gambling world can offer while taking in the amazing sights of the architecture.
Comments on this The Most Amazing Casino Architectures Around the World article are welcome.
Major Scottish Buildings
Key Buildings in Scotland Articles – architectural selection below:
Merchant City boutique hotel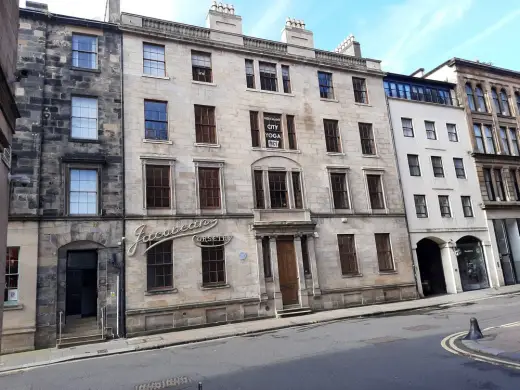 image courtesy of architects practice
Merchant City
Historic Glasgow : best Glasgow architecture of the past
Comments / photos for the The Most Amazing Casino Architectures Around the World page welcome