Interior design tricks to make a small kitchen look larger, Home interior style tips, Property refurb decor guide
Interior Design Tricks to Make a Small Kitchen Look Larger
11 Jan 2023
Unfortunately, your house isn't blessed with a huge kitchen, but only because the cooking space is on the small side doesn't mean it cannot meet your needs. There's plenty you can do to transform it into a welcoming place that makes spending time cooking and eating with your loved ones enjoyable. For a start, small spaces are easier to clean and maintain and can even look spacious when you employ the right design ideas. 
When you think about your dream kitchen, you most likely picture one you saw on Pinterest or in a home décor magazine, but the average size kitchen is smaller than the ideal one depicted in home design magazines. Does it mean you'll never be able to design the kitchen of your dreams? The following design tricks help stretch your small kitchen space without breaking walls.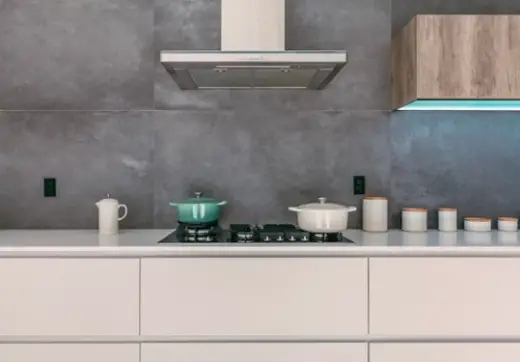 Declutter the room
The first step in revamping a kitchen is to get everything out to have a look at the room's outline without having your attention distracted by accessories or other elements. When you don't know where to rest something for a while, you most likely put it on the kitchen countertop, but when your room already lacks space, collecting items on the surfaces only makes it worse. The fewer items you bring into the kitchen, the more spacious it will look. If you have an organized pantry storage, store everything you don't use daily there, and send the utensils to the cupboards. If you want to expose something on the counters, pick your favourite china collection because they also serve as decorative pieces. Speaking of decorative pieces, there's no room for them in a small room. The minimalist design is ideal because the last thing you need is for details to capture attention.
Use reflective surfaces
All surfaces in the kitchen should reflect light, so paint the walls white and install cabinets in nude hues to make the room feel open and airy. You can even cover a wall with a mirror to create the illusion of more space and add a striking element to the room. Besides the walls and cabinets, the floors and appliances can also reflect light if you pick light-coloured hues and stainless-steel materials.
It's a good idea to order high-gloss cabinets in white or nude hues because they transform the kitchen and make it look spectacular. Custom-made cabinets are ideal for small kitchens because they fit the space, your house's unique style, and the overall colour scheme of the space. Add LED lights for a dramatic effect and to create the impression of a larger room.
Take advantage of vertical spaces
A disadvantage of your small kitchen is that it needs more storage space, so you have to be creative. Even if your house features a pantry where you can store some kitchen utensils, you should still take advantage of all the available vertical space. For instance, you should install floor-to-ceiling cabinets to benefit from extra space for essentials. With high ceiling cabinets, you give the eye a vertical path to follow, which maximises the room and lifts the impression of a small boxy kitchen.
When ordering kitchen furniture, keep design principles in mind and don't install cabinets that seem squeezed in the room.
Connect the kitchen with the outdoors
Your small kitchen poses no problems when you're the only one to use it, but if you add guests, the room will immediately feel crowded. Suppose your house allows you to open the kitchen to a patio or garden; you shouldn't think twice before installing French doors to connect the indoor with the outdoor. You might not be able to host a party in the kitchen, but if your garden or patio is big enough to welcome guests, install a table there with benches and take the food and supplies out.
Welcome more lighting
The more dark areas and shadows you have in the kitchen, the more crowded the space feels. Install more lighting solutions to make the room look more spacious and brighter. If your cabinets don't come with an underneath purpose light, you can add it now. It'll prove helpful when cooking and add a touch of style to the overall design. You can also add lights inside the glass cabinetry to illuminate the contents.
Light can expand the kitchen, so besides ceiling lights, add ambient lights to illuminate dark areas and highlight the corners to make the room look bigger.
Avoid contrast
You might like the two-tone coloured kitchens you saw on Pinterest, but they don't serve your small space. It's best to create little colour difference between the walls, countertops, cabinetry, floors, backsplash, and tiling. Aim to create unobstructed visual lines that give the impression of a well-put-together space.
If you're looking for a simple way to create the impression of a large space, paint the entire room white. We mentioned earlier that you should use surfaces that reflect light; white will definitely help you do this because it enhances the sense of airy space and makes the walls recede. When you paint the walls, countertops, cabinetry, and ceilings in white, you bring down the boundaries and edges and create a seamless space. You can play with different shades of white to create depth and prevent the room from looking sterile.
Install glass walls
Your kitchen might feel claustrophobic, especially if it lacks windows, so you need to find a way to open it and expand the space. Suppose you can tear down a wall, or remove a door, consider installing glass walls or doors to connect the kitchen with the adjacent spaces and open up the view. You can use sliding glass panels you can keep open when you don't cook. Glass walls are great because they prevent odours and fumes from entering the rest of the house while connecting the kitchen and the living room or dining room visually.
The key to making a small space look bigger is to commit to a minimalist design and use reflective surfaces.
Comments on this Design Tricks to Make a Small Kitchen Look Larger article are welcome.
Buildings
Key Buildings in Scotland Articles – architectural selection below:
Merchant City boutique hotel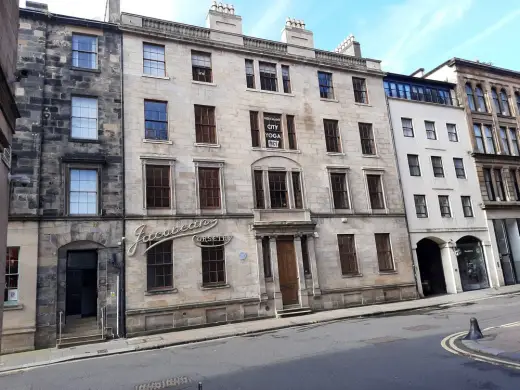 image courtesy of architects practice
Merchant City
Historic Glasgow : best Glasgow architecture of the past
Comments / photos for the Tricks to Make a Small Kitchen Look Larger page welcome