Importance of insulating buildings guide, Building insulation construction advice, Property style
Importance of insulating buildings advice
2 August 2022
With fuel and energy bills rocketing at a record rate in the United Kingdom, it's never been more important to insulate your home. As one of the easiest ways to improve energy-efficiency, insulating your home can reliably reduce outgoings in the long-term, boost your EPC/EEF ratings and even increase the resale value of your property.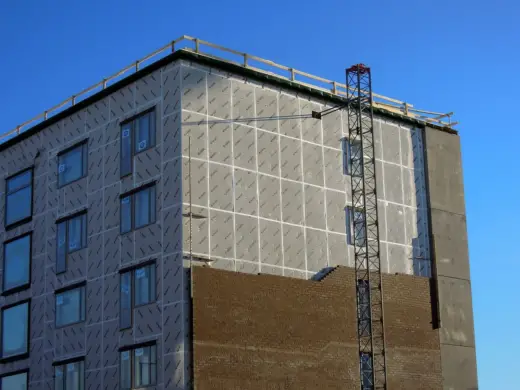 The importance of insulating buildings
Why insulation is so important: Due to a combination of factors including dated housing, poor regulation of landlords and the adverse effects of good old-fashioned British weather, UK homes are amongst the worst insulated on the continent. According to the English Housing Survey published in July 2021, nearly two-thirds of private renters in the country live in poorly insulated properties that hold gloomy Energy Efficiency Ratings of D or below. Amidst rising energy bills and a highly publicised cost of living crisis, insulation is increasingly important for notoriously leaky and draughty UK households because it enables reliable temperature control in the home whilst significantly reducing heating and energy bills.
The benefits of home insulation: The most obvious benefits of home insulation in the UK today include decreased energy bills and increased energy-efficiency, which can boost the value of your home. Crucially, home insulation is also more environmentally-friendly in that it reduces the thermal energy consumption and carbon emission output of your property. Aside from the financial and environmental benefits, insulating your home also provides extra comfort and warmth, a true plus when given the chilly winters and unsuitable housing experienced by many in the UK.
Home insulation is that it's versatile, cost-effective and relatively easy to achieve – depending on your needs and budget, you may decide to insulate all of your property or just focus on areas of priority. Whether you require roof insulation, cavity wall insulation, solid wall insulation, window and door insulation or floor insulation, it's easy to find high-quality professional services or even do the job yourself, depending on the scale of the job.
The future of sustainable homes
As the UK government races to achieve its carbon footprint targets and developers strive to create more sustainable and energy-efficient housing, it seems likely that the new build homes of the future will feature proper insulation (including wall/roof/floor/window insulation) as standard.
A move towards greener housing development in major cities has led to pioneering, multi-purpose features such as 'green roofs', which simultaneously encourage biodiversity and provide energy-efficient home insulation. It also seems likely that the necessity for home insulation in the UK will decrease in coming years, as new build houses move away from antiquated central heating systems and gas boilers in favour of more efficient systems such as combi boilers and air source heat pumps.
Comments on this guide to Importance of insulating buildings article are welcome.
Buildings
Key Buildings in Scotland Articles – Glaswegian architectural selection below:
Solasta Riverside Building Buchanan Wharf
Solasta Riverside Building Buchanan Wharf
Merchant City boutique hotel
Merchant City
Historic Glasgow : best Glasgow architecture of the past
Comments / photos for the Importance of insulating buildings advice page welcome