Building architectural company social media presence guide, Architects internet marketing advice
Building your Social Media Presence as an Architectural Company
2 August 2022
Companies need to have an online presence. Otherwise, they'll be left behind by those that use social media as much as they use their bricks and mortar building(s). The way you build your social media presence can affect your business. Nail it, and it'll reap you dividends. Get it wrong, you'll not only be wasting time but missing out on plenty of potential business.
Let's take a look at the architectural industry. There are some firms, like Gensler, that have tens of thousands of followers. They comment on the firms' posts of videos, photos, and press releases about their projects. By keeping their audience updated on what they're doing in the industry, Gensler has managed to create a following that's cost them nothing to do while providing exposure to their business. Here we look at some things you can do to maximise your business's online audience.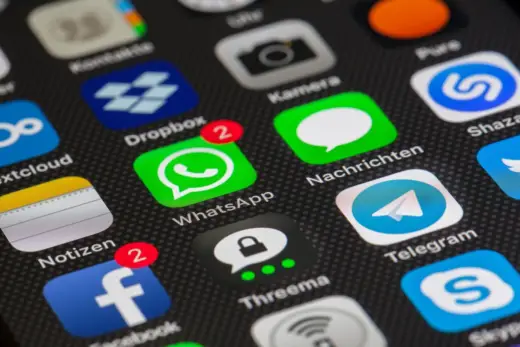 Prepare your Profile
Complete every part of the profile section for your business on the social media platforms you plan to use. Focus on what your customers would want to know. There are some architects that are happy to take pictures of both their homes and things that interest them when it comes to architecture. But if you want to keep your private life just that, then keep anything connected to your business and your profession separate from your personal life, and avoid adding personal details or identifiers that random strangers could use to find out more about you.
Source: Unsplash
In fact, this is a good approach to have when it comes to your personal and work social media accounts: keep them separate and unlinked, as suggested in this infographic by ExpressVPN. Additionally, generalise information about yourself, learn about privacy settings, create difficult passwords, make sure you log out of accounts, and switch off devices when you're done. By following these tips, you'll make it as hard as possible for hackers to access your information and sell it. This will save you an enormous amount of time-consuming hassle.
Find your Audience
There are plenty of social media platforms, as shown by YouGov, including Facebook, Instagram, Twitter, Youtube, LinkedIn, Pinterest, and the list goes on. Each of them is distinct in its own right, so what you need to do is whittle down the platforms that are best for your business because not all of them will be. For instance, social media for an architect is a wonderful platform for showcasing images to provide that visual inspiration that could serve as a brilliant starting point for discussion among followers.
Source: Pexels
However, not all platforms provide this. Plus, you'll need to focus on where your audience frequents and where those in your industry are to find a receptive audience. But before you can do this, you need to know who your audience is, who your competitors are, and which businesses are complementary to yours.
Know your Competition
That saying, "Keep your friends close, and your enemies closer," is apt when it comes to knowing your competition. You more than likely have a good idea of who they are, including any who are considered market leaders in the industry you're in. Social media allows you instant access to what they're doing, what's working for them, and what's not. For instance, how many times do they post and when? You can strategically use this information when it comes to developing your own business strategy.
Most businesses have complementary brands, so-called because they have a product or service that complements yours. These are like your allies; plus, they're more likely to follow you back, which in turn could bring you even more followers in the form of customers and suppliers. For instance, an artist may use a certain brand of materials to produce their art and follow the company that manufactures them. That company sees the artist as a regular customer and follows them back. Fans of the artist discover where the artist gets their materials from and start following the manufacturer, and it could go on and on.
Source: Pixabay
Create a Content Calendar
Events that are connected to your business or industry should be noted in your content calendar as suggested by ActionGroup. Marketing campaigns should be made around them, with plenty of updates and notifications to ensure everyone knows how long it is before that event is due to happen. For instance, the day you finally hand over the keys to a building you've worked on from construction. Involve everyone, including customers and complementary businesses to gain maximum exposure. See if any would like to participate in your campaign and get ready to showcase this on your social media platforms in the build-up to the day, the actual day, and the aftermath.
After all of this, it's time to give your social media campaign a go. Be prepared to make tweaks to your strategy because you'll learn as you grow. Social media is a way of life for many people and companies, alike, but this is not without its risks. So have fun with it, but protect yourself as well.
Comments on this guide to Building architectural company social media presence article are welcome.
Buildings
Key Buildings in Scotland Articles – architectural selection below:
Merchant City boutique hotel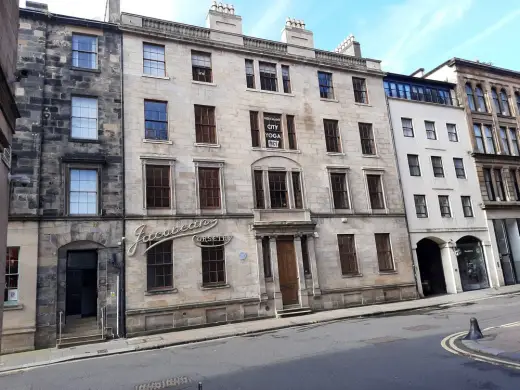 image courtesy of architects practice
Merchant City
Historic Glasgow : best Glasgow architecture of the past
Comments / photos for the Building architectural company social media presence advice page welcome