How is COVID redesigning our homes tips, Property refurb advice, WFH, House working design guide
How is COVID Redesigning Our Homes?
28 January 2022
There's no place like home – words we all agree on, but that means different things to different people. No two homes are alike, but the significance of interiors we genuinely enjoy spending time in has never been greater.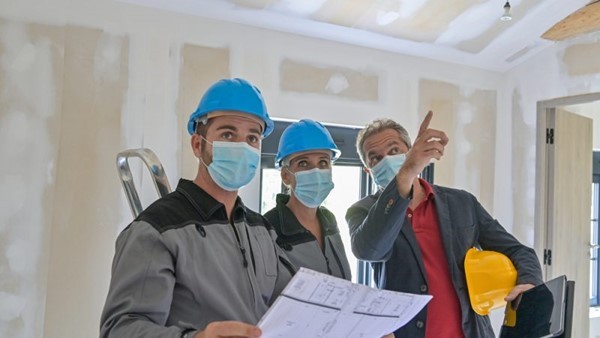 In the wake of COVID-19, our collective priorities have been transformed permanently. When the UK was plunged into lockdown, many things we once took for granted became the very centre of our universe.
With little choice but to make the best of what we had, that's exactly what the vast majority did.
Consequently, COVID has had a profound impact on the way we design our homes and utilise the space we have available. In particular, the pandemic brought about four major trends in home design that are likely to continue indefinitely:
1. Prioritisation of Hygiene and Cleanliness
If nothing else, the pandemic raised the world's collective awareness of the benefits of impeccable cleanliness and hygiene. Consequently, more households than ever before are opting for furniture, appliances and materials that are easy to clean and sanitise.
Materials with natural antimicrobial properties – such as copper, brass and bronze – have proved particularly popular over the course of the last two years. As have glossy, shiny and mirrored surfaces that can be kept clean with a quick wipe.
Of course, antibacterial hand sanitiser has also become a staple feature in millions of households across the country. All echoing the public's newfound appreciation of the importance of good hygiene, both at home and elsewhere.
2. Higher-Quality Furniture
The prospect of spending more time than ever couped up indoors motivated many to splash out on higher-quality furniture and fixtures. Luxurious living room suites, a bespoke farmhouse extendable table for the dining room, perhaps even an entirely new kitchen – all entirely justifiable under the circumstances.
This investment in quality furniture was coupled with the inclusion of lighter colour, natural accents and more strategic interior lighting. All in the name of boosting comfort and enjoyment throughout the home, when heading anywhere else was not an option.
On that note, bringing a touch of the outdoors indoors continues to be one of the most popular interior design trends of the moment. One that can be particularly beneficial when improving the comfort and appeal of a home office space.
3. Multi-Purpose Spaces
Something else the pandemic brought home was the realisation that most people simply do not have much space at their disposal. Setting up separate workspaces and home schooling spaces for the kids was simply not an option for most households.
Instead, it was a case of rethinking and redesigning existing spaces to serve multiple purposes. A foldaway desk in the corner of the living room, an extendable dining table to double as a home office – all facilitated by furniture that serves multiple functions.
The inclusion of intelligent storage solutions has also enabled households to get more done with the space they have available. A category of furniture that encompasses anything designed to double as a storage unit, while performing a secondary practical purpose.
4. Outdoor Improvements
Lastly, homeowners lucky enough to have private outdoor spaces at their disposal found themselves at a major advantage during the pandemic. Even the smallest gardens provided their owners with the opportunity to enjoy a breath of fresh air and enjoy the great outdoors, while everyone else was stuck very much indoors.
Spending on outdoor improvements spiked significantly at the height of the pandemic and has remained high ever since. Intent on making the most of the outdoor space they have available, households invested heavily in everything from garden furniture to firepits to outdoor TVs and entertainment systems.
There's also been a collective desire to transform even the most humble gardens into practical multi-function spaces. For example, an outdoor furniture setup that doubles as a home office can be a genuine joy for the home worker. As can a safe and comfortable outdoor setup for helping kids with their extracurricular activities.
A Permanent Shift?
There will come a time when COVID-19 is a distant memory. Life is already showing signs of returning to some form or normality, but it could be many years before the effects of the pandemic fully fade.
In the meantime, the way we live our lives is likely to continue to be influenced by what we've experienced over the past two years. Far from a brief passing fad, the home design trends brought about by the pandemic could in fact prove permanent.
Comments on this guide to how is COVID redesigning our homes article are welcome.
Glasgow Building Designs
Glasgow Architecture Designs – architectural selection below:
50 Bothwell Street Office News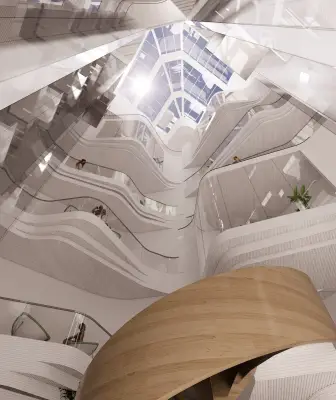 image courtesy of architects practice
50 Bothwell Street Office Redevelopment
Comments / photos for the How is COVID redesigning our homes advice page welcome