Sikh Temple Scotland, Pollokshields Buildings Image, Scottish Architect, Albert Drive Architecture
Scottish Sikh Temple : Gurdwara Glasgow
Glasgow Gurdwara, Scotland – Complex at 25 Albert Drive design by CRGP Architects
post updated 25 January 2022 ; 27 Feb 2013
Sikh Gurdwara adds gold to Glasgow's skyline
Architects: CRGP
Glasgow Gurdwara
The construction of Scotland's newest Sikh Gurdwara is rapidly progressing and is due to open in Glasgow on the 28th April 2013, a mere 14 months since construction began. The £4m complex situated at 25 Albert Drive, Pollokshields, reached an important milestone at the end of 2012, when the building was crowned with a large gold dome at the centre of the roof, marking the highest peak of the building.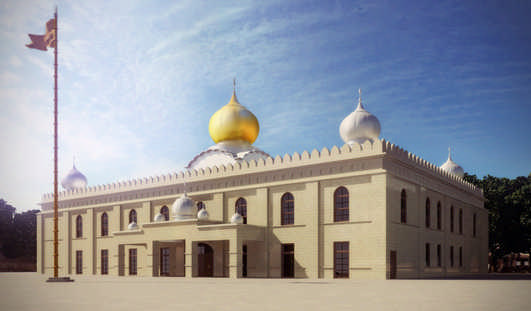 image from Glasgow Gurdwara
The Gurdwara (meaning "through the Guru"), is the first purpose-built facility for Sikhs in Scotland and has less than 100 days until completion. Architectural plans have been updated since we last reported on this build in February 2012 and the new structure designed by CRGP will now also include off-street parking for up to 100 cars.
Situated next to the Tramway theatre and adjacent to 'The Hidden Gardens', the Gurdwara is a shining addition to one of Glasgow's most vibrant and multicultural streets. The new Gurdwara will be a hub of activity for Glasgow's Southside community, with facilities for congregational prayer, language classes, provision of Langar (free community kitchen) and a social space. The Glasgow Gurdwara will have a capacity of 1,000.
Surinder Singh, President of the Glasgow Gurdwara, Albert Drive said:
"The addition of the gold dome is a really exciting step in the building of this Gurdwara, which is at the heart of the Sikh community spirit and has always been a special place for Sikhs. This new Gurdwara is a sign of progress for Sikhs in Scotland and I am forever grateful to all those who have helped us come this far. It is with the generous donations of people that we are able to make this fantastic new building and our fundraising efforts continue. I am in no doubt that this new building will be an iconic part of Glasgow."
There will be a public opening ceremony on Sunday 28th April and will be open to all.
Stay up to date, visit www.glasgowgurdwara.org
The new Gurdwara will open on 28th April 2013
Contact: [email protected].
For pictures, visit: Flickr.com/GlasgowGurdwara
Designed by CRGP Ltd http://www.crgp.co.uk
Constructed by CBC http://www.cbc.uk.com
3 Feb 2012
Gurdwara in Pollokshields
New Sikh Temple in Glasgow
The local Sikh community in the Pollokshields area of Glasgow came together on Sunday to hold a blessing, and congregation prayers, to mark the start of works on a new Sikh Gurdwara Temple.
Deputy First Minister for Scotland Nicola Sturgeon MSP, local councillor Irfan Rabbani and former MP Mohammad Sarwar were all in attendance. The main contractor is CBC. The design and build project is costed at £3.8 m.
The site of the new Gurdwara is located at the rear of the Tramway Theatre in south Glasgow, adjacent to the Hidden Gardens. On completion, this Sikh Temple will be accessed through a special gateway, and will have the capacity to accommodate 1,000 worshippers.
Glasgow Gurdwara in Pollokshields
New Sikh Temple
CRGP full planning submission 21.06.07 validated 29.08.07 for site adj. 25 Albert Drive, Pollokshields, Glasgow
New Sikh Temple
Paul Monaghan Architects have submitted plans on behalf of Central Gurdwara Singh Sabha for Sikh temple & office block at 174-176 Berkeley St, Glasgow
090507
More detail further down this page
Previously, news of another Glasgow Gurdwara:
Pollokshields Gurdwara
Client: Central Gurdwara Singh Sabha
Location: Albert Drive, Pollokshields
Architects: CRGP
Budget: £5m


image from architects
CRGP Architects are pleased to have been recently appointed as architects for a proposed "Gurdwara" (Sikh Temple) located adjacent to the award-winning Tramway Theatre in Glasgow. As part of our planning application we have produced a 3D Studio visualisation, see above.
The building will be sited adjacent to the Hidden Gardens at the back of the Tramway and is to accommodate 500 worshippers. The white-coloured temple, community centre and accommodation block are to be accessed through a white gateway above a marble plinth. There will be one gold and two white domes.
An even larger temple is proposed on another site:
Berkeley St Gurdwara
Client: Central Gurdwara Singh Sabha
Location: Berkeley St
Budget: £10m
The domed building planned for Berkeley Street will be one of Glasgow's biggest public buildings. The Gurdwara will be the first purpose-built Sikh temple in Glasgow, accommodating 1500 worshippers.
The site of the temple, near the Henry Wood Hall, is used as a car park but was previously part of the Glasgow Eye Infirmary destroyed in 1971. The new Gurdwara will be a place of worship, community centre, educational resource centre with classrooms, library, offices and a ceremonial pool. The building will be clad in polished limestone with the main dome made of grp. A total of 257 car parking spaces will also be provided over three floors in the temple.
Construction is set to last around 18 months. The existing temple in Berkeley Street will remain open until the new building is ready. It is one of four small Sikh temples in the city.
There are about 10,000 Sikhs in Scotland, most of them in Glasgow
There is a Sikh Sabha Temple at 163 Nithsdale Rd (due to close if the Pollokshields Gurdwara opens) and a Singh Sabha Sikh Temple at 32 St Andrews Drive.
Pollokshaws Buildings
Key Buildings in Pollokshaws
Ashtree Road, Pollokshaws Flats
Pollokshaws Road Housing design by Cooper Cromar Architects
Pollokshaws Green – competition
Major Strathclyde Buildings
Key Buildings in Strathclyde – architectural selection below:
Custom House Building Renewal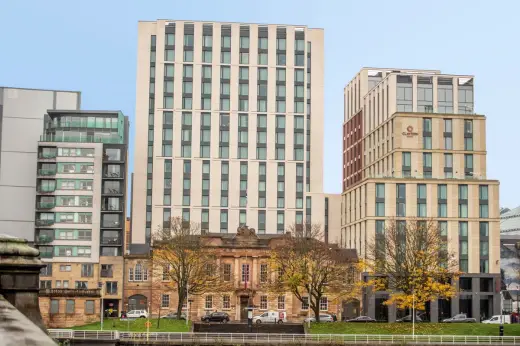 image courtesy of Artisan Real Estate
Glasgow Custom House Development
Solasta Riverside Building Buchanan Wharf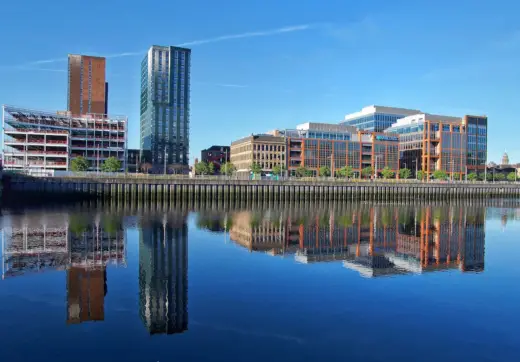 image courtesy of Drum Property Group
Solasta Riverside Building Buchanan Wharf
Comments / photos for the Glasgow Gurdwara Architecture – Sikh Temple Scotland Building design by CRGP Architects page welcome.