Glasgow setting for TV shows and movies guide, Scottish entertainment tips, Scotland film set locations
Glasgow's Growing Place as a Setting for TV Shows, Movies, and More
27 October 2021
In a world increasingly obsessed with entertainment, it's only natural that some locations used as settings would stand above the rest. Within Scotland, it's Glasgow that has easily fought to the head of the pack, finding a popular place in film and television, and even beyond into gaming and other forms of entertainment. Not just great for economic investment, this reality has also generated additional interest for tourism and an overall appreciation of Scottish culture. So, what makes Glasgow special, and just how broad has the interest in the Dear Green Place become?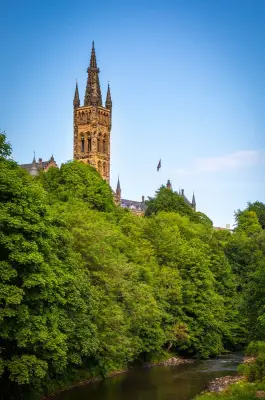 Why Glasgow?
While we might be a little biased on the subject, our most profound love for Glasgow has to revolve around its architecture. Named UK's City of Architecture and Design in 1999, Glasgow is famed for the City Chambers, the Lighthouse, SEC Armadillo, and much more as we point out with our comparison of walking tours at Glasgow Architecture. Finding itself as a meeting place between centuries-old classical UK architecture and large-scale modern design projects, Glasgow excels even in a country filled with fierce competition.
Such a strong historical and contemporary standing also applies to Glasgow's culture, which is perhaps natural given the city is reputed to date back to the 6th century. Developing over a small religious establishment into a significant economic and social hotspot, Glasgow's influence would spread over the rest of the UK, as it eventually became known as one of Europe's capitals of culture.
TV and Films
Arguably the biggest contemporary use of Glasgow as a filming location, at least on an international scale, comes from movies adapted from DC comics. Owing to the city's architecture, Glasgow has found itself as a common choice to illustrate Gotham city, the much-famed hometown of Batman. According to recent announcements and sightings, this is the case for the upcoming Robert Pattinson Batman film, which leans on the aesthetic generated by the city at night.
Outside of the new Batman movie, filming has also taken place in Glasgow for related Batman scenes in an upcoming Flash film. While operating in a different continuity than the Pattinson film, relating to the Ben Affleck version of Batman according to Metro, these shots outside of the City Chambers and St Vincent Street illustrate a significant and likely ongoing interest in the setting. Even the upcoming Batgirl movie is getting in on the action, with filming again promised for Glaswegian streets.
In television, the more limited budgets naturally mean that most shows filmed in Glasgow are those which take place in Scotland. Standouts here include hits like The Nest, The Cry, and Outlander. It should be noted, however, that the increase in big-budget streaming IPs could mean a greater emphasis on shows from different nations making the move to Glasgow in the near future.
Video Games, Merchandising, and Beyond
Being built on a completely artificial world means that video games are far less inclined to involve real locations than TV and movies are. That said, there are some recent interactive film games like 2015s Her Story which place their live video content within Glasgow. In more artificial worlds, it's more common for games to instead borrow inspiration from places like Glasgow rather than place their entire world within the physical space.
In terms of future opportunities for merchandise, the most potential again has to be found in upcoming DC movies content. This franchise has traditionally performed extremely well at the box office, with the latest Justice League and Batman V Superman movies bringing in $657 million and $873 million respectively. This level of success translatedinto popular merchandise over a wide spectrum of goods and entertainment products, and likely will again for coming content.
The biggest and most relatable performers along this line would have to be clothing andposters,common products with which fans express their love of a topic and property. Though Glasgow would rarely be the primary focus of merchandise from media set in the city, it would often find itself as a backdrop incorporating the aesthetic.
Alongside these classics are more modern interactive entertainment merchandising experiences like the Batman video games. More notably is Batman: Arkham City, which sold over 12 million copies in its first year, which translates to over half a billion dollars in revenue. Looking to the wider entertainment industry, you can see other titles like the Batman-based slot games from websites like 888 Casino in UK.
Though the websites are built around easy-to-use systems and bonuses like free spins and deposit matches, the games often lean on big film and TV properties for attention. This is the case for the new Batman slot, which incorporates Glaswegian architecture into its graphics to leverage the movie's setting and mood. This same approach will also undoubtedly be utilised for mobile and web games, which have proved similarly successful in the last few years.
Though we've spent most of this article talking about the tremendous effect of comic book movies when it comes to Glasgow's place as a setting, we feel the popularity of this market can't be ignored. While DC movies can't quite match the popularity of their Marvel cousins, they still represent the direction in which action movies are heading. For this reason, this range of films alone could serve as huge draws if the movies succeed, appealing to people not traditionally fans of classic architecture and culture.
At the end of the day, if this leads to more people getting involved with what Glasgow has to offer, this development is undoubtedly a good thing. For both growing the city's international reputation and providing real benefits to local businesses, we're not going to turn down progress for lack of a purer point of origin. Good things are coming, and while Glasgow doesn't need help, a higher profile could be a very good thing.
Comments on this guide to Glasgow setting for TV shows, movies, and more article are welcome.
Glasgow Building Designs
Glasgow Architecture Designs – architectural selection below:
New Glasgow Architectural Photos
Glasgow Architectural Photos
Holiday Inn Pacific Quay Hotel
Architects: Mosaic Architecture + Design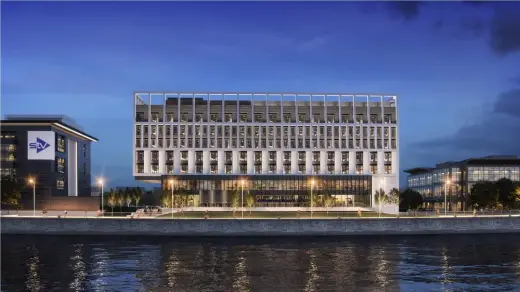 image courtesy of architects
Holiday Inn Pacific Quay Hotel
Merchant City boutique hotel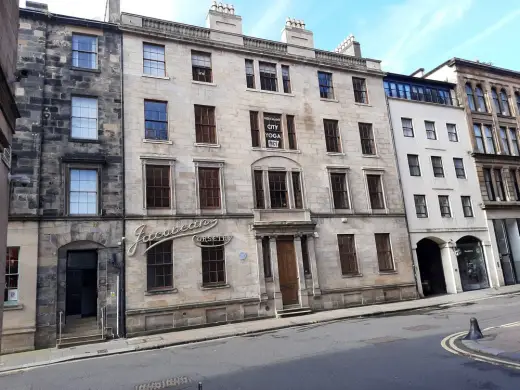 image courtesy of architecture practice
Merchant City Property
Comments / photos for the Glasgow setting for TV shows, movies, and more guide page welcome