Glasgow Architectural News in 2016, Strathclyde Buildings, Architects, Design Images Scotland
Glasgow Architectural News 2016: Buildings
Scottish Building + Construction Updates – West of Scotland Property: Aug-Nov 2016
post updated 9 July 2023 ; 30 Jan 2017
Glasgow News Archive up to the end of November 2016
Glasgow Architecture News 2016
Lippe Architects + Planners News
29 Nov – Architects Practice, Lippe Architects + Planners have added experienced architect, Catherine Cope (nee McKeown) to augment their team of 17 employees. The architects office with over 30 years' experience in the construction industry, have further extended the strength of their team with the addition of Catherine who is based at their offices at 25 Albyn Place, Aberdeen.
Aberdeen Architecture News
£800 million Scottish budget boost must be prioritised for housing, say builders
23 Nov – With the Scottish Government's capital budget set to increase by more than £800 million through to 2020-21 as a result of today's Autumn Statement, the country's home building industry called for the same funding priority for housing to be given north of the border as was set out by the Chancellor for England.
This follows his announcement on additional spending in areas that will boost activity – with his recognition that housing plays an integral part.
Among the details outlined by the Chancellor for England was a £2.3 billion Housing Infrastructure Fund which will be used for projects such as roads and water connections that will support the construction of up to 100,000 new homes. On top of that, £1.4 billion will provide 40,000 new affordable homes, including some for shared ownership and some for affordable rent. Another £1.7 billion will be used to speed up the construction of new homes on public sector land.
Design Museum London Building Opening
23 Nov – The new Design Museum opens on the 24th, designed by architects John Pawson / Rem Koolhaas, OMA with Allies and Morrison. It will be the world's leading museum of contemporary design and architecture, an international showcase for the many design skills at which Britain excels and a creative centre, promoting innovation and nurturing the next generation of design talent.
Day one was a huge success with the expo opening its doors to thousands of 'movers and shakers' from across Scotland.
Scotland Build opens its doors again tomorrow morning from 9.30am. Make sure you come to the show as we have lots planned for the day. We are taking on-site registrations all day, so come visit at any time!
Scotland's Construction Expo
Day Two features:
The Women in Construction Afternoon Tea is at 2.30pm – 4pm – FREE tea, coffee and pastries. Come network and hear from thought leaders paving the way for women in the construction industry.
The Sustainability Summit featuring top level speakers from BRE, Energy Savings Trust, Glasgow City Council, MEARU, Atkins and many more – View full agenda
Conference Sessions filled with key presenters including speakers from the Construction Scotland Innovation Centre, Balfour Beatty, Transport Scotland, Institute of Civil Engineers Scotland, McTaggart and Mickel, Austin Smith: Lord, ECD Architects and many more – View full agenda
2 CPD Workshop Areas running all day with training sessions on Business Development, Marketing Tools & Skills and Sustainable Building – View full agenda
120 Booth Exhibition showcasing their products and services
Ayr Riverside Masterplan
23 Nov – Ayr Renaissance, a body formed by South Ayrshire Council to lead the regeneration of Ayr town centre has submitted an ambitious waterfront masterplan, report Urban Realm.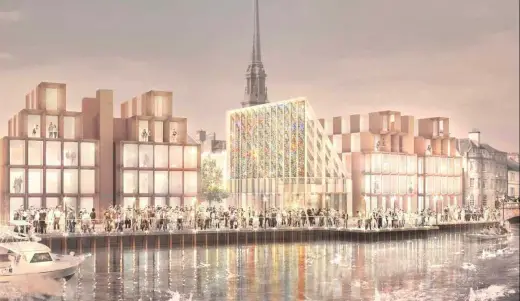 image courtesy of architecture practice
The Riverside Block has been devised by Niall McLaughlin Architects to sit between the medieval 'Auld Brig' and Victorian 'New Bridge', removing a number of large retail sheds which block access to the river with a new area of public realm and a festival building.
Builders welcome lending figures with note of caution
23 Nov – With the latest Scottish report from the Council of Mortgage Lenders showing the highest quarterly number of First Time Buyers since 2007, industry body Homes for Scotland welcomed the fact that 8600 mortgages were taken out by this customer group during July – September this year but issued a note of caution in relation to the reported fall in activity for other home movers.
Chief Executive Nicola Barclay said:
"Today's figures for First Time Buyers are good news as this group is the lifeblood of the housing market. They also point to the positive impact the Scottish Government's Help to Buy shared equity scheme is continuing to have on new build sales, with the ceiling price now targeted at this end of the market.
"However, with the volume of loans to other home buyers 12 per cent down on a year ago, we must not forget the importance of ensuring activity at all levels of the market so that people can move up and down the housing ladder according to their own needs and aspirations.
"We therefore continue to press government for support, including our request for an early review of the bandings of the Land & Buildings Transaction Tax at the middle to upper levels to ensure there are no barriers to aspirational movers who may otherwise choose to stay where they are."
St Peter's, Cardross: Birth, Death and Renewal
16 Nov – NVA are excited to announce the publication of a new book, which tells the full story of the commissioning, demise and resuscitation of St Peter's Seminary for the first time.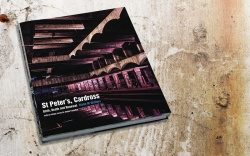 Produced by Historic Environment Scotland in partnership with NVA and Glasgow School of Art, St Peter's, Cardross: Birth, Death and Renewal traces the history of one of Scotland's most celebrated – and most troubled – buildings, from its inception in the 1960s to its astonishing renewal in 2016 as the stage for Hinterland.
St Peter's Seminary only fulfilled its original role as a seminary for 14 years, from 1966 to 1979. For decades, it has been abandoned to decay and vandalism, and ever since people have argued and puzzled over the future and importance of St Peter's.
It has been called both Scotland's best and worst twentieth century building, and was Category A listed in 1992. One of its architects, Isi Metzstein, suggested the idea of 'everything being stripped away except the concrete itself – a purely romantic conception of the building as beautiful ruin'. And now in 2016, St Peter's is being renewed as a cultural space through the work of public art organisation NVA.
In this landmark book, Diane Watters looks at the history of a structure that emerged out of an innovative phase of postwar Catholic church-building. She traces the story of an architectural failure which morphed into a tragic modernist myth. Across 54 pages of stunning imagery of St Peter's, Angus Farquhar recounts how NVA came to play the key role in the renewal of St Peter's and articulates the vision of its future as a platform for public art, debate and the generation of new thinking.
St Peter's, Cardross: Birth Death and Renewal is published on 30 November. Click here to pre-order now at a special discounted price of £20 (RRP £30) with free UK P&P using the code STPETERS20 (offer valid until 20 December 2016).
Homes for Scotland appoints new Director of Planning
16 Nov – Homes for Scotland (HFS) has promoted Tammy Adams to the position of Director of Planning, responsible for developing and promoting the organisation's position on local, strategic and national planning policy and practice, and on the infrastructure and utilities needed to support development.
With Scotland's planning system remaining firmly in the spotlight as the independent root and branch review marches towards a White Paper at the end of this year, there are clear signs that planning performance needs to improve – with latest official statistics showing a significant slowing down in the time taken to determine planning applications for major housing developments. Adams intends to continue to work positively with policy and decision-makers at the national, strategic and local levels, saying:
"Since joining HFS in September 2014 and in particular in recent months, I have seen some very positive signs of planning and development professionals from different sectors talking to each other more openly and constructively.
"HFS members have played a key part in strengthening our discussions with the Scottish Government as well as local and strategic-level planners and we are starting to see some benefits in terms of the wider sector's understanding of what the home building industry needs in order to bring development plans and housing targets to life.
"I hope this collaborative spirit will contribute to a significant increase in the delivery of the new homes which we need for communities across Scotland, as all involved look to play their part in enabling sustainable development."
Tammy joined HFS in September 2014 as Principal Planning Advisor, becoming Head of Planning in February 2016. Prior to this she held a number of senior positions in England, including Head of Planning with Northumberland National Park Authority and as a planning advisor with the Department of Communities and Local Government.
The appointment will also see Tammy join HFS' 22-strong Board of leading industry figures tasked with setting the organisation's work priorities as it seeks to ensure our country has enough homes of all types in the right locations to meet the diverse needs and aspirations of our growing population.
Explore a Renovated Glasgow Castle
16 Nov – Bold wallpapers, modern fabrics and fabulous lighting mix with turrets and open fires to create a home that's grand yet cosy and welcoming. In 2000, Nicola Hallsworth saw this castle advertised for sale in The Herald newspaper and asked her husband Fred whether he'd be willing to move to the country:
Renovated Glasgow Castle
Scotstyle Best Building in Scotland Vote
15 Nov – If you go to the www.foa2016.com/scotstyle website before Friday (18th Nov) you can vote on a list of ten for the best buildings in Scotland from the last 100 years.
Buildings include Princes Square in Glasgow by Hugh Martin & Partners, Rothesay Pavilion by J & JA Carrick, and the Pier Arts Centre by architects Reiach and Hall.
Hart Street House
15 Nov – Richard Murphy's own house at Hart Street Edinburgh is one of 20 to feature in the forthcoming Channel 4 RIBA / Grand Designs "House of the Year 2016" programmes.
The four week series starts on the 24th November with Hart Street featuring on Thursday 1st December at 9.00pm.
Scotland's home building industry supports Habitat for Humanity
15 Nov – Scotland's home building industry is digging deep this month to support the vital work undertaken by Habitat for Humanity, a leading shelter charity providing the poorest and most vulnerable around the world with a decent place to call home.
Industry body Homes for Scotland recently announced its partnership with the charity, and Chief Executive Nicola Barclay will be taking part in a "Women's Build" in Mumbai next January alongside colleague Gill Henry of Cruden Homes. The week-long event will involve working on a building site to help extremely vulnerable communities living in poverty build their own homes.
With fundraising for the build now underway, Nicola said:
"Following the generous donation to the charity of £6,500 raised by guests of the HFS Annual Lunch in May, I was keen to continue our support of Habitat for Humanity in its mission to build a safe environment where families and communities can thrive.
"Everyone should have access to a secure home in order that they can realise their full potential in terms of health, education and employment prospects. With the provision of decent housing a fundamental need, I look forward to witnessing first-hand the difference which can be made to the lives of these most vulnerable of communities through this important voluntary work."
Gill Henry, Head of Business Development at Cruden Homes, said:
"As the current Homes for Scotland Home Builder of the Year 2016, Cruden Homes is delighted to be supporting the partnership between HFS and Habitat for Humanity.
"Over our long heritage, Cruden has played a key role in the successful regeneration of many challenging areas within Scotland, with community engagement and a focused approach to the delivery of community benefits at the heart of everything we do. As such, we fully endorse the commendable work being done by the charity and it's a great privilege for me personally, to be participating in "Women's Build" alongside Nicola.
"In addition, I'm very pleased to announce Cruden's charitable trust, the Cruden Foundation, is also donating £3500 to Habitat for Humanity in recognition of the great work it is doing."
Meryl Davies, CEO of Habitat for Humanity, said:
"Home builders are the perfect partners for Habitat for Humanity and that is why we are so delighted to be working with Homes for Scotland.
"Having a safe and affordable home has a huge impact on families around the world. Habitat for Humanity is helping millions of families to build safe houses where they can live, grow, and dream. Having the help and support of Homes for Scotland means we can help even more families and we are immensely grateful to have the support of Nicola Barclay and the Scottish home building community."
The Reel House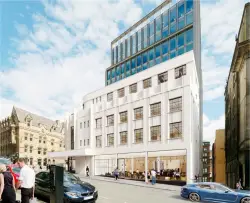 11 Nov – JLL and Knight Frank have begun seeking tenants for a converted cinema on Glasgow's Renfield Street following submission of plans to convert the former entertainment venue and the successful completion of One West Regent Street, reports Urban Realm.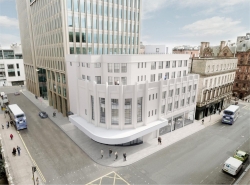 Marketed as The Reel House the former cinema, first built in 1934, will be rejigged by Ryder Architecture to form four floors of grade A office space whilst retaining the Art Deco exterior.
Scottish Civic Trust My Place Awards
11 Nov – The Civic Trust My Place Awards 2017, supported by the Scottish Government, are a national celebration of good local design and conservation projects and of people who make a significant contribution to the civic movement. The awards are unique in that they are nominated by local communities and people.
New Chairman of the Scottish Property Federation
10 Nov – Paul Curran, Managing Director of Edinburgh-based Quartermile Developments, has been announced as the new Chairman of the Scottish Property Federation (SPF).
Succeeding current Chairman Chris Stewart, Chief Executive of the Chris Stewart Group, Paul took up his new position at the SPF's Annual Dinner at the Edinburgh International Conference Centre on 10 November 2016.
Full details on the Edinburgh Architecture news page
Dakota Deluxe Hotel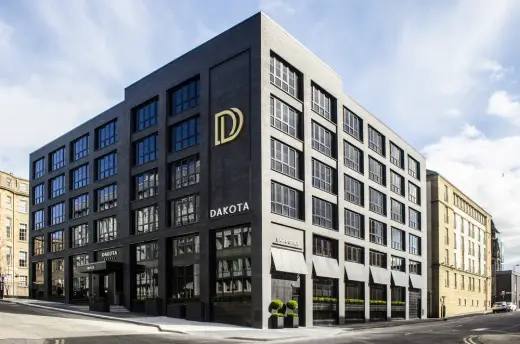 photo from architects
8 Nov – 3DReid are delighted to announce our recent success at The Glasgow Institute of Architects' Design Awards 2016 where the Dakota Deluxe hotel in Glasgow won top prize in the Commercial category.
Dakota Deluxe Hotel Glasgow
New Housing by Collective Architecture
8 Nov – Collective Architecture have been appointed by Sanctuary Group to draft plans for conversion and redevelopment of the former Victoria Infirmary, Glasgow, to provide 400 new homes, reports Urban Realm.
GIA design award winners
7 Nov – Winners at this year's GIA design awards, chaired by Michal Cohen of Walters and Cohen Architects:
Best in show award: 'Newhouse of Auchengree', North Ayrshire by Ann Nisbet Studio
Mhor Micro, a pair of Perthshire pavilions designed by Line Architecture
Saunders Centre, Glasgow by Page \ Park Architects
Westwater Building, Dollar Academy by Page \ Park Architects
James Gillespies High School by JM Architects
Tigh na Croit by HLM
Glasgow Women's Library by Collective Architecture
Dakota Deluxe by 3DReid
Ballymena Health Centre by Keppie and Hoskins
Small practice portfolio: ARPL
Maggie's Centres Buildings
7 Nov – BBC Two's Building Hope: The Maggie's Centres TV programme last night featured all Maggie's Centres including the two in Glasgow and some shots of the new one emerging at the Forth Valley designed by Garbers & James, a London-based architectural practice whorealised the design of Maggie's Swansea from architect Kisho Kurokawa in 2011.
Jamaica Street Building
4 Nov – A long-standing gap-site on Glasgow's Jamaica Street could soon be plugged following submission of plans by pub giant J.D. Wetherspoon to erect a KDPA-designed hotel, reports Urban Realm. An extension to the A-listed Crystal Palace this will see a nine storey build rise on the adjacent plot containing hotel accommodation and a rooftop garden and bar together with new ground floor openings to facilitate direct access to the reception and courtyard.
Jamaica Street Building
Carnegie Museum and Arts Centre Building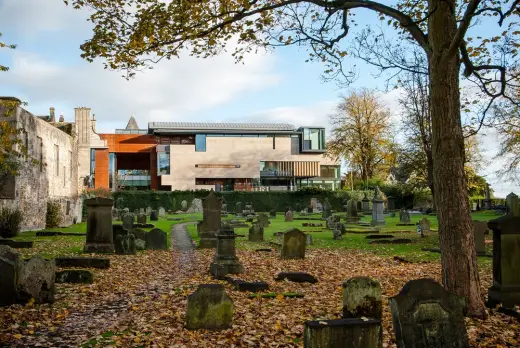 photo from architects
4 Nov – Carnegie Museum and Arts Centre Dunfermline by Richard Murphy Architects
Finnieston student flats
4 Nov – Young & Gault Architects have dusted off plans to build a student housing development at Sandyford Street, Finnieston, to tap into growing demand for accommodation in close proximity to the University of Glasgow, reports Urban Realm.
Scottish Civic Trust Annual Conference, 15th November, Celebrating Civic Pride
4 Nov – The next Scottish Civic Trust annual conference will showcase and celebrate the work of local civic trusts, amenity societies and heritage volunteers. The people that make up these groups work tirelessly to promote and protect local heritage, places and spaces. The conference will provide them with a platform to show what they have achieved, explain why they do it and set out the challenges and difficulties they face:
Scottish Civic Trust Annual Conference
Architecture Website
4 Nov – Apologies for some downtime this week due to some pervasive DDOS attacks, sadly seems to be a sign of the times.
The Saunders Centre wins RIAS Andrew Doolan Award for Architecture 2016
3 Nov – The Saunders Centre, Glasgow by Page\Park Architects has been awarded the RIAS Andrew Doolan Best Building in Scotland Award 2016.
Buildings by Page\Park Architects
2 Nov – Two projects by Page\Park Architects added to e-architect:
The Saunders Centre – Glasgow Academy Science and Technology Building
The Westwater Building at Dollar Academy
Building An Architectural Resource
29 Oct – Today we passed the 20,000 pages mark! That is across our four architecture websites.
Ignoring architecture and design websites – like Dezeen and designboom – our architectural platform is the largest European architecture resource in terms of traffic.
New Appointments to Historic Environment Scotland Board
28 Oct – The Cabinet Secretary for Culture, Tourism and External Affairs, Fiona Hyslop, today – Friday 28th October – announced the appointment of Ian Brennan and Ian Robertson as Trustees and the reappointment of Ken Thomson and Janet Brennan to the board for Historic Environment Scotland (HES).
Chair of Historic Environment Scotland, Jane Ryder, OBE, said: "I am very pleased to welcome Ian Brennan and Ian Robertson to the Board of HES. They bring a wealth of financial and business experience, drawn from across the public and private sector, and they will be a great asset to HES. Together with the reappointment of Dr Ken Thomson and Dr Janet Brennan, current Board members, as well as the recent arrival of our new Chief Executive, Alex Paterson, we have an exciting mix of change and continuity for HES as we celebrate our first anniversary."
Reappointment to the HES board for Dr Ken Thomson, Principal and Chief Executive of Forth Valley College – a leading centre for skills and traineeship and is also a UK award winner for innovation in 2015 – and Dr Janet Brennan, Chair of the Scottish Castles Association and a champion of the historic built environment, were also announced today. The first Chair and board members for HES were announced by Fiona Hyslop on 27th January 2015.
The appointments of Ian Robertson and Ian Brennan will be for four years from 1st of November 2016 to 31st of October 2020. The reappointments of Ken Thomson and Janet Brennan will run for four years from 19th of January 2017 until 18th January 2021.
Glasgow Green Boathouse
27 Oct – Heritage Lottery support keeps hopes afloat for Glasgow Green Boathouse
The Heritage Lottery Fund today announced its support for the redevelopment of the Category B listed West Boathouse on Glasgow Green, with a First Round Pass for a Heritage Grant of £1.212m including development funding of £121,900 for Glasgow Building Preservation Trust to develop their proposals further.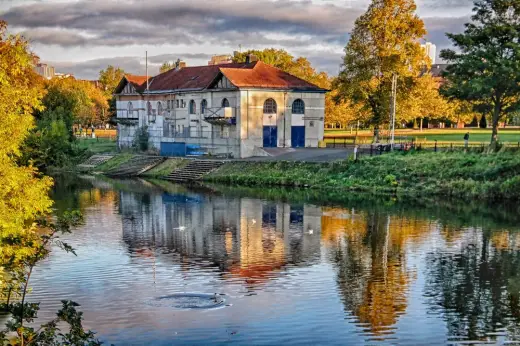 photo : Alisdair Woodburn
Glasgow Building Preservation Trust (GBPT) are working with volunteers from two historic rowing clubs to develop proposals to repair and adapt the timber-framed building on the banks of the Clyde in Glasgow Green. The project will promote the sporting and built heritage of the site through interpretation and heritage activities, getting more people using the building and enjoying being out on the river.
The announcement from the Heritage Lottery Fund follows a successful MyPark Scotland crowdfunding campaign, which received 184 donations, exceeded the £5k target to raise £5378 with donations received from as far away as New Zealand, Texas and Aberdeen – demonstrating the wider interest in the project. The West Boathouse campaign has been the most successful campaign on the MyPark Scotland platform to date.
In addition to the monies raised through the public appeal, GBPT have also secured development funding from the Architectural Heritage Fund, Glasgow City Council and the Spirit of Calton – a Fourteen Community. Historic Environment Scotland have also awarded a Building Repair Grant towards the eligible repair costs.
With total project costs of £2.4m identified, GBPT will spend the next year developing the proposals and raising the remaining funding before starting work in 2018, with completion anticipated in 2019.
LUCY CASOT, HEAD OF THE HERITAGE LOTTERY FUND IN SCOTLAND, SAID: "Scotland's profile as a country which produces top class athletes has never been higher. We're delighted that thanks to National Lottery players, we can give our initial support to a project which will bring to life a building with a great sporting history while helping rowers today by providing modern new facilities. The West Boathouse has been a feature of Glasgow Green for over 100 years so we are excited to see plans to reanimate this part of the Clyde, sharing and celebrating its fascinating history with the local community."
DEPUTE LEADER OF GLASGOW CITY COUNCIL, COUNCILLOR ARCHIE GRAHAM OBE, SAID: "The West Boathouse is a valuable part of Glasgow's rich sporting heritage and I'm delighted it now has a viable future, thanks to this funding from the Heritage Lottery Fund. It is fitting that this award comes at the end of a really exciting summer for the Boathouse's rowing clubs; which have connections to now fewer than three silver medallists from the Rio Olympics. Most importantly, though, they have also been recruiting new members; with 180 schoolchildren from the East End of Glasgow getting a taste for the sport."
IAN GOODMAN, MYPARKSCOTLAND PROJECT MANAGER, SAID: "The West Boathouse has been one of the most successful campaigns on the MyParkScotland portal, with the largest number of donations received for any of the MyParkScotland campaigns so far. We have been impressed by the level of support shown for the project and delighted not only that the project surpassed its target but also over £700 has been raised from the gift aid contributions which will support future improvements to Glasgow Green through the endowment fund."
MURRAY SHAW, CHAIR OF GLASGOW BUILDING PRESERVATION TRUST: "We are thrilled that the Heritage Lottery Fund have given their support to this unique project. Once completed, we expect the West Boathouse will serve the users of Glasgow Green and wider community groups in the future, as well as it has served the rowing clubs in the past. We look forward to working with the volunteers of the two rowing clubs and local groups to ensure this project is a success."
Maggie's Centres BBC Scotland Documentary
27 Oct – Building Hope: The Maggie's Centres – tells the fascinating story of Maggie's – a unique cancer charity which began life in Scotlansd 20 years ago. In 1993, Maggie Keswick Jencks was diagnosed with terminal cancer and was told she had three months to live. On hearing this devastating news she was left to sit on a plastic chair in a hospital corridor. The only place she could find to cry was a toilet cubicle.
Building Hope: The Maggie's Centres
Sunday 6 November
BBC Two Scotland, 8.00-9.00pm
Heart of the Campus Building News
24 Oct – Work completed on a major element of the £30m 'Heart of the Campus' project at Glasgow Caledonian University. The landmark project commenced in May 2014 and has seen the transformation of the campus, located in Glasgow city centre.
Glasgow Caledonian University Heart of the Campus Building
University of Glasgow Pilot Teaching Room News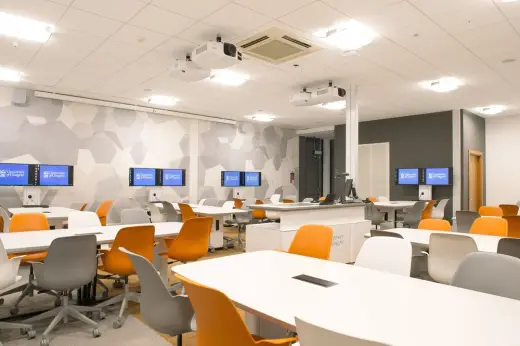 photo : Hugh Fraser
24 Oct – HLM has completed the refurbishment of the University of Glasgow's pilot teaching rooms in time for the 2016/17 academic year.
The refurbishment follows the establishment last year of the University's Inspiring Spaces Group to investigate how existing teaching spaces in various buildings across the campus could be refurbished to test new pedagogy methods.
Building on the experience gained on the Learning and Teaching Hub project, HLM Interiors was asked to assist with this study by designing these rooms utilising innovative furniture and equipment layouts.
David Greig, Associate at HLM, said: "We were delighted to be able to assist the University with this exciting project. For centuries, formal teaching spaces have changed little with students filling rows of desks facing an instructor. With modern methods of teaching placing greater emphasis on active learning we enjoyed the challenge of re-creating existing space to harmonise with new pedagogies and state-of-the-art technology."
Seminar spaces and teaching labs of various sizes were refurbished, corresponding to user groups with specific needs. In addition to providing functional layouts, which can equally be used for lectures as for seminar-style group work, the integration of technologically enhanced furniture was key to making these spaces successful.
Eleanor Magennis, Project Development Manager for Estates and Buildings, University of Glasgow, said: "The creation of the pilot rooms was a collaborative process with input from academics, students, University's Professional Services and the HLM led design team. We had a common goal to enhance the quality of our teaching and improve our student experience by developing active learning spaces as part of our world changing campus development. We are delighted with the inspiring spaces HLM have produced and look forward to more spaces like this on campus including the new Learning and Teaching Hub."
Aline Browers, Project Interior Architect at HLM, said: "One of the key design considerations was to create a signature look throughout the various rooms on campus. We have created a sense of individuality for each space through the choice of furniture and imagery whilst keeping consistency in finishes and fittings. Bold graphics have been designed intentionally for each room; picking up various accent colours that create a fresh and uplifting atmosphere."
HLM will also take part in the post-occupation evaluation during the first year in use with the outcomes providing invaluable feedback for the University as they progress with their ambitious programme of expansion over the coming decade.
Shawfield Masterplan News
23 Oct – Norr have put forward detailed plans for one of the first plots to be developed under a masterplan by Edinburgh architects 7N for Shawfield on the south bank of the River Clyde, reports Urban Realm.
The Red Tree Innovation Centre sits on the south-east corner of the masterplan area, bounded by Shawfield Bridge and a riverfront walkway with the expectation being that the centre will be isolated for a 'number of years' until neighbouring plots come to fruition.
Arranged over four floors the development will offer lettable office accommodation in addition to a range of common spaces such as a café and kitchen as well as gardens, balconies and breakout spaces.
Greenfaulds High School Building
21 Oct – The £30m Greenfaulds High School, Cumbernauld, designed by Norr Architects, has been handed over to North Lanarkshire Council. The new building was delivered by Morrison Construction. It contains a Gaelic education unit.
Scottish Architectural Marvels
20 Oct – Scottish Parliament Building and Craigentinny Marbles feature in brief texts by architect Adrian Welch about less-famous British marvels:
Scottish Architectural Wonders
"Building Our Islands" – Outer Hebrides' Favourite Buildings to Mark Festival of Architecture 2016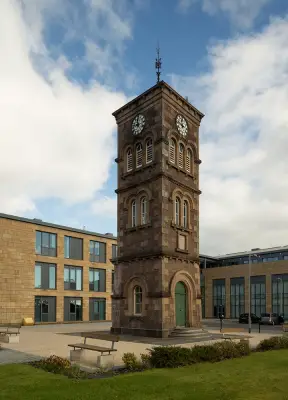 Clock Tower, Nicolson Institute, Stornoway, Isle of Lewis © John Maher
14 Oct – An Lanntair and The Western Isles Architects Group have been celebrating architecture in all its forms in the Outer Hebrides. From modern architecture to 17th Century ruins, the project asked people to take a look at the architecture that surrounds them. Photographer (and former Buzzcocks drummer) John Maher has been documenting the shortlisted buildings and other architectural gems for the project. Over 500 people voted for their favourite building in the islands.
Gorbals Building Renewal
11 Oct – Page\Park Architects are bidding to bring a forgotten survivor of the Gorbals' tenement past back to life with a full rehabilitation of the A listed former British Linen Bank on behalf of Southside Housing Association.
Cooper Cromar Practice News
7 Oct – Cooper Cromar, one of the UK's leading and multi-award winning Architectural Practices, is delighted to announce, as of the 1st September 2016, the successful completion of a Management Buy Out by the existing senior management team of Steven Carroll, Simon Walsh and Graham Forsyth.
RIBA Stirling Prize 2016
7 Oct – No prize sadly for the single shortlisted entry from Scotland – New Glasgow City College Riverside Campus building by Michael Laird Architects & Reiach and Hall Architects.
Shortlisted buildings and archiects for the UK's best new building: RIBA Stirling Prize 2016.
Glasgow Architects
7 Oct – Yes it is that time of year again! Renewals for Glasgow Architects Listings due by the end of the month.
Style Mile Hotel Tower
7 Oct 2016 – Stallan-Brand Architects have lodged plans to build a 17-storey 'Style Mile' hotel tower on the junction of Dixon Street and Clyde Street, framing views of the UK's second busiest shopping street.
Clydeside Expressway Homes
7 Oct – Apsis Homes and Convery Prenty Architects have won consent to build 45 flats on the site of a vehicle workshop at Meadow Road in Glasgow's west end . The scheme will be composed of a…
Satellite Business Park
7 Oct – Highbridge Properties and Clyde Gateway have launched what could become one of the UK's largest office parks on the former Shawfield development site in Glasgow.
George Street Buildings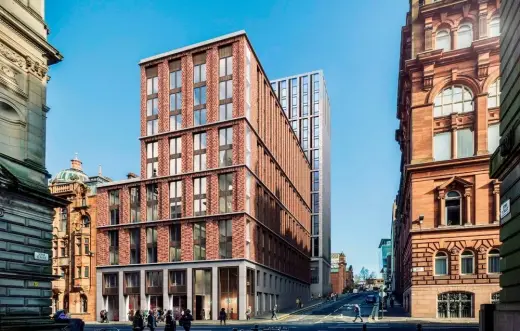 image courtesy Hoskins Architects
6 Oct – The Chris Stewart Group is to formally submit a planning application for a £70m development off George Square later this week after securing the backing of Glasgow Chamber of Commerce, reports Urban Realm. Hoskins Architects have been brought on board to transform two listed buildings on George Street into 43 serviced apartments and office space together with construction of a 258-bed hotel and a 272 bed student accommodation block.
Cowcaddens Student Flats
5 Oct 2016 – Mosaic Architecture & Design have filed revised plans to build a 286 bed student housing development at Dunblane Street, Glasgow , extending a gold rush to provide purpose built accommodation.
Tradeston Stallan Brand Designs
5 Oct – Stallan Brand have prepared an outline development statement for a mixed use transformation of Tradeston comprising a mixture of offices, homes, a hotel, serviced apartments, retail and leisure.
Former Tradeston Warehouse
5 Oct – Restoration work has now completed at a B-listed warehouse in Tradeston, used as apartments since 1999, following a programme of essential repairs carried out on behalf of the owners, Speirs Gumley.
Funding to support Build to Rent Housing Extended
6 Oct – Scotland's Build to Rent (BTR) sector is today being boosted by the announcement of an extension to funding for the Scottish Government-supported Private Rented Sector (PRS) Champion, tasked with driving forward initiatives which could see a rapid increase in the supply at scale of new purpose-built, professionally-managed, energy-efficient properties to rent across the country.
The funding will see the work of BTR PRS Champion Gerry More, supported by a Working Party of experts, continue for a further 12 months, focusing on how such schemes could be rapidly delivered with the backing of institutional investors, offering tenants improved customer experience and choice. It will also support the launch of a dedicated Build to Rent in Scotland "opportunity" document in early 2017, outlining the potential benefits on offer to investors, local authorities, developers and other associated organisations.
Gerry More said:
"With an increasing population, and the number of households forecast to continue rising, build to rent is a key component of increasing the supply of much needed homes of all tenures.
"The extension of this funding is therefore greatly welcomed in what is a further demonstration of backing from the Scottish Government, as previously reflected in its support of the extensive market engagement undertaken on a proposed Rental Income Guarantee scheme and improving the wider policy framework.
"The funding will enable me to progress my work across a number of key areas including engagement with stakeholders on potential planning reforms, continued work with the Royal Institution of Chartered Surveyors Scotland on valuation guidance as well as the launch of the opportunity document, which sets out in more detail the significant benefits that can be realised from the growth of this important sector of the Scottish housing market.
"There is a great deal of potential for investors in Scotland, with momentum continuing to build in the private rented sector. With the support of the Scottish Cities Alliance and the Scottish Government, I look forward to further exploring this opportunity with investors and local authorities over the coming year."
Chair of the Scottish Cities Alliance, Councillor Andrew Burns, said:
"We welcome this further funding from the Scottish Government towards our increasing Build to Rent sector. The Scottish Cities Alliance recognises that the liveability and attractiveness of our cities is key to building a high performance economy, and at the heart of that is the provision of quality homes of all tenures to make Scotland a better place in which to live, work and invest.
"Our ongoing collaborative work in the Private Rented Sector and Build to Rent housing with Homes for Scotland demonstrates the great benefits to be gained from partnership working to achieve this. We are committed to working together to achieve delivery of investible Build to Rent housing projects across our cities and regions."
Housing Minister Kevin Stewart said:
"Making sure that everyone in Scotland has a safe, warm and affordable home is a key priority for the Scottish Government. More and more households are calling the PRS sector home and new high-quality, well-managed housing built for private rent is an important element of our housing mix.
"This sector is in its infancy in Scotland and encouraging it to grow offers a range of benefits. It can drive up quality and choice for tenants, stimulate construction activity and create vibrant, well-designed neighbourhoods.
"We have been working closely with industry to help this emerging sector to thrive and as part of this we have previously funded a Build-to-Rent PRS Champion tasked with driving forward actions that will help deliver thousands of new PRS homes. I am delighted that, at the industry's request, the Scottish Government is enabling this appointment to be extended by a further year.
"I look forward to continuing to work with Gerry, and everyone in the industry, to deliver on the clear potential of the Build to Rent sector in Scotland."
Contemporary House in Kippford
4 Oct – Taigh Sonas, Kippford, Dumfries and Galloway, southwest Scotland by Simon Winstanley Architects added. This house is sited in a rectangular natural hillside plot accessed off the main road into Kippford on the Solway Coast. Principal views range between the south-west and north-east enjoying a spectacular landscape setting of the River Urr valley and hills beyond.
Contemporary House in Kippford
Hazelwood School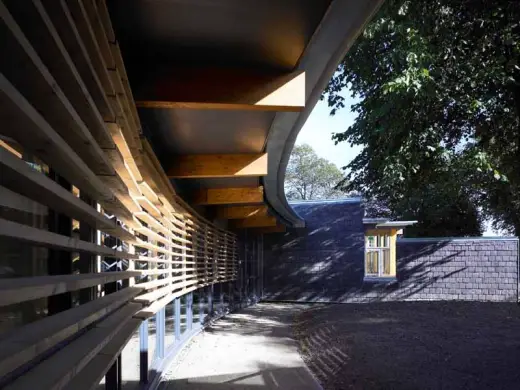 photograph : Andrew Lee
26 Sep – Three articles recognise this school in Glasgow as among the world's best: Hazelwood School in Glasgow
Launch of Under One Roof Website
26 sep – Under One Roof, a major new free website – www.underoneroof.scot – designed to help the half million plus private flat owners in Scotland with the complex and important task of carrying out repairs to their shared properties, has recently been launched by Scottish Government Housing Minister, Kevin Stewart MSP at an event in Glasgow.
Written by Annie Flint and John Gilbert, the authors of the acclaimed Tenement Handbook originally published by the RIAS over 20 years ago, the site contains over 100 articles on flat owners' legal responsibilities towards their co-owners and over 70 technical information articles that enable owners to identify repair problems and understand quotations from builders.
The site has over 100, specially commissioned, drawings, 200 photographs and a Repair Symptoms Checker to help owners pin down what is affecting their building's health. Downloadable model letters will make the whole process easier for owners. Advice on dealing with owners who refuse to participate in critical repairs is also provided.
Who is the Site For?
This site is for owners of all types and ages of shared residential properties and their advisers. It will help owners of: traditional stone tenements, newly built apartment blocks, ex local authority tenements, four-in-a-blocks and converted houses.
Advisers who will also benefit are: property managers in all sectors, architects, surveyors, community organisations and advice workers.
Kevin Stewart, Minister for Housing, said,
"When you are a flat owner, it can be hard to know where to start when repairs or the maintenance of communal areas like closes and roofs are needed."
"Under One Roof is a great new tool that will help home owners understand their obligations when it comes to property and shared spaces and provide free and impartial advice."
Iain Connelly, Chair of the Under One Roof Steering Group, commented,
"This site, which gives advice to owners on, sometimes vital, repairs and on establishing good maintenance regimes, has the potential to save owners very significant sums, amounting, over time, to hundreds of millions of pounds. It will also help prevent acrimony and heartache. This is a very important initiative for Scotland."
"Having access to this information will make a real difference by helping properties from falling into disrepair and will lead to better maintained, good quality and warm homes for everyone."
Councillor Redmond, Glasgow City Council's Executive Member for Jobs, Business and Investment, said:
"I am very pleased that Glasgow City Council is giving its backing to this extremely worthwhile resource. As Glasgow's Factoring Commission discovered, there's a real thirst among owners for authoritative information that helps with practical decision making. The vast majority of owners are constructive in the way they manage their property and are simply looking for best way to fulfil their responsibilities. Owners know that the bottom line is that it's in their interests to look after their property."
"The Under One Roof website offers a single, reliable source of information that will point owners in the right direction and ultimately help to improve the standard of homes and other properties across the country."
Contemporary Architectural Drawing by Minty Sainsbury – Exhibition
22 Sep – Minty Sainsbury is an artist specialising in architectural drawings and has an exhibition in The Mackintosh Church opening at the end of the month and running for the whole of October.
Glasgow School of Art – work in progress: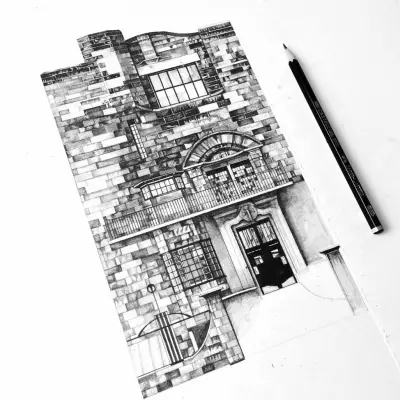 Active travel route in Glasgow's Southside wins funding
22 Sep – Plans for Scotland's most ambitious street improvement project, 'The South City Way', have won the Community Links PLUS (CLP), a 'streetscape' design competition hosted by Sustrans Scotland and the Scottish Government.
South City Way Glasgow: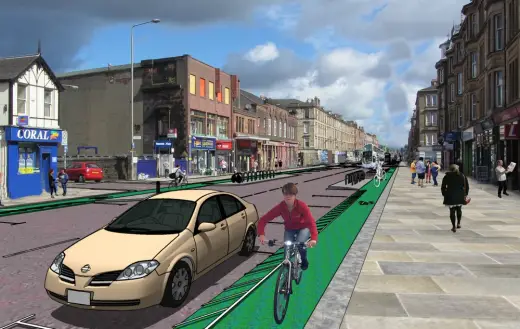 The new street redesign project, which has been awarded £3,250,000 in funding from Sustrans and the Scottish Government which Glasgow City Council will match with a further £3,250,000. The route, set to become an exemplar in designing streets for people, will stretch from Glasgow's South Side all the way into the heart of the city, going from Victoria Road to Stockwell Street junction near Merchant city.
In total, the project will improve the public spaces along 3km of new segregated cycleway, strengthening Glasgow's existing network of city cycle-paths. Glasgow City Council (GCC) is now set to begin work on the new project which is expected to be completed around Summer 2018.
South City Way: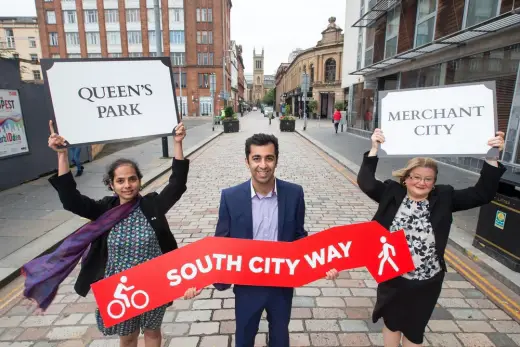 Humza Yousaf, Minister for Transport and the Islands, said:
"The quality of all five final bids was extremely high in this new and exciting infrastructure competition and I am delighted to see the winner announced. Glasgow City Council has shown real ambition and vision towards improving conditions for people who choose to walk or cycle along a major commuter belt, while also connecting a densely populated area with the city centre.
"The Scottish Government is committed to encouraging healthier and greener travel and we are investing more than £1 billion per annum to encourage people out of their cars. Transport Scotland supports projects which take active travel to the next level and this project will certainly do that by encouraging more people to make every day journeys by foot or by bike."
Strategic travel access
The new route will provide people with an attractive, safe, vehicle-free route, by foot or by bike from the densely populated Southside of Glasgow into the city's centre.
Glasgow City Council's winning design is of exceptionally high quality and carries aspirations to become an exemplar route showcasing innovation and best practice, helping to deliver Transport Scotland's long-term strategic vision for more active travel in Scotland.
The project, estimated to be worth a total of around £6,500,000, aims to contribute to health and economic regeneration in districts such as Govanhill and Laurieston, areas that are typically more vulnerable to low employment, social immobility, and higher rates of deprivation and poverty than other areas of Glasgow.
Victoria Road South Concept:

Places Designed for People
Inspired by the 2016 Year of Innovation, Architecture & Design, Community Links PLUS was announced by Sustrans Scotland and the Scottish Government in November 2015. Five finalists, announced in July 2016, where chosen for their capacity to demonstrate an integrated approach to placemaking, community engagement, urban design, and promotion of walking and cycling. The winning design was then selected by a cross-sector panel of judges.
The running up designs were: East Dunbartonshire Council's Burnbrae Roundabout and Connections; Highland Council's Inverness City Active Travel Network; City of Edinburgh Council's City Centre West East Cycle Link and Street Improvements; and City of Glasgow Council's Woodside Mini-Holland.
Matthew MacDonald, Community Links PLUS Manager at Sustrans Scotland, is hopeful that that the design competition will inspire a wider sustainable travel movement across Scotland as communities see the many benefits such investment brings:
"Our hope is that Community Links PLUS will inspire communities and councils in Scotland to continue to design places around people, now and into the future. We're hopeful that Scotland will become a leading example of why places that integrate people moving by foot, bike or public transport are more attractive, places to spend time and money, and this leads to stronger local economies and healthier people than places designed around vehicles.
Victoria Road crossing concept: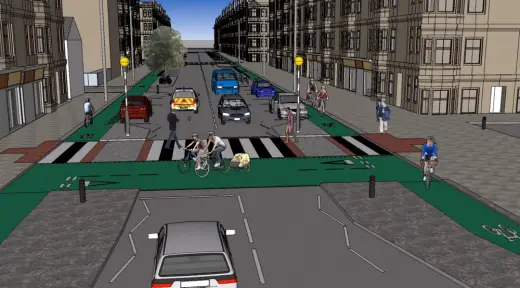 "The South City Way will improve travel choices and accessibility for residents and visitors. Simultaneously, it will reduce congestion, improve air quality, enable easier use of public transport, and create places where people want to socialise, shop, and linger in."
Bailie Elaine McDougall, Glasgow City Council's Executive Member for Transport, Environment and Sustainability, said:
"We are absolutely delighted that the South City Way proposal has won. Building the South City Way will be a significant step towards realising our ambition of creating a fully integrated cycling network in Glasgow.
"This new route will see better infrastructure for public transport; will link healthcare, academic, social and leisure venues and will also deliver significant improvements on Victoria Road, making it less traffic dominated and a more pleasant environment for pedestrians.
"There has been a sharp rise in the popularity of active travel in Glasgow and we want to encourage even more people to do so regularly due to the obvious benefits this creates for health and the environment.
"Winning an additional £3.25m of funding for the South City Way is a major boost for Glasgow."
New Distillery Bridge
21 Sep – The Glenlivet Distillery road-bridge completed in the heart of "Malt Whisky Country" in Speyside.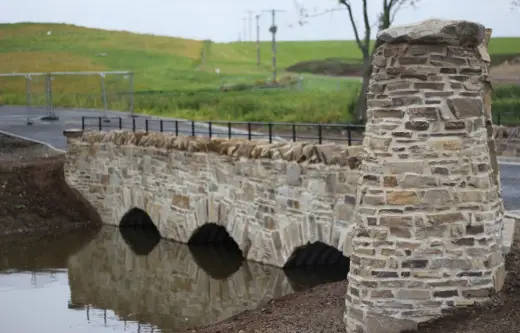 Robertson Civil Engineering was awarded the contract by Chivas Brothers, the Scotch whisky and premium gin business of Pernod Ricard, for work at The Glenlivet Distillery following the successful build of its Dalmunach Distillery in Glen Carron on the banks of the Spey in 2015.
The three-arch bridge saw a team of 17 expert engineers, surveyors and tradesmen work in collaboration with the architects to erect the structure.
The distillery sits within the dramatic Speyside landscape and is home to The Glenlivet. The bridge has been built in the style of The Glenlivet signifier – the pack horse bridge – and forms the entrance to the Visitor Centre.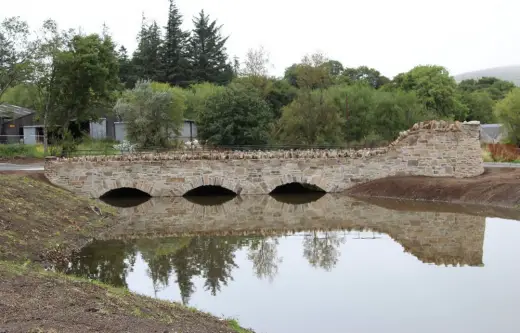 Gordon Buist, Production Director at Chivas Brothers said: "We are delighted with the aesthetics of the bridge, which really enhances our new entrance to The Glenlivet."
For more information on Robertson Civil Engineering visit www.robertson.co.uk
For more information on The Glenlivet Single Malt visit www.theglenlivet.com
Murphfest
19 Sep- Murphfest, a celebration of 25 years of Richard Murphy Architects in Practice, takes place in Edinburgh on 1st & 2nd of October. It includes an afternoon conference in the National Museum of Scotland in Chambers Street, details on the Edinburgh Architecture events page.
Disappointing news on housing as supply slips down
13 Sep- On the day MSPs were debating levels of investment for more homes, new official statistics revealed a two per cent decrease in the number of new homes completed in Scotland for 2015-16.
Responding, Karen Campbell, Director of Policy at industry body Homes for Scotland said:
"On this important day of discussion on our country's housing crisis, the Scottish Government has pointed to the 'stability' in new supply when figures actually show a decline. The simple fact is that whilst Scotland's population has increased to its highest ever level, the supply of housing continues to lag ever further behind.
This is hugely disappointing news for all those looking for a new home and will place further pressure on rents and house prices as demand continues to grow. We want to see a return to pre-recession levels of building around 25,000 new homes a year by the end of this parliament which requires a year-on-year increase of at least ten per cent. We all have a valuable part to play in achieving this if we are to meet the diverse needs, aspirations and life journeys of all those living in Scotland."
Homes for Scotland's manifesto states,
"But, whilst Scotland's population has increased to its highest ever total and the number of households being formed each year continues to rise, the supply of housing has failed to keep up. We simply don't have enough.
This is highlighted by the fact that only 15,562 new homes were built in 2014 – 40% less than in 2007.
With 160,000 households also on waiting lists, Scotland's chronic undersupply of housing is having a severe impact on communities across the whole country, particularly our young people and growing families."
Background:
Homes for Scotland represents companies which together provide 95% of all new homes built for sale as well as a significant proportion of affordable housing. Visit www.homesforscotland.com for further information or follow them on Twitter at twitter.com/H_F_S.
Homes for Scotland's manifesto setting out the action it believes is required to return to pre-recession building levels of c25,000 per annum by the end of the next Scottish Parliament can be accessed here: http://www.homesforscotland.com/Portals/HomesForScotland/Documents/2015/HFS%20manifesto%202015/01014%20HFS%20MANIFESTO.pdf?ver=2015-11-02-154209-277
Govanhill Housing Association
12 Sep – £5.5m development of 42 affordable homes on the corner of Victoria and Butterbiggins Road, designed by Collective Architecture, goes on site. The project for Govanhill Housing Association and is up to seven storeys high.
Elderpark Housing Association HQ
12 Sep – Elderpark Housing Association purchase of the Hill's Trust School building from Glasgow City Council. The empty B-listed Govan building will be extended and converted to a design by Mast Architects.
Schools for the Future programme
6 Sep – The Scottish Government's Schools for the Future £1.8 billion building programme will involve 112 schools being rebuilt or refurbished by 2020.
First Minister Nicola Sturgeon said that 29 newly built or refurbished school buildings will open to pupils during this academic year, the highest number of school buildings to open in any one year since the programme began in 2009.
The announcement comes on the same day the First Minister unveils her 2016/17 Programme for Government later at Holyrood.
Homes for Scotland News
5 Sep – Responding to today's approval by councillors of Edinburgh's Local Development Plan, the Head of Planning at industry body Homes for Scotland, said:
"Whilst this morning's meeting represents six difficult years of plan-making for our capital city, the unfortunate fact remains that the sites that have been allocated will not deliver the number of new homes that are needed quickly enough. This has obvious social and economic implications for our capital city and suggests a continuation of the 'planning by appeal' that has caused unrest in recent months." More info on the Edinburgh Architecture website's news page.
St Enoch Centre Building News
5 Sep – Proposals by international architects Benoy to introduce a range of new leisure uses at the St Enoch Centre Glasgow have been tabled by the owners in a bid to revitalise the development. Plans include construction of a rooftop cinema and restaurant space and ground floor retail within the footprint of a former BHS store.
Bath Street Office Building Images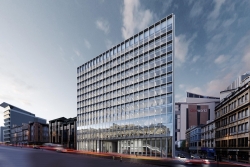 image courtesy of architects practice
2 Sep – more images of this Stallan Brand design for mixed-use building is for Coleby Investments. The development is bounded by Sauchiehall, Renfield and Bath Street's in Glasgow city centre.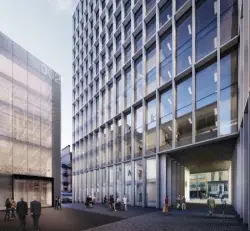 Prince & Princess of Wales Hospice
1 Sep – The new Prince & Princess of Wales Hospice in Bellahouston Park, Glasgow, is to start on site on 12 September. It is designed by Ryder Architecture. The facility employs the Sengetun model of care which places the needs of patients and their families first. Completion is due by 2018.
Scottish National Gallery Building Renewal
1 Sep – Work on a £16.8 m National Gallery of Scotland extension started after the City of Edinburgh Council approved the planning applications.
The redevelopment of the Scottish National Gallery, will triple the exhibition space available to the Scottish collection, vastly improve visitor access and circulation throughout the SNG complex, and create a more sympathetic setting and entrance for the building within East Princes St Gardens.
Glasgow City Centre Regeneration Strategy News
31 + 29 Aug – Glasgow City Council launch the latest phase of a 10-year city centre regeneration strategy by MVRDV and Austin-Smith:Lord.
Regeneration work will focus on nine districts: Anderston ; Broomielaw ; Centre ; Cowcaddens ; Merchant City and High Street ; Sauchiehall ; St Enoch ; Townhead ; University and Cathedral.
MVRDV have a worldwide reputation for freethinking, innovative design. Designs by these Dutch architects are often exuberant. It will be interesting to see how they can weave fresh ideas into this civic renewal.
Given the amount of public realm involved one might have expected input from practices such as Gehl Architects (Jan Gehl, architect and urban design consultant based in Copenhagen) or GROSS MAX (Edinburgh-based award-winning landscape architects with a reputation for work at the cutting edge of landscape design).
However Austin-Smith:Lord (offices across the UK) has a good pedigree in civic renewal. The Glasgow studio was responsible for the award-winning revitalised town centre public realm in Helensburgh.
We first posted news about this on 2 May 2016 – Glasgow City Centre Regeneration News
Scotstyle Top 10 Buildings
Scotstyle Top 10 Buildings (in chronological order):
1. 1930 – St Conan's Kirk, Lochawe, Argyll by Walter Douglas Campbell
2. 1930 – India Tyre and Rubber Factory, Inchinnan by Wallis, Gilbert and Partners
3. 1938 – Rothesay Pavilion, Rothesay, Isle of Bute by J & J A Carrick
4. 1950 – Hermit's Castle, Achmelvich, Loch Inver, Sutherland by David Scott
5. 1982 – Dundee Repertory Theatre, Dundee by Nicoll Russell Studio
6. 1987 – Princes Square, Glasgow by Hugh Martin and Partners
7. 1998 – National Museum of Scotland, Edinburgh by Benson and Forsyth
8. 1999 – Dundee Contemporary Arts, Dundee by Richard Murphy Architects
9. 2004 – The Scottish Parliament, Edinburgh by EMBT/RMJM
10. 2007 – Pier Arts Centre, Stromness, Orkney by Reiach and Hall Architects
Glasgow Doors Open Days Launch
29 Aug – The programme for this year's Doors Open Days will be launched on Tuesday 30th August, 2-3.30pm at Greyfriars Garden and the Civic Room, Glasgow. In September, tens of thousands of people will have the opportunity to visit buildings and sites for free across every one of Scotland's 32 local authority areas. A brand new website at www.doorsopendays.org.uk, designed for ease of use across PCs, tablets and mobile devices, will also be launched. The site is packed with information about hundreds of buildings that are either not normally open to the public or charge to enter.
Peebles Hydro Hotel Properties
29 Aug – Queensberry Properties – a partnership between Cruden Homes and Buccleuch Property – launch a residential development in the grounds of the Peebles Hydro Hotel. It comprises a mix of apartments and mews properties through to five bedroom detached villas.
Diversity Awards
29 Aug – The Herald and GenAnalytics will deliver Scotland's first ever national Diversity Awards in October. The awards will take place on Thursday 13th October 2016 at the Radiss
on Blu Hotel, Glasgow. These awards "will recognise outstanding success in ensuring that everyone in our society has the opportunity to fulfil their ambitions, aspirations and potential".
Sport, Health & Wellbeing Centre Building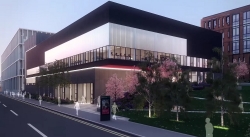 25 Aug – The University of Strathclyde receive planning permission for a £33m sport, health & wellbeing centre at Cathedral Street, Glasgow. The design is by Kennedy Fitzgerald.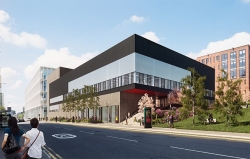 Due to start on site iin November and complete by Summer 2018. It will contain a 25m pool, sauna, steam rooms, consultation rooms and a conditioning suite. The building consolidates recreation, academic and research spaces.
Taymouth Castle Golf and Spa Resort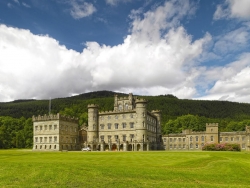 25 Aug – Taymouth Castle Golf and Spa Resort is due to open early in 2017 following a £25m refurbishment. It is located just north-east of Kenmore in Perth and Kinross. The 5-star hotel development includes 54 new luxury suites. Amenities include a championship standard 18 hole golf course, an equestrian centre and fishing within the 450 acre estate.
Edinburgh Digital Entertainment Festival Structure
25 Aug – Just a few days left to see this modular exhibition space has been created in the middle of George Street as part of the Edinburgh Digital Entertainment Festival. The design is by biomorphis with designer Mark Kobine.
University of Edinburgh Design Informatics showcase the work of its researchers and master students using a low cost, rapid assembly design.
Willow Tearooms Visitor Centre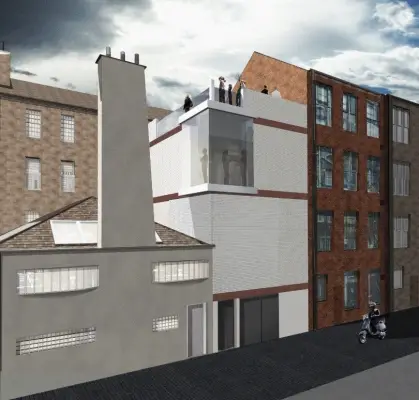 24 Aug – Simpson & Brown Architects' proposals for the upgrade of Charles Rennie Mackintosh's Willow Tearooms at Sauchiehall St, to form an adjoining visitor centre.
2 Sep + 24 Aug – Stallan Brand design for mixed-use development bounded by Sauchiehall, Renfield and Bath Street's in Glasgow city centre following conclusion of a pre-application consultation. This building is for Coleby Investments.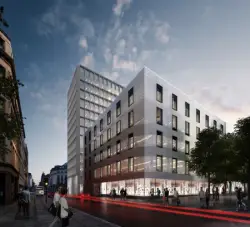 A 12 storey office block fronting Bath Street will be constructed on this 0.46 ha block. Around 13,000sqm of floor space will be provided above a ground floor podium level incorporating entrance and reception spaces plus an Apple retail outlet.
New Block next to Glasgow School of Art Building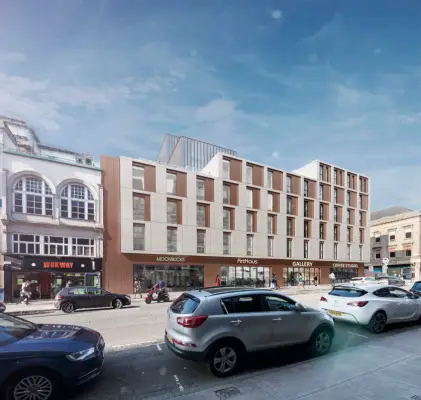 24 + 23 Aug – a student residential development has been proposed for a key Sauchiehall St plot, following submission of plans by Haus Architects.
The building is immediately adjacent to the Glasgow School of Art by architect Rennie Mackintosh, which is located up the hill to the north.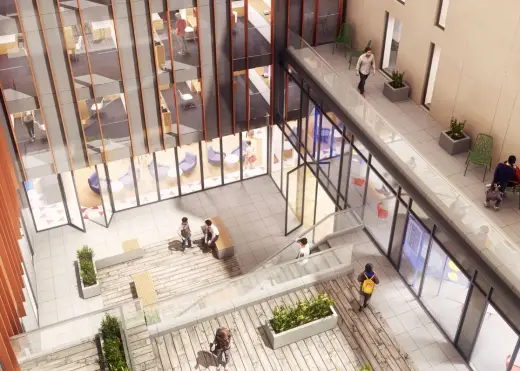 The site used to contain Jumpin' Jaks nightclub and Yates pub.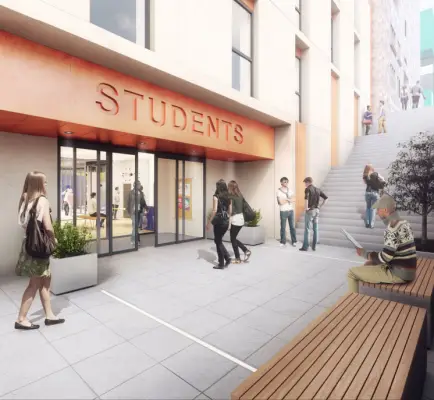 Premier Inn Hotel Building
23 Aug – £17mconversion of a 1970s office building in Edinburgh designed by Holmes Miller Architects. Located on York Place the completed building will provide a new 127-bedroom Premier Inn hotel for Consensus Capital Ltd and Interserve Construction: more over on the Edinburgh Architecture website.
Sick Kids Hospital
23 Aug – The opening of a £150m hospital in Edinburgh has been delayed by at least six months after construction firms entered administration and provisional liquidation. IHS Lothian Ltd, the consortium building the £150m Royal Hospital for Sick Children and Department of Clinical Neurosciences, has informed NHS Lothian that they are reviewing the construction timetable for the project which was scheduled to open autumn 2017.
Anderston Quay masterplan by Keppie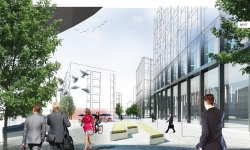 19 Aug – Anderston Quay masterplan design by Keppie
Partick Interchange Building



19 Aug – Partick Interchange bus station building design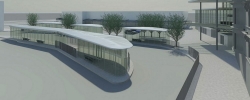 St Mary's Music School Approval
18 Aug – Alternative design for the former Royal High School on Calton Hill as a new music school and concert venue approved.
Scotland's Year of Innovation, Architecture and Design Conference
The Scottish Government's Cabinet Secretary for Culture, Fiona Hyslop MSP, will give the opening address at the 'Outlook: Exploring Geddes in the 21st Century', a two-day interactive conference on 18th and 19th August in Edinburgh, see the events page for details.
Marina Homes
18 Aug – Approval for a £500m masterplan which proposes the construction of over 2,000 new homes at Edinburgh Marina at Granton.
Park Quadrant Homes
17 Aug – Plans to build 98 homes at Park Quadrant in the West End of Glasgow have been approved. Many flats in the A-listed Victorian development overlook Kelvingrove park.
Initial plans by Expresso Property for the £35m project were reduced from 111 properties after residents' views were taken into consideration. The revised proposals also include redesigning the main entrance porches, size of balconies and rear stairwells. The curved, six-storey block is due to match the height of architect Charles Wilson's original plans for the site.
Clydeside Distillery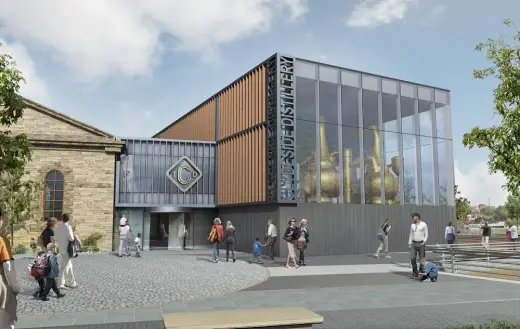 image courtesy of architects practice
16 Aug – A £10.5m project to create a whisky distillery and visitor centre on the banks of the Clyde in Glasgow city centre is now underway.
Building and civil engineering company McLaughlin & Harvey was awarded the contract with several hundred jobs expected to be created during the construction phase.
The new Clydeside Distillery will celebrate the role whisky has played in shaping the heritage of the city and Scotland through distillery tours, whisky tastings and an interactive whisky experience. The site will also have a cafe and shop.
Situated at the former pump house building between the Riverside Museum and the SSE Hydro arena, the distillery expects to be producing spirits before the end of 2017.
Blairgowrie Building News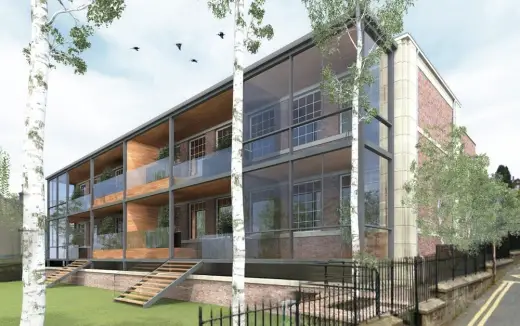 image courtesy of architects practice
16 Aug – Corryard Developments and McKenzie Strickland Associates have worked up designs for the renovation and conversion of the former Hill Primary, Blairgowrie, to form new homes ahead of an imminent planning application.
New Hearts Stadium Images
16 Aug – new images of the Tynecastle Stadium Building proposal; we reported back on 5 Aug that Hearts had submitted a planning application for a new Main Stand.
Aberdeen School Building News
15 Aug – Construction will get underway on a £42m Aberdeen High School led by HUB North Scotland and JM Architects later this summer following the award of a 25 year facilities management contract to Robertson.
Shawbridge Homes
15 Aug – Glasgow Housing Association has begun work on a £4.7m development of 47 affordable homeswithin Shawbridge, Pollokshaws. Designed by DO Architecture the scheme is being delivered by McTaggart Construction to complete in early 2017. The project is to provide alternative accommodation for tenants whose homes are being demolished. The residential development is part of ongoing regeneration in the area.
Inverness Housing News
15 Aug – Planning submission design by Patience Architecture for 48 flats and a 400sqm supermarket on the site of Torvean Caravan Park, Inverness. The projects is for Caledonian Highview.
Six four-storey blocks will be delivered with canal-front properties having balconies. The scheme on 1.13 hectares of land close to the Caledonian Canal is located off Glenurquhart Road. Landscape design is by Highland Landscape Design.
East Ayrshire Campus News
11 Aug – Faithful+Gould has been selected to help deliver a £63.5 million education campus in East Ayrshire.
F+G will act as quantity surveyor on the Knockroon Learning and Enterprise Campus development, the largest capital project ever undertaken by East Ayrshire Council.
The project will help accommodate over 2,000 secondary, primary and pre-school pupils and is to begin construction in 2017.
Sheppard Robson was appointed architect for the project earlier in 2016.
Irvine Hospital Pavilion News
11 Aug – Building work has started on the pavilion design by Graeme Massie Architects for an NHS hospital in Irvine, Ayrshire
Maggie's Centre at Forth Valley



image courtesy of architects office
10 Aug – Work on the new Maggie's Centre at Forth Valley General Hospital has resumed after previous contractor Dunne Group went into administration. The building design is by by Garbers & James Architects, based in London.
Sir Robert McAlpine will complete the construction of the project which has stalled for a month following the collapse of the Dunne Group, which was carrying out the work.
The centre in the grounds of Forth Valley Royal Hospital in Larbert had been on hold for a month because of the collapse of the Dunne Group, which was carrying out the work.
It is hoped that delays to the project will be kept to a minimum and the centre will open later this year.
Skypark Expansion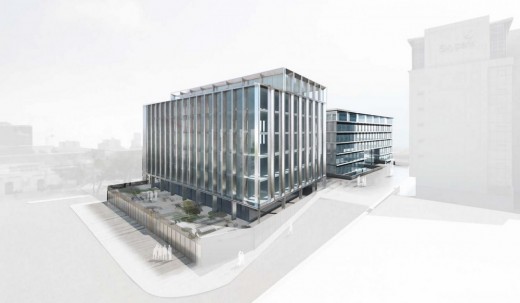 image courtesy of architect practice
8 Aug – plans submitted by architects Sheppard Robson for two new buildings on the Skypark campus. Skypark Unit Trust are developing the latest phase of expansion at their Finnieston office complex in west Glasgow.
The previously consented Azure building will relocate south to abut the Clydeside Expressway. This move will provide space for a second building, providing 80,000sqft of grade A office space, to be built to its north. The site is bounded by Elliot, Cranston and Park Streets.
Brodick Harbour Ferry Terminal Building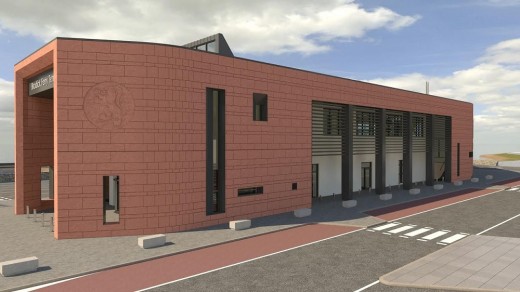 8 Aug – The redevelopment of the ferry terminal building at Brodick Harbour on the Isle of Arran is part of a £22.2 m project for client Caledonian Maritime Assets Ltd. CMAL aim to maintain and enhance the vital ferry services between Arran and mainland Scotland.
As well as the new terminal building the redevelopment project includes a new pier, an increased marshalling area, bus stances and extensive parking facilities. It is being led by civil engineering contractor George Leslie Ltd.
Work started early in 2016 with completion expected in mid-2017.
Colin McLean is New Scottish Civic Trust Chair
3 + 2 Aug – The Scottish Civic Trust announce the appointment of Colin McLean as its new Chair. Colin was Head of the Heritage Lottery Fund in Scotland for 16 years, and before that Director of the Scottish Mining Museum and Director of Communications for the Scottish Museums Council.
West Village on Beith Street in Glasgow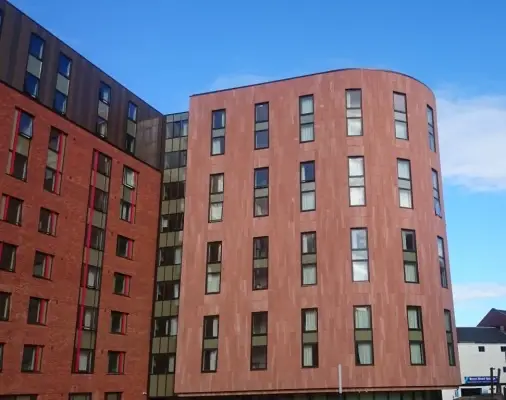 1 Aug – The 10-storey new-build West Village on Beith Street in Glasgow is designed by architects Falconer Chester Hall. The building contains new student accommodation. They specified a curved façade using 1000sqm of red sandstone sourced from a local quarry. The façade incorporates double soffits and a bespoke fan-shaped radiused facade. Local planning regulations in Glasgow required Aliva to deliver stone cladding that harmonised with the existing traditional architecture.
The architects wanted a luxurious, contemporary façade that was suitable for modern lightweight construction methods. Aliva Air stone, sourced from British quarries, contributing to the eco-credentials of these buildings.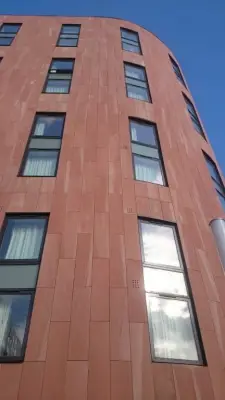 Aliva is proud to be associated with many high-profile, beautiful buildings including Queen Mary University (London) Prada Store (Las Vegas) La Scala (Milan) and Second Avenue Subway (New York).
Waterfront Plaza Leith
1 Aug – Proposals have been submitted by CALA for a development of 425 homes by the Ocean Terminal in Leith. CALA Management's Waterfront Plaza development will provide 230 apartments, 27 studios apartments, 27 'colonies' flats and 35 townhouses. The homes will be located on brownfield land in Leith's former docklands, just across the road (south) from the Ocean Terminal. The on-site affordable provision will include 100 apartments and six townhouses: more on the Edinburgh Architecture website.
Luxury Scottish Mansion Sale
1 Aug – Property entrepreneur Elliot Robertson has purchased Kirkton Park for just in excess of £2.5 million. The traditional property was the former luxury home of Graham Gillespie. The home was designed by Richard Hall Architects in Auchterarder, Perthshire. It cost about £10m to build the country's most expensive modern home.
It put on sale for offers over £3.4m in January 2015.
Cumbernauld Community Enterprise Centre
1 Aug – The new Cumbernauld Community Enterprise Centre has been handed over to North Lanarkshire Council and Culture NL.
The project was delivered by development partner hub South West Scotland, with construction works completed by Kier Construction Scotland.
This modern new facility, which will be named the Muirfield Centre, replaces the previous building and includes office space designed for small businesses, including social enterprises and third sector groups, as well as a nursery, hall space, a café and a range of multi-function rooms for local organisations.
New Dundee School and Nursery
1 Aug – Detailed plans unveiled for a new build primary school and nursery campus in Dundee designed by Holmes Miller Architects.
The new North East Campus will take shape on a large greenfield site at Lothian Crescent between the existing Longhaugh and St Lukes & St Matthews primaries.
Glasgow News – main page with up-to-date posts
Glasgow Architecture News 2015 – news archive
Comments for the Glasgow Architectural News for 2016 page welcome.