Flos Floor Lamps Guide, Building Illumination Tips, Online Lighting Advice
About Flos Floor Lamps
30 Sep 2021
Floor lamps may be an excellent addition to any home or business area that requires tiered illumination. However, with the diversity of alternatives available in the market, it can get tricky to grasp the different models and pick the correct one(s) that match your requirements.
Here's all you need to know about ground lights and Flos floor lamps, including some of the most beautiful versions created by renowned designers that you can buy online.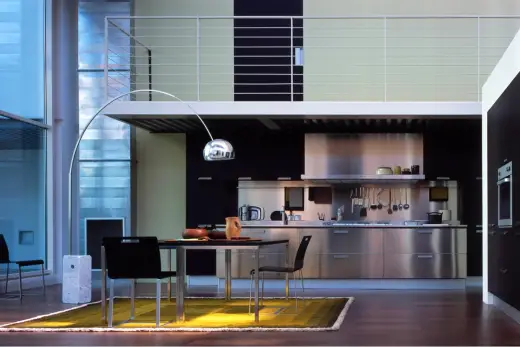 What is the definition of a floor lamp?
A floor lamp is an electric light generally supported by a straight pole or stem set on a base on the floor. Floor lights are intended to throw direct or diffused light from above the seating area in every space.
What are the many types and designs of floor lights available?
LED floor lights come in a wide range of forms, sizes, styles, and designs today. The following are a few of the most common varieties of floor lamps:
Traditional floor lamps have a single pole with a lampshade attached to them;
Task floor lamps are adaptable and may change to meet the user's demands. They are commonly used for reading, using a laptop, and other similar activities;
Swing-arm floor lamps have a flexible arm that can be changed and positioned at various angles, as the name implies;
Arc-type lamps have a long, curving arm attached to their base that arches over the space it is positioned in, simulating the impression of an overhead light;
Modern mid-century floor lamps are a very sophisticated alternative, with clean lines and an uncomplicated design;
Minimalistic floor lamps have a modern design with neutral hues that focus on functionality and usefulness rather than technique;
Torchiere floor lamps are often used for ambient or accent lighting and offer up lighting.
The lamp's body might be made of different materials, such as metal, fibre, glass, stone, ceramic, crystal, or plastic. Some fixtures have a solid foundation at the bottom, while others have tripod-style floor lights. Which type of floor lamp you should choose is mainly determined by the function you want the light to fulfil in any interior space.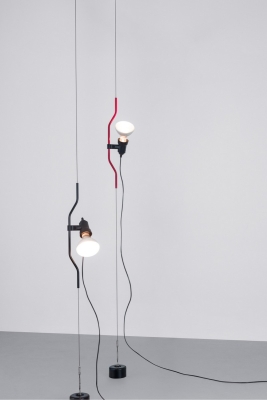 Different floor lamps for different purposes
As previously said, contemporary floor lamps come in various styles and may be used for different purposes. The first step in determining the best floor lamp for your requirements is to define your reason for purchasing one. You may need it as generic lighting, for specific reasons, like reading or using the laptop, or as a focal point, a piece of art to place in a particular room.
Flos floor lamps are exactly that, iconic design lighting. In addition to their lighting function, Flos lamps are collectors' items of beautiful design. They work well in various settings, including the living room, bedroom, dining room, library, and home office.
Room features: dimensions and height of the floor
Choosing the correct lamp size is crucial to achieving the desired impact in a room. Aside from the number of lights you'll need, your floor lamps' size, height, and brightness are all crucial factors to consider. For example, in a small-to-average-sized room, a single floor lamp can be sufficient in addition to other forms of lighting.
If you want to create an ambient lighting effect with your floor lamp, you should choose a tall one. For larger spaces, two or more floor lights on opposing sides of the room might suffice. Remember that the taller the floor lamp, the lighter will diffuse around the space. On the other hand, if you want a light fixture to assist you in reading while sitting on the sofa or work in your study, choose a lamp that isn't too tall and provides more concentrated light.
Who is Flos
Flos is an international company founded in Merano in 1962, by Dino Gavina and Cesare Cassina. The brand is recognized by the world as a leading figure in the design lighting market. In fact, Flos commissioned great masters of Italian design to work with the company, such as the Castiglioni brothers and Tobia Scarpa.
Flos' creations have received numerous international awards, and many of them are now featured in the permanent collections of leading international art and design museums. Let's talk about some of the most iconic lamp models Flos has to offer.
Arco, designed by Achille and Pier Giacomo Castiglioni
The Arco lamp was designed in 1962 by Achille Castiglioni, together with his brother Pier Giacomo, for the company Flos. Achille Castiglioni was one of the most important designers and architects of Italian design and created some of the most original and internationally recognized objects.
This floor lamp is one of the most imitated design icons ever because it is just the perfect lamp. It was designed in response to the need to create a lamp that could illuminate a table from above, without requiring holes to be drilled in the ceiling. This is how Arco was born, with its marble base weighing about 50 kg, which counterbalances the large arched metal stem, inspired by the design of streetlamps.
Parentesi, designed by Achille Castiglioni and Pio Manzù
The story of Parentesi began with the intuition of the young designer Pio Manzù, and after his untimely death, with Achille Castiglioni's interpretation.
The name comes from the shape of the steel tube, the central element of the lamp, which resembles a parenthesis. The idea was for a lamp that could slide vertically from the floor to the ceiling and vice versa and rotate 360° around a pivot.
The bracketed shape of the up-and-down tube is not just an aesthetic feature, it is the main technical innovation of the product and allows the lamp to be moved with a simple pressure of the hand. If you want to change the height of the lamp, simply slide the tube (the bracket) over the cable.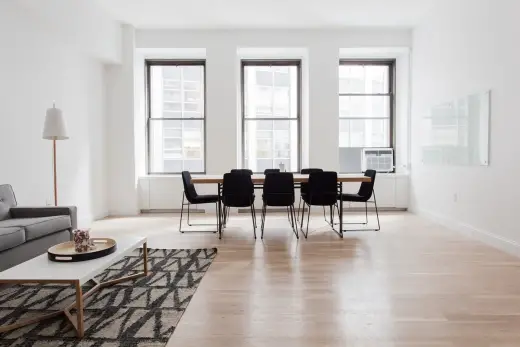 Comments on this Flos Floor Lamps article are welcome.
Glasgow Building Designs
Glasgow Architecture Designs – architectural selection below:
New Glasgow Architectural Photos
Glasgow Architectural Photos
Holiday Inn Pacific Quay Hotel
Architects: Mosaic Architecture + Design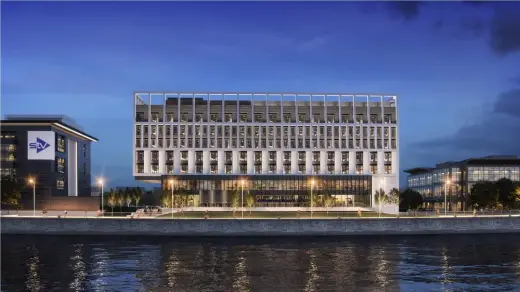 image courtesy of architects
Holiday Inn Pacific Quay Hotel
Merchant City boutique hotel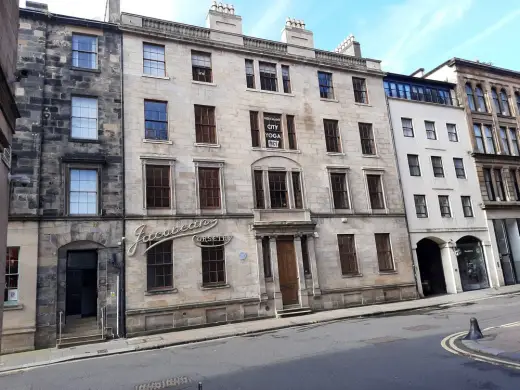 image courtesy of architecture practice
Merchant City Property
Comments / photos for the Flos Floor Lamps page welcome