Designers Block,Scotland, Dutch Showcase in UK, Scottish Design News, Piers Roberts and Rory Dodd
Designers Block – Creative Entrepreneurs
The Lighthouse Glasgow Event – Forum + Exhibition in Strathclyde, west of Scotland
post updated 6 Mar 2021
Designers Block Event
The Creative Entrepreneurs Club: Designers Block, Glasgow


image : David Churchill
Location: Glasgow Herald – The Lighthouse
Designers Block is celebrating its fifth anniversary this year as the travelling showcase of fresh international design talent. Designers Block was conceived by Piers Roberts and Rory Dodd in 1998, and was launched at the Old Truman Brewery in the Brick Lane area of East London, before it became the hotbed of design it is now. This event started off as an exhibition of eight Dutch designer's work, which developed in just ten weeks to being 35 exhibitors.
Piers and Rory have become increasingly involved in the business of design and identifying ways of supporting innovation from the bottom ­up. They have also been researching contemporary working design practice and methodology in order to publicise the opportunities and pitfalls of successful design business.
Over the past few years Designers Block (DB) has developed its reputation for bringing overseas designers to UK eyes and also for at least a quarter of their exhibitors being British. DB has also become renowned for its popularity and its protagonists' enthusiasm for promoting good design.
The Designers Block evening will begin with presentations from Piers and Rory. People from the creative industries will be able to hear from and speak to both Piers and Rory on their success and experience.
There are essentially two elements to the work of DB which will be covered during presentations. Firstly, Designers Block organises a calendar of major international design exhibitions, which make use of transitional architectural spaces presenting the work of over 50 designers. Running concurrently with international trade shows, Designers Block exhibitions range from Milan in April to London in September and Tokyo and Korea in October. The exhibition programme has launched over 200 design companies (UK and World-Wide).
Secondly, DB organises a series of Forums such as 'The Hidden Art Forum' in June 2002. These forums can provide advice on issues from business models to career development and making the transition from college to business. Drawing from anecdotal evidence of best practice from across Europe, DB can describe successful business models for delivering innovation.
The Designers Block event will focus on issues such as: –
The nature of innovative and creative business
Business models that are appropriate to the creative industries sector
The nature of identity Copyright.
The Designers Block evening aims to facilitate debate and networking. Following the presentations, guests are invited to participate in questions and debate with Piers and Rory.
The evening will conclude with networking and drinks when guest will be able to view the Designers Block exhibition, showing examples of previous work.
Homes for the Future



photo : Andrew Lee
This DB event was located at the Lighthouse, Glasgow on 14 Nov 2002.
New Glasgow Building Designs
Contemporary Glasgow Property Designs – recent selection below:
Burrell Museum – Art Fund Museum Of The Year 2023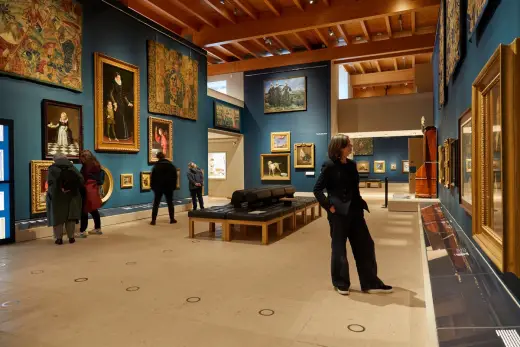 photo © Janie Airey Art Fund 2023
Burrell Museum
Buchanan Wharf Glasgow Office Development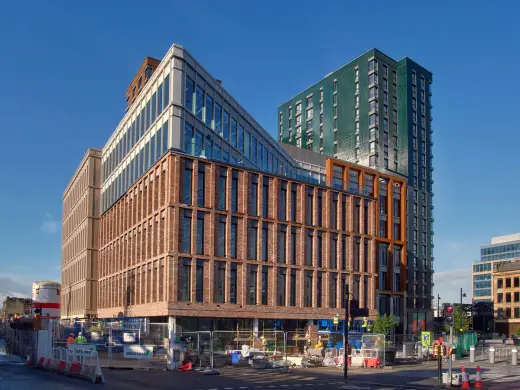 photo courtesy of Drum Property Group
Buchanan Wharf Glasgow Office Development
Glasgow Transport Museum
Glasgow Transport Museum
Glasgow School of Art
Glasgow School of Art
Comments / photos for the Designers Block Architecture at The Lighthouse Glasgow Forum + Exhibition page welcome
Website -: www.designersblock.org.uk