Scottish Carbuncle Awards Winner, Architecture + Towns / Cities in Scotland, Built Environment
Carbuncle Awards Winner in 2013
Most dismal town in Scotland
post updated 11 August 2023 ; 29 Mar 2013
New Cumnock wins Carbuncle Awards 2013
New Cumnock Named Scotland's Most Dismal Town
Carbuncle Awards 2013 Winner
With previous Carbuncle winners Denny and Linwood benefitting from some much needed cosmetic surgery the Carbuncles team (www.thecarbuncles.co.uk) have been busy scouring the land for a new holder of the 'most dismal town in Scotland' title. Hundreds of Urban Realm readers got in touch to point the finger at dozens of the nation's grottiest nooks and crannies but ultimately there can be only one 'winner'. It gives us absolutely no pleasure in announcing therefore that New Cumnock, Ayrshire, has been awarded this year's trophy.
No stranger to The Carbuncle Award New Cumnock was last nominated back in 2009, when it narrowly missed out to Glenrothes. Since then the town has taken one step forward and two steps back with the completion of an impressive new primary school overshadowed by the threatened closure of its town hall and sell-off of the Arthur Memorial church – on its 100th anniversary no less.
These losses have been compounded by the continued haemorrhaging of shops on the High Street and a general absence of maintenance on derelict properties, raising the very real risk that a tipping point' into irreversible decline could be reached soon if action isn't taken now.
New Cumnock is also facing headwinds from the Prince Charles backed Knockroon development which threatens to suck the remaining life from the town. It also needs to reassess a policy of managed decline which is in danger of becoming a self-sustaining prophecy and seek a new role in the wider Ayrshire economy, be that as a tourism destination or commuter town courtesy of its excellent rail connections.
Local resident and historian Geoff Crolley, who accepted the award on behalf of the local community, said: "Towns like New Cumnock have given so much to businesses and what do we have to show for it? If we count up what monies have been taken from our parish by WORF & Co (windfarms, opencasts, reservoir, forestry & Co-op) in the last decade and look at our main street. We need help to regenerate the town but can't do it all by ourselves and thankfully some companies are offering help and advice. 2013 is our turning point!"
Urban Realm editor John Glenday added: "The coal may have been exhausted long ago but the energy of locals is as strong as ever, this more than anything saw our judges warm to their plight. "We have been following New Cumnock and the challenges they face for four years now, giving us a real sense of perspective on the challenges faced. As the Carbuncles Award has matured however so too has our approach and we believe that with the help of this award we can dig New Cumnock out from the back of the proverbial couch and put it to the fore of regional and national policy.
"More than an escape valve for pent up frustrations the Carbuncles are a springboard to tangible improvements. There are no quick fixes however and I make no pretensions to the contrary, it's taken years for New Cumnock to get to this point and it will take years to put right but the sooner these issues are tackled the sooner they can be resolved."
Runners up in this year's Awards were Fort William, Kirkintilloch, Motherwell, Newmilns and Paisley.
15 Dec 2011
Carbuncle Awards Winner
Linwood wins Carbuncle Awards 2011
LINWOOD NAMED SCOTLAND'S MOST DISMAL TOWN
Linwood has been no stranger to controversy since it first made the headlines as the location of S1 Jobs infamous 'Lavvy Heid'. Since then the town has gone further down the toilet as its main shopping centre has been run into the ground. So shocked were Urban Realm's Carbuncles team that an unwelcome Christmas present is to be handed over to the 'Linwood Sucks' community group under the towns very own Christmas tree – the 2011 Carbuncle Award ( www.thecarbuncles.co.uk ) or 'Plook-on-the-Plinth'.
The Carbuncle Award 2011 has been awarded to Linwood after judges were shocked to discover the decrepit state of its decaying town centre, stuck in a state of limbo as Tesco deliberate whether or not to proceed with a major redevelopment.
Once famed as the manufacturing base for the Hillman Imp the town now has a new claim to fame as the worst in Scotland. A point of view shared by many locals who liken the town hall to "Fort Apache", surrounded by dereliction.
Such is the extent of Linwood's decline that a statue representing hope rising from adversity has had to be removed after vandals hacked pieces off it for scrap. The area around the shopping centre is also a health and safety hazard with numerous open manhole covers, unsecured buildings and an absence of proper refuse collection creating a breeding ground for rats.
Urban Realm editor John Glenday said: " It's been three months of trudging around some of the countries darkest corners but in the end judging for the 2011 Carbuncle Awards didn't prove too challenging, Linwood's plight was simply too great to ignore.
"Scotland's first shopping centre is also its worst, leaving Linwood as a town without a heart – but it isn't a lost cause. It could be turned around and turned around quite quickly. To do so however requires action, it is in this spirit as a catalyst for change that Linwood has been awarded the 2012 Carbuncle award."
Local resident Tom Burke of Linwood Sucks said: "I've spent the best part of four years in Iraq and thinking of some of the positive reconstruction work that's taken place there it's actually better than this."
Geoff Crowley of Highland Galvanizers said: "You see lots of examples of pride in the community despite these problems, flowers in the garden, clipped hedges, that's a good base to start with and try and draw back to a more acceptable situation. There are a lot of people who have a certain level of pride in this community."
Carbuncles judges this year included: Drew Mackie, planner; Mark Chalmers, Freelance architecture critic; Geoff Crowley, Highland Galvanizers and John Glenday, editor of Urban Realm magazine.
3 Oct 2011
Carbuncle Awards Shortlist
Carbuncle Awards 2011 Shortlist
There may not be much construction activity taking place at the moment but that doesn't mean we've stopped throwing up dodgy buildings – far from it, as this year's shortlist of Carbuncle calamities attests. Several strong contenders are vying for the 'Plook on the Plinth' trophy for Scotland's most dismal town 2011; namely Linwood, Fort William and (surprisingly) Nairn.
The three towns are going head to head for the architectural equivalent of a Razzie whilst schemes such as a a giant fabrication yard in Invergordon, Trump's Menie estate and Fraserburgh Pool duke it out for our sister awards for worst building and worst planning decision.
Tom Burke, editor of LinwoodSucks.com, said of his hometown: "The best progress in Linwood in 20 years is seeing the local Chemist and Opticians being housed in temporary portacabins as the shopping centre was becoming too dangerous for them to continue doing business there."
Nairn meanwhile drew the ire of local resident Nairnbairn, who complained: "Described in Victorian times as 'the Brighton of the North', the cumulative effects of decades of poor planning, official indecision, developer greed and bad design have turned Nairn from an attractive seaside resort with interesting architecture and great facilities, into a depressing transit route for visitors with a town centre that is dying.
"The risk is that without some radical and dramatic action soon, this once thriving town will slide gradually into the anonymity of a dormitory suburb on the margins of an ever-expanding Inverness."
Last but not least Fort William was chosen by Alistair Scott of Urban Realm's editorial panel, who highlighted the fact that this Highland town is strangled by a concrete collar, severing a quaint High Street from the natural beauty beyond with an elongated mass of tarmac and concrete. Scott said: "If the A82 from Glasgow is just one lane either way why dual it through the town centre? An opportunity exists to give Fort William its waterfront back but thus far it is an opportunity missed."
Carbuncles spokesperson John Glenday said: "This year's crop of architectural disasters illustrate that, recession or not, our built environment remains under threat from callous development. By naming and shaming the worst we hope to act as a catalyst toward a better built environment."
The winners of our Play-Doh and chipboard gong will be unveiled in the December issue of Urban Realm.
Carbuncle Awards 2011 shortlist
Plook on the Plinth award (worst town)
Nairn
Linwood
Fort William
Zit Building Award (worst new building)
Fraserburgh Pool
Timmer Market Clinic
Invergordon Fabrication Shed
Pock Mark Award (worst planning decision)
Fife Leisure park
Menie Estate
Triple Kirks, Aberdeen
Carbuncle Awards
Carbuncle Awards 2011 – 10th anniversary
The tenth anniversary of the Carbuncle Awards, an annual hunt for Scotland's most dismal places and spaces, is seeing Urban Realm ring in the changes with a new look website and refreshed judging panel.
The awards, which aim to name and shame those places which are not living up to their full potential, were established in 2001 as a mechanism for furthering debate on the current condition of our secondary places.
Amongst the early front runners identified by Carbuncles judges are Fort William, the Highland town which serves instead as a low point for many having strangled by an elongated mass of tarmac and concrete along its waterfront.
Stiff competition is available from the likes of Dumbarton, which has been lumbered with a half demolished distillery complex at its heart and is now being forced to introduce 'shopjackets' to disguise vacant High Street stores.
In the 'Pock Mark' category for worst planning decision a number of contenders are already staking a claim to victory, amongst them the Timmer Market Clinic, Aberdeen, nominated by David Stewart who said: "The strange anodised crap-brown of the partial cladding allied to unfinished effect of the brickwork gives it that certain je ne c'est quoi.
"On top of that, a busy car park (in the part of town with the worst parking facilities) was used as the ground for this, and all the flats above the drug rehab clinic (100 yards from a school) have no parking."
Carbuncles spokesperson John Glenday said: "In the ten years since the foundation of the Carbuncle awards we have witnessed great changes to both our built and economic landscapes.
"Unfortunately some things never change however and many of our communities still suffer from surroundings at least as bad as those we encountered in 2001."
To be in with a chance of receiving the infamous 'Plook' trophy this year simply submit your nominations via www.urbanrealm.com/carbuncles or contact Urban Realm's Carbuncles editor directly at [email protected], or 0141 559 6087.
The deadline for nominations is September 15, with the award winners to be announced in the December edition of Urban Realm magazine.
Carbuncle Awards Judges
Carbuncles judges this year include: Peter Wilson, Napier University; Alan Dunlop, architect; Alistair Scott; Smith Scott Mullan; Willie Miller, WMuD and Paul Stallan, RMJM
Carbuncle Awards Contest
Denny Building Proposals



picture from Urban Realm
Denny Buildings design proposals – Urban Realm initiative. 19 Nov 2010
Carbuncle Awards Exhibition
The Scottish Design Show saw the return of the controversial Carbuncle Awards which seeks to name and shame Scotland's Most Disappointing Building and Most Dismal Town.
The exhibition will be unveiled at the Scottish Design Show, announcing the shortlisted contenders for the least wanted prize in Architecture.
Plook on the Plinth winners further down page
Comments welcome on the Carbuncle Awards: info(at)glasgowarchitecture.co.uk
Carbuncle Awards 2005
Carbuncles – Carnyx Information
21 Oct 2005
It gives us absolutely no pleasure to announce that four years after the last award was handed out, Cumbernauld has won the Plook on the Plinth Award for the Most Dismal Town in Scotland, again. In 2001, Cumbernauld won the award and this year the public has expressed their displeasure with the state of its town centre by giving it the nod once more. Over 6,000 individuals have accessed our voting pages for the Award. Cumbernauld received 28% of the vote with its closest rival Ardrossan in second place with 17%.
The Awards are decided firstly by public nomination then whittled down by a judging panel to six. These six short-listed towns were then put to a public vote. So it isn't really our place to say why Cumbernauld won.
We have included a selection of some of the nominations we received for the town on the website. As is clear from reading the list, a large number come from local inhabitants, who are particularly incensed at the state of disrepair that its town centre has fallen into. Described as "a rabbit warren on stilts" in 2001 by a judge it was described as "the Lego fantasy of an unhappy child", this year.
"Reading between the lines, people in Cumbernauld and the surrounding regions are rightly annoyed. Cumbernauld is an affluent town that is failing to live up to its potential. According to the Information & Statistics Division of NHS Scotland, and Communities Scotland, in 2004 the Average Gross Household Income in Cumbernauld was higher than the national average. The number of children in workless households and the number of income support claimants was lower than the national average. And yet the average house price in Cumbernauld is £357K a full ten grand less than the mean cost of a house throughout the country," said Tim Abrahams, Deputy Editor of Prospect Magazine.
In addition two other awards have been voted on by the public. The Zit Building for the Most Disappointing building, has gone to The Pinnacle on St Vincent Street in Glasgow. A description of the building by Penny Lewis is enclosed. The Worst Planning Decision has gone to the proposed M74 extension on the south side of Glasgow.
End of Carbuncle / Plook on the Plinth Awards PR
The Awards were organised by Prospect Magazine
The inaugural Scottish Design Show will bring together politicians, academics, public agencies, the private sector and the public to discuss and debate the development of Scotland's urban and rural landscape. With a varied programme aimed at local governments, masterplanners, architects and developers, this event will provide an opportunity for individuals to grasp a better understanding of the country's infrastructure, planning and master-planning proposals and the role of design in the development process.
The two-day show opens on 6 October and runs until 7 October at Glasgow's Tramway Theatre. It will feature a robust programme of lectures, master classes, workshops and debates.
Leading architecture figures are set to inspire at the show by presenting and discussing their most notable projects and the design processes employed. A series of Master Classes will run throughout the duration of the the two days, with Amin Taha, Anthony Hunt, Isi Metzstein and Patrik Schumacher all set to appear. Patrik Schumaker is a director at Zaha Hadid Architectsand the project architect for the new proposed museum for Glasgow Harbour.
Leading Scottish architects from Elder & Cannon, Reiach & Hall and Richard Murphy Architects will also give a series of presentations on their most recent work and the approach of their practice.
The show will draw to a close with a bit of blue sky thinking as four designers are invited to invent buildings, designs and initiatives that they think can dramatically improve the life of Scotland. With ideas solicited from the audience, Imaging the Future is for those that entertain ambitious plans for the future.
Exhibitions
The Scottish Design Show will also provide a platform for numerous exhibitions, which will be open throughout the event. The 100 Best Buildings will feature the very best buildings built in Scotland in the last 50 years, chosen by a panel of leading architects, and is set to provoke debate.
Glasgow Building Designs
Contemporary Glasgow Property Designs – recent architectural selection below:
Buchanan Wharf Glasgow Office Development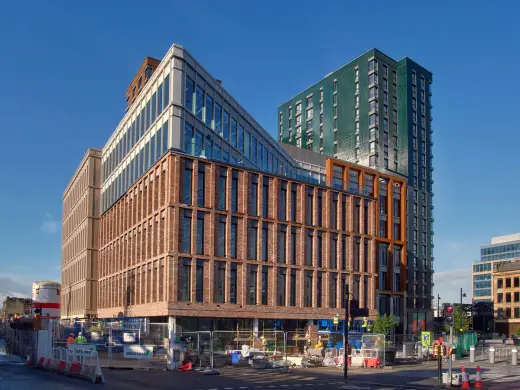 photo courtesy of Drum Property Group
Buchanan Wharf Glasgow Office Development
New Allander Leisure Centre
Design: Holmes Miller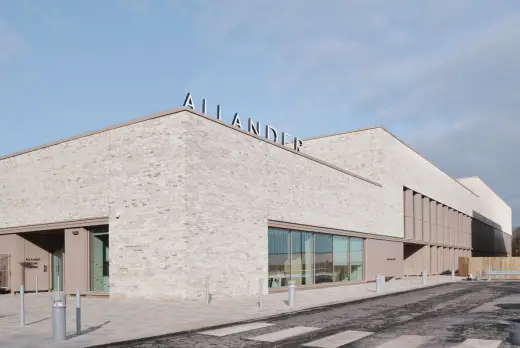 image courtesy of architects practice
Allander Leisure Centre Building in Bearsden
Comments welcome on Scottish Carbuncle Awards Building winner news page