Affordable home office automation with a standing desk Guide, Safety Tips, Online Advice
Affordable Home Office Automation with a Standing Desk
23 Feb 2021
If you work from home, you know how important it is to have a silent convenient place where you can enjoy your daily tasks. Yes, with good equipment and furniture, your routine working day might turn into a pleasure. Now, let us check how you can do it – turn your work corner or office into space where you will love to spend some time.
Get a Standing Desk or Make One
The very first item to upgrade is your desk. A good height-adjustable desk, the one from an experienced manufacturing company, is a guarantee that the upgrade of your office is going to be successful.
If you still believe that buying a standing desk is too expensive, have a look at the prices. With a special online tool called Desk Builder, you can choose the most suitable desk option and adjust the price to your budget.
You will be offered to proceed step-by-step as follows:
Choose the desk model you like. It will be moved to the left part of the screen.
Now, one by one, choose the components to build your desk. The very first item is the lifting frame. Click on the one you like.
Further, you choose the size of the tabletop.
Proceed with selecting the tabletop colour.
Then, click on the grommet you like.
Finally, choose a remote. It comes in a set with the item, thus, the remote is offered for free. But the model you need to choose on your own.
Once the desk is constructed online, and you see that you still can afford something, move on to choosing accessories for your desk. Your choice will depend on your budget and needs.
Ok, you might still believe that buying such a desk isn't something that you can afford. What about getting a frame and fitting the tabletop from your old desk on it? With it, you can have the new desk at a very low cost, and you will keep your favorite and, we believe, the most suitable furniture piece.
A Good Chair Is One More Must-to-Invest in Thing
Even with the best desk, you will not have a lot of fun working if you don't have a good chair. Its choice will depend on your budget, too. But there are some details that are crucial. We advise you to save if you don't have sufficient funds but to buy a good chair.
It shall be height-adjustable. Only in such a case, you can be sure that you will work comfortably in any case.
The back shall provide reliable and soft support for your spine and keep it in its natural position.
A headrest will allow you to relax the muscles of your neck and prevent pains in the neck section.
Armrests will help you to have the most comfortable rest within the shortest period and recover your energy to work.
The chair might be rotatable or not, this is not as crucial as other characteristics.
Do You Have an Ergonomic Carpet?
This item is ignored by many people. It is not surprising: most companies still don't equip their offices with height-adjustable desks. In home offices, we also prefer using traditional desks even though a height-adjustable desk could prevent many health issues.
But if you have decided to change your life and become healthier and more productive by purchasing a standing desk, get an ergonomic carpet, too. It is needed when you are working in a standing position. an ergonomic carpet distributes the weight of the body evenly on the feet and prevents pains in the feet. If you want to avoid discomfort, buy the carpet, and enjoy a fully equipped working place.
Final Thoughts
Now, you know how to create a perfect working place at home. You can see that it isn't something utterly expensive even if you purchase all the furniture pieces. If you will believe that your budget doesn't allow you to buy all of them, save on the desk. Buy a lifting frame and install your old tabletop on it.
If space allows, add your favorite décor elements to refresh the environment and make it friendlier. Those can be plants, paintings, a nice rug, an original pen holder, or whatever you like. All those elements will make your working place unique and pleasant.
Comments on this guide to Affordable home office automation with standing desk article are welcome.
Glasgow Building Designs
Glasgow Architecture Designs – architectural selection below:
New Glasgow Architectural Photos
Glasgow Architectural Photos
Holiday Inn Pacific Quay Hotel
Architects: Mosaic Architecture + Design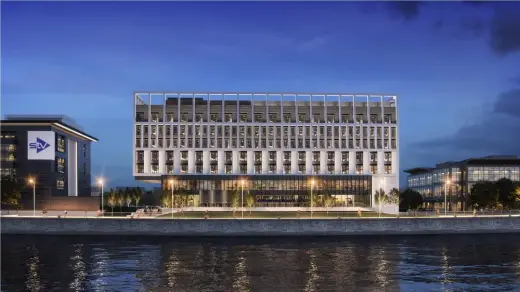 image courtesy of architects
Holiday Inn Pacific Quay Hotel
Merchant City boutique hotel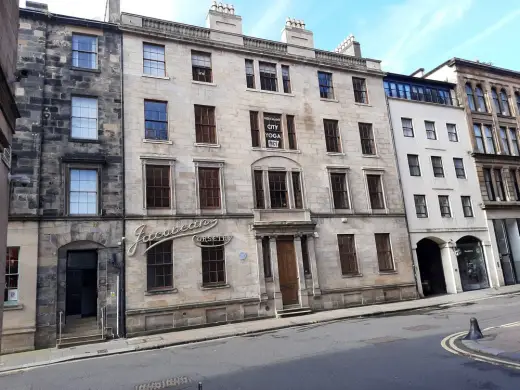 image courtesy of architecture practice
Merchant City Property