7 Mistakes to Avoid When Building A New House, Residential Architecture, Property Construction Advice
7 Mistakes to Avoid Whilst Building A New House
Residential Property Article
24 July 2019
7 Mistakes to Avoid When Building A New House Tips
Meeting with the architect to discuss the construction of your new home is every bit exciting and stressful at the same time. There is a lot to take into consideration when planning for your perfect home, from flor planning to exterior design and materials.
Surely, you already know how you want your house to look like, how many rooms you want it to have and which color should the bedroom be, but there is a lot more you have to think about, before starting to pick out furniture and décor.
Below are 7 mistakes that new homeowners make when planning the construction of their new home and how to avoid them.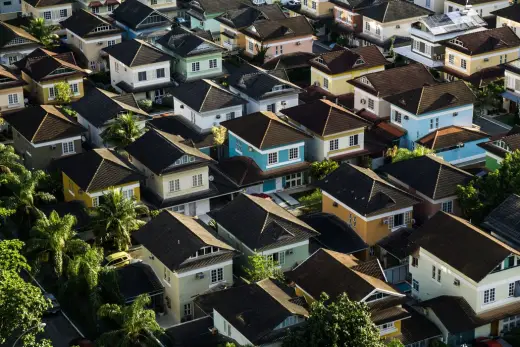 image courtesy of article provider
Improper space planning
Before you can start building, figuring out how many rooms you need and what functionality those rooms will have is crucial. In order to avoid mistakes such as placing the bedroom on the noisy side of the house, or having the kitchen too far from the dining room, you need to decide what each room will be used for.
Based on the location, traffic and environment, discuss with your architect to plan the best possible layout for your house. Bedrooms, for example, need to be placed on the quietest side of the house, to avoid being woken up by traffic or other family members hanging out in the living room during Sunday mornings. Make sure to place the kitchen as close to the main entrance as possible, or build a separate second entrance for them, to avoid having to carry the groceries and garbage throughout the entire house when needed.
Not hiring a reputable construction company
When looking for a construction company, don't go for the one that provides the lowest price, as it may cut down on quality as well. Make sure you pick quality over price and you will thank yourself in the future.
Make sure you hire a company that uses certified materials as well. You won't understand the importance of the flooring until you see the newly installed wooden floor get damaged just as you move a few pieces of furniture around. To avoid such issues, make sure you have a written agreement with the construction company, that covers all aspects of the project, from prices to materials and deadlines.
Poor window placement
Many new homeowners overlook one important aspect when planning for their new home – windows. To cut down on utility bills, make sure to take as much advantage as you can of natural lighting. Windows not only provide natural lighting, but also make the space appear larger, brighter and more welcoming.
Plan for big windows in all the rooms, especially for those you will be spending most of your time in, such as the living room, kitchen and bedrooms. If you want to have a home office, make sure it has big windows also, to take advantage of natural light during working hours. If the space and budget allow, consider installing a skylight as well, to get light directly from the ceiling throughout the whole day.
Not building for your lifestyle
When building your new house, think of you and your family's lifestyle. Does someone in your family work from home? In this case, they might be needing a separate room for the office. Do you have guests coming over often? Then plan on a bigger living room and consider a guest bedroom, if they like to spend the night as well.
If you like to cook dinner at home, make sure the kitchen has enough space and is designed to fit your needs. Don't forget about the garage. How many cars do you own? Will you be needing additional storage space in the garage as well, or will it be used only for parking? Make sure you have an answer to all of these questions before construction starts, to avoid issues later on.
Skipping inspection
New houses need home inspections too. Don't wrap up construction until you have a home inspector check out the house. You will be surprised to find out just how many new homeowners discover issues just as they have moved in. Have a reputable inspector perform a full home inspection and give you the OK before planning on furniture and curtains.
Ideally, you should have two inspections performed before moving in. One before the walls are closed and the second just before construction wraps up. This way, if they spot any issues, you can talk to the builder and make sure they get fixed on time.
For removals in North-West London services when moving housing you should do your homework. Find at least three companies and request for quotations. Ask about the capacity, rates, and availability before you hire a man and van in Glasgow or the full services of a removal company.
Being unprepared for delays
While everybody wants to be moving into their new home as fast as possible, you have to be prepared for the unexpected. Materials may not arrive on time, the weather can be challenging and so on, so you will be needing a plan for those situations.
To avoid being caught unprepared, make sure you avoid construction during winter months, as bad weather can slow down the progress. Additionally, don't plan on selling your old house before the new one is finished, to make sure you don't end up sleeping in a hotel until construction is finished. Same goes for renting. Discuss with the landlord and make sure they won't ask you to leave before your new house is done. Having to live in an unfinished home is nothing but a nightmare.
Not visiting the construction site
Of course, you should be trusting the construction company you hired, but not visiting the site once in a while, to make sure everything goes as planned is pure recklessness. Visit the construction site as often as you an and make sure to discuss every aspect with your builder.
If you have any questions or concerns, don't be afraid to talk with the builder. After all, it's your money on the table and they should be able to tell you why they decided to act a certain way. You will be living in this house for the rest of your life maybe, so making sure everything works as planned is not demanding, but rather necessary.
Glasgow Properties
Historic Glasgow : best Glasgow architecture of the past
Comments / photos for the 7 Mistakes to Avoid When Building A New House page welcome