Why round dining tables are better guide, Online property interior advice, Home style design tips
Why Round Dining Tables are Better
17 November 2021
The dining table serves many purposes in the home and is a very popular place. Since it's a shared space, you can find any household member there eating, working, checking emails, or crafting a new school project. That's why you want a sturdy, durable dining set, but you don't want to overpay for one.
Shopping online, you'll find some great deals, but only 1Stop Bedrooms guarantee that their prices are the lowest. They stand behind their claim with a price-match guarantee that adjusts the cost of your order if you find an identical set with a competitor for less.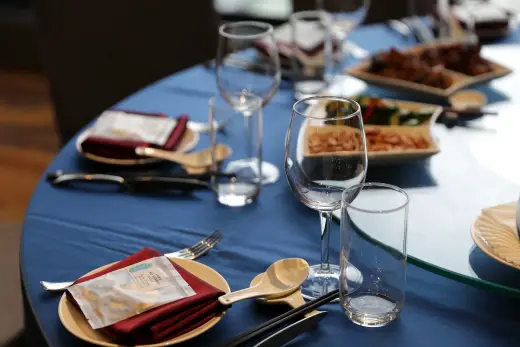 Why Round Dining Tables are Better than Square ones
Before you start shopping for your new set, be sure to take plenty of measurements. You don't want to decide on a set only to realize it won't fit in the area. Assess the other characteristics of the space. Are the ceilings high? If so, a counter height table may feel better in the room. Are there floor-to-ceiling windows that bring in lots of sunlight? If so, you may want to place the set nearby for those days when you'll be working at the table.
Round tables make great solutions for small spaces. You get the same surface space as rectangular tables, but the round table takes less floor space. There are no space-wasting corners, and guests can sit comfortably. Because they are at a slight angle and not shoulder to shoulder, conversations flow easily.
Next, who will sit at the table? Who are the members that make up your household? If you have small children or elderly relatives staying with you, a round dining table is a solution in this case as well. The sharp corners of rectangular or square-shaped tables can be dangerous for toddlers. As they learn to walk and move around the house, you want to keep them safe from possible injuries. A round table will give you one less thing to worry about as there are no harmful sharp edges.
Older household members will also appreciate the lack of corners. As our relatives get older, their mobility is often affected. They may use equipment like walkers or canes for assistancearound their home. If so, corners can be tricky to maneuver, but a round table is simpler to walk around.
Another advantage of a round table is the conversational aspect. With rectangular tables, it's easy to be left out of a conversation taking place at the other end of the room. And trying to talk to someone sitting on the same side as you can be difficult if other people are between you. You don't want to be rude to the other guests and ask them to move back just to get someone's attention. A round table alleviates the issue. Everyone is center-facing and included in the topic of conversation.
Having a dinner party at a round table means you don't have to ask anyone to pass a dish to you. By the time your favorite dish makes it down, there might not be much left. Round tables have everything in the center, so you can grab a platter and begin serving yourself.
These tables are also perfect for those unexpected visitors that drop in from time to time. It's easier to pull an extra chair up to a round table and let someone slide into the conversation. The pedestal base makes room for everyone, whereas the legs of a square or round table restrict the seating areas. If there are more visitors, an extendable round table opens up and invites more guests to have a seat.
You can find a large selection of round, extendable tables at 1Stop Bedrooms. They have name-brand dining room table round extendable dining sets starting as low as $174. Industry leaders like Ashley, A.R.T., Coaster, and more are on sale here.
Click on the Coupons link and select the one that's right for your order. With free shipping also available, you won't find a better deal anywhere else.
If you don't have the full dollar amount today, apply for one of the financing options. You can choose from twelve, twenty-four, or thirty-six months and manage your payment in low monthly increments. So visit the site today and begin saving on your new dining room table set.
Comments on this guide to why round dining tables are better article are welcome.
Glasgow Housing Designs
Contemporary Glasgow Residential Property Designs – recent Strathclyde architectural selection below:
Ingram Street Property Development
65-97 Ingram Street Glasgow
The Foundry Cathcart housing development
The Foundry Cathcart housing development
Golfhill School Flats
Golfhill Public School Dennistoun Flats
Comments / photos for the Why round dining tables are better advice guide page welcome