Visualization is the key to design success advice, Potorealistic 3D interior design rendering services guide, CGI style tips
Visualization Is The Key To Design Success
15 May 2022
Whether you are a designer, architect, or realtor you will know that blueprints only get you so far when it comes to selling your idea.
It is so important to be able to share your project in the best light and in this current market that means the most realistic. Modern technology has made a lot of aspects of architectural work greater and that includes sharing designs.
It is now possible to work with photorealistic 3D interior design rendering services or an architectural rending studio to bring your designs to life, allowing you to share your true vision with clients and customers.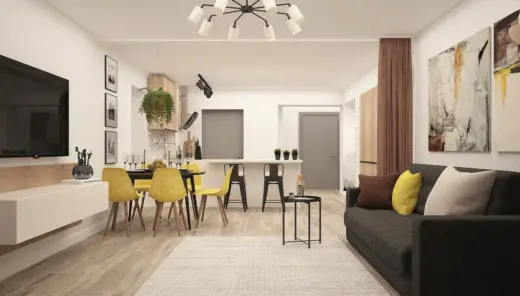 Why Use 3D Renderings?
Blueprints, mood boards, and sketches will only get you so far, and while they can be effective at sharing the ideas for a project it can be hard for clients to see the final vision as well as the designer.
This is where an architectural visualization studio comes in, as this allows for a photorealistic 3D rendering of your designs to be brought to life on the screen which can then be shared with clients and investors. Whether you are working on the exterior or interior of a project, designs can be developed through these 3D rendering studios, with a professional's guide, to bring your ideas to life.
With these 3D renderings of buildings, both the interior and exterior design can shine and be shown in real-life situations.
This is not only useful for clients and investors, who will be able to see exactly what they are paying for, but also for the designers themselves. These days architectural visualization is a really powerful tool to engage with.
With 3D renderings, it is easier to spot issues or where additional work needs to be done to develop a complete design. This initial work then prevents any road blockages later on as the contractors come into play.
How Does It Work?
Developing realistic 3D renderings of your project is an effective sales tactic and one that can ensure greater success in your work.
Even though it is so important, and can be developed in painstaking detail, the use of architecture visualization studio programs makes this work efficiently. Designs can be developed in a matter of hours and any adjustments can be made on the spot.
Regardless of the design, location independent work can contribute to life-like designs and a greater connection between the architect and their clients.
The ability to make designs quickly and share them in real-life settings improves the client relationship as they can see their ideas are being taken seriously. With fast adjustments, the client can get their ideal project off the ground quicker and will therefore rely on the same service time and time again.
Many occupations in the architectural sphere can benefit from this service and should be able to provide realistic designs to their clients.
It is an efficient process that can be done independently or with a 3D rendering studio that will greatly improve your portfolio and the way clients see your work.
Comments on this guide to Visualization is the key to design success article are welcome.
Property Designs
Glasgow Architecture Designs – architectural selection below:
50 Bothwell Street Office News
50 Bothwell Street Office Redevelopment
Comments / photos for the Visualization is the key to design success advice page welcome