Clever ways to use colour to breathe fresh life into your décor, Home interior design tips, Property style advice
Use Colour To Breathe Life Into Your Décor at Home
18 May 2023
When we think about what makes our homes look and feel stylish and inviting, many of us will probably tend to focus on the fixtures and furnishings.
However, our use of colour has a very important role to play, not only in how our abodes are presented but also in how they feel. In fact, colour can even add extra value to our homes, making them appear more expensive than they actually are.
So, now that you know the usefulness and versatility of colour, let's find out how you can use it in a range of clever, creative and beautiful ways throughout your home to give your décor a new lease of life.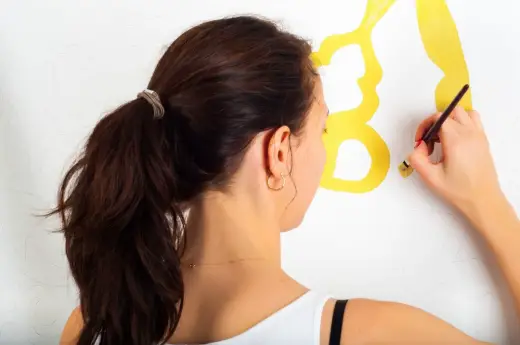 Clever Ways To Use Colour To Breathe Fresh Life Into Your Décor
Highlight Your Home's Special Features
Whether your house or flat is old or new, it probably has some special architectural features that are worth drawing attention to – whether that's high ceilings, particularly large living room windows, an attractive archway, or some elegant mouldings. A great way to highlight these stylish features is with the artful employment of colour.
For example, you can paint your ceilings to draw the eye upwards toward a beautiful old ceiling rose or to accentuate your mouldings, and you can paint any extra-large window frames in a lustrous, light-reflecting shade that will really make them stand out.
As for your flooring, if you have gorgeous wooden floorboards, why not paint them a bold colour, or lay down some vibrant rugs that will be a treat for your feet as well as your eyes?
Bedazzle Your Bannisters
Bannisters are a crucial – not to mention sizeable – part of our homes that, nevertheless, often get overlooked when we decorate. However, the truth is that there are so many things you can do to brighten up a set of banisters, especially if you use a dash of colour to help you.
Need some inspiration? You can easily transform your entire stairway by painting your bannisters a vibrant shade, such as yellow or baby blue – or, alternatively, you may prefer to use a deeper, effortlessly sophisticated hue such as forest green or navy, depending on your preference and style.
Another option is to paint each spindle in a different colour, for a truly eye-catching rainbow effect, or to use two different complementary tones. It's entirely up to you and what will work with your surrounding décor- but whatever colours or combinations you choose, don't forget that you can also use artworks and brightly coloured stair runners to complement your new stairway palette.
Brighten Up Your Entrance
Another important part of our homes that we may neglect to decorate is our entrances. Colour can be used to great effect to jazz up a bland doorway. You can paint your whole front door in the shade of your preference – not forgetting the handle of course, which you may want to paint in a contrasting colour for added wow factor.
It could be that you want to restructure your hallways and entrance so that it is more of a focal point within your home. If this is something that you're looking to do, then ensure you are searching online for home design resources, so that you can be inspired!
Once through the door, you may also want to brighten up your entrance hall with a clever use of colour. If you have a plain-coloured sideboard or console table to keep your keys and mail, for example, you may want to consider 'dressing' this table with some vibrantly coloured ornaments and pot plants. You could even place a rainbow-coloured bowl of fruit on the tabletop, so you can conveniently grab one of your five a day on the way out the door.
For Sleek Style Don't Forget Your Colour Continuity
When it comes to creating a colourful and inviting home, it can be tempting to go a little overboard. However, if you want your abode to look slick and stylish, rather than chaotic, it's important to maintain continuity throughout your home, rather than making each room a jumbled mish-mash of clashing hues and patterns.
Of course, you might worry that using the same colours in every room of the house will become monotonous. However, if you vary the amount of each hue that you use in every room then you will create enough of a difference to remain chic and interesting – while still keeping up that all-important continuity.
It's also a good idea to think about the fixtures that you're using, as they can help to keep up that unifying theme.
For instance, when it comes to the light switches and sockets that you use, you could invest in some effortlessly stylish clear switches from Corston. Designed to sit unobtrusively against your painted walls or wallpaper, these elegant clear light switches and sockets are ideal for use in every room of your home.
Use Fabrics In Creative Ways
While many of us like to adorn our walls with framed prints, family photographs, and macrame plant hangers, too few of us make the most of the uplifting qualities that can be provided with some colourful fabrics.
Wall hangings are available in all kinds of shades, designs and patterns to suit your décor, offering a novel way to infuse your abode with extra verve, texture, and personality.
Another great thing about wall hangings is that they usually don't cost a bomb, and they're very easy to hang. They also come in a variety of shapes and sizes, so, whether you have a big expanse of bare wall to take up, or an awkward gap between two paintings, you can easily use a wall hanging to fill the space.
Embrace Seasonal Shades For Year-Round Colour
A particularly uplifting and effective way to use colour in your home is to tailor your palette to the changing seasons.
Don't worry, this doesn't mean having to paint your walls a new shade every three months! Instead, you can use colour to wonderful advantage to represent the transition through the year, from the brightness and promise of spring to the recuperative darkness of the winter months.
For example, you can purchase cheap and cheerful cushion covers in summery yellows, pinks, blues and greens to represent spring and summer. Then, when autumn begins to draw in, you can replace them with cushion covers and warm, cosy throws in rich reds and oranges, to match the colours of the falling leaves outside.
Finally, as Christmas approaches, adorning your home with soft furnishings in shades of white, silver, and red will help to create a festive atmosphere.
Bring The Outside In
Lastly, natural tones are very much in vogue, perhaps as a result of our growing frustrations with 21st-century life, which has severed so many of our ties to the natural world. To tap into this trend, and bring some of our planet's vibrant beauty into your own home, you can use a colour like Dulux's Wild Wonder, which evokes the warm gold of ripe wheat and can easily be accented with vibrant pops of colour.
Alternatively, you might want to capture the feel of tranquil woodland with sage-coloured paint, which can be perfectly paired with large house plants with lush green foliage to make your pad feel like a pristine virgin forest – albeit with all of the comforts of home.
Comments / photos for the guide to how to use colour to breathe life into your décor page welcome
Property Designs
Glasgow Architecture Designs – architectural selection below:
50 Bothwell Street Office News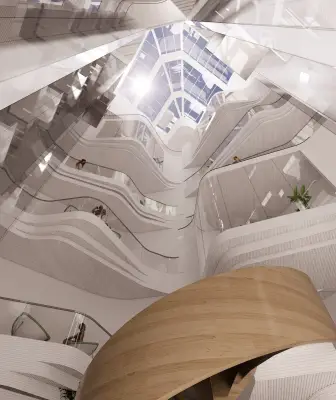 image courtesy of architects practice
50 Bothwell Street Office Redevelopment
Comments / photos for the Clever ways to use colour in your décor page welcome