Cardross Seminary Building Redevelopment News, Scottish Modern Architecture Development Images
St Peter's Seminary Renewal Funding
20th Century Architecture by Gillespie Kidd & Coia Architects, Glasgow, Scotland
post updated 11 September 2023
Award by Heritage Lottery Fund and Creative Scotland
23 Mar 2016
A plan to transform the derelict St Peter's Seminary in Cardross into a unique arts venue and heritage destination has today been awarded £4.2 million of funding from the Heritage Lottery Fund (HLF) and Creative Scotland.
St Peter's Seminary Renewal Funding News
The HLF awarded funding of £3,806,000 to arts organisation NVA to carry out the revamp while Creative Scotland confirmed a National Lottery funding award of £400,000 towards the project.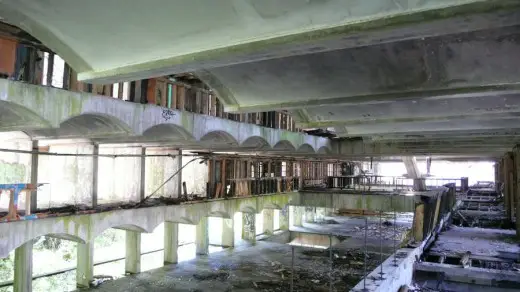 photograph © Johnny Bute
The Seminary near Helensburgh is currently the centrepiece of a sell-out public art event called Hinterland, marking the launch of the Festival of Architecture and is a key highlight of the Year of Innovation, Architecture & Design.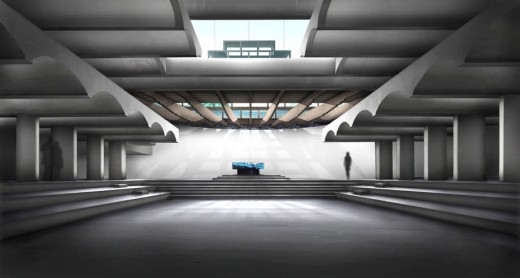 Regarded as one of Europe's greatest Modernist buildings, St Peter's opened as a training centre for young priests in 1966 – its ground-breaking design by Isi Metzstein and Andy McMillan of Gillespie, Kidd and Coia. This Cardross building closed its doors in 1980 and has lay abandoned since with the effects of the elements and vandalism contributing to its now ruinous state.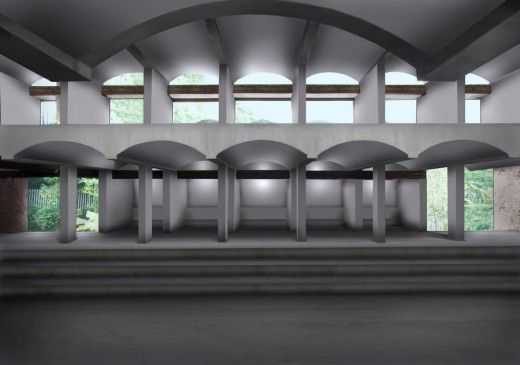 This major investment will see key elements of the building restored whilst others will be consolidated to allow the public safe access to large scale events and performance as well as to smaller community activities. The triple-height chapel will be partially restored and converted into a 600-capacity venue while the former sacristy and crypt will be a focal point for exhibitions.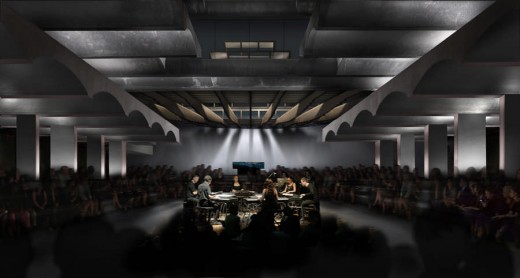 The transformation will include the 104-acre rural estate surrounding the architectural masterpiece – an estate which includes the remains of the 15th century Kilmahew Castle. A path network based on the original 19th century designed landscape will be reinstated, historic bridges restored and the Victorian walled garden brought back into productive use, bringing the site back to life and encouraging new audiences to visit. It is expected that over 200 people will become involved as volunteers.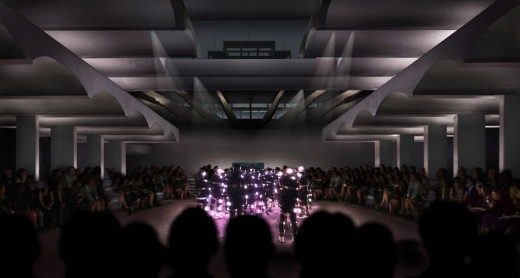 Lucy Casot, head of the Heritage Lottery Fund in Scotland, said: "After 25 years of decline, this ground-breaking project has the potential to save an internationally significant building, exploiting its commanding presence to produce an exceptional arts venue. Its appeal will attract new audiences from near and far. Its transformed estate will become a natural haven for the local community to explore, enjoy and be proud of.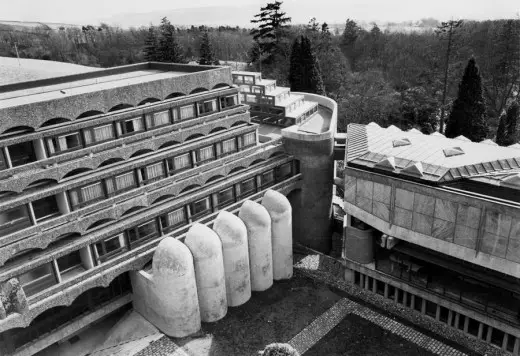 "We are delighted that, thanks to players of the National Lottery, we can help mark the launch of Scotland's Festival of Architecture by funding St Peter's Seminary. Highly regarded across the world, it is a unique record of its time which is in very real danger of being lost."
Angus Farquhar, Creative Director of NVA, added: "This is a historic moment in the life of St Peter's Seminary. We are now able to start work on its permanent transformation into an international cultural centre that will speak to the creative life of Europe. After the overwhelming response to Hinterland, our first major animation of the site and the new name for Kilmahew/St Peter's, we have real hope that our vision for progressive, socially-focussed art will connect strongly with people and together we will forge a new place for public art and its significance in the world. We thank Heritage Lottery Fund and Creative Scotland for joining us in the vision and ambition for the site and investing in its future."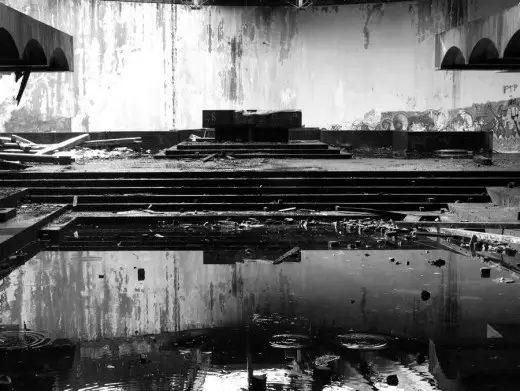 photo © James Johnson, March 2008
5 Dec 2013
Cardross Seminary Building
Location: just north of Cardross, near Helensburgh
Date built: 1958-66/8; closed 1980
Architects: Gillespie Kidd & Coia
Heritage Lottery Fund award to resuscitate one of Europe's greatest modernist buildings
Leading public arts organisation NVA's ambitious campaign to raise £7.5 million to resuscitate one of Europe's greatest modernist buildings, St Peters Seminary, has been given a substantial boost, with a first-round pass from the Heritage Lottery Fund. The award will release £565k development funding leading to a second stage submission for £3 million in 2015.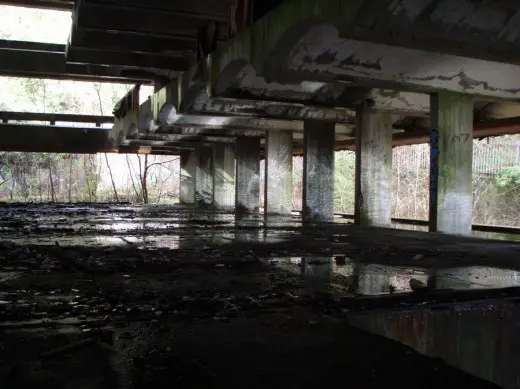 photo © NVA, 2 Feb 2010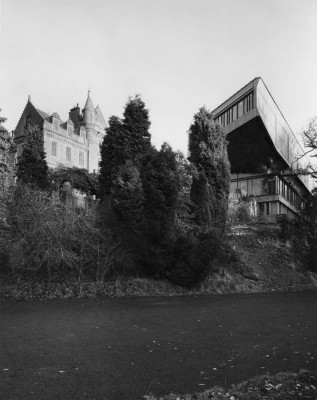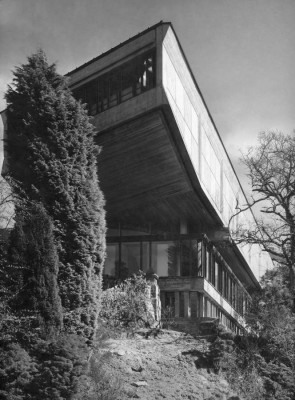 St Peter's Winter Dec 1st 2008: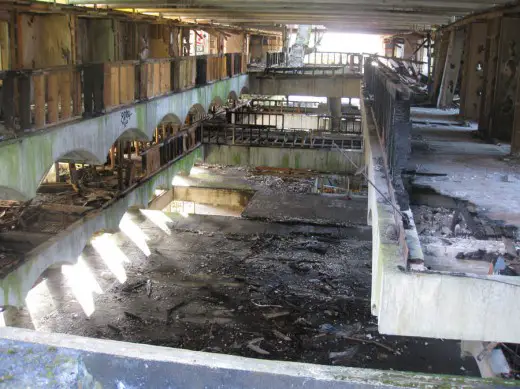 Heritage Lottery Fund
Using money raised through the National Lottery, the Heritage Lottery Fund (HLF) aims to make a lasting difference for heritage, people and communities across the UK and help build a resilient heritage economy. From museums, parks and historic places to archaeology, natural environment and cultural traditions, we invest in every part of our diverse heritage. To date, HLF has invested over £611million in Scotland's heritage (www.hlf.org.uk).
Note: A first-round pass means the project meets HLF criteria for funding and HLF believes the project has potential to deliver high-quality benefits and value for Lottery money. The application was in competition with other supportable projects, so a first-round pass is an endorsement of outline proposals. Having been awarded a first-round pass, the project now has up to two years to submit fully developed proposals to compete for a firm award.
St Peter's Seminary
Designed by Glasgow architects Andy MacMillan and Isi Metzstein of Gillespie, Kidd and Coia the Roman Catholic seminary, was commissioned by the Archdiocese of Glasgow and was completed and consecrated in 1966. The seminary was occupied for just 13 years before closing in 1980. It was subsequently used for five years in the 1980's as a drug rehabilitation unit. The buildings then fell into a state of disrepair. In 1993 the then Secretary of State listed the seminary as being of special architectural importance. The World Monuments Fund, which works to preserve endangered cultural landmarks, added St Peter's to its register of most-at-risk buildings in June 2007.
NVA
NVA was established in 1992 by creative director Angus Farquhar. In recent years the company has achieved international recognition with a number of incomparable and critically successful public artworks, notably The Storr: Unfolding Landscape on Skye, and the Hidden Gardens, Glasgow.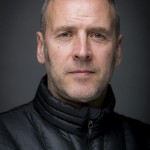 In 2012, NVA created Speed of Light, one of the highest profile events in history of the Edinburgh International Festival. Speed of Light was a lead event of Festival 2012 which aimed to build a lasting legacy from the hosting of the 2012 Olympic Games. It has since toured internationally to Japan, Germany and Salford.
Further information on NVA is available at www.nva.org.uk
28 Feb 2013
St Peter's Kilmahew Planning Application
erz submits planning application for St Peter's Kilmahew
The planning application has gone in for the landscape-led regeneration of the ruined St Peter's Seminary at Kilmahew in Cardross.
erz's masterplan for St Peter's, Kilmahew
Led by landscape architect erz, working with architect Avanti, the proposal won the Neighbourhood Planning category in the 2012 Landscape Institute Awards. It is the latest attempt to find a use for the former seminary. Designed by Gillespie Kidd & Coia in 1966 and Grade A-listed, the building is internationally renowned but has failed to find a viable use and has fallen into disrepair.


masterplan, aerial view from the south
Called 'The Invisible College', the scheme proposes rehabilitating the main seminary building as a 'raw' space, plus the introduction of a new building in the walled garden which will act as a hub for community projects. There will be restoration of paths and landscape, and accommodation for new vehicular access. Rolf Roscher, director of ERZ, said, 'I think a key thing is that this is a landscape-led masterplan and that a landscape architecture practice has led the development of the masterplan'.
The judges of the LI awards commented, 'erz has put forward a scheme that draws on a unique, exciting and innovative approach to landscape architecture. It makes the reader think and reflect, and pushes the discipline forward.'
19 Apr 2012
St Peter's Cardross Grant
ST PETER'S SEMINARY + ROTHESAY PAVILION TO RECEIVE £500,0OO HISTORIC SCOTLAND GRANTS
St Peter's Cardross Building Repair Grants
Rothesay Pavilion and St Peter's Cardross will both receive £500,000 from Historic Scotland's Building Repair Grants funding, making a total of £1M.
They are two of 16 buildings across Scotland which will receive a total of £4,061,535, which was announced today on Wednesday 18th April 2012 by Fiona Hyslop, Cabinet Secretary for Culture and External Affairs.
She said: "I am delighted that Historic Scotland's £4,061,535 grant funding for building repairs will regenerate 16 diverse and fascinating buildings, from the Leighton Library in Dunblane, Scotland's earliest surviving purpose built library, to the iconic bridge at Brig o Doon in Alloway, immortalised by Robert Burns' poem Tam O'Shanter, to the well-loved Kelvingrove Bandstand in Glasgow.
"It is vital that we preserve our historic environment, not only for future generations to enjoy, but also to attract visitors from around the world who come to explore our fascinating history and heritage."
Sandy Mactaggart, Executive Director of Development and Infrastructure at Argyll and Bute Council said "Historic Scotland's support is a vital first step towards the regeneration of the Category A listed Rothesay Pavilion. It is one of the most important and iconic post-war buildings in Scotland and this funding will greatly support our efforts in preventing further deterioration. Its restoration will provide an enhanced community facility, attract new visitors to Bute and bolster the local economy. Restoring our heritage is not only possible – is it the most sustainable approach to regeneration."
Argyll and Bute Council are working on the Rothesay Pavilion Project with The Prince's Regeneration Trust. The Trust has extensive experience in restoring heritage for the benefit of the community and has provided expertise to the project to ensure the development is viable and sustainable.
Argyll and Bute Council are also delighted that St Peter's Seminary has received Historic Scotland's support.
Angus Farquhar, Creative Director, NVA said: "The decision by Historic Scotland to support the gradual rescue of St Peter's Seminary is of immense significance to the life and public perception of the campaign. It is the first positive action in twenty-five years of decline and builds confidence and belief that it will thrive again as the Invisible College in the years to come."
The recipients for the building repair grants:
St Peter's, Cardross £ 500,000
Grand Fountain, Paisley £ 100,132
Spiers Centre, Alloa £ 435,000
Pheasantry, Haddo House £ 28,169
Riddle's Court £ 500,000
Glasgow School of Art £ 178,042
Rothesay Pavilion £ 500,000
Carnsalloch House £ 364,000
Brig O' Doon £ 30,160
Corn Exchange, Dalkeith £ 83,864
Leighton Library £ 76,800
Inverness Town Steeple £ 241,750
Haddington Town House £ 59,000
Brodie's Mill Innerleithen £ 500,000
Castle Leod £ 219,618
Kelvingrove Bandstand £ 245,000
Total £4,061,535
Cardross Seminary Photos
New photos, by Adrian Welch, 3 Apr 2012:
Article by Adrian Welch, on e-architect: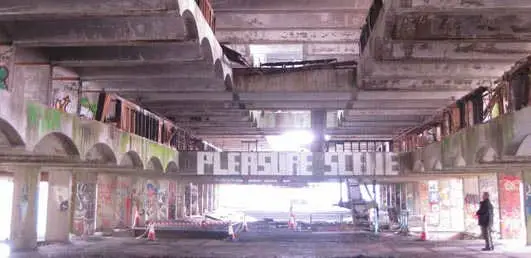 photo © Adrian Welch
St Peter's Seminary is a post-war Modernist masterpiece designed by former Scottish architects practice Gillespie, Kidd and Coia.
It is located near Cardross, close to Glasgow in western Scotland. It dates from 1966. It closed in 1980.
Cardross Seminary is widely held to be Scotland's best building of the 20th century, indeed I can't see a challenger to that claim, so it is sad to witness its demise.
NVA acquired the building from site owner the Roman Catholic Archdiocese of Glasgow under 'conditional missives' and hopes to raise £10 million for its redevelopment over the next two years.
NVA plan to convert the Cardross Seminary building into an 'intentional Modernist ruin'. But what does that mean in detail? Who will help protect the building from the ongoing destruction?
Depressing destruction of the fabric and recently the altar itself.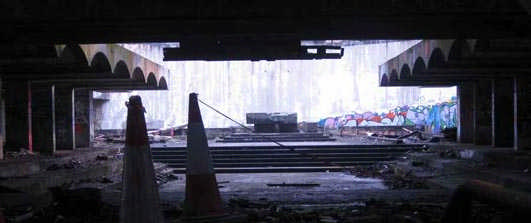 photo © Adrian Welch
We realise funds aren't available for protecting empty buildings deep in the Scottish countryside, and of course fundamental mistakes have been made in the past, but between the government and the owners there should be an opportunity to find a solution soon.
Film re the Cardross Arts Project (login required sadly) – http://helensburgh.tv/stories/311-cardross-seminary
Cardross Seminary, Helensburgh
Location: just north of Cardross, east of Helensburgh, Scotland, UK
Date built: 1958-66/8; closed 1980
Architects: Gillespie Kidd & Coia
Cardross Seminary Roof Members – 5 contact prints of shots taken during the manufacture of the roof beams / trusses for St Peters Cardross by Jim Currie who worked in the drawing/design office of Muirhead Timber Engineers, Grangemouth. Due to the novelty of the design and form of construction Jim took some photographs during the manufacture and also on site before the roof cladding was erected and fixed:



photograph from Jim Currie
Cardross Seminary Sale News
Arts charity NVA has purchased St Peter's Seminary at Cardross as part of £10 million plans for its redevelopment.
NVA has acquired the building from site owner the Roman Catholic Archdiocese of Glasgow under 'conditional missives' and hopes to raise £10 million for its redevelopment over the next two years. The charity plans to convert the Cardross Seminary building into an 'intentional Modernist ruin'.


image from St. Peter's Building Preservation Trust
The 'incremental' introduction of artists and artworks to the site would create an 'intellectual context' for the 'partial' restoration, according to NVA. A series of international design competitions was also mooted when the project launched.
In March, UK developer Urban Splash abandonded high-profile plans to transform the Cardross Seminary building into a mixed-use housing and leisure redevelopment. The project was designed by Glasgow-based Gareth Hoskins Architects.
Angus Farquhar, the creative director of NVA, told The Glasgow Herald: 'This is the best chance this building has got. 'This is the best way of doing it: we have two years to raise the money and we have the building, and now we have a free run at it, and can begin working with all kinds of national partners to make this happen. The eventual purchase of Cardross Seminary is for a price from the Catholic Church we are very happy with, and will not be disclosed.'
Angus Farquhar has been inspired by restoration projects such as the Duisburg-Nord Landscape Park in Germany, where a former industrial wasteland has been transformed over more than 10 years into parkland. Angus Farquhar has also been influenced by the El Matadero in Madrid, a former slaughterhouse that is now a cultural centre. NVA is currently developing the master-plan for the estate with the support of a £100,000 grant from Creative Scotland's National Lottery Fund.


image from St. Peter's Building Preservation Trust
e-architect oppose the destruction of Cardross Seminary – widely held to be Scotland's best building of the 20th century – and support measures to stabilise and then reverse damage of the last three decades.
11 Nov 2010
Cardross Seminary Redevelopment News
"We aim to recalibrate the resuscitation of St Peter's Seminary"
SCOTLAND IN VENICE
NVA to represent Scotland at International Architecture Exhibition
Scotland's creativity and innovation will be on display throughout the final weekend of the greatest showcase of architecture in the world.
Public arts organisation NVA has been invited by the Scottish Government, in partnership with Creative Scotland and the British Council Scotland, to curate a distinctive Scottish presence at La Biennale di Venezia's 2010 International Architecture Exhibition.


photo © Neale Smith
The Glasgow-based organisation will present public events responding to the themes of restoration and reuse of our built heritage, particularly on the potential restoration of St Peter's Seminary near Cardross.
For the past two years NVA has been working with patrons, local groups and national partners to develop a new vision for St Peter's Seminary – the post-war Modernist masterpiece designed by Gillespie, Kidd and Coia.
During Saturday 20 and Sunday 21 November, NVA will present screenings of Scottish film-maker Murray Grigor's film Space and Light shot in 1972 and reshot in 2009 as Space and Light Revisited – both in St Peter's Seminary. The films – which match each other scene for scene, and will be shown simultaneously on a split screen – show in stark contrast the decline of the building and the challenges faced by NVA in realising their plans. With those plans displayed alongside, this will be an excellent demonstration of the ingenuity and inventiveness of Scottish creative minds.
On Sunday November 21, visitors to the Biennale have the opportunity to debate restoration and related issues in a panel-led discussion featuring academics, artists and architects from across Europe. The panel will consider and discuss NVA's ideas for St Peter's Seminary, as well as exploring the challenges of integrating a new building opposite Mackintosh's iconic Glasgow School of Art through examination of the project by Steven Holl Architects, in collaboration with Scottish firm JM Architects.
The discussions will be documented and a publication on the event will be produced early next year.
Minister for Culture and External Affairs Fiona Hyslop said:
"This partnership ensures a distinctive presence for Scotland in Venice and provides an outstanding opportunity to highlight the quality of Scottish creativity on the world stage.
"Scotland's presence at the final weekend of the Biennale responds in an imaginative way to the British Pavilion's theme of restoration, and provides a platform for Scotland's creative community to showcase and develop innovative solutions to two extremely challenging sites.
"I am pleased that visitors to the Biennale have the opportunity to explore issues of importance to the international architecture community by engaging with these contemporary Scottish examples."
Angus Farquhar, Creative Director of NVA, said:
"NVA is honoured to curate Scotland's presence at the Venice Biennale and to focus the invitation on a rigorous examination of two great examples of recent Scottish architecture as they head towards changed futures.
"We aim to recalibrate the resuscitation of St Peter's Seminary within an important tradition of dynamic partial restoration, starting with John Ruskin, and to challenge ourselves and our partners to jointly find the most creative and imaginative possible solutions."
Creative Scotland Chief Executive Andrew Dixon said:
"Creative Scotland is delighted that NVA has been invited to present at the Venice Architecture Biennale. NVA is one of Scotland's most imaginative arts organisations. Venice provides an excellent platform to generate new thinking and to explore alternative approaches to architectural conservation."
British Council Scotland Director Paul Docherty said:
"Every second year, alternating with Visual Arts, the City of Venice becomes the centre of the world for Architecture. I think this year's event is particularly exciting as it is being curated by Kazuyo Sejima, Japan's leading exponent of contemporary architecture.
'With this year's theme being 'People Meet in Architecture' I am delighted that Scotland will be presenting NVA's work on the St Peter's Seminary on the final two days of the Architecture Biennale. It is a wonderful opportunity to showcase Scotland's strengths and ideas to the world's leading architects and others such as artists and academics interested in the built heritage."
NVA Background
NVA is a public arts organisation founded in Glasgow in 1992. To find out more go to www.nva.org.uk.
For more information on St Peter's go to http://www.nva.org.uk/current-projects/venice-29/
This project is a joint venture between the Scottish Government, Creative Scotland and the British Council Scotland.
St Peters Cardross – Film
Space and Light Revisited
As part of the Book Festival and as a trailer for Brian Dillon's talk, Filmhouse is screening Space and Light Revisited on the seminary of St Peter's Cardross on 22 Aug 2010 : see Glasgow Events
Cardross Seminary – Security



photo : Yorkshire Pudding
Report (26 Jul 2010) that a demolition sign has been attached to the gate, apparently a false alarm as the security company uses 'Demolition' on their signage. Recent press suggested Gareth Hoskins Architects was working on plans to revitalise the building for Urban Splash. The building is listed Grade A and has been included World Monument Fund list of the 100 most endangered sites – what is the point of protective legislation if it isn't adhered to? This stunning Modernist building should have been saved years ago, time is running out.
Comments re Cardross Seminary to info(at)glasgowarchitecture.co.uk
St Peters – Scotland's Shame
Latest photos of the destruction of what is widely believed to be Scotland's best building of the 20th century, St Peters Cardross. Images by photographer Neale Smith. 26 Aug 2009
"the current estates department in the Church have brought this once beautiful building to its knees." St. Peter¹s Building Preservation Trust
"The months and years go by yet nothing concrete is done to help this building. It is time the Scottish Government step in to arrest the decay". Adrian Welch
St Peter's College was founded in 1874 as a seminary for the Western District at Partickhill, Glasgow.
Space and Light 1972 & Space and Light Revisited 2009 – World Premiere
Films by Murray Grigor A two-screen presentation with a live performance of the film score.
Cardross Seminary Film
News Update – Nov 2007: What Next?
Various develoments re St Peter's Seminary in Cardross, regarding the conservation study and potential developers. Avanti Architects have produced a conservation study for the Archdiocese. In recent months Urban Splash have been joined by the Marquess of Bute and now the Association for Cultural Advancement through Visual Art (ACAVA) in publicly showing interest in developing the crumbling shell of Cardross Seminary. ACAVA are proposing a Scottish Arts Centre for St Peters whereas Urban Splash have suggested a hotel. Perhaps The Lighthouse's GK&C exhibition – featuring St Peter's Seminary, Cardross – has helped galvanise more developers into action?
EXPLORING RUINED SAINT PETER'S : YouTube film
Published on 11 Mar 2015:

News Update – Oct 2007: St Peter's Hotel?
Developer Urban Splash reported to be considering buying St Peter's Seminary site for conversion into hotel, plus homes, with possibility of architecture competition. Quoted in BD the Archdiocese's Monsignor Peter Smith said he was sceptical that Urban Splash would deliver re St Peter's: "We have been down so many roads like this before, yet no one has ever been able to make it stack up…We have been in contact with Urban Splash for some time, and no solid proposals have been put to us."
St Peter's Cardross – News Update Jun 2007:
World Monument Fund list of the 100 most endangered sites for 2008 includes St Peter's Seminary, Cardross
Cardross – News
The AJ of 140906 carries an article (pp.28-31) by Andrew Mead re St Peter's Seminary with excellent photographs by Christine Sullivan.
Cardross Trust – Added Members
Early 2006 Letter to Archbishop Conti further down page
2005 Letter to Archbishop Conti at base of this page
The Seminary moved to Cardross in 1966 but is currently back in Glasgow.
St Peter's Cardross Seminary is listed – Grade A – and was commissioned by the Archbishop of Glasgow in 1958.
Cardross Ruin
Maintain the status quo, stabilise, reuse or destroy?
The Cardross Seminary has featured prominently in recent press and we would suggest dialogue re this issue.
Previously I have argued in Prospect for a realistic approach to threatened buildings noting (for example) my love for the romance of Castle Tioram but fully accepting, indeed encouraging its reuse – and thus 'revision' – as a clan base. Cardross Seminary unleashes similar issues [though here the owner seems not to love their building as much] yet I have perceived little debate in the public arena.


image from St. Peter's Building Preservation Trust
In some ways Cardross Seminary seems to be a forgotten building. Certainly it never featured in my education in Manchester and London though GK&C's Robinson College was frequently evoked and discussed. Glibly, GK&C could become the Mackintosh or Thomson of decades hence, but more seriously many see this building as the 'best' Scottish building of the last century and it is a strong argument. Whatever one's view of this powerful work that evoked Le Corbusier's later (Ronchamp) period [in some ways a similar progression to Corb from the 'soft street' of Robinson to the brutal concrete forms of Cardross Seminary] this is an important work for Scottish architecture, and for Scottish architects.
The St. Peter's Building Preservation Trust have clearly taken a stance against the developers of Cardross Seminary and rather than dissect this approach it would be constructive to open it up to readers of this site for dialogue ie e-mails, letters: info(at)glasgowarchitecture.co.uk.
My view is simply that the 'big deal' has already occurred ie Cardross is so ruined, of such a specific type and style, and in what could be called a peripheral location, that the time for really saving it is well past.
The key issues for me are the 'building's path to ruination' and 'how to enshrine into law a formula that forces owners to try to work with parties that may take on a property', ie to oblige an offer to the market when an owner finds their building no longer affordable / fit for purpose / of use. That way no-one has an excuse and groups can work to raise money when sentiment is strong enough, as it is in this case.


image from St. Peter's Building Preservation Trust
I feel there is a general consensus that the UK listing system (not specifically Scottish) doesn't work so well, with anything from suspicious fires to flagrant demolitions meaning a listing can ultimately become worthless. Owners feel threatened by the huge costs of upkeep or restoration, but forced to the market we could save some key buildings instead of having to launch incessant 'save this' and 'save that' campaigns. Owners too would be more open about talking to specialist architecture groups and interests without the threat that they may seek to control their property in some way.
As it is, Cardross is a fading memory and I suggest we should look forwards to creating bold architecture for today, whilst occasionally enjoying the dank remains of this seminal work.
What do you feel? e-mails to info(at)glasgowarchitecture.co.uk


image from St. Peter's Building Preservation Trust
Related Issue: Castle Tioram
Historic Scotland has closed the ruinous Castle Tioram, Ardnamurchan, for safety reasons. The owner of Castle Tioram in Moidart, Lex Brown, wishes to restore it and live there, but Historic Scotland favour the building being conserved as a ruin. The castle is reportedly requiring around £25m of work to save it.
Cardross Seminary – Letter:
An Open Letter To The Most Reverend Mario Joseph Conti, Archbishop of Glasgow
Your Grace,
The St Peters Seminary Building Preservation Trust has taken the unprecedented step of securing your property, St. Peter's Seminary in Cardross. We have repaired the fence around the Seminary in order to protect one of Scotland¹s great cultural assets and because you seem unable to care for the building. The Seminary was built by the Church in the Sixties as part of its post-war expansion. You may be aware that it is considered to be the best modern building built in Scotland since the war and a monument to both the skill of its architects Gillespie, Kidd and Coia, as well as the vision of the Church that commissioned it.
What you are perhaps less aware of is that it is now falling to pieces. This winter a large section of the roof collapsed. Vandals have seriously damaged a major portion of the convent building and the church altar. Repeated vandalism, in addition to rain damage, means that the Seminary is on its last legs. If nothing is done to the building this year, it will be lost to the nation. Since the Trust was formed at the beginning of 2004, the expertise it has offered has been ignored and it has been forced to watch as the current estates department in the Church have brought this once beautiful building to its knees.
Your latest planning application and your previous application to build house beside the seminary and to turn the building into a consolidated ruin have been rejected by Historic Scotland and now languishes in the planning department. It seems that you are now faced with two options; to wait until the building collapses or to give the site to an organisation such as our trust that wants to save the Seminary. We have consistently tried to find alternative uses for the building. In 2004 the Trust approached the producers of the TV programme Restoration. The BBC expressed a clear interesting in the seminary, identifying it as one of the strongest contenders for last years¹ £3million prize, but the Archdiocese rejected the Restoration team¹s approach to feature the building. We are not sure why.
Those within the Archdiocese that we have spoken to so far do not understand how pressed we are for time. Your grace, we believe that the Seminary is a great should be saved for Scotland and it is has become clear to us that the Church is not able to protect it. We have asked Historic Scotland, who listed the building initially, to persuade you that you won¹t realise the value of the land through the normal commercial process and we ask you to give the Seminary to people who can care for it before it is too late.
Yours sincerely,
The St. Peter's Building Preservation Trust.
This letter was sent to the Archbishop of Glasgow on January 30 on behalf of the St. Peter's Building Preservation Trust. If you would like more information on the campaign please contact Penny Lewis on 07817 825849 or Tim Abrahams on 07796 266022.
St. Peter's Seminary was listed Grade A by Historic Scotland in 1992, signifying that it was deemed to be of international importance. It was voted Scotland¹s greatest building since the war in 2005 as part of an exhibition at the Scottish Design Show.
The St. Peter's Building Preservation Trust was established in 2002, with the intention of preserving the building for the benefit of the entire nation.
Cardross Seminary Letters : Letters re Cardross
Cardross Building article in full
History of Cardross Seminary
The College was designed by Isi Metzstein and Andy McMillan, who ran Gillespie Kidd & Coia Architects, and who have held key teaching roles in the last few decades and remain absolutely key members of the Scottish architecture scene / establishment. Gillespie Kidd & Coia Architects were famous for designing the radical, brick Robinson College, Cambridge complete with 'internal street'.
GK+C's St Peter's College Seminary, Cardross may feature in the 2nd series of restoration, 2004.


image from St. Peter's Building Preservation Trust
After years of attempts to 'save' Cardross Seminary in 2003-2004 a developer (Classical House) came up with proposals for housing in the grounds and some form of stabilisation of the ruined St. Peter's College. The AJ (mid-Oct 2004) reported that Classical House was threatening legal action, after the St. Peter's Building Preservation Trust and the Twentieth Century Society publicly expressed concerns about the application. This Archdiocese planning application was to build 28 houses. St. Peter's Building Preservation Trust is made up of John Deffenbaugh with photographer Dan Dubowitz and Prospect editor Penny Lewis.


image from St. Peter's Building Preservation Trust
Glasgow Herald Article re Cardross Seminary: www.theherald.co.uk/features/28164-print.shtml
Selected Buildings by Gillespie Kidd & Coia:-
Buchanan St, 85 – 1970
Cardross Seminary – 1958-66
Our Lady & St Francis School, 58-60 Charlotte St – 1964
Our Lady of Good Counsel, Craigpark St – 1966
St Anne's Roman Catholic Church, Whitevale St – 1931
St Charles RC Church – 1960
St Columba, Hopehill Rd – 1937
King's Park Secondary School
Cardross Seminary won the RIBA Architecture Award, 1967
Cardross Trust – Added Members
The board has been expanded to include Gordon Murray, Gordon Gibb, and Tim Abrahams, bringing a range of expertise and experience. Very good news is that Historic Scotland have responded to the archdiocese planning application, stating that they cannot support it and basically endorsing what the Trust has been saying all along, that their work is not in the long term interests of the buildings.
Glasgow Historic Building Designs
Historic Glasgow Property Designs – recent Strathclyde architectural selection below:
Custom House Building Renewal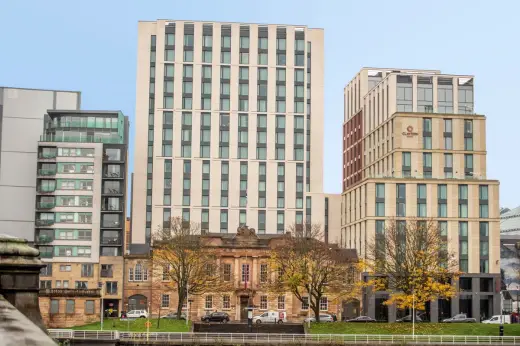 image courtesy of Artisan Real Estate
Glasgow Custom House Development
Historic Gorbals Building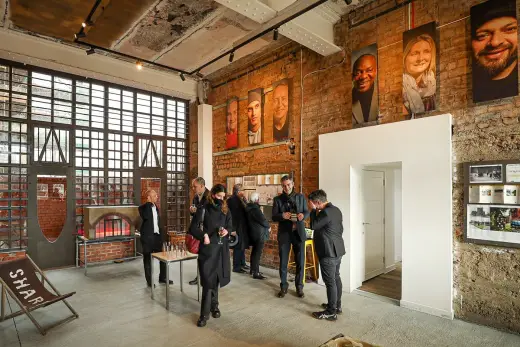 photograph courtesy of Urban Union
166 Gorbals Street Glasgow Building News
Links for St Peter's College, Cardross:
www.hiddenglasgow.com/StPeters
www.daviesscoll.u-net.com/joc/peter/peter.htm
Comments / photos for the St Peter's Seminary Building Renewal Funding page welcome.