How to create communication campaign for architects tips, Architecture practice marketing advice
Set Up Camp In Remote Locations Help Guide
24 Apr 2023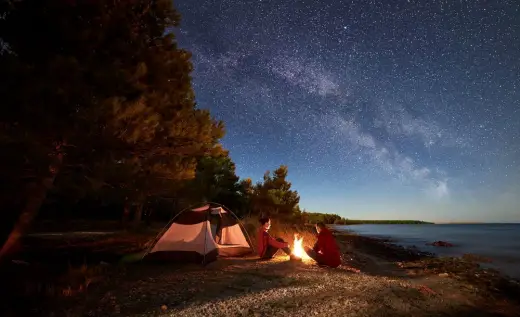 Many people who have done the most outrageous experiences often want something new and thrilling. And doing that while connecting with nature is among the best adventures you could ever tackle. On the other hand, others would like solitude and peace while they take in the breathtaking scenery. That's why many have been attracted to camping in remote locations. The opportunity to unplug from technology and face challenges for a few days can be appealing to those feeling overwhelmed by their modern lives.
Camping in remote locations may be complex and arduous, but the experience and adventure can be your training for a more rewarding future. This will prepare you if you plan on taking a career in mining, mineral exploration, oil and gas, and scientific research industries.
The workforce lodging solutions these industries provide can be like camping in a remote location. So, to better prepare you, this post will explore how you can set up camp in such an environment to enjoy and get the most out of the experience safely. Read on.
How To Set Up Camp In Remote Locations
Research The Area
It is best to research your prospected area and check for its safety. There could only be a few resources when camping in a remote location. You may have limited access to electricity, running water, and phone coverage. However, it's still important to prioritize your safety.
Some of the things you may want to check are the following:
Terrain: Will it be rocky, mountainous, or flat? Will you have a place to park your vehicle? Some terrains will be challenging to navigate, and you might need special tools or equipment to survive several days.
Weather: Check the weather forecast for the day or several days in the area you plan to camp. This can help you prepare for weather-related events like thunderstorms.
Wildlife: Understand the wilderness in the location and its potential hazards. You wouldn't want to be faced with a ravenous bear or other wild animals. Knowing about wildlife will also teach you to dispose of your waste to avoid attracting them to your tent.
Regulations And Permits: Some camping locations will require permits and may restrict certain areas where you can't set up your tent. Some don't allow a fire to be started for safety reasons.
Emergency Services: It's essential to know the location and contact information of the nearest hospital and ranger station. Keep their number on your phone, just in case.
When you have researched the area well, you'll feel safer and enjoy your chosen adventure.
Choose Your Campsite Carefully
Always set up camp only in designated camping areas. These locations were selected for a reason. Also, choosing a level ground to set up your tent is best. This way sleeping and walking will be easy.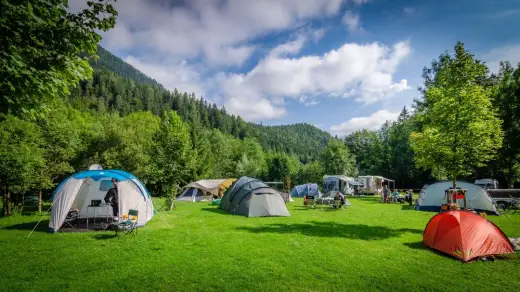 You can set up your tent at least 200 meters from the water source, like a brook or a river, to prevent contaminating it. Don't choose a location near a dead tree, cliffs, rock faces, or escarpments. This prevents potential hazards like falling tree branches and rocks from hitting your campsite.
During the day, the sunlight can be harsh, so choosing a shaded area away from direct sunlight is best. Also, check the wind direction and see if a natural barrier or windbreak could deflect strong winds.
Gather The Right Gear
Pack the best gear for this outdoor adventure. You wouldn't want camping with a torn tent amidst a thunderstorm.
Here are some of the items you must bring with you aside from a sturdy tent:
Sleeping Bag And Pad: Look for something comfortable and suitable to the climate of your camping site.
Lighting: Bring a reliable lighting source with extra batteries, like flashlights and headlamps. You may also want to bring solar-powered lamps for environmental reasons. Some campers bring glowsticks as a lightweight and reliable option to guide anyone back to the tent after going somewhere.
Cooking And Food Supplies: You can now bring many portable and lightweight cooking supplies to cook your food quickly. You may also bring prepared food that doesn't go bad easily—filling snacks like granola bars, energy bars, jerky, crackers and cheese, and sliced fruits.
First Aid Kit: To treat minor injuries and illnesses, it's best to bring a first aid kit. Ensure it has bandages, antiseptic wipes, medicines like paracetamol for fever, and pain relief medication.
Water Filtration System: Clean water may be limited in your chosen location, and dehydration is the last thing you would want to happen to you. Ensure you have a water filtration system to have a sufficient and clean water supply for everyone.
Navigation Tools: A map, compass, and GPS device will be beneficial when camping in a remote location. Bring a separate one other than what you already have on your phone, just in case you get drained of your phone battery.
This may sound like a lot, but these are all essentials in camping. Make sure you have a checklist so you don't miss bringing anything.
Set Up Your Tent
Assemble your tent and build it securely. Test the integrity of your tent by pressing on walls and corners. Make sure you cleared the area properly and followed the directions correctly. This way, you'll have a sturdy tent to sleep on through the night, even if it rains hard or the wind blows harshly.
Stay Safe
Anything can happen in a remote location. Before venturing out, tell someone your plans and expected return time. Once on the site, practice safety always, especially with fire. Be prepared for wildlife and always stay hydrated. Bring a satellite phone because cell phone signals may be weak.
Leave No Trace
The leave no trace principle requires people to leave any campsite better than they found it. This means bringing all your trash. This helps preserve the environment's natural beauty for future generations who will use it.
Conclusion
Camping in a remote location may be challenging and sometimes scary. But it can also be gratifying once you've accomplished it. It's your chance to reflect and connect with mother nature. It can be an opportunity to stay grounded and appreciate the splendour of this planet you live on. So, do your research and pack your bags. It will be a worthwhile adventure.
Comments on this How To Set Up Camp In Remote Locations article are welcome.
Camping and Trekking
Camping and Trekking Flashlights – articles selection below:
Baton 3 Pro Max: The Ultimate EDC Flashlight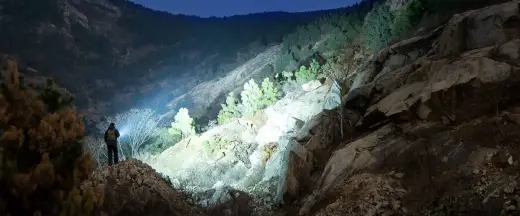 Reasons you should own portable power station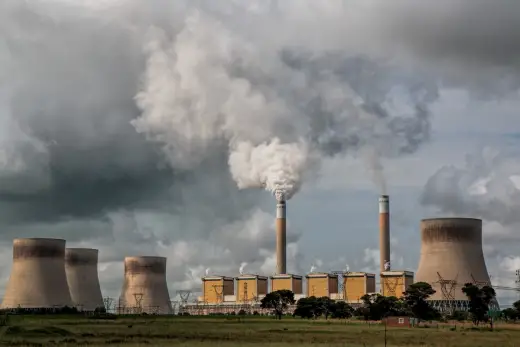 Tips and tricks of hiking at night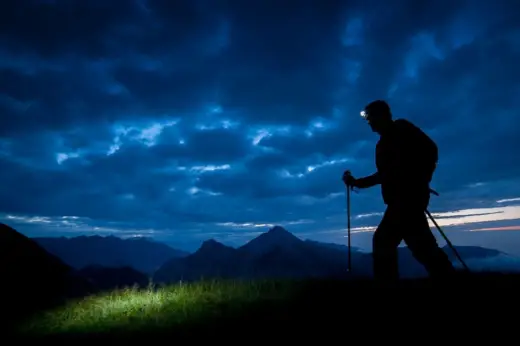 Glasgow Building Designs
Glasgow Architecture Designs – architectural selection below:
Comments / photos for the How To Set Up Camp In Remote Locations page welcome