Scottish rivals to Glasgow in architectural terms in 2022, Scotland cities building guide
Scottish Rivals to Glasgow In Architectural Terms Guide
16 June 2022
Glasgow is a vibe of its own. Scotland's most populous city possesses an exceptionally vibrant and cosmopolitan outlook that few other metropolitans in the United Kingdom can match. Situated on the River Clyde, Glasgow experienced an industrial boom in the 18th and 19th centuries, thanks to its strategic portside location, as it grew to become the largest seaport in the country.
This allowed for the city to expand on its already impressive layout, going on to establish architectural marvels that are still top venues to visit to this day, as relayed by Glasgow Architecture. From the Clyde Auditorium and Glasgow Cathedral to Trades Hall and Mitchell Library, the list goes on.
Edinburgh Castle – famous Scottish architecture: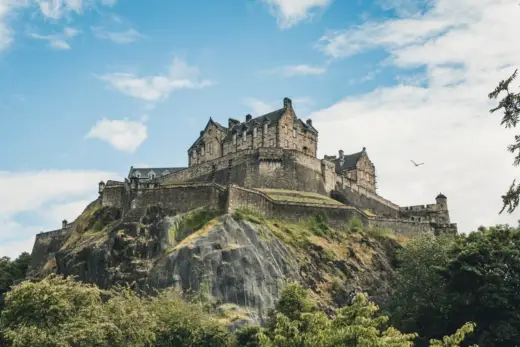 image by Jörg Angeli on unsplash.com
How Do Aberdeen, Edinburgh And Dundee Rival Glasgow In Architectural Terms?
However, UK's fourth-most populous city is not the only aesthetic jewel Scotland possesses. Let's have a look how the other Scottish cities – the capital of Edinburgh, UK's northernmost major city of Aberdeen and the quaint port city of Dundee – rival Glasgow in terms of architecture.
Being the country's capital since 15th century and the seat of the Scottish Government, Edinburgh is a treat to explore and wander around as it has a spectacular collection of medieval and classic architecture. The city itself has two distinct areas: The Old Town, overlooked by a medieval fortress; and the neoclassical New Town, which has had far-fetched influence on urban planning elsewhere in Europe. Both these areas – with their own set of distinct characteristics – are UNESCO World Heritage sites.
Edinburgh Castle: A must-visit destination, it is unmissable due to its location on Castle Rock – a volcanic rock formation in the middle of the city. The site is known to be one of the most attacked strongholds in the world in its thousand-plus year-old history.
Palace of Holyroodhouse: The official residence of British monarchy in Scotland. The building itself was built in the late 17th century in neoclassical style, and covers more than 87,000 square feet.
Calton Hill: The hill itself is a major tourist destination because of the presence of the Nelson Monument, the HQ of the Scottish Government – St. Andrew's House, and several others notable buildings such as the National Monument and City Observatory
North East Scotland's very own gem, Aberdeen has a very cool character compared to its sophisticated counterparts. Not known as the Granite City for nothing, Scotland's third-most populous city has been perpetually raised by using granite as the principal construction material quarried around the city. The buildings here look almost brand new as they require very little maintenance. One can experience the richness of Aberdeen's history and culture by exploring the cobbled-up streets that reflect not only the granite, but also the silvery mica, thus earning it the sobriquet Silver City.
King's College Chapel: Located inside the University of Aberdeen, this 15th century chapel is awe-inspiring to say the least. Its blueprint is based on Solomon's Temple in Israel, and the most notable feature remains the arched Crown Tower.
Machar's Cathedral: Sitting in the middle of Old Aberdeen, Old Machar is an astonishing monument dating back 1,500 years. Its stained walls, along with the heraldic ceiling make for an unforgettable visit.
His Majesty's Theatre: Seating more than 1,400 people, the theatre opened in 1906 and has since impressed visitors with its subtle interiors and lavish exteriors. It is described to be a perfect representation of Renaissance Revival architecture.
Dundee
Despite Dundee being relatively less populated, it has the second-highest population density in Scotland, after Glasgow. Rapid expansion from industrialization allowed it to establish itself as the jute capital of the world once upon a time, taking advantage of which, its architecture and urban design completely changed 18th century onwards. Amazingly artful museums, cultural centers, historic castles and picturesque streets are all part of pretty Dundee. The city's international profile has risen in recent years, owing to which, The Wall Street Journal (via BBC) ranked Dundee on its 'Worldwide Hot Destinations' list for 2018.
V&A Dundee: Scotland's first design museum and the first Victoria and Albert Museum outside London, it is the cultural heart of the waterfront settlement.
Claypotts Castle: One of the best maintained 16th century castles right in suburban Dundee. Its architectural style makes for a Z-plan tower house quite predominant in England and Scotland
The McManus: The Gothic Revival styled building is set in the center of Dundee, and hosts a variety of artifacts and souvenirs with decorative art and natural history as its main subjects of interest.
Apart from being pure architectural and urban spectacles, a handful of these cities, including Edinburgh and Glasgow also deem out to be perfect entertainment destinations. The gambling industry in Scotland is ever-growing and according to SBO, one can enjoy almost the same benefits by heading online since one just needs an internet-enabled device such as a laptop or mobile.
Residents of Scotland are allowed to join UK online casinos that have a license from the UK Gambling Commission. Players, whether old or new, can also avail maximum benefits with whole range rewards and bonuses such as free bets, accumulator schemes, loyalty points and cash backs.
Comments on this guide to Scottish rivals to Glasgow in architectural terms article are welcome.
Buildings
Key Buildings in Scotland Articles – architectural selection below:
Merchant City boutique hotel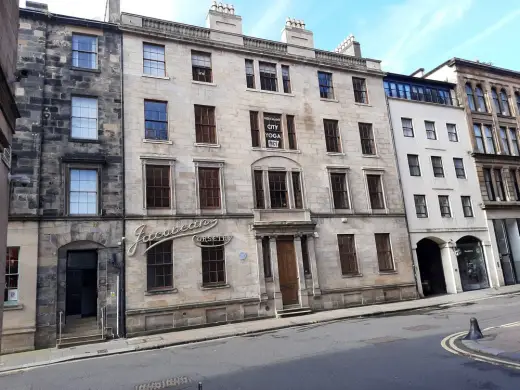 image courtesy of architects practice
Merchant City
Historic Glasgow : best Glasgow architecture of the past
Comments / photos for the Scottish rivals to Glasgow in architectural terms advice page welcome