Quick ways on how to lay a patio guide, Home garden landscape advice, Building exterior decking space tips
Quick Ways on How to Lay a Patio
4 July 2021
This summer, you might want to add a new patio to your home. If you are trying to figure out how to lay a patio, I will give you some advice. Patios are an excellent place to relax after a hard day at work or just enjoy the fresh air in your yard.
People love to come up with new creative patio designs. For example, they can add a nice ceiling fan, a fireplace, or even replace stones with bricks. But for most of the people who love it, installing a patio isn't an easy job. It's also very challenging. It comes with coping and interlocking concrete blocks and so on; that's why it requires a lot of effort and expertise. This leaves us asking how do you lay a patio? Let me show you some quick ways on how to lay a patio.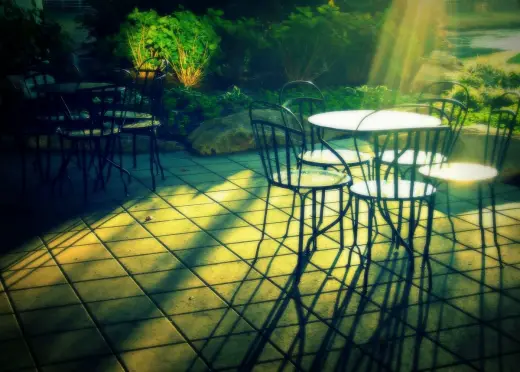 Quick Ways on How to Lay a Patio at Home
Required materials
After checking the foundation (the cement, which should dry approximately two weeks after you laid it), you can begin to lay the patio. To avoid any accidents, you should wear safety equipment; steel-toed boots, goggles, and heavy gloves, or if possible, get a wacker plate hired.
To lay a patio, you have to follow specific and precise materials and equipment for aesthetically beautiful results and affording the level of quality that will lend endurance against climatic factors. These materials and equipment are the hardcore, building sand, cement, rumbled paviours, shovels, wheelbarrows, rakes, wooden level pegs hammer spirit level, plans of wood, rubber mallet cement mixers bolster chisel pointing trowel.
The materials required for this business are hardcore, sand, and cement. The tools you need are a shovel, mallet, wheelbarrow, rakes, and some pegs to make sure you get level. Other than that, rater buying an expensive wacker plate, better you get a wacker plate hire to save some money.
Five steps to lay a patio
Step 1
Before you start your patio, plan it out on paper. This will give you a good idea of what costs are ahead and ensure that you have room for everything you want. Start with the size and shape of your patio. The dimensions can be as unique as you like, but keep in mind that it will restrict how many pieces of furniture or people you can comfortably fit into it. If you prefer to set your patio at the edge of a slope, line up the edges with the top and bottom of the slope for safety. A square or rectangle is usually easier to work with because of the symmetry
Step 2
Before you begin to build on your patio, you need to use a tape measure or yardstick and some stakes and string to get an approximate measurement of the area where you plan to put your patio. If possible, hire someone to do a professional layout of the area for you.
Step 3
If you have terraces or sloped terrain, digging deep into the garden soil within the patio layout is necessary. To lay a patio, you will need to dig up all grass, garden, and at least 6 inches of soil. The area should be leveled as much as possible so that the patio is equalized. Patio stones are heavy, and you'll need to use power tools to cut them into smaller pieces, so a good level base is needed, or the patio may end up looking wonky and damaged.
Step 4
Spread 5 inches of crushed gravel and level it again using a plate compactor. The finished product will be ideal for casual patio use when installing a proper patio surface (ideally on stone pavers). Before laying the patio stones, you need to make sure your surface is ready. This includes excavating and grading the area. The better the surface, the easier it will be to lay the patio, seal it and keep it looking good.
Step 5
Place mortar over the gravel. The first layer of mortar should be 1/8-inch thick. This will help hold the stones in place. Place stones randomly on top. You want to keep it natural and beautiful. To achieve this, don't go in a straight line when adding stones. Add them at random so that the pattern is distorted and keeps your patio from looking too uniform.
Once you have laid the patio and wet it up, you need to sweep any loose stone or sand into the crevices between the stones. This helps to settle out any air pockets and sinks in any water trapped. You can do this with your hands or, as I always do, a broom. Any areas where puddles are still evident need more sweeping until all standing water is cleared.
Finish laying your patio? Put the miracle grow on!
Comments on this guide to Quick ways on how to lay a patio help article are welcome.
Home Designs
Contemporary Residential Property Designs – recent Strathclyde architectural selection below:
Ingram Street Property Development
65-97 Ingram Street Glasgow
The Foundry Cathcart housing development
The Foundry Cathcart housing development
Bridgeton Flats
Bridgeton Flats Muslin Street
Comments / photos for the Quick ways on how to lay a patio advice article page welcome