Perth City Hall Building Demolition Campaign, Hotel, Scotland, Images, Location, Reopening news
Perth City Hall Building Demolition
Scottish Civic Architecture Petition: Plaza Proposal, Plans
post updated 12 August 2023
18th April 2017
Perth City Hall Building News
Perth City Hall Renewal
Five of the biggest names in UK architecture are vying for the right to redesign Perth City Hall with the building's re-opening scheduled for 2021, reports The Courier.
Each has a grand vision for redeveloping the building into a cultural attraction capable of bringing visitors to the city from around the world.
The designers hoping to undertake the project, alphabetical order:
– Austin Smith Lord
– Hoskins Architects
– LDN
– Mecanoo
– Richard Murphy Architects
Perth City Hall Building Renewal
Perth City Hall Building
7 Jul 2016 – a message to the City Hall Supporters Group,
Some information regarding the council's plan to turn the City Hall into a visual arts centre. This appears to be based on the premise of housing the Stone of Destiny there. On the surface this seems to be excellent news, and hopefully it will go ahead successfully.
'Cautiously optimistic' is a phrase which springs to mind when assessing any decision by Perth Council. Pete Wishart MP for instance, who only a few months ago was a fervent supporter of demolition now has changed his tune and is all behind the transformation of the building.
Similarly Ian Miller, Council Leader, who for ten years was completely opposed to any re-use of the building and would have had the City Hall destroyed had it not been for the intervention of Historic Environment Scotland and the strength of our supporters, has now performed an about-face because of the prospect of bringing the Stone of Destiny to Perth.
I would rather the council were genuinely interested in bringing the City Hall into public use rather than showing superficial enthusiasm for the building when they have shown nothing but contempt for it for ten years.
However, we have to compliment ourselves for managing to prevent the demolition of this wonderful building and hope that its future really is secure. What a pity the Councillors only now see what we've seen all along.
http://stv.tv/news/tayside/1358279-perth-city-hall-to-be-transformed-into-visual-arts-centre/
Perth City Hall Building
9 Oct 2015 – a message to the City Hall Supporters Group,
"You will be pleased to hear that the council have backed the plan to turn the City Hall into a Market Hall. This has been grudgingly accepted by the council and a three month period has been given to Perth Market Place Ltd in order to satisfy the council that funding is in place for the venture.
One can therefore be cautiously optimistic that the City Hall will be saved from demolition, and transformed into a building which can once again be used by the people of Perthshire. The council did not wish this for the building – their objective for the past ten years has been to knock it down, but because of the ruling by Historic Scotland and the amazing support from our pressure group, they have not been able to realise their ambition. In the next three months they are sure to do everything in their power to find flaws in the Market Place proposal. If that does happen we'll be back in action ready to take up the battle again.
This however, is very good news for the City Hall, and although we didn't get to see inside the building on Doors Open day, the fact that 1,200 people protested about it, is sure to have caused the council to back down. Please see the links below, and I'd like to thank all our supporters for creating such a force the council couldn't ignore. Thus far well done to everyone!"
http://www.thecourier.co.uk/news/local/perth-kinross/clock-is-running-on-food-market-plan-for-perth-city-hall-1.904074
http://www.bbc.co.uk/news/uk-scotland-tayside-central-34454355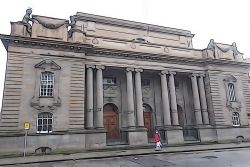 Perth City Hall Building News
2 Oct – The long-running conclusion to the future of Perth City Hall will move closer next week when councillors consider plans to transform the building into a food market or a hotel, reports Scottish Construction News.
Planning officials at Perth and Kinross Council have urged councillors to back proposals to transform the B-listed building Perth City Hall into a food market when they meet on Wednesday. Although, according to the BBC, a number of pre-conditions would need to be met before a draft lease could be agreed at the authority's meeting in February.
An official report from the council's head of planning recommends that councillors approve the plans by Perth Market Place Ltd. The food market plan has been chosen as the preferred option over a bid by developers The Seventy Group to turn the Edwardian building into a luxury five-star hotel.
16 Jan 2015
Perth City Hall Deadline
Perth City Hall Proposals Deadline
Letter to Perthshire Advertiser (16 Jan 2015) from Maureen Summers:
Dear Editor
I would like to congratulate Councillor Archie MacLellan for being the first P&K councillor to raise his head above the parapet regarding the City Hall. He has asked that if no viable proposals come before the Council on the deadline this week, that the Council actively seeks another use for it and opens the doors of the halls again as soon as possible.
In last week's PA, Councillor Alexander Stewart added that Historic Scotland are unlikely to grant permission to demolish, and that the City Hall must not be allowed to stand empty any longer.
Standing alone now is Pete Wishart MP, who has long supported the idea of a civic square, and was quick to cash in on the recent fiasco of the Christmas Markets, saying that it highlighted the need for a civic square. On the contrary, had the doors of the City Hall been opened, the Markets could have taken place inside the hall where vendors and customers would have been spared the inclement weather.
Years ago we had very successful Charity Christmas Markets in the hall, and many other events were held there too. Groups using the hall at the time that the Council closed the doors, had to seek other venues, and bookings for up to two years ahead had to be cancelled. The concert hall is not suitable for many events and is too expensive.
Of the three known proposals, my personal choice would be to have a food hall in the main hall, with the lesser hall being used for social space and smaller events. This would bring vibrancy back to the city centre, and open up space for citizens and tourists to enjoy.
As the deadline for proposals for reuse and development of the City Hall is on 16th January, can we ask our councillors to finally accept that Historic Scotland are not going to allow wanton destruction of such a fine Edwardian building, and to be proactive in assisting the successful bidder to bring their proposals to fruition.
Comment from Norman Murdoch:
In my opinion the P & K Council should be made to explain and justify their reasons for wishing to destroy the City Hall in Perth. Their job is to better the city and not to destroy quality "B" listed buildings and reject good proposals for use of OUR halls.
We pay the rates and their handsome salaries and allow bonuses for good work. Unfortunately, thus far, we do not have enough proof to sack them for this awful mess they have let this "once fine city" get into.
Some of us remember the old trick of "I see no ships" when the telescope was held to the blind eye. The council are doing this and buying time with the rate-payers' money and patience. I am asking if we (Save the City Hall Group) can meet with Council and get a few facts out into the open before it's too late?
We must, in my opinion, act soon by getting together with them to discuss the way ahead.
I do mean the organ grinder and not just the monkeys. No disrespect to the likes of Willie Wilson's input. We must get to the root of the hidden agenda theory and expose it soon.
Comments welcome at info(at)glasgowarchitecture.co.uk
9 May 2014
Perth City Hall Hotel or Plaza?
Perth City Hall Proposals
Article in today's Herald entitled "Planners do U-turn over fate of City Hall". The article reads that "it was confirmed yesterday that councillors will be urged to award planning permission to a scheme that would see the City Hall turned into a five-star hotel".
Perth City Hall Hotel – article
8th May 2014
Dear City Hall Supporters' Group,
I enclose a link to an article in today's Courier. MP Peter Wishart, far from showing enthusiasm towards the prospect of a luxury hotel in the centre of Perth and the preservation of Perth's most magnificent building, is as determined as ever to have the Perth City Hall destroyed. It really makes one wonder why despite so much utter condemnation for the outrageous proposal to demolish the building, and that we now have two positive business plans on the table, he has shown nothing but a farcical pig-headedness which leads people to question whether he is even suitable to deal with matters for which he clearly has no sympathy or comprehension.
Perth City Hall plaza: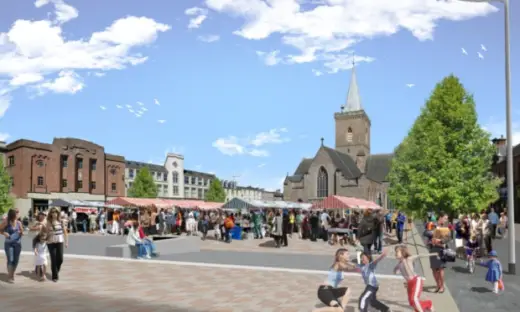 Please look at the so-called 'artist's impression'. Even given the blue sky and happy children playing, the buildings are mediocre, and the church itself isn't exceptional. How about an artist's impression when it's pouring rain in winter? The City Hall never had a problem accommodating people in these conditions, but the city square would.
Since we began our campaign to preserve the City Hall, Wishart has done nothing but make a fool of himself on numerous occasions, and we should ask ourselves, is his overwhelmingly manic obsession merely ignorant philistinism, or is there another agenda behind this which the public have not been privy to?
Regards,
Barry Pringle
Perth City Hall Building
RIAS Urges Perth & Kinross Council to Reconsider Perth City Hall Demolition
15 Mar 2014 – Historic Scotland has broken its silence to warn that it is unlikely to grant permission for Perth City Hall's demolition while would-be saviours remain, reports The Courier today.
In a shock letter delivered to Perth and Kinross Council's planning department on Friday, senior officers appeared to open the door to yet more delays.
It said that both ambitious new plans to convert the hall into a five-star hotel and resurrected proposals for an upmarket food hall should be given "every opportunity to progress".
The government agency finally made its thinking clear as the midday deadline for public consultation approached.
The Courier understands there have been more than 2,325 individual letters of objection to the listed Edwardian hall's destruction, though documents are still being processed.
Perth and Kinross Council will almost certainly apply, for a second time, for permission to demolish the building and create a civic square in its place.
The local authority could, however, face an even greater challenge than that suggested by Historic Scotland's previous refusal, delivered in May 2012.
Historic Scotland said before it would be "very difficult to demonstrate" the perceived wider economic benefits of demolition would "outweigh the presumption in favour of retaining the building".
The move prompted Perth and North Perthshire MP Pete Wishart to urge Historic Scotland to resolve the matter.
Website: www.saveperthcityhall.co.uk
14 Mar 2014
The Royal Incorporation of Architects in Scotland (RIAS) has written to Perth and Kinross Council to argue strongly against the proposed demolition of Perth City Hall. The RIAS believes strongly that the Hall is of great importance to the city of Perth and to Scotland as a whole and has significant architectural merit.
This very same year, both Fleetwood Mac and Neil Diamond lined the seats of the SSE Hydro with screaming fans hoping for a meet & greet; not to mention Edinburgh's Usher Hall celebrating its centenary. Isn't it ironic that amongst the excitement and prosperity, that Perth proposes to destroy its own, one-hundred-year-old Hall?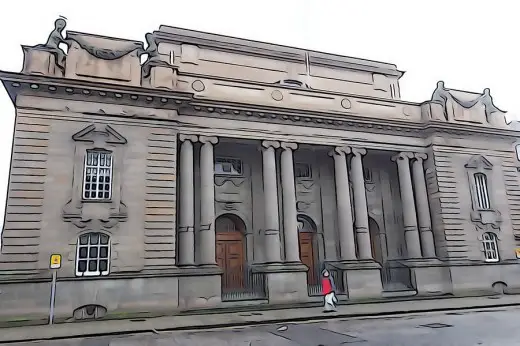 photo © Robert Booth
RIAS Secretary & Treasurer, Neil Baxter, stated:
"The opening of Perth Concert Hall replaced the former use of the Edwardian City Hall. As both buildings are owned by the local authority they didn't want to compete on their own turf and started to pursue the demolition of their own, hundred year old building. That would be fine if the historic building was not of national importance and international interest. Perhaps more important, the Concert Hall is part of the densely built fabric of the city which, like so many wind-swept Scottish places, has a medieval streetscape that lends unique character. The Council's proposal, to replace the building with a gap site, or in their terms, a 'piazza' indicates a serious misunderstanding of the character of the city which they were elected to protect and benefit. Remove this key building and you do fundamental damage, civic vandalism which would be regretted for decades to come.
The Concert Hall, a fine, robust, adaptable building still has a major contribution to make. It needs the imagination of a responsible administration to restore and re-use it positively. It is easy to conspire to destroy anything good. Saving something good, as a legacy for the future, requires vision and imagination. How about, instead of spending £4m of public money on destroying something irreplaceable, spend £1m as a bounty to support a new viable commercial enterprise within the Concert Hall's beautiful historic walls. Then the people of New York and very many folk closer to home would be singing Perth's praises, rather than deriding its folly. Perth Council should stop acting like a town council and become a city council. All of Scotland would benefit, Perth most of all! "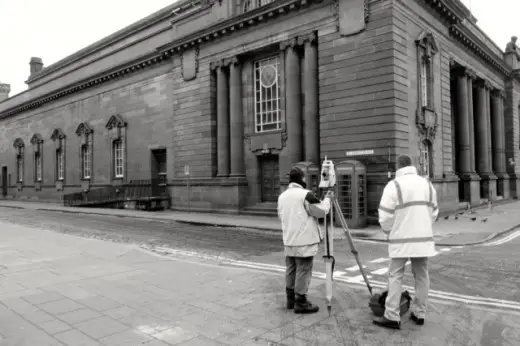 photo © Robert Booth
Objection to Proposals Campaign
Campaign to save Perth City Hall Building
Friday the 14th of March 2014 was the date when all objections must be sent to the council. If you haven't already done so please email the council with your name and address and statement of objection. The application number is 14/00292/LBC and the address to send it to is [email protected]
An article by Neil Baxter of the RIAS appeared in the Press on the 13th of March and Margaretha Linacre handed in about 2,000 letters of objection to Perth and Kinross Council's office in Kinnoull Street. These were objections collected by volunteers from people in the street who were asked their opinion and did not include those who had sent in their objections directly to the council. Margaretha and other volunteers were interviewed by STV, Radio Tay and the Courier. The overwhelming support to save the City Hall so far has been quite incredible.
Link to the online petition: http://www.change.org/en-GB/petitions/perth-city-council-don-t-demolish-our-city-hall
Information which has been sent to the council by Judy Bremner, on the cost of maintaining the City Hall compared with its demolition:
The following information was supplied to a colleague setting out the income and costs associated with the Perth City Hall in the years 2003-04 and 2004-05
2003-2004 Income £87,835 Expenditure £150,000 Shortfall £62,165
2004-2005 Income £93,133 Expenditure £150,000 Shortfall £56,867
Average shortfall per annum £59,516
Projected cost of Civic Square £ 4,500,000
Opportunity Cost interest at 1% £45,000
Shortfall less interest £14,516
On this basis the money saved by not building the Civic Square would be enough to subsidise the hall for 310 years.
10 Mar 2014
Perth City Hall Proposals Objections
Objection to Perth City Hall Proposals
Letter of objection by Ivan Carnegie
I write to register my strong objection to the Council's proposals to demolish the City Hall. This is a listed building of considerable architectural value which, in many other cities, would be regarded as an asset well worth preserving.
As a former Director and legal adviser to Tayside Building Preservation Trust, I was involved in the restoration of a number of historic buildings in Dundee in far worse condition than the City Hall. We enjoyed the strong support of the City Council who appreciated that the efforts to preserve and bring back into use such buildings enhanced the built environment of Dundee. If the political will is there preservation is always an option if a viable re-use can be found.
I am amazed that the Perth Council seems hell-bent on demolishing the City Hall and replacing it with a city square. In a climate like Scotland's, an open square tends to be a liability not an asset as the residents of Dundee, Edinburgh and Glasgow would be able to testify.
The evidence in support of the economic benefits of a new square appear weak, to say the least, and certainly lack the rigorous analysis which was given to the proposal to convert the building into a covered market hall. The claimed numbers of visitors that would be attracted to the city by a new square are unrealistic and lacking in substance, as are the claimed amounts of extra monies that would be spent in the City.
At the very best the application is premature given that the proposal to convert the building into a high-class hotel has still to be considered by the Planning Committee.
26 Jan 2014
Perth City Hall Campaign
Dear City Hall Supporters,
I enclose a letter of objection to Historic Scotland from a lady from Idaho who has heard of our campaign. Robert Booth took this photo of two surveyors outside the City Hall. Is this an ominous sign? Here is the e-mail address of a council department to which you may also send letters of protest.
Regards,
Barry Pringle
26 Jan 2014
Perth City Hall
I am writing today to express my concern about the proposed destruction of the Perth City Hall. Even though I live far from Scotland (Idaho, USA to be exact), I have heard of the plight of the Hall from a friend of mine in Perth.
I have been reading the information about the Hall and I think your city's first architect Mr. Coburn has stated many legitimate points, which I won't take your time to reiterate here. It seems that the building is in no way derelict and has had work done over the years to keep it that way.
It would seem like such a shame to destroy a building that is over 100 years old that has so much beauty and history. To quote Ezra Pound "A real building is one on which the eye can light an stay lit" and I think the Perth City Hall is just such a building.
I hope the Council makes the right decision in this matter, as once this building is destroyed, there's no turning back.
Thank you for your consideration.
Kathy Preuit
Perth Concert Hall Building
Address: Mill Street, Perth, PH1 5HZ
Phone: tickets + info 01738 621 031 ; admin 01738 472 700
Building Photos: Keith Hunter
Perth Concert Hall : RIAS Andrew Doolan Award for Architecture 2006 shortlist
The only new-build full scale concert hall built in Scotland since 1990.
The 1200 seat Perth Concert Hall is now complete




Perth Concert Hall interior image




Perth Concert Hall atrium image
Perth Concert Hall : Scottish Design Awards 2006 – Best Building for Public Use : nominee



Perth Concert Hall exterior image; photo on right from artist Shaeron Averbuch
Perth Concert Hall Architects : BDP
Perth Concert Hall images © Keith Hunter
Broxden Dental Centre



photo © Keith Hunter
Broxden Dental Centre Perth by Archial
Comments / photos for the Perth City Hall Architecture page welcome