New Campus Glasgow Buildings, Design Team, Architect News, Information, Scottish educational building project
New Campus Glasgow education building
Major Further Educational Development in Strathclyde, west Scotland, UK
post updated 12 August 2023 ; 26 Feb 2010
Archial Sustainable Futures Appointed to £300 Million New Campus Glasgow Project
Archial Sustainable Futures, a research, development and advice consultancy, has been appointed to provide a range of advisory and assessment services to the £300 million New Campus Glasgow project; the UK's biggest and most ambitious educational building project – and possibly the biggest in the sector in Europe.


image from architects
New Campus Glasgow Development
The New Campus Glasgow project will bring together Glasgow's three city centre colleges to deliver world class learning on a shared super campus. Driven by funders, the Scottish Funding Council in partnership with the three colleges – Central College Glasgow, Glasgow Metropolitan and Glasgow College of Nautical Studies – New Campus Glasgow is the first large project in Scotland's education sector that will be delivered within the context of the new Climate Change Scotland Act.
As part of its remit, Archial Sustainble Futures is presently working together with a range of potential stakeholders to explore the possibility of integrating New Campus Glasgow with a new heat network in the city through a process of 'heat mapping'.
John Easton, head of Archial Sustainable Futures, said, "The proposition is that New Campus Glasgow could interconnect with a number of other large energy users in the city centre to share surplus energy. Such heat maps have the prospects of achieving significant advances in sustainable urban development."
Archial Sustainable Futures is providing a range of guidance to the New Campus Glasgow project team, including: advising on the various sustainability targets the team should seek to achieve; what their priorities should be; helping identify benchmarks to work towards; offering detailed design advice on potential environmentally beneficial solutions and assisting the consultation process and planning application approval process.
The firm will also measure the New Campus Glasgow project using the BREEAM (Building Research Establishment Environmental Assessment Method) Education assessment, scoring the project against a range of categories including: transportation; water; materials use; energy and a basket of sustainability indicators encompassing environmental, social and economic considerations.
Mr Easton said, "The new Climate Change Scotland Act has established a mandatory legal framework for the control of carbon emissions which will change the agenda for any organisation holding public funds and expending those on buildings or their operation.
"As such, this new legislation will have a major impact on how the New Campus Glasgow project is designed and procured by virtue of the nature of the sustainability solutions that are implemented and how radical they need to be in terms of their performance. It will also impact on how efficiently the sustainability solutions will operate subsequently in order to adhere to our 2020 and 2080 Kyoto Climate Change commitments which the First Minister Alex Salmond has now made legally binding."
11 Sep 2009
New Campus Glasgow Development Architects
New Campus Glasgow Winning Architects
Winner announced : Atkins with Michael Laird Architects


image from architects
Other architects shortlisted:
Archial (formerly SMC Group)
Atkins (with Michael Laird Architects)
BDP
Hopkins (with Bennetts)
RMJM (with Frank Gehry)
2 Apr 2009
Glasgow Supercampus
Development Expert for Glasgow Supercampus
Graham Black, development and project management expert, has been signed up as an independent Director to the Board of New Campus Glasgow (NCG), the team charged with delivering a £300 million estate for Glasgow's city centre colleges: Central, Metropolitan and Nautical.
"Graham brings just the right mix of skills and expertise to help us fulfill our goal – to deliver a world class campus: on budget, on time and to brief," said Vic Emery, Chair of the NCG Board. "Development and project management on a grand scale is what New Campus Glasgow is all about and Graham's background is a perfect fit. His knowledge and experience will be invaluable as we go forward."
Graham has 10 years Board experience at international, regional and national levels. He has 23 years consulting and client-side experience in project management, corporate real estate, property development and investment management, working across all major industry sectors. His experience covers complex, mission-critical, multi-site development and business change projects – around 300 projects worth over £3.7 billion – involving merger, relocation and co-location.
"As a surveyor to trade originally, I'm a graduate of Glasgow College of Building and Printing – now Metropolitan College – so I'm passionate about this project. I feel privileged to be part of this new chapter in the life of further education in Glasgow, and the development of a world class college estate for Scotland," said Graham.
Graham Black
Biography
Graham Black is Managing Director of Catalyst Consult Ltd in Glasgow which he set up in 2004 to provide independent corporate real estate advice and development management services to Scottish based SMEs, PLCs and public sector organisations. He has advised on private and public sector property portfolios and new development projects totalling over 200,000sm and valued at £500 million in the past 5 years.
He is Development Director for 3 major hospitality, leisure and tourism projects in Scotland and acted as the independent Project Director for the University of St Andrews on 3 new flagship development projects.
He qualified as a building surveyor at Glasgow College of Building and Printing in 1986 and became a member of the Royal Institution of Chartered Surveyors in 1988.
He worked with a range of surveying and project management firms in Glasgow and Manchester till 1991 when he became a Partner of Jones Lang Wootton in Glasgow. From 1999-2004 he was a European Director at Jones Lang LaSalle, working in London, Brussels and San Francisco. He was a member of the Boards for the Corporate Solutions and the Development & Project Management global business lines and was the Head of Corporate Project Management in Europe.
He has a proven track record in delivering complex, mission-critical, multi-site development and business change projects – around 300 projects worth over £3.7 billion – involving merger, relocation and co-location. His experience covers strategy, finance, risk management, masterplanning, transactions, performance improvement, sustainability, change management and value delivery.
6 Feb 2009
New Campus Glasgow Shortlist
Final 5 shortlist for New Campus Glasgow £300m supercampus
New Campus Glasgow Ltd has finalised the shortlist of 5 architect-led design teams who will develop a £300 million integrated campus over 2 sites for the 50,000 students and 2,000 staff of Glasgow's 4 city centre colleges – Central, Metropolitan, Nautical and Stow.
Still in the running – and down from a long-list of almost 50 teams who submitted pre-qualification questionnaires- are the following (for details see 'notes to editors'):
"The response has been tremendous and this made the shortlisting process extremely difficult." said Peter Jennett, Property Strategy Director. "We have a rare and privileged opportunity: to deliver landmark developments at such important sites in the heart of the City. We are thrilled to be taking the project forward into this important next phase".
The brief for the successful team will be for a design that delivers on a number of fronts:
– Impact: create buildings on a scale and style that inspire, enhance profile, and make a positive contribution to Glasgow's urban landscape
– Cost: whole life value for money, good use of space, efficient
– Functional: easy to access, easy to navigate, fit for purpose
– Flexible: future proofed – able to grow, contract and adapt
– Sustainable: environmentally, socially and economically
– Deliverable: buildable and managed in a manner that protects 'business as usual'during the development period.
"The co-location project will see existing college buildings demolished, sold on or refurbished," said Iain Marley, Programme Director. "Landmark new buildings will emerge on existing college sites: City Campus on north Cathedral Street – current home of Central and Metropolitan's old 'Food Tech' building; and Riverside Campus on Thistle Street and the Clyde – current home of Glasgow College of Nautical Studies."
The 4 colleges will share premises and services across the two sites and continue business as usual during the construction period which will begin in 2011. The successful architect-led design team is due to begin work in June 2009.
New Campus Glasgow Development : Further Information
New Campus Glasgow, 300 Cathedral Street, Glasgow G1 2TA, Scotland, UK
Strathclyde Higher Education Buildings
Strathclyde University Architecture – recent architectural selection below:
University of Glasgow ARC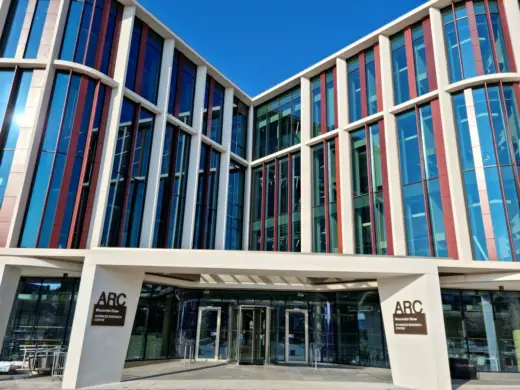 photo courtesy of UoG
University of Glasgow Advanced Research Centre
University of Strathclyde Buildings
University of Strathclyde Architecture
Glasgow School of Art – School of Art
Glasgow Building Designs
Contemporary Glasgow Property Designs – recent architectural selection below:
Solasta Riverside Building Buchanan Wharf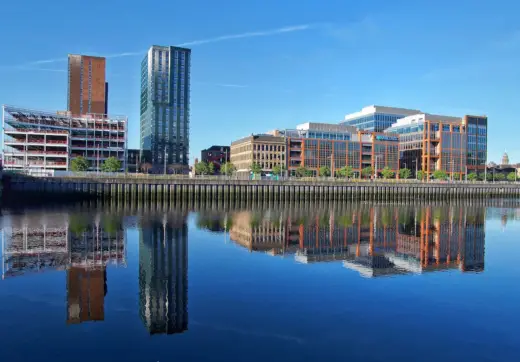 image courtesy of Drum Property Group
Solasta Riverside Building Buchanan Wharf
Comments / photos for this New Campus Glasgow Building page welcome
Website: www.newcampusglasgow.ac.uk