Most Popular Window Styles in Glasgow guide, Online Construction advice, Good building tips
The Most Popular Window Styles in Glasgow
26 November 2021
Glasgow is full of beautiful architecture, and with this lovely architecture comes some wonderful windows. So we thought we'd share the most popular window styles in Glasgow on these period homes.
We are focusing on period properties because we specialise in renovating wooden windows and modernising them with double glazing while ensuring the character of the windows. Therefore, the style of the property goes unchanged. So, here are the most common window types in Glasgow and some of our favourite window designs too.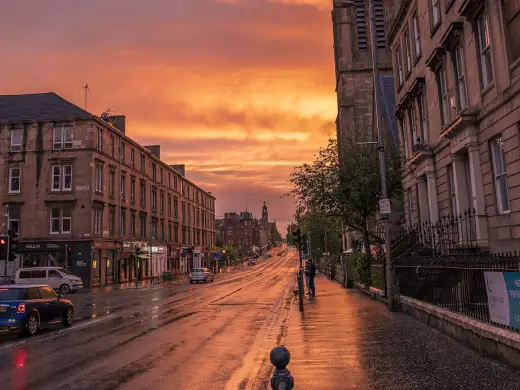 Most popular window styles in Glasgow
Casement Windows
Casement windows are likely the most popular window style in the world. In fact, most modern homes have casement windows nowadays. Still, many of the period homes in Glasgow also have casement windows. This type of window appeared in the UK in the 18th century. To begin with, the frames were made from iron to protect the fragile glass. The development of new glass blowing technology and techniques meant that the glass could be much larger than, say, sash window glass. However, the glass could be extremely thin, so an iron frame was needed to protect it.
In the mid-19th century, though, the Victorians had improved the glass blowing techniques, and the iron frame was replaced with hardwood, typically oak, providing the beautiful look that we know and love today.
Sash Windows
Sash windows are older than casement windows. The earliest examples in the UK are from around the 1670s. Sash windows have several panes of glass, which provide a lovely style, and it is one of the best window designs ever created, in our opinion. However, the panes of small glass were actually a necessity, not a design choice. At the time, glass blowers were not able to make thin glass in large sheets, so smaller panes were used together to create larger windows.
Thanks to the smaller panes of glass, sash windows didn't need an iron frame for stability like casement windows. So sash window frames have almost always been made from hardwood, typically oak. This iconic window has featured on some of the most breathtaking buildings in Glasgow. When fully restored, they function just as well as any modern window.
Bay Windows
Bay windows came around in the 17th century. As you can imagine, without electricity, homes were very dark places back then. Particularly if the houses were joined together, like the beautiful homes on Blairhall Avenue, for example. With only two exposed walls, there isn't much room for natural light to enter the property. So, bay windows were installed (typically in very posh houses) to offer much more light during the day.
Interesting, while bay windows have their own iconic design, they can be made up of sash windows or casement windows. For example, the homes in Blairhall Avenue, Glasgow, have either casement or sash windows. Likely, when the homes were first built, they all had sash windows, then some of the people living there would have had casement windows installed to keep up with the changes of architectural and window design.
Cottage Windows
Cottage windows are very similar to bay windows. However, cottage windows are flat and usually three windows wide, just like bay windows. Bay windows, of course, are angled to offer as much light as possible.
Cottage windows is a very broad term, but traditionally, they are Georgian or Tudor style windows (either casement or sash) and three abreast. Cottage windows were used for much the same reason as bay windows were, to allow for more natural light into a property. However, because of their more basic shape, they were cheaper to include in buildings of the time.
Picture Windows
Picture windows are some of the oldest windows in the world. The first picture window we know of was made in 532AD, and there could be earlier examples that are long gone now. The reason that picture windows have been around for so long is that they are the most basic form of window. They don't open, so they are very simple to make. It is basically a hole in the wall with some glass to protect the home from the weather.
While there aren't many picture windows left in Glasgow now, there are some dotted around. Curiously, many picture windows in cities don't offer much visual appeal (they are quite common when a view is blocked by a building, for example. Perhaps when the home was first created, there was a better view.
Nowadays, picture windows are typically a lot larger and offer a full-length view of the world outside. So, modern apartments in Glasgow have them, but so may some lovely modern homes just outside Glasgow to admire the countryside.
Window renovation
So, there are the most common window types in Glasgow. All of these windows need to be maintained to ensure that a property continues to look beautiful over the years. As most of the windows above have wooden window frames, these can begin to rot and look very sorry for themselves. Sadly, this can change the characteristics of a property dramatically too. Thankfully, though, sash window repair and restoration is the perfect way of restoring these windows back to their former glory.
Chameleon Window Restoration restores thousands of sash and casement windows per year. We can replace all of the rotten wood in your windows, repaint them and protect them for many years to come. We can also modernise your windows too. We can install vacuum-sealed double glazing in your sash windows. This glazing is so thin that it doesn't interfere with the operation of the window and doesn't change the appearance of your property at all. It is also just as effective as triple glazing.
Sash windows repair is the perfect way of keeping your period home in wonderful condition. With good maintenance, your sash windows can look wonderful for hundreds of years. However, if they have been left for a while, sash window repair is a great way to bring them back to life.
Comments on this guide to Most Popular Window Styles in Glasgow article are welcome.
Glasgow Building Designs
Glasgow Architecture Designs – architectural selection below:
New Glasgow Architectural Photos
Glasgow Architectural Photos
Holiday Inn Pacific Quay Hotel
Architects: Mosaic Architecture + Design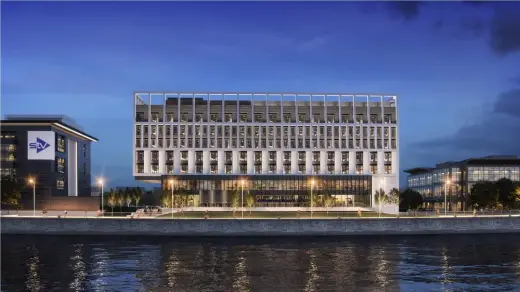 image courtesy of architects
Holiday Inn Pacific Quay Hotel
Comments / photos for the Most Popular Window Styles in Glasgow guide page welcome