Aluminium Buildings guide, Architecture, Property Projects, Construction metal product
How Useful Is Aluminium In Modern Architecture?
4 Sep 2019
How Useful Is Aluminium In Modern Architecture?
A metal that is lightweight, strong, durable, non-toxic, corrosion-free and flexible is an architect's dream. Prized for its versatility and strength, architects are finding multiple uses for aluminium.
The abundant metal was first introduced to the construction industry in the 1920s. The first building to feature aluminium on a grand scale was the Empire State Building in 1931 but was mainly used as a decorative feature.
Today, architects are finding more uses for aluminium alloys including supporting the weight of heavy glass, rainscreen cladding, curtain walling, roofing and gravity-defying forms.
Because of its multiple qualities, aluminium is the second most widely used metal in the global construction industry after steel. Approximately 150,000 tonnes are utilised within the UK's construction industry, around 40% of the metals annual production.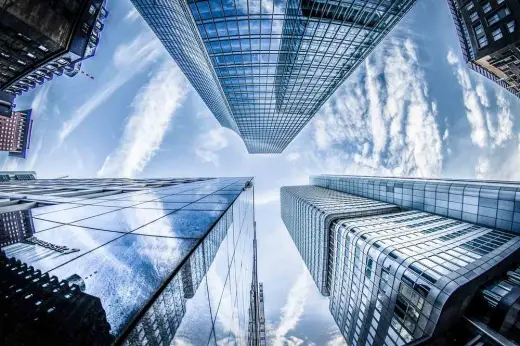 image courtesy of article provider
How Useful Is Aluminium In Modern Architecture Design
Environmentally-Friendly
The increasing demand for sustainable solutions has seen aluminium alloys used more widely in the construction of today's "green buildings". Aluminium is one of the most energy-efficient materials and can withstand a wide variation in climatic temperatures ranging from -80 degrees Celsius to +300°C.
Aluminium alloys are also excellent insulators and answer to the low energy demands of current environmental regulations. Moreover, at the end of the metals lifecycle, it can be recycled without any loss in quality.
Durability
Durable materials in architecture are essential. The natural properties within aluminium make it anti-corrosive and are further accentuated during the anodising process.
Its ability to withstand harsh weather conditions make the metal an ideal choice for the exterior of buildings. Aluminium cladding is becoming increasingly popular because it's easy to maintain and features fire-safe qualities. Raw aluminium is non-combustible.
Aluminium is also lightweight so does not put any strain on the core frame of the building. It's also easier to work with and easier to ship.
Aesthetically Pleasing
The challenge for today's architects is to design buildings that serve a function and adhere to environmental regulations. Aluminium cladding enables architects to design impressive facades using dynamic shapes that meet the aesthetic demands of modern society.
Aluminium is highly flexible and can be shaped into various designs to create balconies, geometric shapes and curves fitted around corners. Its strength can support large glass panes which allows light to flood into the building.
The reflective qualities of aluminium accentuate the natural surroundings and when used as cladding deflects around 95% of the sun' rays which improves the cooling efficiency of a building.Manufacturers have also started selling aluminium in various metallic glosses and colours which accentuates the metals aesthetic quality.
Aluminium alloy is a highly-valued construction material and is expected to be used even more frequently in modern building designs.
The metals weight to strength ratio makes the metal a valuable asset for architectural structures and as architects look to meet stringent environmental and safety requirements for both residential and commercial buildings, aluminium cladding provides multiple solutions other building materials cannot match.
Major Scottish Buildings
Key Buildings in Scotland Articles – architectural selection below:
Historic Glasgow : best Glasgow architecture of the past
Comments / photos for the How Useful Is Aluminium In Modern Architecture? page welcome