How to enter the world of architecture Guide, Online Help, Advice
How to enter the world of architecture Tips
1 June 2021
Glasgow is one of hell of a city where architecture is concerned. A potent mixture of industrial, neoclassical, gothic, and brutalist styles, this Scottish hub of cosmopolitanism offers a diverse array of buildings like no other.
Whether it's the grandeur of Kelvingrove Gallery and Museum, the pure functionality of the Glasgow Film Theatre or the imprints of Charles Rennie Mackintosh that can be seen all around the city, this is a mecca of inspiration for any budding architect.
If you've grown up in Glasgow, or even just travelled through it, there's every chance that you've wondered how you can be involved in the building of the gargantuan structures that tower around you.
The answer, in its most foundational sense, is simple – hard work and commitment. But there's more to it than that.
With that in mind, let us take you on a few steps that can help you enter the construction and architecture industry.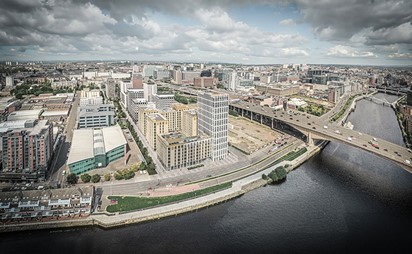 image courtesy of architects practice
How to enter the world of architecture advice guide
Get qualified
Getting a building project off the ground takes many hands, and so there are many career paths in the construction industry.
But one thing's for certain – for any job involving planning and architecture, you're going to have to get qualified.
And if you want to rise to managerial heights in the construction industry, you may need multiple qualifications to secure your success. Once you've achieved a base level degree in architecture or civil engineering, we recommend finding a qualification online that can help you increase your skill set and become more appealing to prospective employers.
We recommend ARU, which can offer a Construction and Civil Engineering Management MSc online, allowing you to hone your leadership skills.
Look around you
Glasgow is packed with case studies of beautiful buildings, but it's also full of brutalist architecture that might have been better left unbuilt.
Nonetheless, every building in Glasgow is a potential teaching tool for anyone hoping to enter the construction industry.
Find your favourite (and least favourite) buildings in the city and write down their successes and failures. If you really want to dig deep into your favourite buildings, research how they were made at your local library or planning office.
The more you learn about your favourite structures, the closer you'll be to realising a building of your own.
Get connected
Networking is the key to any young professional's success. Although we like to imagine we live in a meritocracy, the truth is that knowing the right people can help you immeasurably.
There are a variety of respectable associations across the UK for architects, and joining them will give you access to networking opportunities like meetings, seminars, and social gatherings.
The Royal Institute of British Architects is the most renowned of these, and will help you develop your skills as well as connecting you with the right people.
But if you're on a budget, LinkedIn remains a fantastic networking tool for anyone in the construction industry. So what are you waiting for? Sign up!
Those are a few of our top tips for entering the construction industry. Can you think of any of your own? Then let us know in the comments.
Comments on this How to enter the world of architecture help article are welcome.
Glasgow Building Designs
Glasgow Architecture Designs – architectural selection below:
Kelvin Hall television and film studio
Design: Reiach and Hall Architects
Kelvin Hall television and film studio vision
Merchant City boutique hotel
Merchant City Property
Comments on this guide to How to enter the world of architecture advice article are welcome