Hiring a professional painting service guide, Construction paint products advice, Building help
Hiring a Professional Painting Service: The Benefits
5 August 2021
A fresh coat of paint is a fantastic investment for any home. It can help refresh an old space or completely change the look of a new one. Along with the visual benefits, painting your house will also improve its resale value and bring better energy to your home's interior.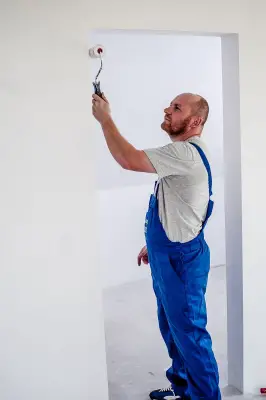 However, painting your home can be a daunting project, especially if you are unfamiliar with the process. You could find yourself spending hours painting only to realize that you missed an area or two due, especially when attempting to DIY single-handedly.
But it doesn't have to be this way!
Hiring a professional painting service or handyman will make all the difference in the world. Here are five benefits on why you should hire painting professionals.
They Can Offer Recommendations Fit for Your Home
A professional painting service will provide recommendations for the perfect colour, paint type and technique that fit your style. Experienced professionals know what different paints look like on walls and how much coverage is necessary based on your wall's current condition or other aspects of your home.
For example, if a room has been recently painted with an eggshell finish, you'll require at least two coats of paint. In contrast, repainting a room with the same colour and finish will only require a single coat. Why not view website.
Painters will also understand the latest trends based on their other customer preferences and advise you on the current colours. They may also offer additional suggestions, such as adding trim or different types of paint.
They Can Reduce Mess In Your Home
A professional painting team can typically paint a home in two to three days with minimal mess. They'll also use drop cloths or tarps so that all surfaces inside of your house remain clean! And because you're not trying to paint everything yourself, it can reduce frustration if any mistakes are made simultaneously. Sometimes DIY painting projects can be so messy, homeowners may require a cleaning service to undo the damage that was made throughout. And while the cost of professional cleaners in Melbourne, London or any large city won't break the bank, hiring a painting service saves a great deal of hassle.
Painters know how much paint is necessary based on a room's size and layout, ensuring they don't waste materials during their service, saving you money in the process. This means no more trips back to the hardware store wasting precious hours when trying to DIY.
Help Save You Time & Energy
It can take hours upon hours to complete even just one side of your house by yourself! With professionals helping out, this process can be completed in a fraction of the time. This means more free hours for you to devote to other projects or family activities.
When homeowners embark on DIY paint, most underestimate the time and effort it takes to take care of the prep work. Prep includes:
-Cleaning walls
-Scraping off old paint
-Stripping down trim or mouldings, if needed
This is all part of the service when you employ a professional painting team trained in these skills. And because they're professionals, your home will look completely flawless with minimal mistakes made along the way.
Painting contractors are also experts in priming any surfaces that need it before beginning their job, saving homeowners hours on exhausting tasks like sanding drywall seams for an eggshell finish or removing wallpaper from cabinets before re-papering.
Bring Better Energy to Your Home
Painting your home can be an energizing process. It's a way of making something old feel new again, transforming the atmosphere inside and out so that you're able to enjoy it for years to come!
It will also increase your property value when there is demand in housing markets or if you are trying to sell your house. Plus, with professional painting services, they bring their own equipment, such as ladders, paint rollers, and brushes, which saves you money from purchasing them separately.
Home Painting is Cheaper than Most Renovations
A paint job for your room or home is among the cheaper ways to transform its appearance. When compared to remodelling your old kitchen or installing a new bathroom, the cost of painting pales in comparison. Paint supplies are also more affordable than most home renovation projects.
Homeowners also underestimate the impact a paint job can have, including how much light it can let into a room. If you have dark colours, they'll be more likely to absorb heat, making your home feel hotter during the summer months and colder during the winter.
Conclusion
Homeowners should consider hiring a professional painting service if they want their home to look fantastic and feel refreshed for years to come!
By seamlessly blending colours, textures and styles into your decoration scheme, you'll be able to have the room of your dreams without spending hours upon hours on DIY projects or renovations.
However, before going ahead with partnering up with a painting service, always do your research. Ensure they have the experience and training you want for your home, not to mention a solid customer satisfaction rating!
Comments on this guide to hiring a professional painting service article are welcome.
Glasgow Building Designs
Glasgow Architecture Designs – architectural selection below:
New Glasgow Architectural Photos
Glasgow Architectural Photos
Holiday Inn Pacific Quay Hotel
Architects: Mosaic Architecture + Design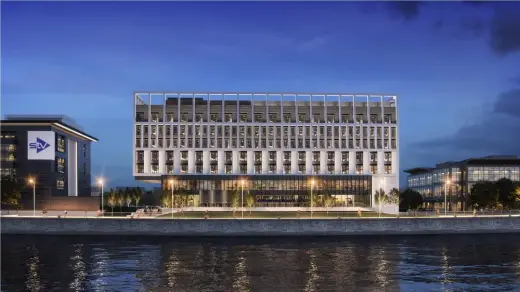 image courtesy of architects
Holiday Inn Pacific Quay Hotel
Merchant City boutique hotel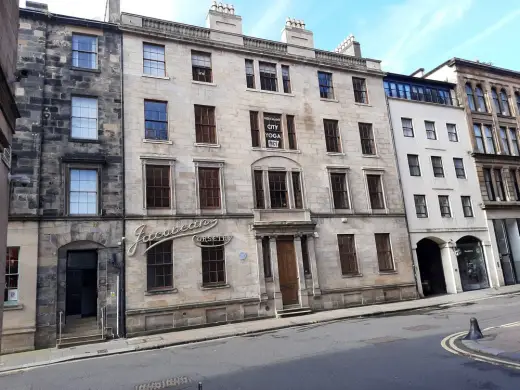 image courtesy of architecture practice
Merchant City Property
Comments on this guide to hiring a professional painting service advice article are welcome