Glasgow Tower Pictures, Pacific Quay high-rise architecture, Scotland visitors attraction location, Phone, Photo, UK
Glasgow Tower Building
Pacific Quay Building: Science Centre design by Richard Horden / BDP
6 Nov 2013
Glasgow Tower
Glasgow Science Centre rotating tower to reopen after £1.8m revamp
Scotland's tallest free-standing building will be fully operational and open to visitors once again next summer.
This is good news as so many people on our tours ask about it and by extension surely huge numbers of visitors to the city are puzzled by it. Perhaps it was a step too far, a fanciful gimmick.
The blurb at the time said 30% less steel was used for the tower due to it being able to rotate thus allowing less drag from the prevailing wind. But how does that make sense, it was surely (also) designed to stand up when not rotating ie engineers always cover themselves, so how did it save steel? If the claim was true then surely it would have blown over in a severe storm.
Glasgow Tower, which has been closed for the past two years, has undergone a £1.8 million renovation meaning it will be able to turn 360 degrees, giving people a panoramic view of the city.
The £9 million, 417ft-tall structure has operated only intermittently since the Science Centre opened in 2001.
But the Glasgow Tower will be reopened and fully operational next summer, bosses at Glasgow Science Centre have insisted.
Though no precise date has been specified, this tall building could be open in time for the 2014 Commonwealth Games, which will run between July 23 and August 3.
Glasgow Tower photos from 10 Feb 2011



Science Centre at Pacific Quay building design by Richard Horden / BDP photos © Adrian Welch
Location: southwest Glasgow
Address: Glasgow Science Centre, 50 Pacific Quay, G51 1EA
Telephone: 0871 540 1000
Tower Design: Richard Horden Architects; Building Design Partnership – BDP Architects
Glasgow Tower pictures from 2002:




Science Centre at Pacific Quay building design by Richard Horden / BDP images by Keith Hunter from BDP Architects
Science Centre at Pacific Quay building: Description
Richard Horden is an English architect and yachtsman. Horden became well-known in the Eighties for light simple buildings that used yacht technology and yacht iconology. His modern rectilinear buildings were part of the Hi-Tech style that swept England, key architects being Richard Rogers, Norman Foster and Chris Wilkinson.


Science Centre building photograph © 2007 Jason Baxter
Richard Horden Architects tried to transfer the elegance of sailing and the beauty and technology of the modern aircraft into architecture, in a way reminiscent of architect Le Corbusier's extolling of the modern technology of cars and planes. However, unlike Le Corbusier, Richard Horden aimed for light prefabricated buildings.





Science Centre building design images © Adrian Welch
Glasgow Tower architects : BDP
Enterainment / Educational Buildings at Pacific Quay / Prince's Dock:
Science Centre Glasgow + Glasgow Tower + Glasgow Imax
European Millennium Tower Competition
Richard Horden Architects were awarded first prize for their 'Wing Tower' but controversially the project was essentially taken over by BDP Architects, Glasgow.





Pacific Quay structure images © Adrian Welch
The brief required a 100 metre high tower at Pacific Quay. The Tower was to include a viewing platform, restaurant and exhibition space. Richard Horden worked with aeronautical engineer Peter Heppel, to design a vertical wing that rotated with the wind direction. Being visible for miles around, it allows Glaswegians to tell which way the wind is blowing! The Glasgow Tower was the first of its kind to rotate to reduce the aerodynamic forces on the structure.
The lead architect practice is Richard Horden, based in London, England, UK.





Pacific Quay high-rise structure images © Adrian Welch
Glasgow Tower Competition
Duffy & Batt Architects' Glasgow Tower Competition entry:


Pacific Quay tall structure design image from Duffy & Batt
"a pre-millennium wheel vertical ferris wheel (paternoster) made it to the shortlisted 12 of 350 open pan European entries".
Tallest buildings in Scotland
Office and Flats Tower, Leith, designed by Terry Farrell & Partners on the Edinburgh waterfront at the Western Harbour.
Edinburgh's Leith Docks are set to become a mini-Manhattan, complete with Scotland's two tallest buildings and a Guggenheim museum. Forth Ports has revealed plans to build two 35-storey towers as part of the regeneration of Leith port's Edinburgh Harbour.
The company is also in discussions with the Solomon R Guggenheim Foundation about building a museum at the port. The two towers would stretch 420 feet into the air, making them three feet taller than the Millennium Tower at Glasgow Science Centre – currently Scotland's tallest structure. They will dwarf Scotland's previous tallest buildings, the 31-storey flats in Bluevale Street and Whitevale Street in Glasgow's Gallowgate, which are both 298 ft tall.
Glasgow Tower Revolution
The revolving Glasgow Tower – which cost £10m and is Scotland's tallest free-standing structure – could soon be reopened with the huge ball bearing due to be fitted this week. The Glasgow Science Centre tower at has been in operation for less than 100 days since opening in late 2001.
Aug 2003
Glasgow Tower Repair
Repairs to this innovative tall structure at Pacific Quay delayed for months by a row over faults, keeping it closed since Feb 2002.
Sep 2002
Richard Horden is not only a key English architect but internationally known.
Historic Glasgow : best buildings of the past
Website: www.glasgowsciencecentre.org
Glasgow Architecture
Major Strathclyde Building Designs – selection:
To the west of the site is Pacific Quay Hub
Across the River Clyde is the Glasgow Moat House Hotel
The Glasgow Tower is the only building in the world capable of turning 360 degrees from the ground up. The aerodynamic structure allows the entire building to turn and face the wind, thus reducing wind resistance.There is a two and a half minute ride to the top but it has been plagued with problems so call before you visit.
Glasgow Building Designs
Contemporary Glasgow Property Designs – recent architectural selection below:
Ingram Street Property Development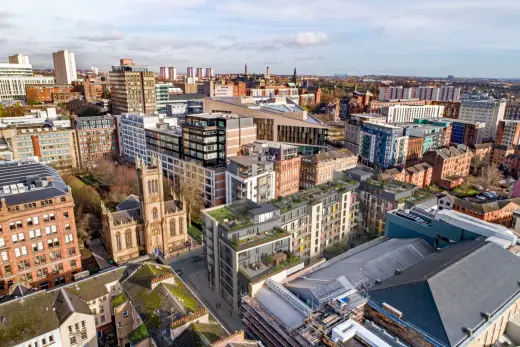 image courtesy of Artisan Real Estate
65-97 Ingram Street Glasgow
The Foundry Cathcart housing development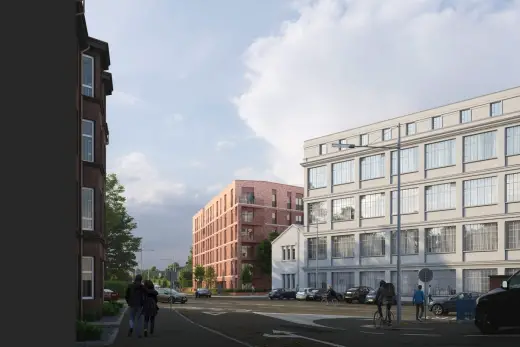 image courtesy of Cala Homes (West)
The Foundry Cathcart housing development
Comments / photos for the Glasgow Tower Architecture – Pacific Quay tall building design by Richard Horden / BDP page welcome.
Website: www.glasgowsciencecentre.org/glasgowtower.aspx