Glasgow escapades: unforgettable experiences guide, Scotland city visit tips, Glaswegian travel advice
Glasgow Escapades: Unforgettable Experiences in Scotland
17 August 2023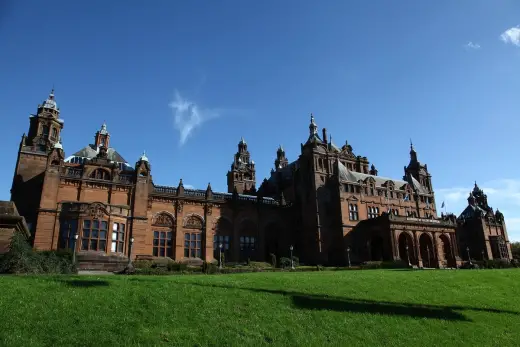 Glasgow Escapades: Unveiling Unforgettable Experiences in Scotland's Vibrant City
As Scotland's largest city, Glasgow has become synonymous with rich history, dynamic culture, and a certain effervescent charm that can't be found elsewhere. With an eclectic mix of architecture, world-class museums, and lively nightlife, the city guarantees a plethora of unforgettable experiences. If you're on the lookout for some of the best luxury holidays in Glasgow or just seeking an authentic Glaswegian adventure, our Glasgow travel guide has got you covered.
The Resplendent Architecture and Museums
Glasgow Cathedral and Necropolis
Standing tall since the 12th century, the Glasgow Cathedral is a masterpiece of Gothic architecture. Its medieval stained-glass windows and well-preserved structure is a testament to the city's bygone eras. Adjacently located is the Victorian Necropolis, offering panoramic views of the city from its hilltop perch.
Kelvingrove Art Gallery and Museum
Home to 22 galleries and 8,000 objects, the Kelvingrove Museum showcases everything from Egyptian artefacts to classic European art. Its grandiose red sandstone structure is equally impressive, and the surrounding Kelvingrove Park offers a serene backdrop for relaxation.
The Dynamic Music and Nightlife Scene
King Tut's Wah Wah Hut
Famed as the launching pad for bands like Oasis, King Tut's is a haven for indie and rock music aficionados. Regularly featuring both local and international talents, it's the perfect spot to witness the pulse of Glasgow's music scene.
The Sub Club
For those keen to dance the night away, The Sub Club offers an electrifying atmosphere. One of the longest-running underground dance clubs in the world, its reputation for quality music, from techno to house, precedes it.
Luxurious Stays and Culinary Delights
Blythswood Square Hotel
When it comes to the best luxury holidays in Glasgow, Blythswood Square Hotel is unparalleled. This 5-star spa hotel, originally a Georgian townhouse, marries opulence with comfort, promising a lavish stay right in the city's heart.
Ubiquitous Chip
Nestled in the vibrant West End, Ubiquitous Chip has long been a culinary institution in Glasgow. Serving Scottish cuisine with a modern twist, the restaurant's enchanting setting, complete with an indoor forest, promises a unique dining experience.
Shopping and More in the Style Mile
Glasgow's Style Mile, centred around Buchanan Street, is a shopper's paradise. From high-end boutiques to unique local stores, it offers a diverse shopping experience. Don't miss the grandeur of the Victorian-era Princes Square or the artistic wonders in the Merchant City district.
Unwind in Glasgow's Green Spaces
Pollok Country Park
Spanning over 360 acres, this park houses the elegant Pollok House, gardens, and even a fold of Highland cattle. It's a tranquil escape from the city buzz and a perfect spot for a leisurely afternoon.
The Botanic Gardens
A world of flora awaits at Glasgow's Botanic Gardens. Whether you're wandering through the tropical Kibble Palace or strolling along the River Kelvin, it's an oasis of serenity.
The Resurgence of Glasgow's Riverside
Clyde Arc and Riverside Museum
Glasgow's River Clyde has been at the heart of the city's industrial and maritime heritage. Today, it symbolises the city's innovative spirit, most evident in the Clyde Arc – a modern, tilting bridge locally known as the 'Squinty Bridge'. Further down the river, the Riverside Museum, designed by the iconic architect Zaha Hadid, showcases Glasgow's transport history. With its captivating exterior and over 3,000 objects within – from vintage cars to old Glasgow street scenes – it offers a tangible voyage through time.
Glasgow's Passion for Sport
Hampden Park and Celtic Park
Football, or soccer as known in some parts of the world, is more than just a game in Glasgow – it's a deeply-rooted tradition. Hampden Park, the national stadium, has been a silent witness to some of football's most historic moments. It's also home to the Scottish Football Museum. On the other side of town, Celtic Park stands as a testament to one of the most globally recognised football clubs, Celtic FC. Touring these grounds, even for non-football enthusiasts, gives a unique perspective into the city's undying passion for sport.
Concluding the Glasgow Adventure
Whether you're tailoring your journey from a Glasgow travel guide or spontaneously wandering the streets, Glasgow offers a delightful blend of old-world charm and contemporary vibrance. From the rhythm of its music venues to the tranquillity of its parks, Glasgow beckons with myriad experiences waiting to be unveiled.
So, whether you're in search of luxury or authenticity, Glasgow promises escapades that will leave an indelible mark on your travel memories. Embrace the city's offerings and let the Glaswegian spirit enamour you.
Comments on this guide to Glasgow Escapades: Unveiling Unforgettable Experiences in Scotland's Vibrant City article are welcome.
Glasgow Building Designs
Glasgow Architecture Designs – architectural selection below:
New Glasgow Architectural Photos
Glasgow Architectural Photos
Holiday Inn Pacific Quay Hotel
Architects: Mosaic Architecture + Design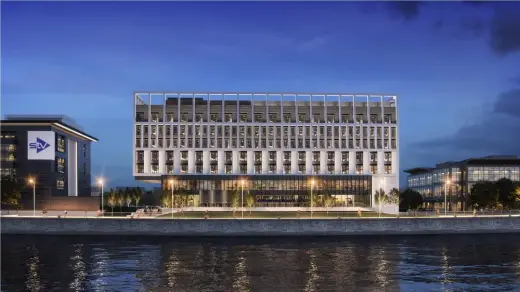 image courtesy of architects
Holiday Inn Pacific Quay Hotel
Merchant City boutique hotel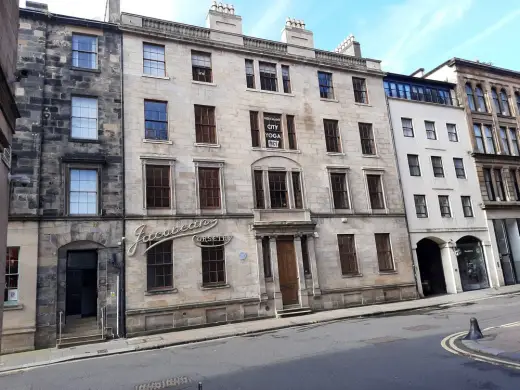 image courtesy of architecture practice
Merchant City Property
Comments / photos for the Glasgow Escapades: Unveiling Unforgettable Experiences in Scotland's Vibrant City guide page welcome