Glasgow Airport, Extension, Terminal, News, Architect, Image, Development
Glasgow Airport Expansion
Skyhub Building for BAA, Scotland: new arrivals hall for UK domestic flights
15 Oct 2008
Glasgow Airport Extension Opens – October 2008
Phase 1 of £31m 'sky hub' extension to Glasgow Airport's terminal opens to passengers: new ground floor arrivals hall for UK domestic flights + bar & restaurant Phase 2, a £12m security area, will come into operation w/c 27 Oct.
Glasgow Airport Extension
Glasgow Airport News Release 8 May 2007 – BAA info from REID architecture
Glasgow Airport aiming sky high with £30m expansion
skyhub to deliver 'faster security, increased capacity and better customer service'
One departure hub open to all passengers
New purpose built security screening area
Wider choice of shops, bars and restaurants
Delivering a better customer service today and into the future


picture from architect
A multi-million pound plan to expand Glasgow Airport – the biggest single investment by airport operator BAA Glasgow for a generation – is about to get underway.
The £30 million project – known as skyhub – aims to reduce security waiting times, increase capacity in the terminal and offer passengers a wider choice of shops, bars and restaurants.
Gordon Dewar, managing director of Glasgow Airport said: "skyhub is the biggest single investment by BAA in Glasgow Airport for a generation and underlines BAA's long term commitment to the airport. It is an exciting, ambitious project which puts the interests of passengers first. We want to make the journey through Glasgow Airport as safe, smooth and enjoyable as we can for all our passengers, delivering better service not just for today, but for the next generation of travellers."
Work will start later this month on the 4,000sq metre skyhub development, which is expected to take 18 months to complete.
The two storey development will provide additional seating capacity on the ground floor, as well as new retail and catering facilities, and a new purpose built security search area on the first floor, through which all departing passengers will pass.
This will replace the existing three security zones (international, domestic and east pier) which will later be converted for use as retail, lounge and other passenger facilities.
The new search area will have capacity for up to 14 x-ray machines, four more than at present.
The development will also include a flagship World Duty Free store open to all departing passengers.
Gordon Dewar added: "This expansion will allow us to concentrate our security search areas in one location, freeing up a huge amount of additional capacity within the terminal. This is particularly important during the busy summer months when Glasgow Airport can expect to handle over one million passengers in a single month.
"Security, for any airport, is of paramount importance and as passenger numbers increase, it's important that we are able to screen passengers quickly and safely. We have already announced a major investment in additional staff and x-ray technology. skyhub takes that investment a step further and will give us the flexibility and the extra capacity that we need to provide a fast, efficient security screening service.
"Our aim, ultimately, will be to reduce the amount of time passengers wait in security lines and, in the process, deliver a better customer experience for our growing number of passengers."
Glasgow Airport's domestic and international search areas have recently been refurbished – and rebranded skyscreen – as part of a trial for the planned single search area.
Customer service director Derek Provan said: "We see skyscreen as the launch pad for a new type of airport security at Glasgow. The security and safety of our passengers is something we take extremely seriously, but airport security doesn't have to be an ordeal. skyscreen is designed to create a more relaxing security environment that puts passengers at ease."
The new layout will also bring retail benefits for passengers. Under BAA's plans, the existing airside/landside boundary will switch, so that most of the shops currently landside (before security) will be located airside (beyond security). Once through security, passengers can shop, eat and relax anywhere in the terminal.
"Glasgow is quite unusual in that the majority of shops are currently landside. By switching the boundary, and moving the majority of our retail offer airside, it means passengers will enjoy bigger savings and more choice," explained Mr Provan. "Once through security, passengers will have access to the full range of bars, restaurants and lounges on offer at Glasgow Airport."
The project
skyhub is the biggest single capital investment at Glasgow Airport since the opening of the international pier in 1994.
skyhub will be delivered in two phases. The first phase will involve the construction of a 4,000sq metre, two storey, extension of the terminal which will include new shops, bars and restaurants on the ground floor, and a new purpose built security search area and World Duty Free store on the first floor. This first phase will be complete by autumn 2008.
The second phase will involve the transformation of the existing three security zones (international, domestic and east pier) into retail, lounge and other passenger facilities. This phase will be complete in 2009.
At present, 32% of Glasgow Airport's retail offer is situated airside (beyond security). The creation of a new central search area will result in a change to the landside/airside boundary, thereby increasing the proportion of airside retail to 71% of the overall total.
skyhub will be built using locally sourced materials, where possible. Throughout the construction process, every effort will be made to reduce energy and water use, minimise waste and promote recycling. The development will also promote maximum use of natural lighting and employ energy efficient lighting systems.
A covered walkway linking the main terminal to T2 and Car Park 3 is currently under construction and will remain in place until the terminal extension is complete.
Transport services will continue to operate as normal from the airport forecourt.
A number of retail and catering units on the ground floor will be relocated for the duration of the project. These include Flowers at the Airport, Starbucks and Lastminute.com
Balfour Beatty has been appointed as the main building contractor for skyhub. The project has been designed by REID Architecture.
Information leaflets will be available throughout the terminal and regular updates will be posted online at www.glasgowairport.com
Investment
Over the next ten years, BAA will invest more than £200 million at Glasgow Airport. This investment will be delivered at no cost to the taxpayer.
Earlier this year, BAA Scotland announced a £12 million two year investment in security at its three Scottish airports – Glasgow, Edinburgh and Aberdeen. At Glasgow, this investment will include 77 additional security staff this year, and two new x-ray machines. The extra staff represent a 56% increase in staffing levels since the change in security rules on 10 August 2006.
BAA aims to reduce security waiting times to five minutes or less for 95% of the time.
Glasgow Airport
Glasgow Airport is Scotland's busiest airport with 8.9 million passengers. Over the past ten years, passenger numbers have increased by 58%.
Glasgow Airport is Scotland's long haul gateway with year round flights to the United States, Canada, Egypt, Pakistan and the United Arab Emirates. Almost a million passengers a year travel long haul to and from Glasgow.
Glasgow Airport – BAA info from REID architecture 9 May 2007
9 May 2007
Glasgow Airport Extension Opens – Oct 2008
KEY EXPANSION PLANS BEGIN AT GLASGOW AIRPORT
Construction work has begun on REID architecture's SkyHub project at Glasgow International Airport for BAA Scotland. The scheme will deliver the first phase of the practice's development strategy created for the airport in response to the Government's White Paper on the future of air transport.
A new central search facility on the first floor of a 4,000sqm extension will facilitate the conversion of current landside retail to airside, providing significant commercial and operational benefits. The alterations will create a departure lounge common to both domestic and international passengers with a significant increase of net retail space.
REID architecture have sought to maintain the integrity of the Basil Spence-designed, barrel-vaulted roof of the original building, whilst unifying the disparate spaces below and adjacent to it, to provide continuity and improved legibility to the overall retail offer. One of the ways this is to be achieved is with an innovative 'projection box' running the length of the lounge, providing spatial integration as well as intuitive wayfinding and with the potential to provide 'mood' generation and commercial advertising opportunities.
In conjunction with this, the use of natural daylight has been optimised to improve both the quality of the spaces and energy efficiency. One of the proposals is for the south-facing façade of the search area to be constructed in a translucent, insulated material which will flood the internal space with light, whilst preventing glare and solar gain. The extension has been designed to allow for further expansion upwards, through the addition of a third floor, for commercial office space.
The project has an extremely challenging schedule, with the facilities due to be handed over in Autumn 2008.
Glasgow Airport Expansion – info from REID architecture 090507
Project Team:
Design Integrator: Heery International
QS: Doig & Smith
Structural Engineer: Halcrow
Services Engineer: WSP
Fire Engineering: Jeremy Gardner Associates
Renfrew Airport, southwest Glasgow, design by Paul Kininmonth Architect
Glasgow Airport Contact
Contact: +44 (0)141 887 1111
Address: Glasgow Airport, Paisley, Renfrewshire, PA3 2ST
Glasgow Airport second terminal – T2 opened in 2004
1976 : £2m extension to the international area of the terminal building
1966 : Glasgow Airport officially opened by Her Majesty The Queen, 27 Jun
Glasgow Airport Executive Lounge – 11 Sep 2013
Location: Glasgow, Strathclyde, southwest Scotland, UK
Glasgow Building Designs
Contemporary Glasgow Property Designs – recent architectural selection below:
Buchanan Wharf Glasgow Office Development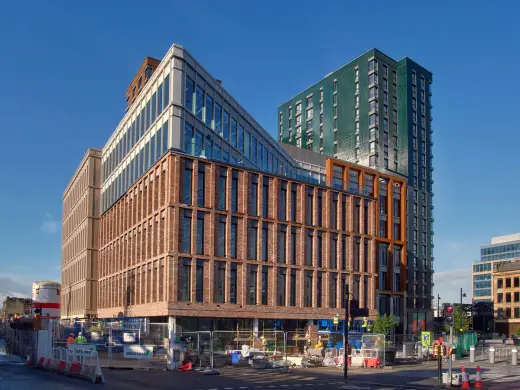 photo courtesy of Drum Property Group
Buchanan Wharf Glasgow Office Development
New Allander Leisure Centre
Design: Holmes Miller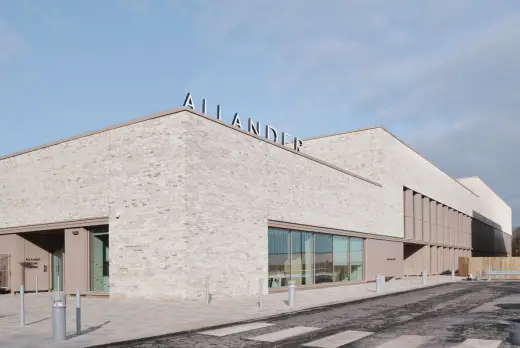 image courtesy of architects practice
Allander Leisure Centre Building in Bearsden
Comments / photos for this Glasgow Airport Expansion page welcome