Fenton Tower, 16th Century Scottish Building, History, Date, Location, Architect, Photo
Fenton Tower : Scottish Castle Accommodation
Castle near North Berwick, East Lothian Luxury Accommodation, Scotland
post updated 20 December 2021
Fenton Tower East Lothian
Location: Kingston, North Berwick
Fortified 16th Century tower: luxury accommodation for up to 12 people
Fenton Tower dates from 1550 and is set on top of a small hillock at the western end of the ridge south of North Berwick. Fenton Tower was a ruin until around the start of the 21st century. It is a rendered L-plan towerhouse with very little gournds – no wooded policy, just a good vantage point over East Lothian's rolling countryside.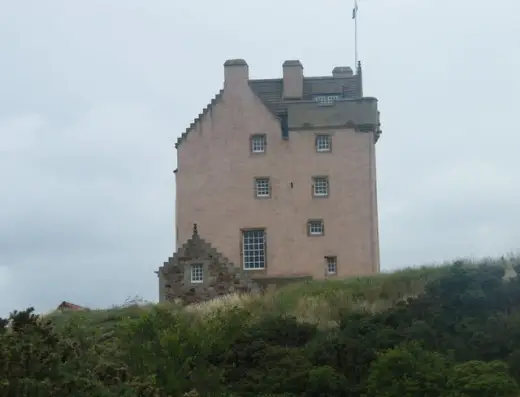 photo : James Denham, courtesy wikimedia commons
Fenton Tower was owned by the Anglo-Norman De-vaux family. The three-storey building with Great Hall at First Floor was probably built by Sir John Carmichael: the tower date stone panel of 1577 over the doorway once displayed bears his initials.
The Carmichaels also held the ancient Hepburn stronghold of Waughton castle, near Whitekirk, until they lost if to the Hepburns (see the information board at nearby Hailes Castle re this family). King James VI (1567-1625) stayed in 1591 with the Carmichaels at Fenton Tower.
Fenton seems to have been undamaged by Cromwell during his army's the sacking of Lothian castles in the 1650's and stone robbers in the 1700's.
The L-plan Fenton Tower has now been fully restored.
please check with Fenton Tower owners for details such as access & charge:
Contact:
Phone: +44 (0)1620 89 0089
Email: manager(at)fentontower.com
Fenton Tower to open
The £2m historic tower restoration was completed around 2002: NGRA were the architects
Architecture in Scotland
Another East Lothian Castle:
East Lothian building with work by Simpson & Brown Architects:
Scottish Seabird Centre, North Berwick
Crichton Castle



photo © Adrian Welch
Comments / photos for the Fenton Tower Architecture page welcome
Fenton Tower Website: www.fentontower.com